Horsin' Around & Folkin' Around
Equine Inspired Folk Art
Folk art is—if you'll pardon the pun—fine art knocked off its high horse. The creators of folk art lack formal training, but that's not to say their works lack stylistic sophistication. That they are uneducated means only that their artistic styles remain unadulterated by the academic tradition. They express their innate style with uncommon freedom. They approach their work with straightforward honesty and inventiveness, often because they are simply making do with the materials they have at hand. Folk art is naïve to cosmopolitanism, which means it lacks pretention. Authenticity fills the void.
I broke away from Charleston, SC, my home state's microcosm of high culture, and headed for the hills up I-95. I was en route to see an impressive collection of equine-inspired folk art. Small, rural towns dotted the Shenandoah landscape here and there, and I mused on the circumstances of this genre of art. Folk art often makes its way into the hands of collectors, but it has a down-to-earth beginning in rural towns not unlike those passing by my window. My daydreaming turned to focus as the exit ramp ahead of me turned the hills of the interstate into winding back roads. I hit my destination.
As I walked towards her house, I was greeted by a set of identical sculptures atop the stone entryway. Barbed wire had been coiled loosely into two sphere shapes, creating a simple and elegant design. The wire had rusted in the elements and its iron oxide stain had leeched out to the light stonewall. The design was basic but effectively beautiful.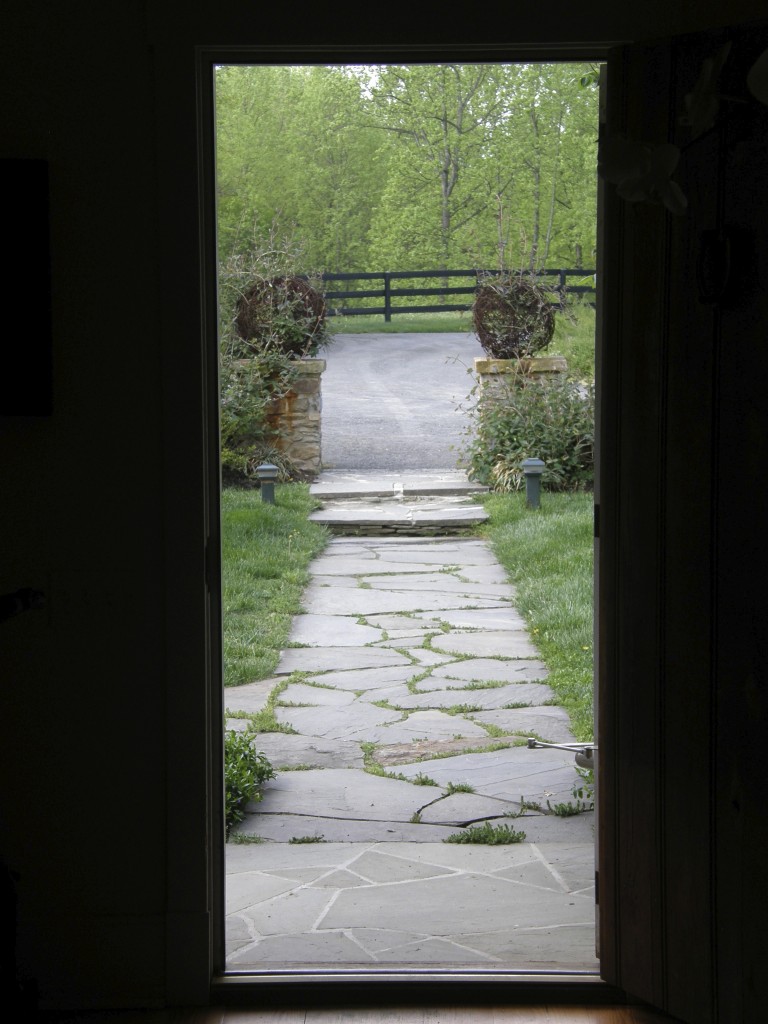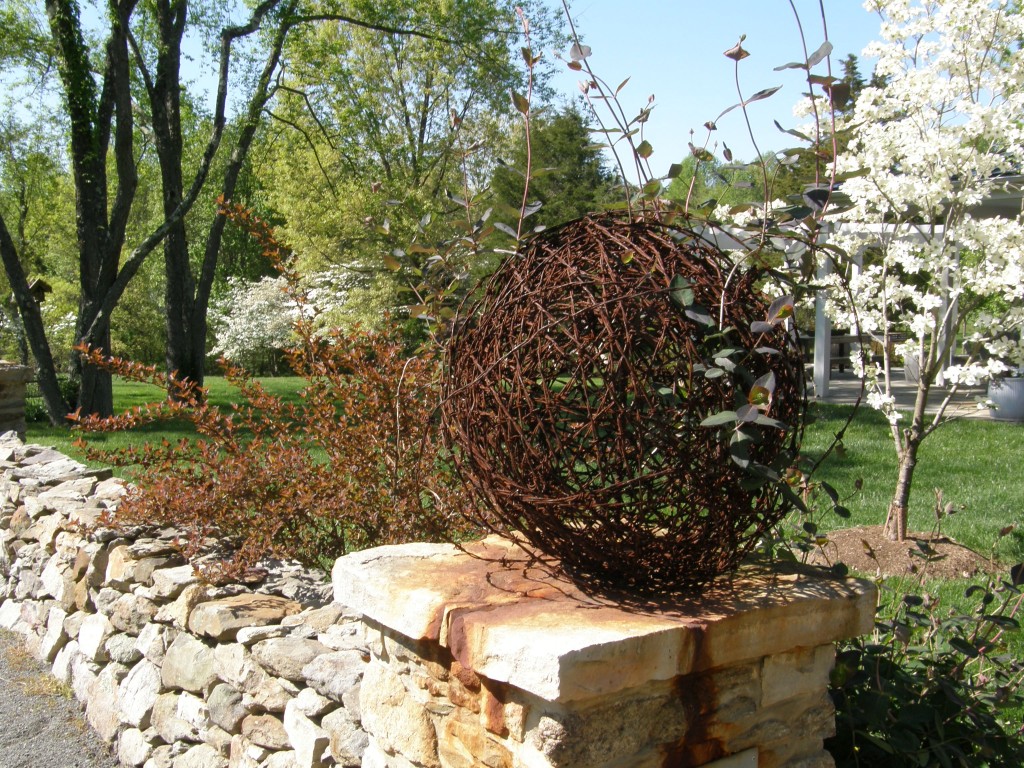 Near the home's kitchen area was a wooden sculpture of a Canadian mounted policeman astride his horse. The simple stick-horse was a single piece of wood, a thick vine. Its curvature ran up from the floor to form a graceful head and neck. The inspiration was given by nature, for the vine neck curved around and ended in a burl that happened to have resembled a horse head. The Mountie himself was a wooden man, carved into form and painted into uniform. The striped pants and the hat, fashioned out of a tin can, gave him a rather official look.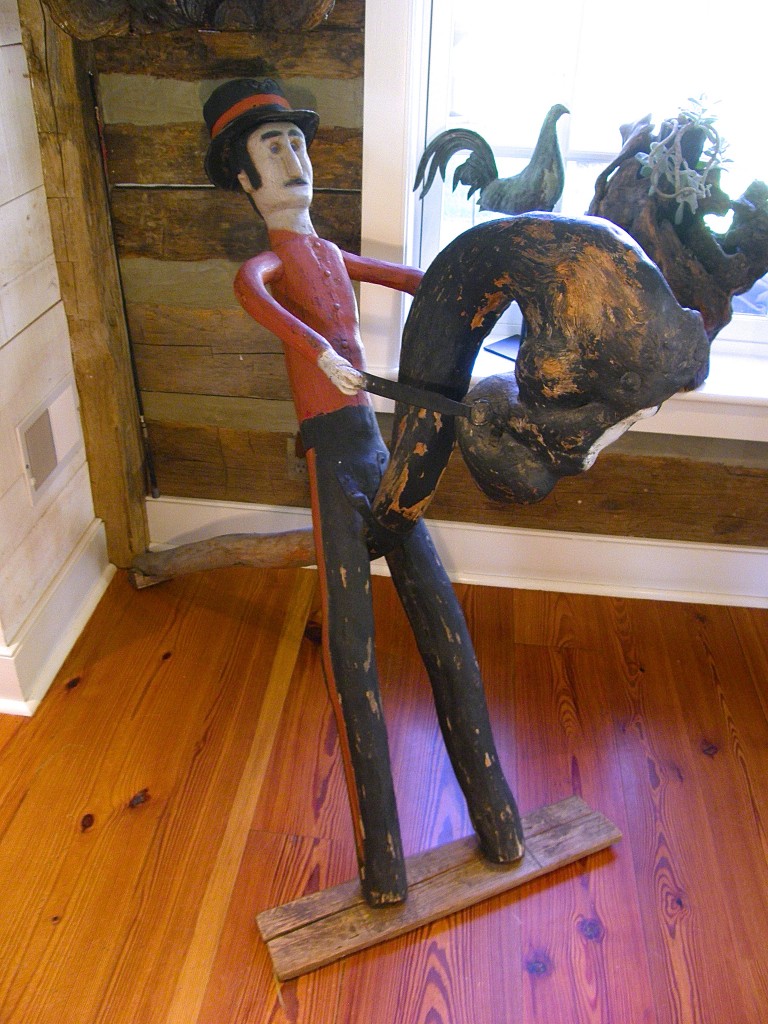 A painting of a horse hung on the wall of the guest bedroom. It was made entirely out of toothpicks, and like the Canadian Mountie and the barbed wire sculpture, was a prime example of an artist using the materials at hand. Anything can be art.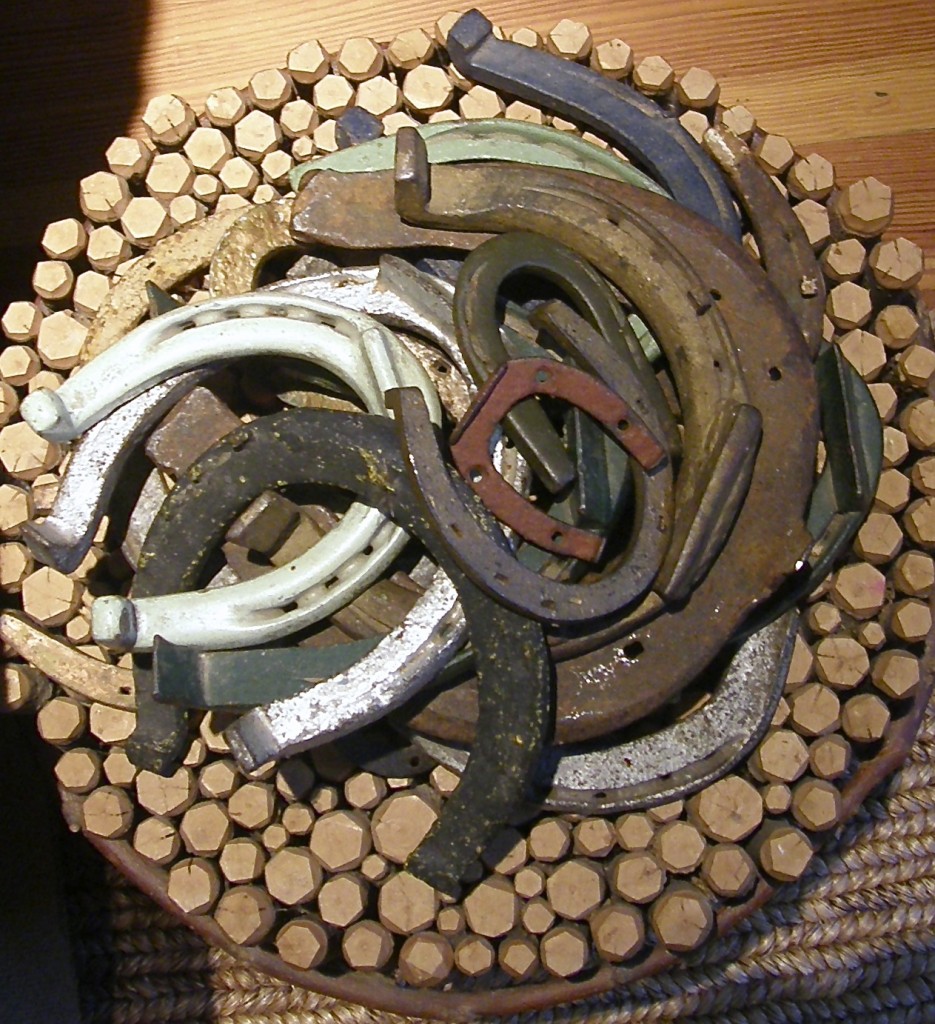 These folk objects are merely eye candy for collectors today, but back in their past many have had practical uses.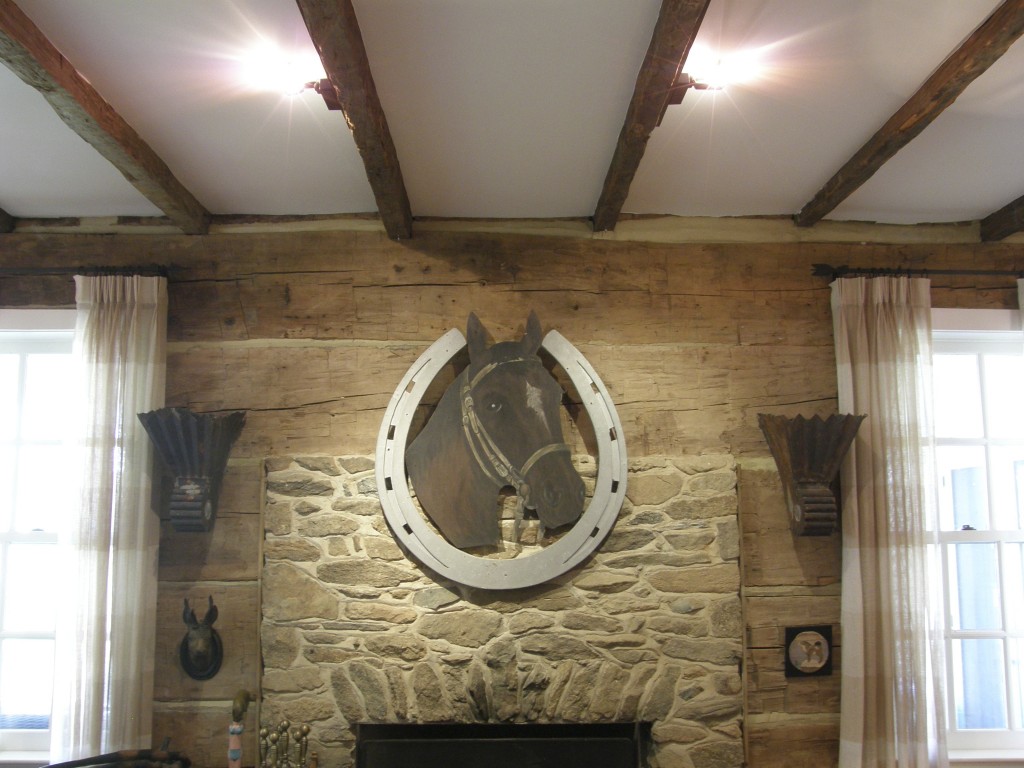 A large horse inside a horseshoe now hangs above the mantelpiece, but it once was an advertisement for a farrier.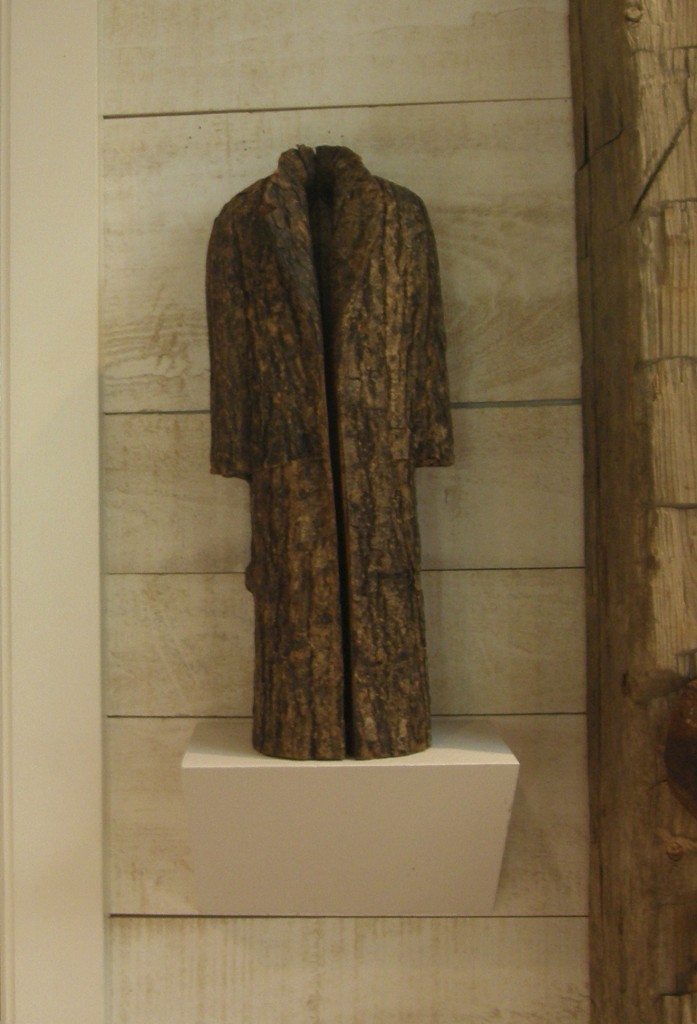 One naughty piece of prohibition-era folk art seems at first glance to be a heavy wooden sculpture of a cloak. I admired it so for its beauty that it seemed complete as a work of art. Open the hinges, however, and you'll see: the hollowed interior provides just enough space for a bottle of wine.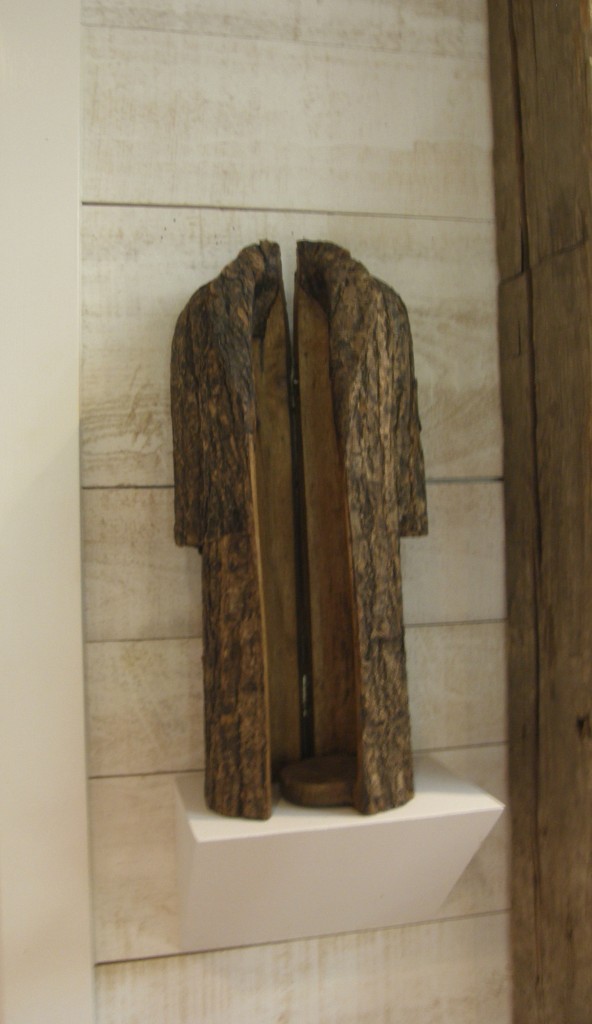 Among the finest objects in her collection are her metal weathervanes. For the first hundred years of this nation's history, weathervanes teetered atop public buildings and homes, reliably reporting the changes of the wind to anyone who happened to be looking. The equine weathervanes treasured by this collector vary in style. Some trot, some gallop, and another jumps through a hoop. The racehorses, circus horses, and saddle horses on this collector's wall are part of our heritage, having towered above the cities and towns of young America. They are weathered, as weathervanes should be. Today they are tarnished, rusted, or shedding their gold leaf paint, but their beauty resounds through layers of history.
Whirligigs, like weathervanes, were art objects put into motion by the wind.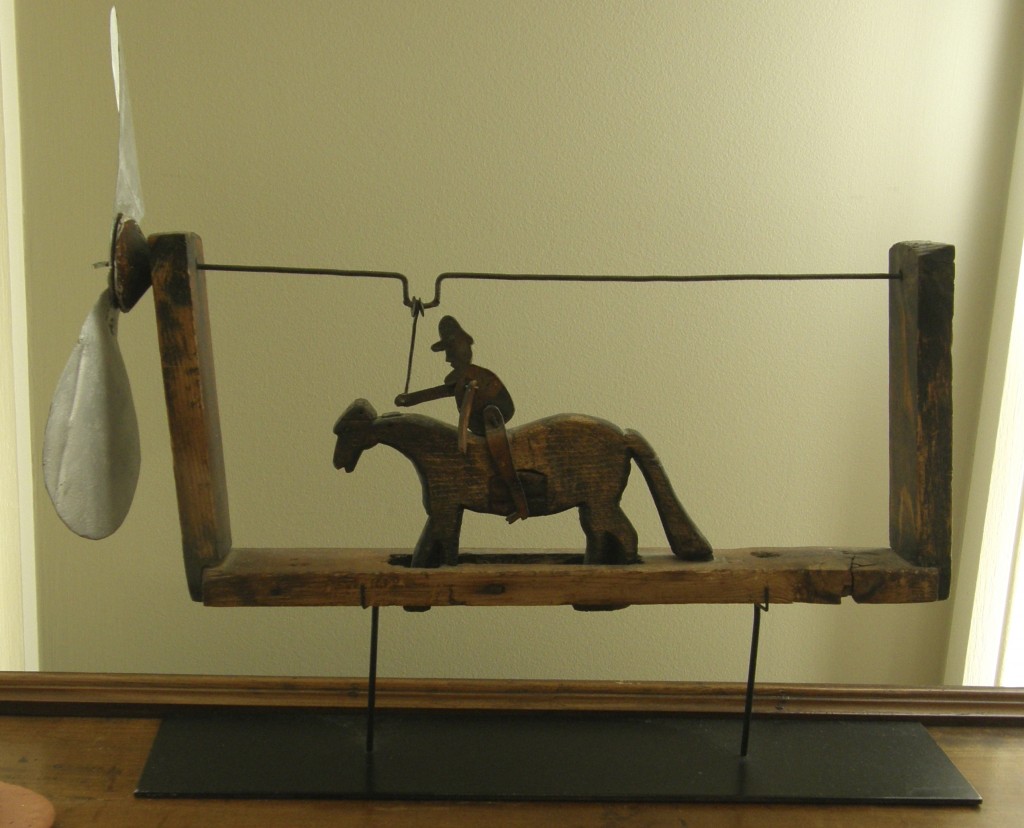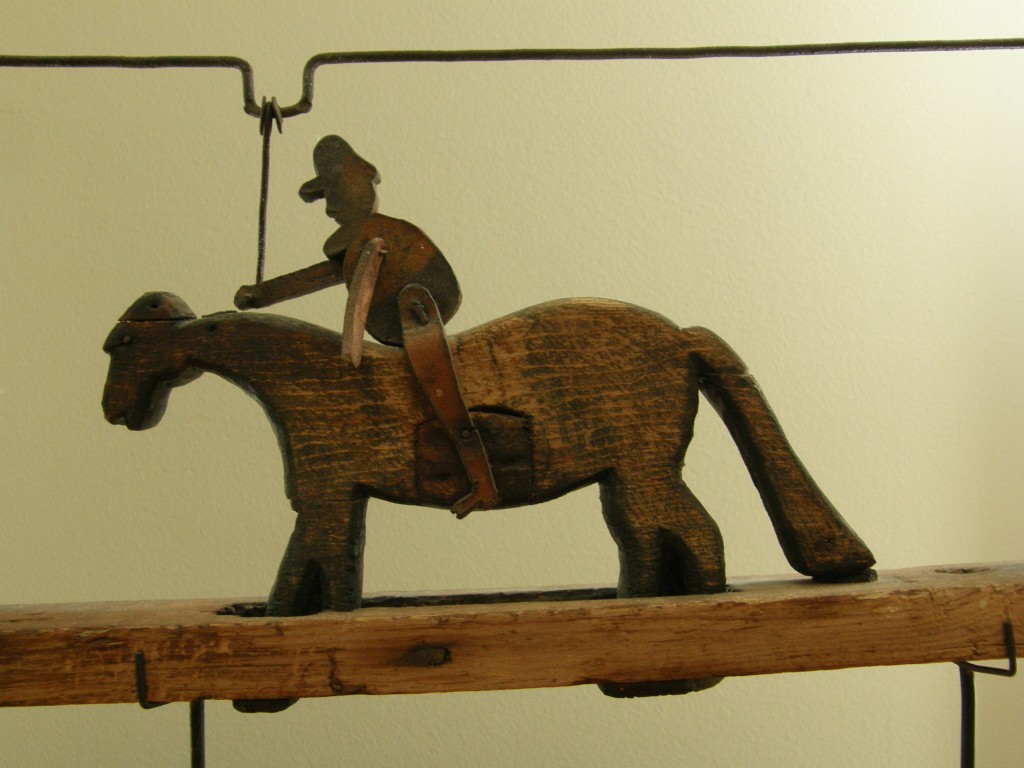 The wind of this weathervane powers the movements of a cowboy riding his horse. His arm waves above his lazy cowpony's neck as the wind picks up.
My exploration into folk art was a reminder of artistic innocence. The greatest of artistic styles are those that are true to the soul, not marred by arbitrary notions of right and wrong. So, have your equestrian style be your equestrian style. We live in a world where anything goes.