Christmas Home Equestrian Inspiration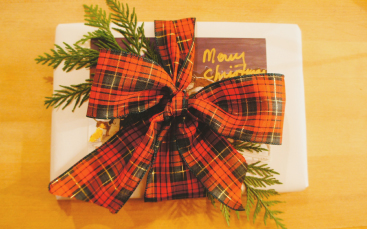 Inexpensive recycled Gift Wrap for the Horse Lover
Your local newspaper has what are called "end rolls".  It is the end of the roll when they finish printing the day's paper. They are happy to give them to you for free.  This is what you will use to wrap your gifts.  Then I keep all the cool Christmas cards I get from friends from the year before and cut off the top of the card and mount to the top of the package with double sided tape.  Add some pretty plaid ribbon and some fir boughs and your are done!  (I actually save pretty ribbons from packages from friends and family and re-use them on gifts I give the next year…I already admitted to being a hoarder !)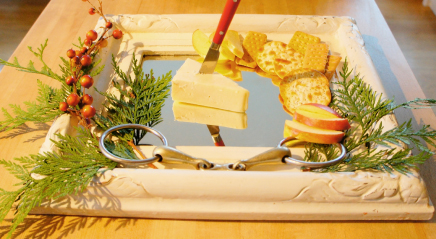 Equestrian Cheese Serving Tray
A simple solution to display some cheese and crackers.  We used an antique mirror and hot glued a bit on the bottom, adding some cedar boughs and berries for color and we were ready for our first appetizer.  The mirror creates a reflection and is especially nice if some holiday lights are nearby.
Tack Hoarders…attention:  this one is for you (and me…gulp!)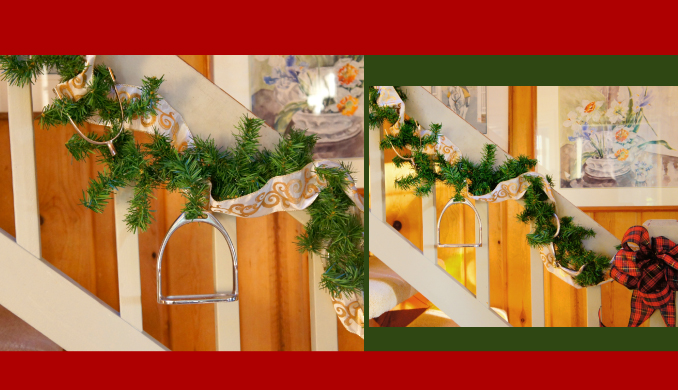 Garland using Spurs, Stirrup Irons and Bits
Secure your garland up a staircase with wire and then drape some pretty wired holiday ribbon laced throughout the garland.  We actually attached the spur, bit and stirrup iron with a branch of the garland.  Pick these 3 items and repeat going up the stairs – think of how much "hoarded tack "you will give a new home to !!!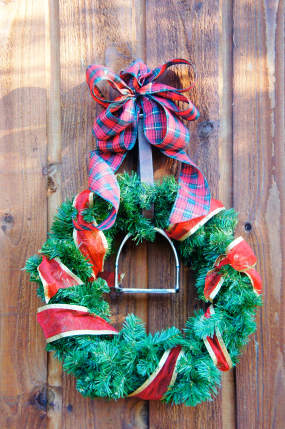 Stirrup Iron with leather Wreath
This wreath can easily be made with an old stirrup leather, stirrup iron, artificial wreath and some holiday ribbon.  We all have stirrup leathers that we seem to have lost the mate to (or is that just me?) anyway, just take an old leather and cut it down and use one of the existing holes to secure the wreath with a large headed nail into the wall.  Looks especially cheerful hung on each side of a set of barn doors!
Mary Cox is an equestrian interior designer who has accumulated a ridiculous amount of tack. She welcomes your ideas and creative solutions for using all that tack. Contact her via her website Horse of a Different Color @ www.equestrian-interiors.com (where you can also view videos of these projects, and more). Mary's blog at www.blog/equestrian-interiors.com features fun ideas and resources on equestrian home décor. The majority of art & the Stirrup Leather Nail-less Picture Hanger depicted in this article are from Elizabeth Shatner's Equine Art Collection.