A Moveable Feast – An Equestrian Thanksgiving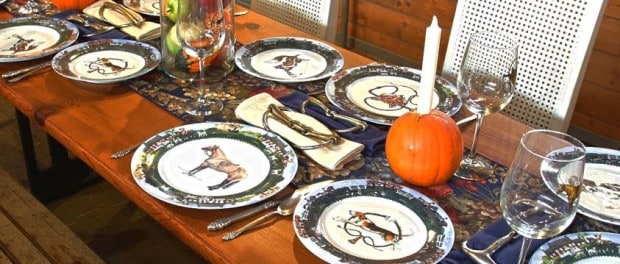 We decided it would be fun to add a modern twist on the traditional Thanksgiving dinner. Since farm to table is the new revolution in our thinking about eating, what better way to present this concept than with an elegant dinner setting at Dr. Beth Glosten's lovely barn. We chose Dr.Glosten, author of The Riding Doctor, not only because her barn is wonderful, but she is a passionate advocate for slow food and grows a majority of what she eats on her farm.
We transformed her barn aisle into a welcoming venue for a moveable feast using tableware for the photo shoot that was custom designed by Lizi Ruch. The centerpiece and tapered candles were kept minimal since we did not want to detract from the beautiful, ornate dinnerware. If your place settings are simple in composition, you have creative license to add more pumpkins or greens on the table. But remember don't be afraid to "think outside the barn" and incorporate seasonal bounty or objects from nature like branches, winter berries, etc.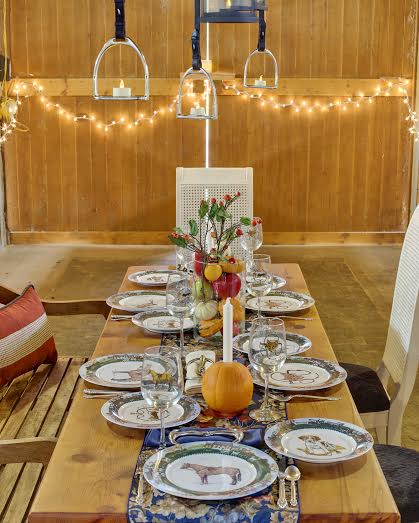 All you will need is a simple farm table but if you don't have one a rustic table can be created from a weathered palette placed atop some saw horses. Add in an outdoor bench (we borrowed this one off my front porch)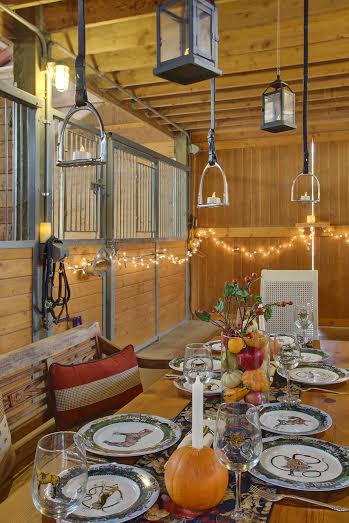 Don't be afraid to mix and match dining chairs. Not enough seating? Well then it's time to bring down some hay bales from the loft. Add some decorative equestrian pillows for comfort and style. (the ones pictured are from equestrian-interiors.com)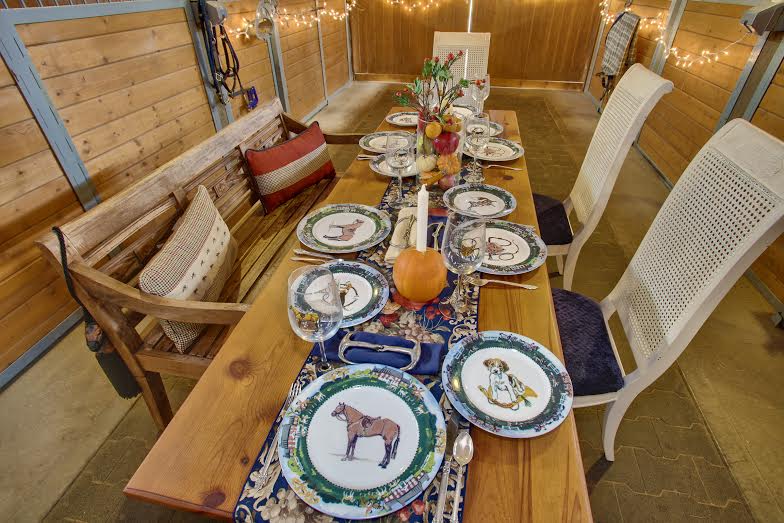 Some small white lights (from Target) added a festive but soft ambience (the only problem we ran into was keeping DG from eating them!)
We placed battery operated candles in various sizes throughout the space (Costco or Pier One)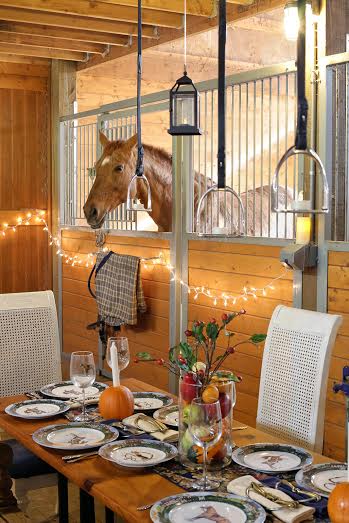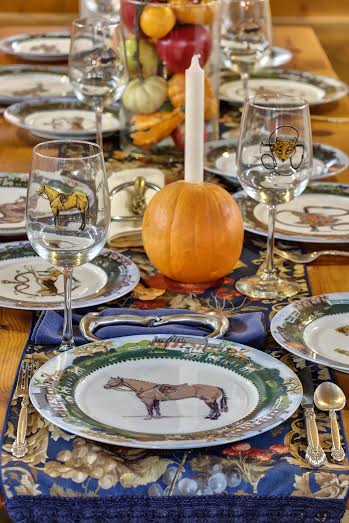 I dug into my very large box of Bits (Hey, no judgment !) and used a variety of snaffle bits as napkins holders.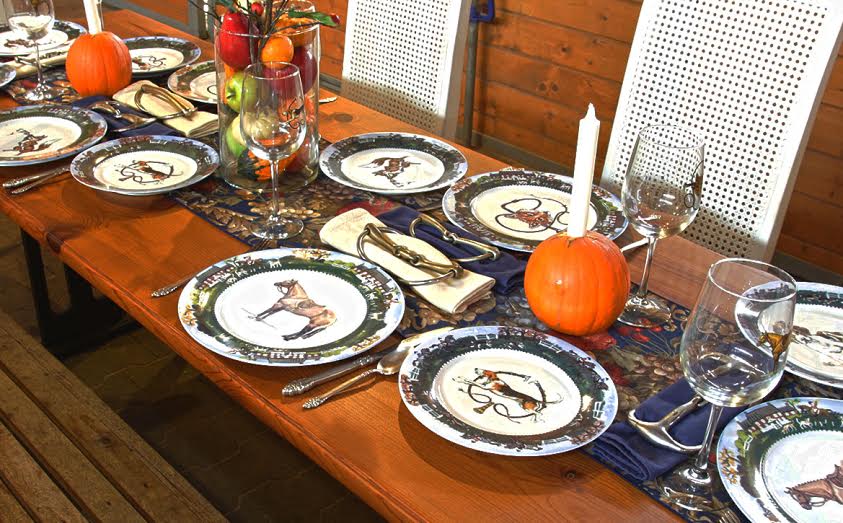 The miniature pumpkins with taper candles (from our favorite dollar store) are a simple, inexpensive way to add some Fall color to your table.
A clear vase served as our center piece (from my local TJ Max…a whopping $4.99) filled with gourds, oranges, apples, seasonal vegetables, fruits and artificial berries.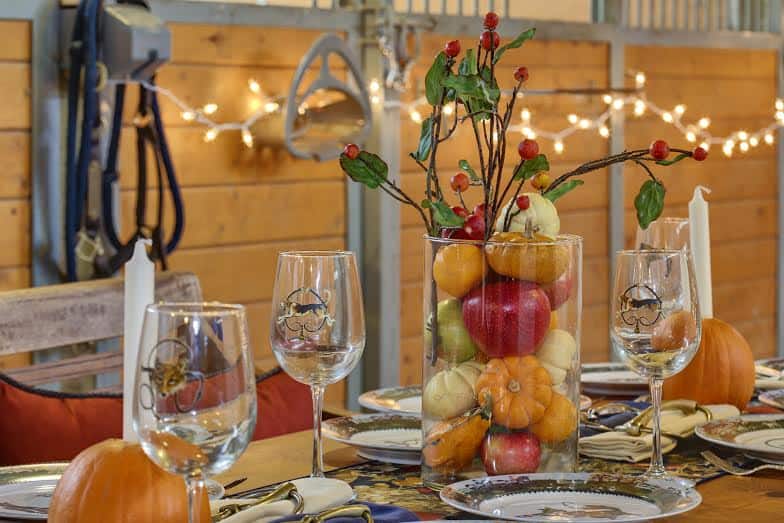 To bring a little ambience and warmth to the barn we hung some old Stirrup Irons with an assortment of random reins (remember me….the Tack hoarder?) The rein was secured to a beam with command hooks to minimize the damage to Beth's barn. Fishing line was strung at the end of the rein buckle and then tied on to the hook. (Because this is a friends new barn we did not want to leave our mark, so to speak, but if you don't care about some extra holes…just hang the blessed thing with a nail put in at an angle or cup hook!)
Each stirrup iron has a battery operated light. They come in a box of 6 and can be purchased at Pier1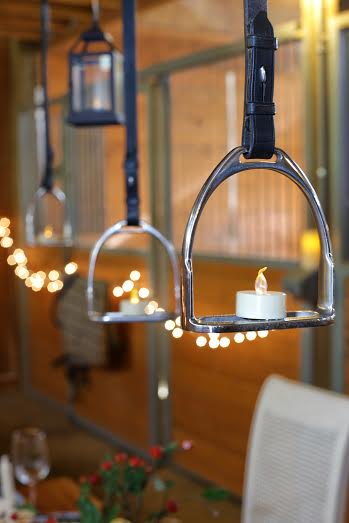 The mini lanterns are also from Pier 1. The same concept with the fishing line can be used to hang the lanterns. Make sure you use a heavy weight fishing line. (We suggest tripling the line before hanging to avoid the lantern falling into your mashed potatoes!)
Don't be afraid to be creative and add your own traditional touches added to this version of a quintessential American holiday. Oh and don't forget …if you actually host your farm to table dinner at your barn (or a willing friend's barn) … a minimum of 2 horses should join the festivities (Grand Prix Dressage Gold medalist … optional!!)
Mary Cox is an equestrian interior designer who has accumulated a ridiculous amount of tack. She recently launched Horse of a Different Color, a classic equestrian home décor line www.equestrian-interiors.com and welcomes your ideas & creative solutions for incorporating that used tack into your home décor.
Dinner Place Settings were generously loaned for this photo shoot by Artfully Equestrian http://www.artfullyequestrian.com/
Dr. Beth Glosten owns Rider Pilates, LLC http://www.riderpilates.com/ and is author of The Riding Doctor, A Prescription for Healthy, Balanced, and Beautiful Riding, Now and for Years to Come
Photography by Soundview Photography http://www.soundviewphotography.com/