A Farm-Inspired Thanksgiving
Are you Home for the Holidays?  What was your Thanksgiving table like?  We would like to share some ideas from our contributor Mary Cox from Horse of a Different Color.   She adds a touch of farm inspiration to her traditional Thanksgiving table.  It's easy and inexpensive: who woulda' thought to pair pumpkins with carrots and apples from the farm?  From warm orange hues and autumn leaves, fall colors for Thanksgiving are a must at every table.  Take a look at Mary's tips for your next Thanksgiving Fall-inspired feast:
What you need:
Small Apples
Cuties
Rainbow carrots
Berry branches
We actually picked these apples off my neighbors tree (he doesn't know it yet!) and added some lime, cuties and organic rainbow carrots for a festive centerpiece……a couple of berry branches and …Voila !!
What you Need:
Pumpkin the size of a soup bowl
Carve out the top (make sure that you cut in towards the center – so that the top will not fall through) and fill with your favorite soup (mine being squash) and
garnish with fresh parsley…
Apple candle centerpiece
What you need:
Apples (5)
Votive candles
Maple Leaves
Cuties and Berries
Carve out the center of the apple to suit the size of the votive candle.  Insert candles and arrange with leaves, cuties and berries.   Your guests will be asking if you have been featured on HGTV…
The Finished Thanksgiving Table: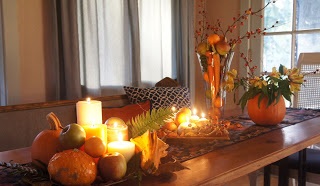 From the Yard and the local vegetable isle:
Apples
Gourds
Cuties
Candles – various heights
Ferns or greens
Bright color leaves
We picked some fallen maple leaves and lined a tray with them and then added an assortment of gourds, apples, cuties……staggered our candle heights and threw in some ferns – easy schmeezy !!!
Pumpkin Vase Centerpiece (pictured above on the right)
Mid Size Pumpkin – carved out
Astromeria
Berries
Place this pumpkin vase next to the carrots and apple vase to add a good balance on the end of the table.  Place these farm-inspired pieces on top of your favorite fall colored table runner and… Ta Da!
Did you have a Happy Thanksgiving?  Share your tips & trips below… and let us know what you think about the farm-inspired Thanksgiving!