Tucker Tweed: High Fashion Equestrian Leather Accessories
Lets face it, everyone needs to splurge a little on some high quality leather accessories, especially during the holidays.  Thanksgiving is over, and Christmas is right around the corner… Hurray for the holiday season!  My jaw dropped when I recently was introduced to this fabulous new line of equestrian accessories: Tucker Tweed.  A definite-MUST for Santa's Christmas list this year.
Looking at the Tucker Tweed logo and classic designs, I immediately thought…it's the Tori Burch for equestrians!  Tucker Tweed  is a high quality and high fashion line inspired by the horse and rider.  These luxe leather accessories are classic and can be worn through the entire year, regardless of the season.  If you are going to spend a good amount of money on a bag, it might as well last you at least a couple of seasons…
The "Tweed Manor Tote" in chestnut is a classic and was featured in our Fall Equestrian Fashion Shoot Here.  The wide shoulder strap is adjustable as well, making it the perfect size for any lady.
If you notice, the wallet matches my used leather spur strap that I turned into a bracelet.  If you didn't know, spur straps can make great accessories too!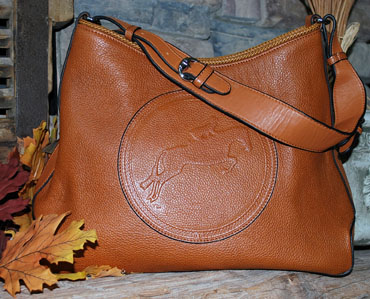 I'm also intrigued by the equestrian iPad case… I take my iPad everywhere and to have a leather case with a hunter/jumper stamped on it… Golden!  *love it*.
For more information on Tucker Tweed, or to purchase, please visit: http://www.tuckertweed.com