Detailed Boots Are Making a Statement: What's your favorite?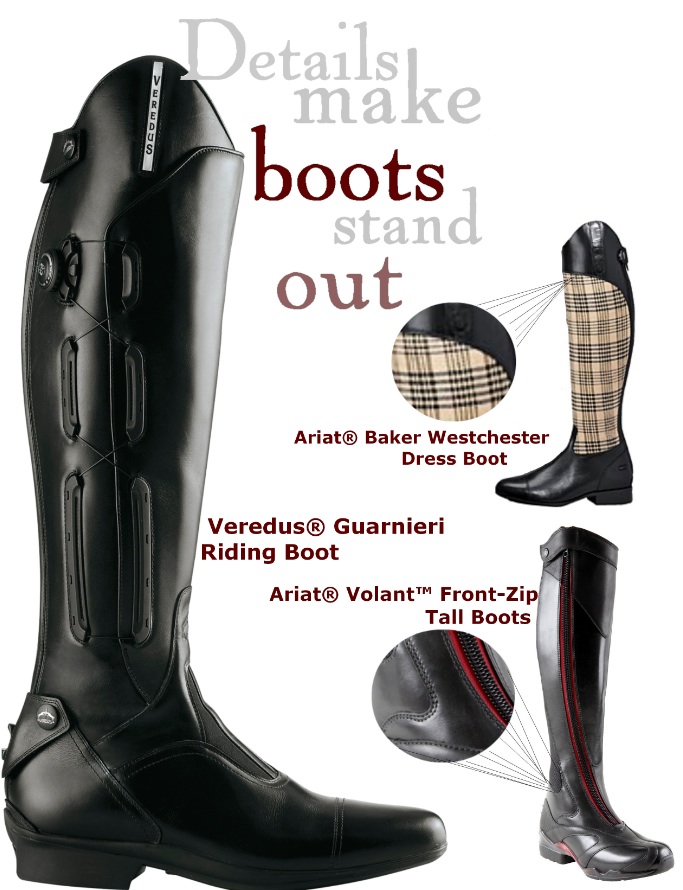 Photo editorial: Abbey Good
Details are standing out this Fall season for riding boots.  Technical riding boots are "in", there is no doubt about that.  The Guarnieri boot has some specific features that adapt to fit custom calf sizes, the sole reduces foot fatigue and perfects stability, and also features a special rubber compound for grip to increase stability in the calf.  Other features like a waterproof instep and two choices for spur support are found on this technical riding boot.
Who doesn't love the traditional Baker print?  I'm LOVING this boot: it's perfect for riding, but also to wear out on the town.  If you are going for that beautiful "Burberry" Look, I would snatch these up quick before they sell out fast!
I would love your input, if you own any of these boots… comment away!  Let's hear how they fit and feel!
Now, most of us have a pair of back zip-up boots… but Front zip? This is super trendy!  These boots also feature the 2 option spur rest.  These boots are also made with high tech materials allowing breathability and athletic stretch.
Ariat Baker Westchester Boot: $379.95 (Ariat.com)
Veredus Guarnieri Riding Boot: $1,095.00 (Dover.com)
Ariat Volant Front Zip Tall Boots: $499.95 (Ariat.com)