The Devon Horse Show and Country Fair
Exhibitors of all disciplines come together to perform at the Devon Horse Show and Country Fair, one of the most elite horse show competitions in the United States. Those who accumulate enough points to qualify for Devon get to compete in a setting of legendary tradition and charm.
Every year, exhibitors fill the stands to watch the $100,000 Grand Prix, but what is arguably the most competitive class is the Devon Leadline Class. The three to five year olds (sometimes more than 100 of them!) are judged at the walk as they are led around on their ponies. They all sit pretty and act cute, but here is only one winner who will ultimately receive the grand prize: a blue ribbon and a lollipop.
The class has grown into quite a spectacle, as ladies, gentlemen, children, and ponies alike are dressed in their finest and polished to an impeccable shine. Keep on the look out for some fine equestrian style in this class! If you want to see more photos from the 2013 leadline class, check out our article from a previous year here.
If you're into fashion, here's another event to keep on your radar: Ladies Day at Devon. Fancy ladies will come dressed in fascinators, hats, designer clothes and heels.  They parade around gracefully for the Tea and Hat Contest:
If Ladies Day style isn't grandiose enough for you, just get a load of the Pony Hunt Teams. Teams of three ponies and riders jump a course one behind the other until the final obstacle, which they attempt to jump in unison. But get this: they do it all in costume and to music! This is an adorable class to watch.
While you're out and about, be sure to visit the fairgrounds itself, and treat yourself to the Devon favorites: lemon sticks, tea sandwiches, and Devon Fudge. Would you believe that 45,550 tea sandwiches were consumed at Devon in 2009? It's a big tradition!
There will be no lack of activities for the enthusiastic spectator at the Devon Horse Show.  Two presentations of carriage racing will make your nerves stand on end as teams of horses are driven at high speeds through a complex course of obstacles. The Radnor Fox Hounds, the oldest continually active foxhunt in the United States, will present on Saturday evening, and do not miss the Shetland Pony Steeplechase on Sunday afternoon! It doesn't get much cuter than that.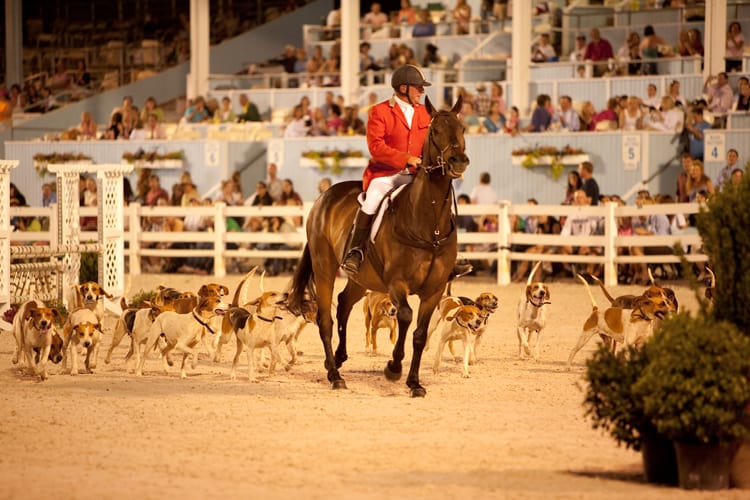 Traditions new and old abound at the Devon Horse Show and County Fair. If you're a spectator, we promise you won't be let down. On the other hand, if you're an exhibitor… Equestrian Stylist would like to offer you a huge congratulations and a wish for good luck!
For more information about the Devon Horse Show, please visit: http://www.devonhorseshow.net