TAKE2 CHAMPIONS TO BE HONORED AT CAPITAL CHALLENGE
Feather Repeats as High-Score Hunter; Breda Named High-Score Jumper
The High-Score Champions of the TAKE2 Thoroughbred League have been named, and once again Scotty Sherman's Feather takes the honors in the TAKE2 Hunter division. The TAKE2 High-Score Jumper is Maureen Allen's Breda, who is trained by Maureen's husband, Bob, and ridden by teen-aged daughter Grace.
The TAKE2 Champions will be honored during a ceremony at the prestigious Capital Challenge Horse Show at Prince George Equestrian Center in Upper Marlboro, MD, on Wednesday afternoon, Oct. 4.
"We congratulate the TAKE2 champions, and thank all of the owners, trainers and riders who support our program," TAKE2 and NYTHA President Rick Violette Jr. said. "Together with our sponsors and advocates from the racing industry, we are doing what we set out to do – highlight the success of Thoroughbreds in the sport horse world, and make it easier to find second careers for our retired racehorses."
TOP 10 TAKE2 HUNTERS
1) Scotty Sherman's Feather – 3304 pts ($5,000)
2) Courtney Safadi's Southern Charm – 1808 pts ($2,500)
3) Robin Swinderman's Zamini – 1786.5 pts ($1,750)
4) Elizabeth LaPierre's Neighbor – 1624.5 pts ($1,500)
5) Jaime Gibson's Beyond Comparison – 1481.5 pts ($1,000)
6) Nancy Granger's Coastline – 1469 pts ($1,000)
7) Paula Lampshire's Lucca – 1328 pts ($750)
8) Avla Pitts's Simply Maybe – 1304 pts ($500)
9) Frances Robinson's Relax Jack – 1215 pts ($500)
10) Sophia Morrell's Rio de Janeiro – 1049.5 pts ($500)
TOP 10 TAKE2 JUMPERS
1) Maureen Allen's Breda – 1469 pts ($5,000)
2) John Beebe's Black Label – 1251 pts ($2,500)
3) Jill Wilson's Laredo– 1048 pts ($1,750)
4) Charity Donnan's After Joe – 868 pts ($1,500)
5) Neal Shapiro's Will Scarlett – 662 pts ($1,000)
6) Beth Hickson's Whiskey n Grits – 587 pts ($1,000)
7) Charity Donnan's Lenny – 551 pts ($750)
8) Meagan Lanham's Virginia's Legacy – 488 pts ($500)
9) Wanda Fenyves's Melisandre – 336.5 pts ($500)
10) Laurel Blakemore's Walk the Line – 336 pts ($500)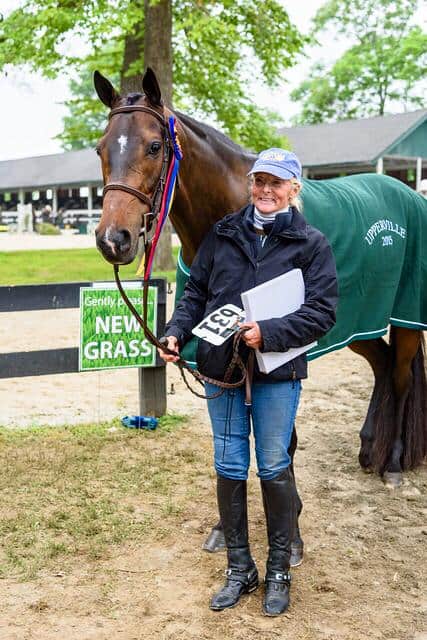 Feather, who raced under the name She's From Money, earned just $1,980 as a racehorse, but has now bankrolled $12,500 in year-end awards alone from the TAKE2 Thoroughbred League. Her owner/trainer/rider had high praise for the Thoroughbred and the TAKE2 Program.
"The quality of the Thoroughbred [in the show ring] is definitely improving," Scotty Sherman said. "There are some really beautiful, quiet and talented Thoroughbreds at more and more shows. I think the TAKE2 program is encouraging people to get young Thoroughbreds and train them to be great hunters.
"Feather will be champion Thoroughbred in Maryland again; she was champion at most of the shows she went to, and is still very fun to ride," Sherman added. "Actually, I'm thinking about doing the first-year greens next year with her, just to step it up a little bit and give her something bigger to jump. That should be a lot of fun!"
The Allen family has also had prior success in the TAKE2 Program, competing last year's TAKE2 High-Score Jumper, Bowie.
"My family has been retraining Thoroughbreds for many years," Grace Allen explained. "We have at least 18 Thoroughbreds living on our farm, some are quiet lesson horses, some are young trainees, and some are over 30 years old. My mom usually starts the ones off the track and my dad does the teaching. If they are competitive I take them to horse shows and if they are very quiet, that's wonderful, too. There is always someone to love them.
"We work together well as a family, each having a role to play that we love," she added. "When the horses go well, we feel pride in our achievements. I couldn't ride them well if it weren't for my mom's earlier work with them and grooming at the shows, and I would be nowhere without my dad's great coaching! When the show is over we celebrate the same way, by going to dinner and debriefing about the day's events and our future plans for the horses."
Breda, a graduate of the Pennsylvania Thoroughbred Horsemen's Association's Turning For Home Thoroughbred Retirement Program, raced unsuccessfully as Irish Sara. She is also the recipient of the 2017 TAKE2 Jet Run Award, which was created to highlight the role of accredited aftercare organizations in the successful transition from the racetrack to second careers.
"Breda was brought to our farm to try from a Turning for Home representative as an 'athletic horse,' but she didn't look very promising initially," Grace Allen said. "She was small and thin, but very sweet. My mom tried her and fell in love with her when she cantered. She has a wonderful powerful canter and she breathes rhythmically at each stride, as if she's counting. She doesn't suffer fools, and she keeps herself in shape in the paddock, running and leaping and twisting herself about like a dolphin.  There is no question that she is happy and confident."
As for what makes Thoroughbreds so special, Grace remarked, "I think that Thoroughbreds are attractive, intelligent, quick across the ground and quick to respond to the rider. Having a special relationship with a Thoroughbred is for me greater than having a relationship with people. It takes a deeper communication and there is no greater reward."
The TAKE2 Jet Run Award presentation will be held the evening of Saturday, Oct. 7, 2017, at the Retired Racehorse Project's annual Thoroughbred Makeover and National Symposium at the Kentucky Horse Park in Lexington.
The 2018 TAKE2 Thoroughbred League season is already underway, and runs through Sunday, Aug. 26, 2018. For more information, go to www.take2throughbreds.com.
The New York Thoroughbred Horsemen's Association (NYTHA) partnered with the New York Thoroughbred Breeders Inc. (NYTB) in 2012 to create the TAKE2 Second Career Thoroughbred Program, with the goal of creating more opportunities and making it easier to find new homes for retired racehorses. TAKE2 sponsors awards and prize money in Thoroughbred Hunter and Jumper divisions and supports Thoroughbred aftercare initiatives nationwide. The program has expanded quickly, from eight shows in three states in its first year to more than 350 horse shows in 23 states in 2017. The TAKE2 Thoroughbred League, started in 2015, offers a total of $30,000 in year-end awards to its members. To date, more than 1,000 Thoroughbreds have participated in the TAKE2 Program.
A 501 (c)(3) nonprofit organization, TAKE2 is co-funded by members of the Thoroughbred industry around the country: Fasig-Tipton Co.; New York Thoroughbred Breeding and Development Fund; Thoroughbred Horsemen's Associations in Illinois (through Galloping Out), Maryland, New Jersey and Pennsylvania (through Turning for Home); Ocala Breeders' Sales Company; and Florida Thoroughbred Farm Managers. TAKE2 is a 2017 TCA grantee.
SaveSave