Summer Pony Camp at Pond View Farm
The Fabulous Vineyard Life:  Picture driving up windy one-lane wooded roads, without any stop lights, and street signs made out of old engraved boulders… and then you get to the top of a hill overlooking breathtaking views of the water.  It's Martha's Vineyard: The largest island on the southeastern coast of Massachusetts… it's twenty miles long and nine miles wide.  Wood shingle homes are native here, not to mention: adorable.  My favorite pink and green cottage-like decorating is ubiquitous throughout this nautical island… in homes, in stores, and restaurants.  I'm in Preppy Heaven!  No wonder famous celebrities like Diane Sawyer, David Letterman, Lady GaGa, Meg Ryan, Stephen King and Carly Simon prance around their summer homes here.
Pony Camp Paradise: In the little town of West Tisbury, you will find Pond View Farm: home of many famous hunter show ponies and (of course) Summer Pony Camp.  I spent a week teaching the youngsters proper horsemanship, riding, crafts, and more.  We did lots of fun activities like "Design Your Own Saddle & Saddle Pad", "Color your pony and enter it in the flat class", Relay races with egg & spoon on the ponies, obstacle courses changing riders with the ponies, grooming & bathing contests, and learning proper horse care.  The kids were a blast, and they were so eager to learn.  The weeklong pony camp program runs Monday – Friday, 9:00 a.m. – 1:00 p.m., from June 24 through August 30 every summer.. don't be surprised if I come back this summer AND spend some more time next summer 😉  We had some very talented riders this week, and I hope they continue their riding careers from here on out!
Behind the scenes: Let me introduce the most positive, loving, and happiest gal I have ever met: Sarah Doyle.  She truly is an absolute doll.  Sarah is the brains, beauty and power behind this amazing program at Pond View Farm.  Originally working in retail, she gained a strong business mindset, utilized her fantastic people skills and creativity.  She can never be in one place for too-long, she's always thinking of new ideas, what to improve, and on top of it all, everyone that knows her (and She knows a LOT of people), truly Loves her.  One of the mornings while I was in Martha's Vineyard, Sarah made sure to introduce me to my now favorite breakfast food:  "Limpopo" from the restaurant State Road.  If you visit, it's a MUST!  I've learned, if Sarah recommends it, it's GOOD!  Her entertaining skills are beyond amazing… she even took me to see the Martha's Vineyard Agriculture Fair where I ate more delicious food (tempura, morning glory corn, and a swordfish skewer), petted alpaca's and other fabulous farm animals, shopped in one-of-a-kind island inspired shops, saw beautiful hand made works of art, and watched the pony riders get whipped and spun around on some fabulous fair rides.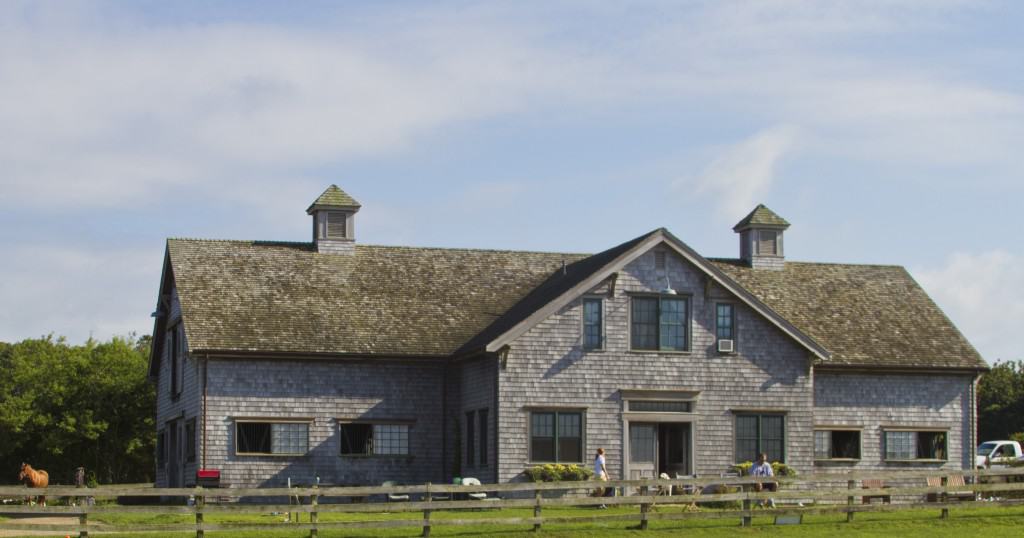 Many years ago, Sarah happened to build a summer pony camp "For Fun" and decided to fill the need for a great riding and training program on the island.  Now, Pond View Farm has been the longest continually operating riding facility on Martha's Vineyard for over fifty years.  The main barn features 15 permanent stalls, two wash stalls, tack room, laundry room, and a second floor viewing area that overlooks the arena.  While you are trotting around the arena, you can see the water from West Tisbury Great Pond and lots of ponies playing in the pastures.
Sarah's daughter Ava rides competitively and just won the $10,000 Pony Hunter Derby at the Fieldstone Horse Show.  She also just got back from an extremely successful Pony Finals winning a 3rd place and bronze medal in the pony medal with 196 ponies.  I'm not surprised this girl can ride…she's got true talent and training from the best trainers out there, and a passion for riding and love for the ponies.  I'm looking forward to a great year of watching Ava move up from ponies to horses this year… watch out– she may be heading to the Grand Prix's before we know it!
Some more pictures from Pony Camp this week: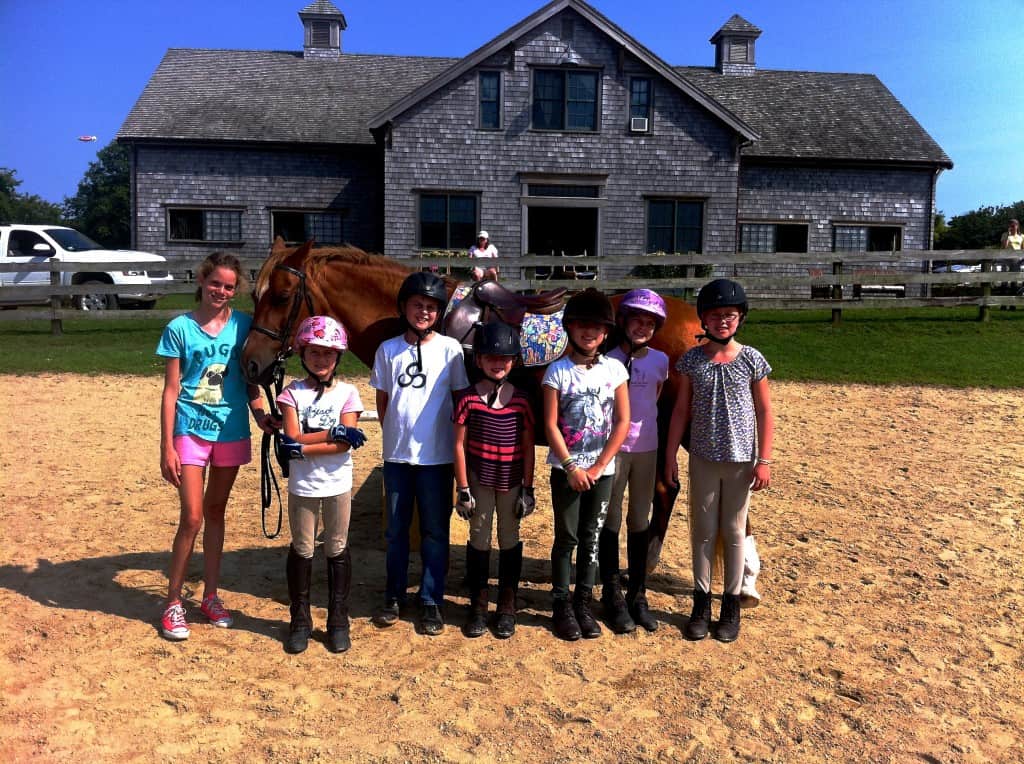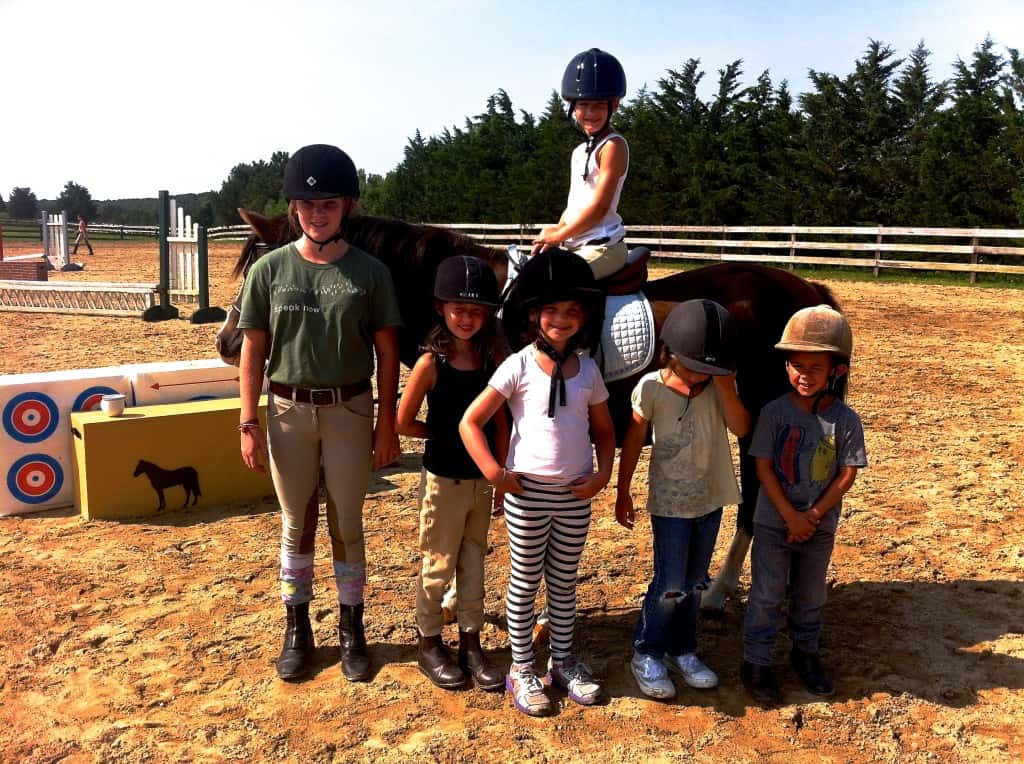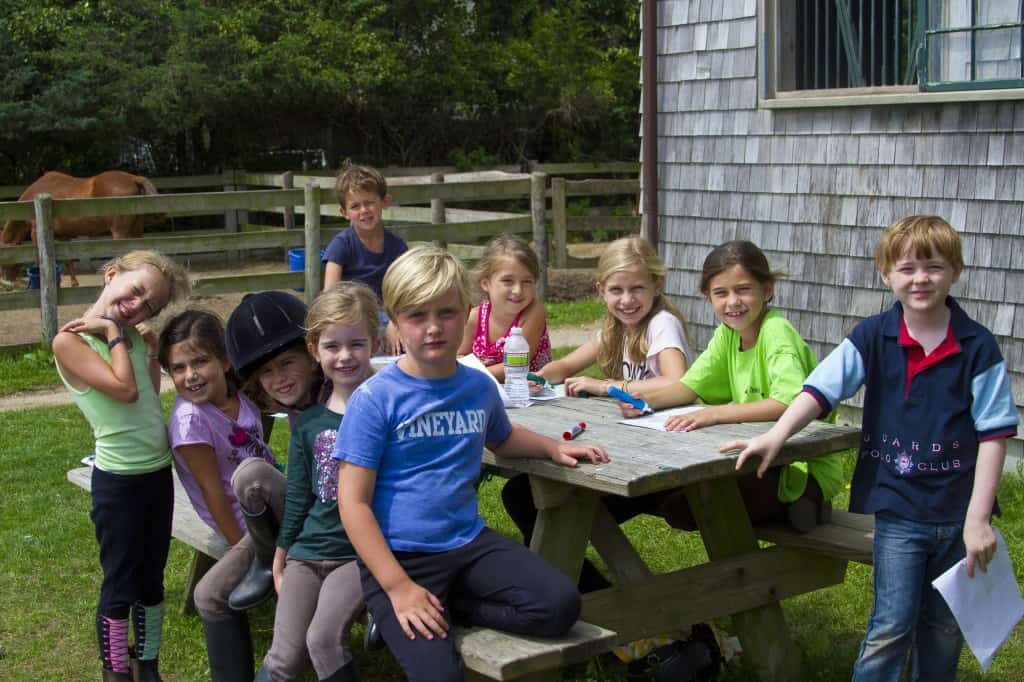 Old Pony Memories: The best part of my trip was getting to see my old large pony Daphne-Doo.  I trained her as a three year old straight out of the pasture.  I showed her as a large green pony and into the regular large pony divisions from Winter Equestrian Festival, to the Colorado Summer Circuits, to Pony Finals and The Devon National Horse Show.  I miss her so much, and the best part was… she remembered me!  When I walked out to her field, she popped her head up, perked her ears forward, whinnied and walked right over to me.  She's been through a rough year previously coming to Pond View Farm, but she is slowly working her way back to a normal routine.  I was glad to see she still has her rich chestnut color, big girlie eyes and beautiful movement…She walks like a Barbie.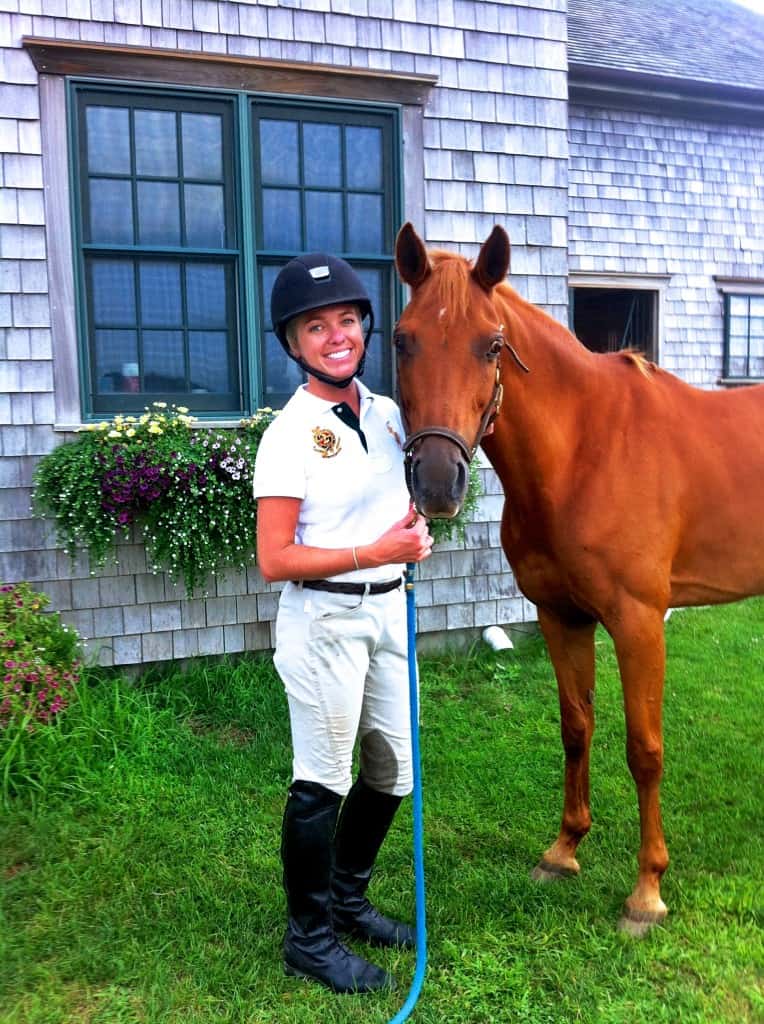 In my time after the barn, I went shopping on Oak Bluffs and Vineyard Haven, visited some beaches, and watched the sunset at Menemsha Beach.  Here are a few photos from those adventures: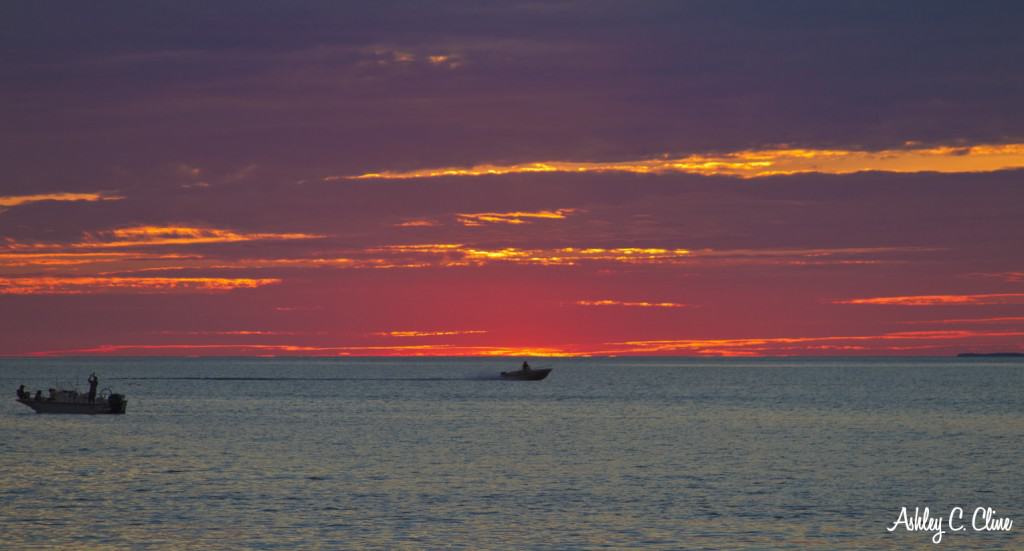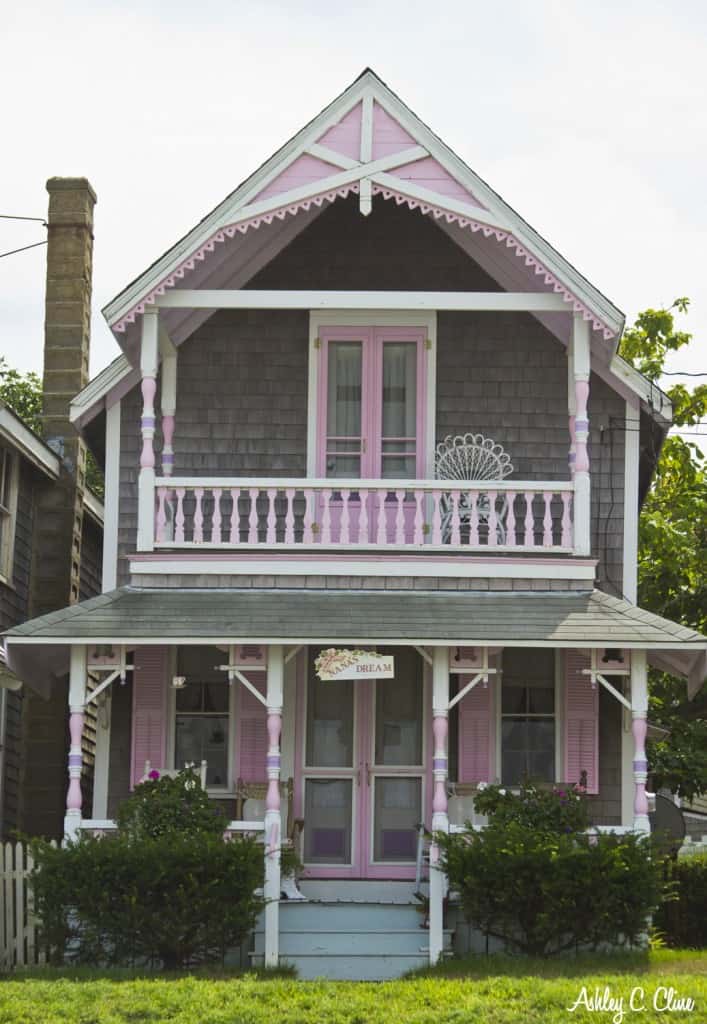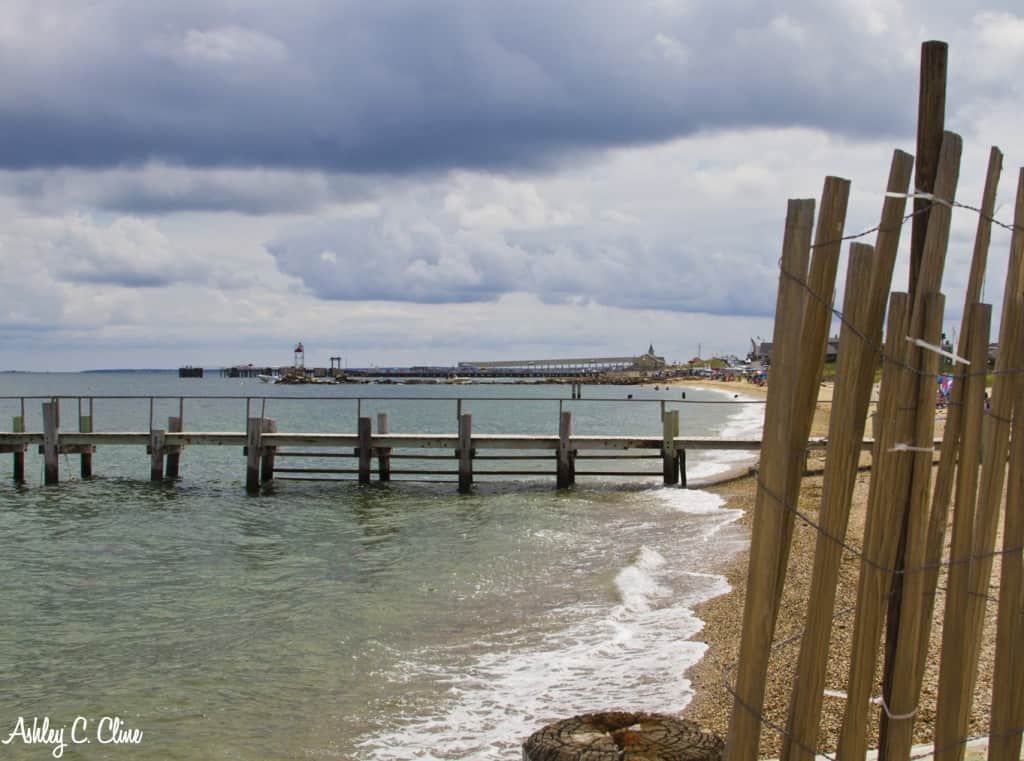 It was definitely a fun-filled week spent with Sarah Doyle and Pond View Farm on Martha's Vineyard.  I'm already thinking of when I can fly back up for more some more fun!  For more information on Pond View Farm or Summer Pony Camp, please visit: http://www.pondviewfarmmv.com