Equestrian Stylist at Winter Equestrian Festival 2013
From the pony ring to FTI's Great Charity Challenge, the 2nd week of Winter Equestrian Festival was even more fabulous than previous years spent.  I always enjoy going back and visiting the pony ring and reminiscing on riding in the green pony hunters to regular pony hunter divisions.  It's always a delight to see some of the same ponies competing today in the ring that I used to ride or show against.  Ringside parents still cheer for their little ones in braids, bows and jodhpur straps.  You just can't help but smile while you are there…
Ponies of color always catch my eye… especially like this palomino with three white socks.  From the pony ring to the jumper ring, it's always exciting to watch these little girls in braids go from one gear to the next in only an instant.
Hana Bieling rides in the green pony divisions to the children's jumper classes.  Hogie's bonnet is a beautiful navy crochet with pink and silver trim.  Although you cannot see in this photo, rhinestones are also attached to the trimming.  Hana is featured in a navy polo and is looking very professional even while she is riding in the schooling arena.  Riders wearing tucked in polos classic leather belts is professional and traditional when riding around the barn or at the show.
Little girls like Hana are technically in training to become professional riders to eventually show in the big International Arena at the Winter Equestrian Festival.
Max Amaya and "Cartier" clear the Trump Jump in the International Arena.  Do you have a favorite jump?  It's always fun to see what jumps are new in the arena every year… I've seen everything from sailboats to palm trees, and clothing sponsors to farms.  The possibilities are endless, and sometimes can be quite spooky for the horses that gallop right up to the bottom of them.
Speaking of businesses, while you are walking around the show grounds at Winter Equestrian Festival, there are some Fabulous vendors to check out while you you are visiting…
Lisa Skiffington, owner of Skiffington's boutique, is a dear friend of mine who has fabulous style and an eye for quality.  Mrs. Skiffington's daughter Alex and I grew up showing on the "A" Circuit together from Winter Equestrian Festival to Pony Finals.  She carries beautiful brands and always has new product coming into the shop each week.  Be sure to stop by… she carries some of my favorite horse bit belts you will have to look out for 😉
You can never go wrong with staring at new Butet saddles… True quality lasts forever.
Some other great equestrian vendors to check out at Winter Equestrian Festival are the following:
Saratoga Saddlery, Animo, Der Dau, Hand Picked, Parlanti, the WEF boutique, Beval Saddlery, Devoucoux, and more!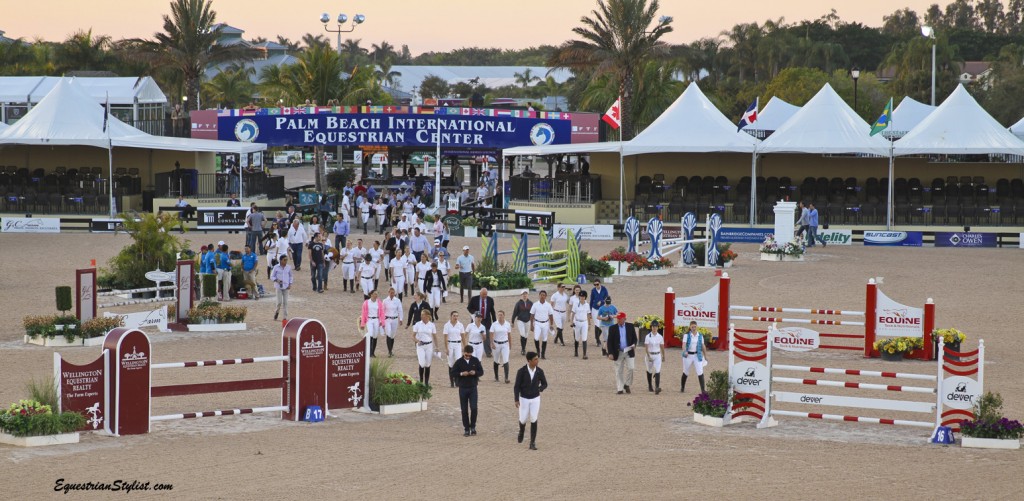 Top riders walk the course for the FTI Great Charity Challenge.  A total of 32 Charities competed in the event this year with a distribution of over $1 million in prizes won by competing teams.  Winner of this event.  Riders Darragh Kenny, Catherine Pasmore, and Meg O'Mara were the winning team of the fourth annual FTI Consulting Great Charity Challenge presented by Fidelity Investments® (FTI GCC) on behalf of their charity JDRF (the Juvenile Diabetes Research Foundation) on Saturday evening at the FTI Consulting Winter Equestrian Festival (FTI WEF).
The evening was fabulous as the sun was setting on the west side of the International Arena.  A sunset view of the Wellington Club is spectacular this time of year.  Spectators enjoyed the thrill of watching this exciting team event.  Nespresso sponsored the media room with delicious coffee and gourmet goodies.
The Winter Equestrian Festival runs weekly until March 31, 2013.  For more information on the event, please visit: http://www.equestriansport.com