A Piece of a Beautiful Moment: The Artwork of Jennifer Brandon
Through her original oil paintings, artist Jennifer Brandon captures beautiful portraits of horses, exuding the power, grace, and elegance of these creatures in motion. Her love of horses roots back to her childhood, and today she uses this equestrian passion to fuel and inspire her daily work. Equestrianstylist.com had the pleasure of interviewing Jennifer to find out more about her creative process and inspirations.
Q: Can give us a brief intro to you and your artwork?
JB: Having grown up a farm girl in rural Pennsylvania, I easily formed a connection with the animals I cared for. Horses, sheep, dogs, and a variety of other farm animals reached the heart of this imaginative little red-headed girl, winning my love. That same love, combined with my passion for art, has formed the direction of my life.
I remember as a child closing my eyes and moving my hands over my mare from nose to tail, memorizing the feel of her coat and muscles, and translating that into my childlike sketches. Today I paint the shiny coats and strong muscles of the horse, and I take great joy in expressing the powerful yet elegant force that emanates from the horse in motion. Oil painting is my medium of choice to express the energy and rhythm of these incredible beings.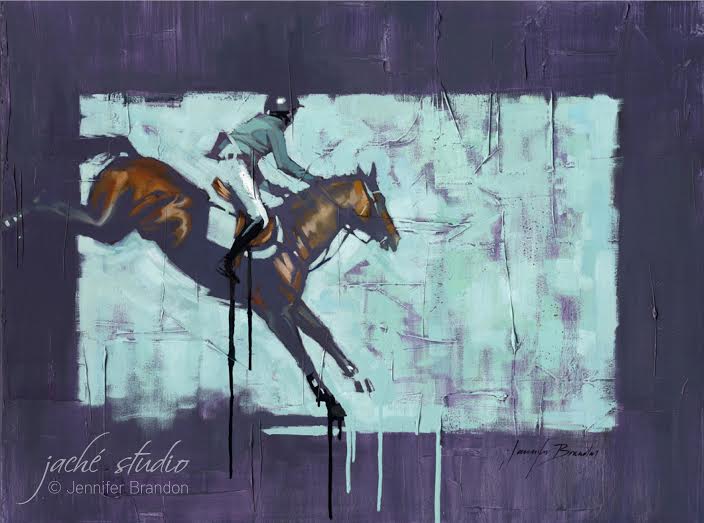 Q: Through your paintings you are able to capture the personality of each horse and the relationships with their riders in a beautiful way. Were you always interested in creating portraits/how did they begin?
JB: As a young child, when my artwork looked like nothing more than a  smudge of paint, I painted animals. My earliest memory is when I painted a fox chasing a bear…of course if you look at it now you would see nothing but a splash of red and smear of blue paint. So I guess you could say I was painting animal portraiture years before I even thought about a career as an artist.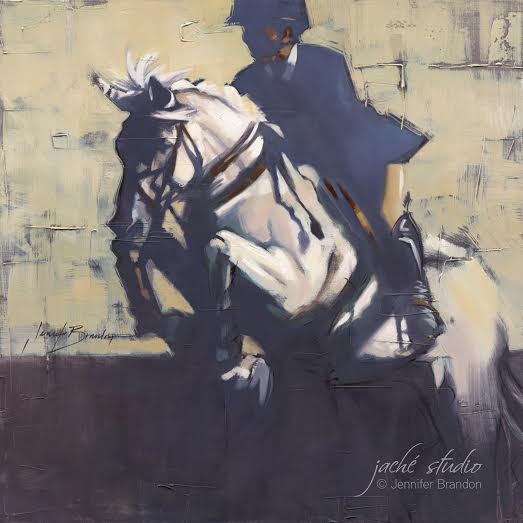 Q: Expressive mark making and texture are very present in your work. Can you tell us about your creative process?
JB: An artist's creative process is as individual as one's personal style. My creative process is rather like an ellusive living being. It needs cultivation, diversity, rest, and exercise. It's even moody and temperamental! (Aren't all we artists!)
My process starts with morning sketches, a cup of tea, and a fireplace with two snoring Great Danes by my side. Many of the painters I admire were master draftsmen, inspiring me to sketch every day. This sets the tone for my day, warming up my creative energy to be loose and fluid as I switch gears to brushes, paint, and canvas.
My intention is not merely to show a static representation of a photo, but to illuminate the energy and emotion of a moment. The beauty of paint is that it merges with the artist's vision and imagination and makes those things, once intangible, perceptible and real to the viewer.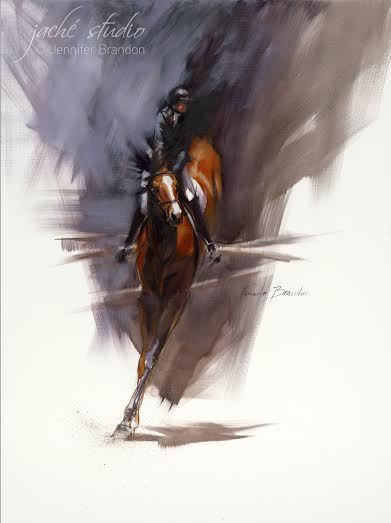 Q: What are you working on at the moment?
JB: I recently returned from a plein air painting trip, filled with rocky coasts, lighthouses, and harbors, and am now diving back in to several commissioned paintings of equines and canines. I also have in the works a large painting of three jungle animals, which I'm quite excited about.
Q: In meeting your mother at the Hampton Classic, she stated she was an artist as well. What is her background in art and how has she helped / inspired you?
JB:
My mom is a phenomenal artist. She has her masters in Art Education, and as I was educated at home, I had a leg up by having a private painting tutor my entire life. Having a natural love for the arts and a bent toward creativity, my mom and I have a special bond. I am thankful beyond words for her help and encouragement throughout my artistic journey. It's a gift. One that she's cultivated and nurtured, always encouraging me to pursue my dreams. My mom (Deb Hamby) is an accomplished oil painter and constantly inspires me with her use of color and attention to beautiful edges and subtleties in a painting. Her work can be seen at
debhambystudio.com
.
Q: How are your mother and husband involved in your business today?
JB: My mom is an integral part of my business. She travels with me to equestrian shows and helps me while I exhibit my work. When we're not "working" we like to get out and paint together. 🙂 It's a win-win.
Though it may seem like I run a one-man show, it couldn't be farther from the truth. My husband, Jared Brandon, manages the business aspect of my work (thank goodness!), dealing with all the tedious bits of paperwork and details that slowly suck the life out of us artists. I couldn't do what I do without him, or my mom. They set me up so my creative energy can thrive.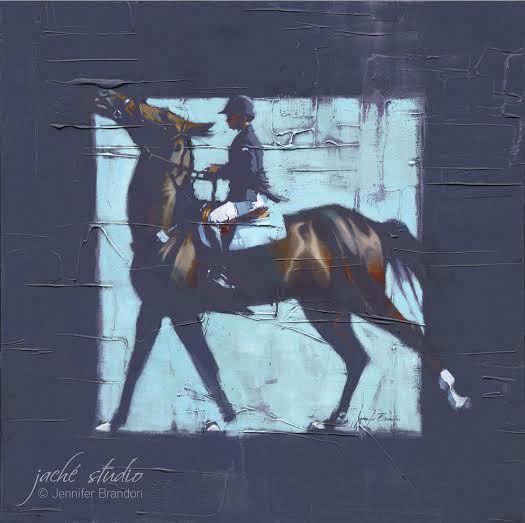 Q: Your paintings create a window into a beautiful equestrian moment. Above all what do you hope your audience takes away from your artwork?
JB: I hope my work opens up a new way for my audience to see. The elusive elements of energy, movement, power, and grace are made tangible through the medium of paint. I hope my work keeps special memories close to heart, and captures the essence of life that may fall flat in a photo. I want my work to bring a positive energy into the space in which it finds its home.
Jennifer takes great joy in creating custom horse and pet paintings. She loves working with clients who get excited about art, and want to immortalize their horse or pet with an original painting.
To see more of Jennifer's work visit her site at: http://www.jachestudio.com/