Bizi Ferguson's Horse Show Style from Winter Equestrian Festival 2012
My name is Bizi Ferguson and I'm a 21-year-old (almost 22) jumper rider and I absolutely love fashion.  I'm currently at WEF and blogging from the Oasis Café and my friend Anna and I are singing along to the Backstreet Boys' "As Long as You Love Me" that is playing.  It can't get any better than nice weather, Backstreet Boys, and horses.  Ok, there is something else that makes this place extra special.  The people here are extremely well dressed.  Vendors row carries some of the best lines offered, in my opinion, and can make you one of the best dressed riders around!
Clothes are so fun to wear when you have the perfect pieces that go together.  Riding clothes can be just as fashionable as regular clothes, but it's important to know what can make you stand out in a crowd of people who are ultimately dressed the same.  So, I thought I'd share with you a few of my favorite pieces that I think are stylish, sophisticated and fun at the same time.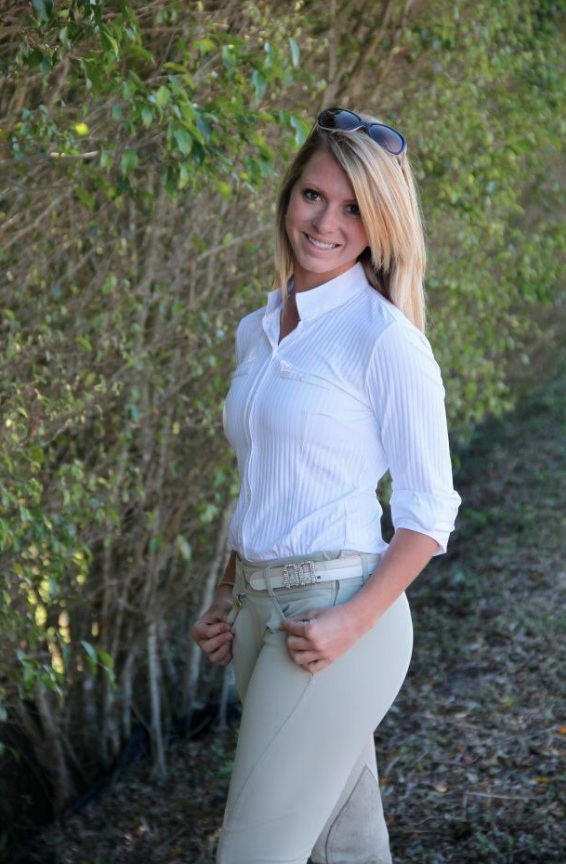 Alessandro Albanese is one of my favorite lines now and has some really great classic pieces that are a little different at the same time.  If you are looking for a different take on a classic white show shirt, Alessandro has a great lightweight, fitted shirt.  It's made with microfiber,  so it is stretchy and easy to move around in.  The breast pockets along with the ribbing makes this shirt feminine and just different enough to turn heads.  You'll also notice, throughout these pictures that I am wearing my favorite Alessandro belt with the "blingy" buckle.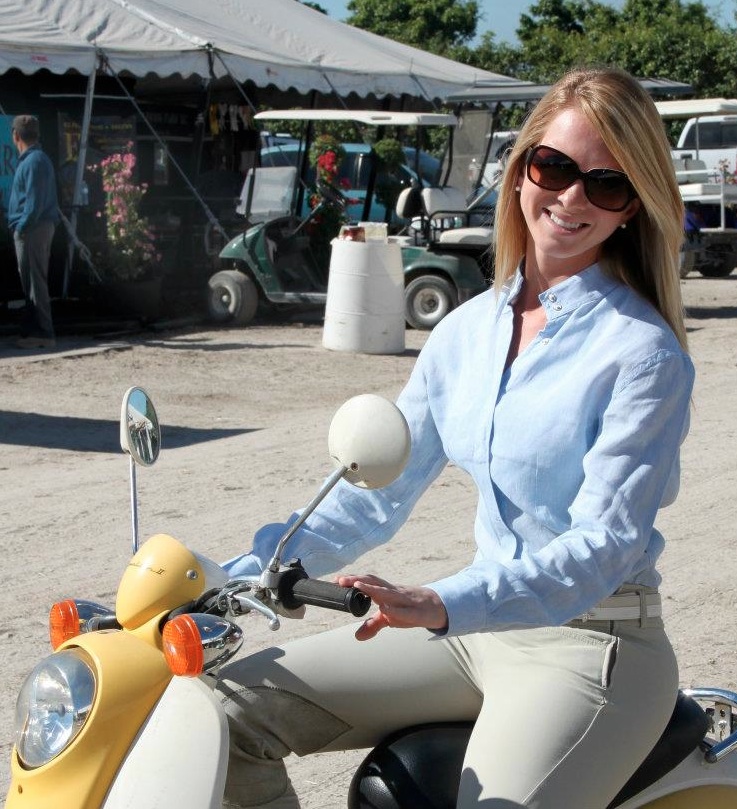 Another Alessandro shirt I love is a linen snap-button shirt.  I have the one in light blue, but it also comes in white.  This shirt can be worn to ride in, but probably not to show in.  However, it is the perfect piece to wear on a day that is warm with a little breeze because it has long sleeves, but the sun comes through the fabric and also can give you a tan at the same time!  For us young people, that can often be important.  Just remember to wear your sunscreen!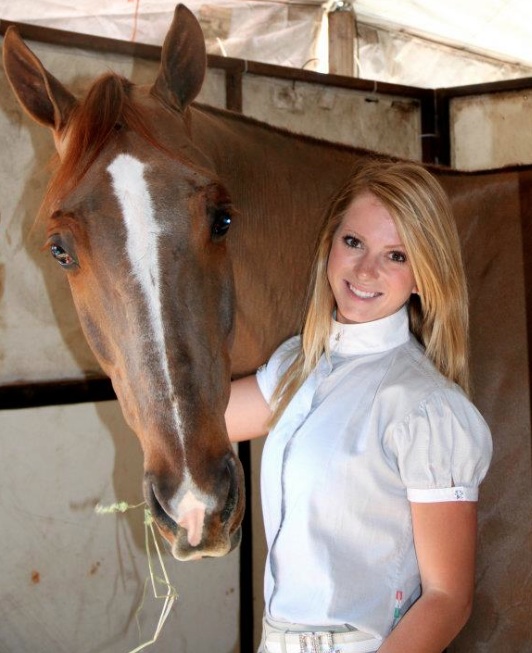 Nothing says femininity better than a ruffle sleeve and because of that, this shirt is one of my favorites that I own.  I still have never seen anything else like it.  It can be worn by itself with the ruffled sleeves showing, but it also fits nicely under a show coat.  Another special part of this shirt are the jewel buttons on the collar and the sleeves.  I've gotten so many compliments on this shirt and it's so versatile.
The pants I am wearing in these pictures are Santio breeches and are some of my favorite breeches.  They are always very flattering and are made with a special fabric that allows them to be waterproof.  These pants are hot and somewhat new on the market (and I'm not just partial because my mare Undine is the "spokeshorse" of the line).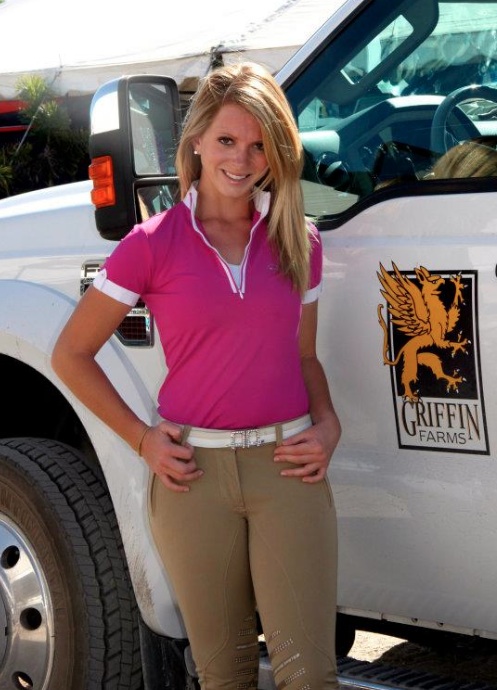 Another line that I absolutely love is Animo: Very fashion forward and fun.  This line is definitely one that requires some guts to wear, because it is so different.  Though it is very popular, especially for jumper riders.  This particular outfit shows a pair of Animo breeches with the special grip and one of the polos with a half zip.  All of the Animo pieces are extremely comfortable and stretchy, which I like because then you have room to move.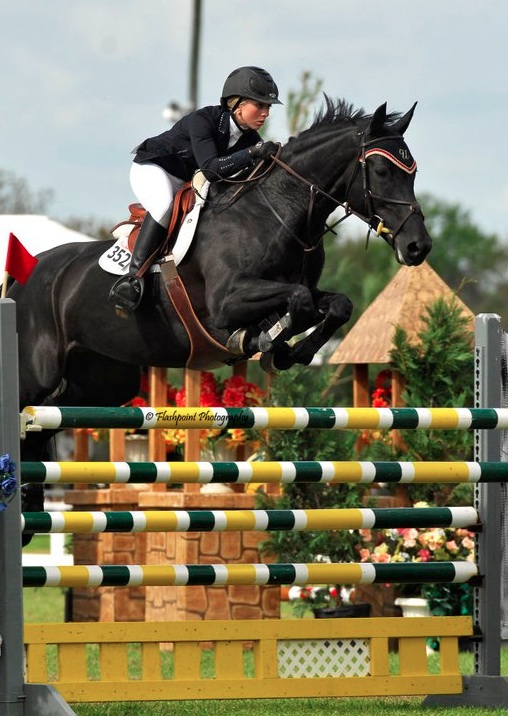 Though I love Animo's breeches and shirts, my favorite thing that they have are the show coats.  The coats are absolutely fabulous.  They come in all sorts of fun colors as well as traditional colors.  The fact that they are stretchy and machine washable is a huge plus!  I also think the buttons are very fun on the coats (and the breeches for that matter) because they are a pretty turquoise color.  I have a light brown coat, light blue coat and a navy coat with bling.  I usually save my "blingy" coat for classics or when I had done some grand prixs…I think it's very special.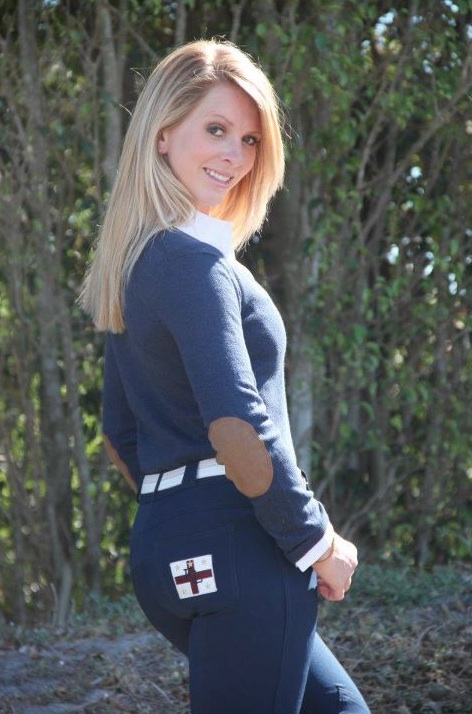 This outfit is more for a schooling day at the horse show, or just to wear around.  Since I've been at WEF, these Leon sweaters with the elbow patches have been selling like crazy.  They come in navy and grey and can be worn with any kind of breeches or jeans.  I personally like the navy sweater paired with these navy Kingsland breeches.  Typically monochromatic is not a good look, but something about this outfit screams classy to me.  I think the white shirt and the white belt with it breaks up the fact that it's all one color.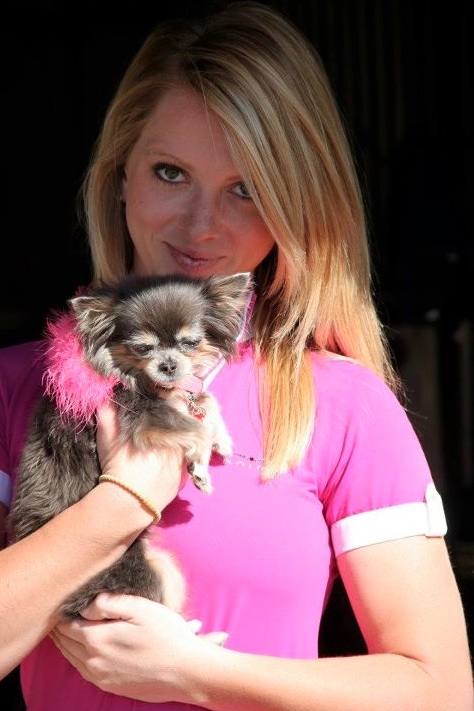 All the outfits are great, but really the best fashion accessory is a little dog like Minnie!  She goes everywhere with us and has become famous at the horse shows.  She's now 7-years-old and only weighs two pounds.
"Have a good day everyone and remember to stand out and be confident in what you wear."-Bizi.
—————————————————————————————————————————————————
Please visit more of Bizi Ferguson's fashion, horses, and life blog at: http://thebizibee.blogspot.com/
SaveSave