Rare & Retired Painted Ponies For Sale
The power of social media is huge, and I'm always looking to find ways to promote business within the equestrian community and especially with fans and friends online.  One of our followers on twitter, Shelley Homes introduced us to Aimee Pilz  who has a collection of rare Painted Ponies for sale.
Aimee and her husband Andrew both share a passion for horses and the equestrian community.  Aimee grew up around horses and "loves them for their combination of power, independence, talent, intuitiveness and playfulness."  Her very first memory of a horse was when her grandfather led her around on a very gently and kind horse named Trouble.  Aimee loves to ride horses on the beach or trail ride still today, but she has never competed.
Aimee's husband Andrew grew up around horses and his family had horses in Central California.  He used to do insurance riding and competing with Arabians, but more recently owned and rode Arabians showing in English country classes.
Due to an emergency situation, Aimee has to sell her beloved collection of Painted Ponies.  Please check out these rare models.  If you would like to purchase them in a bulk, Aimee will arrange that as well.  These horses make a great edition to any home– display them on a shelf in your child's room, or use them for your next Derby event!
About the Collection:
The Trail of Painted Ponies is a beautiful line of Horse figurines introduced by Westland Giftware, the creator's of Cow Parade. It is modeled after the New Mexico-based public art project called The Trail of Painted Ponies. In the history of art, the horse has always been an enduring source of inspiration. Giftbeat, the publication that prides itself on taking "the product pulse of the gift industry" has ranked Painted Pony figurines, manufactured and distributed by Westland Giftware, #1 in the animal-themed collectible category. Painted Pony figurines are mounted on bases similar to more expensive art pieces, and are sequentially numbered on the underside so that collectors can immediately determine where their piece fits in the casting history. By developing a regular retirement program, Painted Pony figurines have made the leap from charming collectibles purchased because people like the way they look and make them feel, to investments that are appreciating in worth. Several of these early retirees have now sold for well over $500.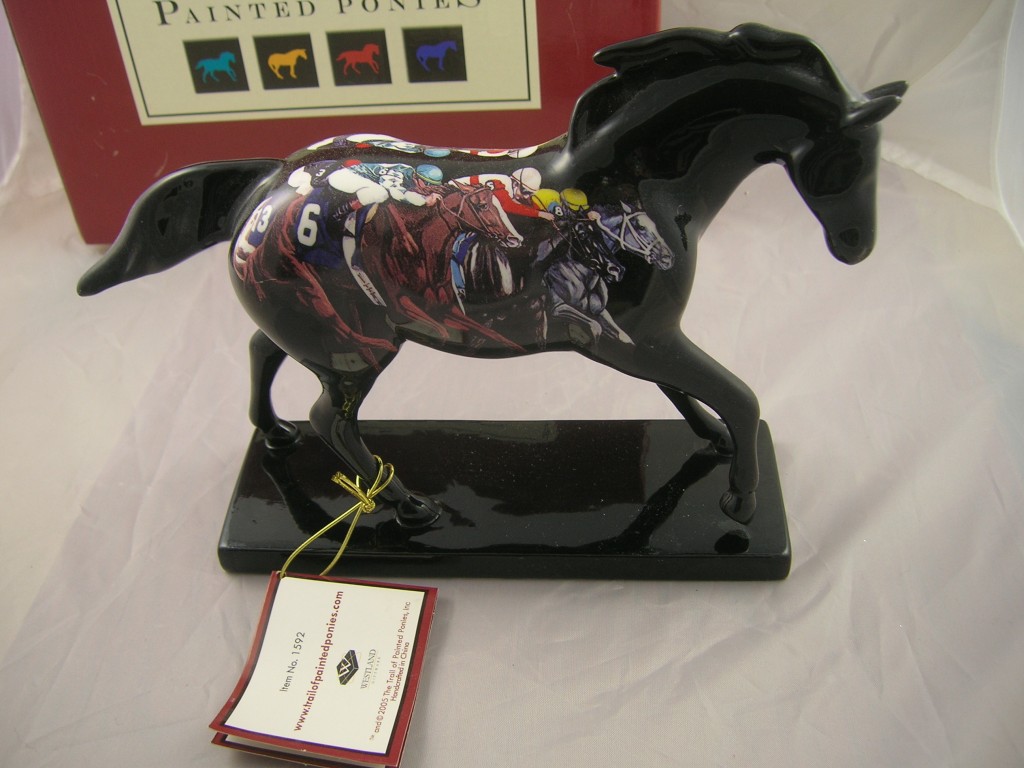 The Trail of Painted Ponies Fantastic Fillies Horse #1592 3E 1404 Retired & Rare:  Janee Hughes honors the art of horseracing in "Fantastic Fillies." This is a retired pony and is a low number in the 3rd edition. When she was invited to paint a Pony that honored the racehorse, Janee, a children's book illustrator, imagined four fast fillies charging down the homestretch, the winner crossing the finish line a nose ahead of the others. The artistry in her design is heightened by the contrasting colors of the horses and the silks of the jockeys set against a midnight-black background, and the determination and courage etched on the faces of the fillies. (This is my favorite from her collection!)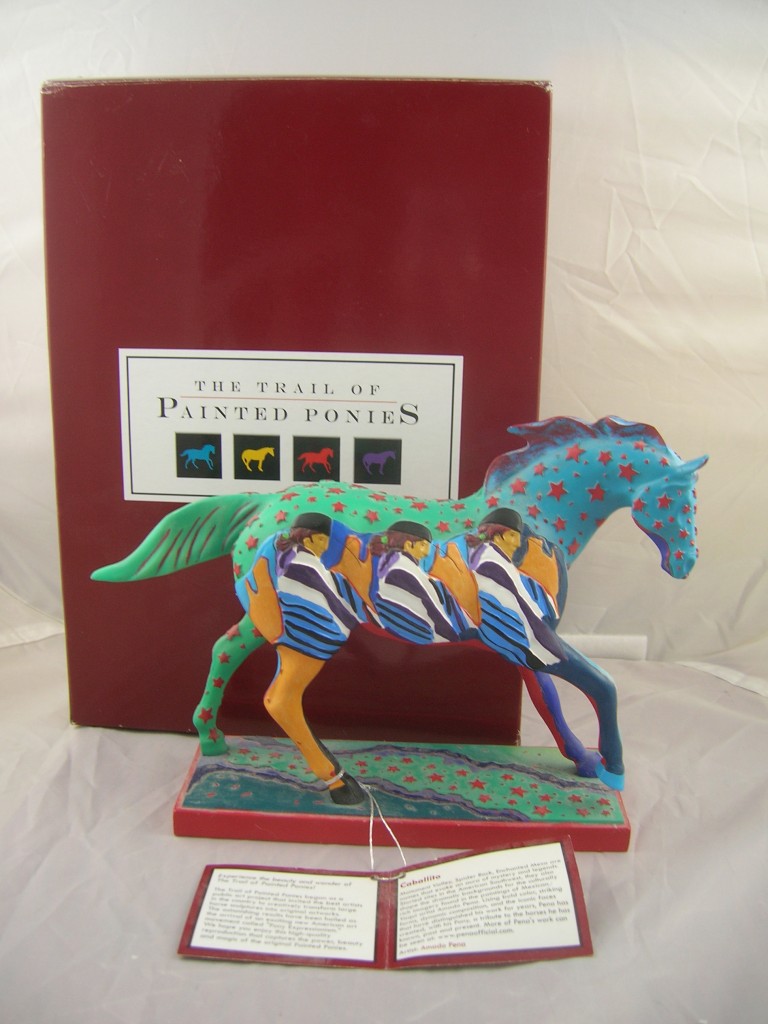 The Trail of Painted Ponies "Caballito" #1525 2E 5218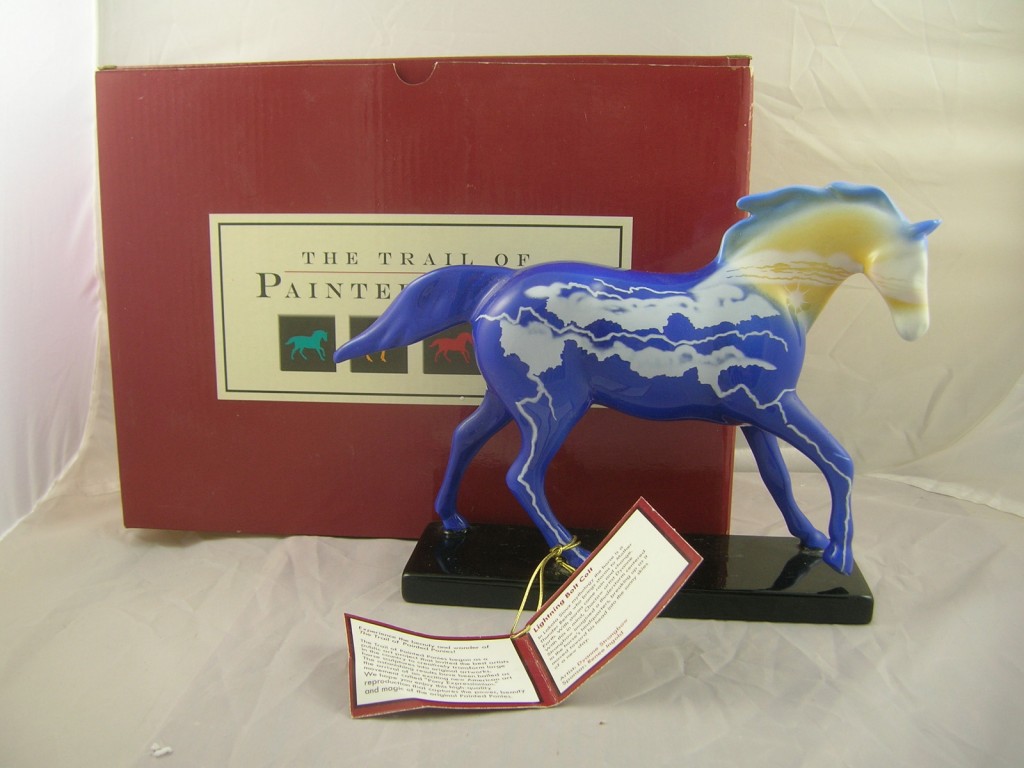 Trail of Painted Ponies – Lightning Bolt Colt #1461 5E 5875 Retired & Rare! In Lakota Sioux mythology, the horse is a Thunder Being who brings storms to Mother Earth. The thunder you hear is the pounding of his hooves. With thunder, lightning and rain come change… and change is like a new day. With this in mind, Native American artist Dyanne Strongbow imagined a thunderstorm centered in the horse's hindquarters, breaking up as it moved forward toward his head into the sunny skies of a new day.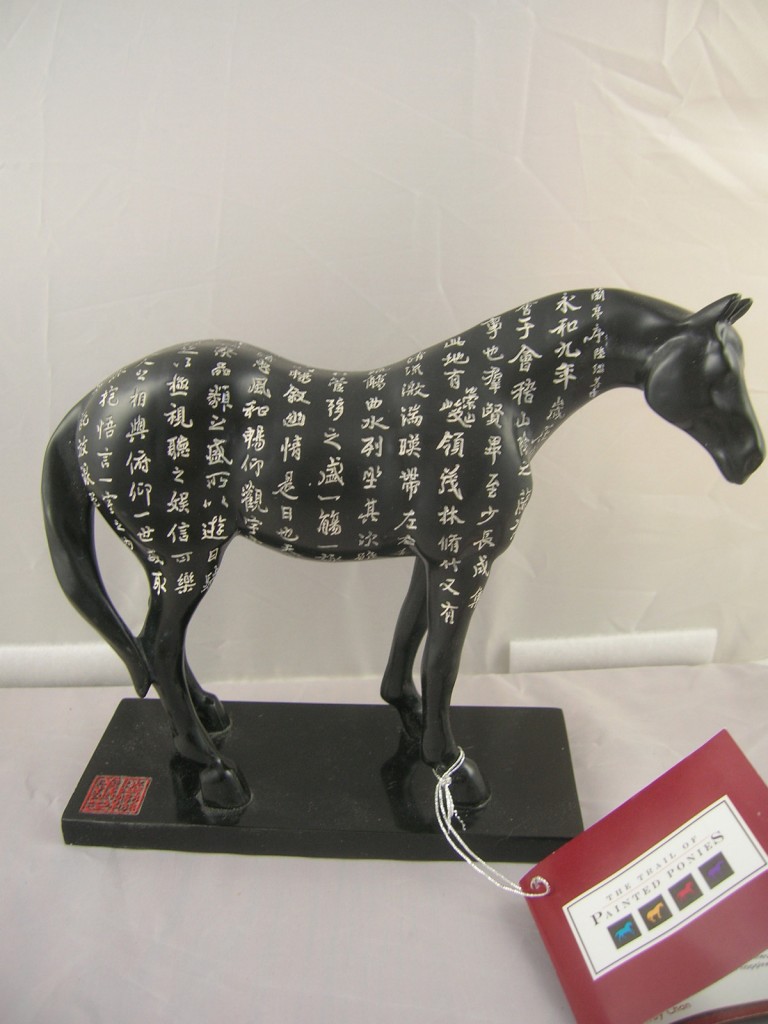 Trail of Painted Ponys "Epic Horse" Retired. Ideal for the elite collector. Stone tablets have played an important role in the heritage of Chinese culture. Knowing this, Jeffrey Chan, an art designer for Hong Kong movies who also specializes in giftware design, conceived of a glossy black Pony on which a famous poem was carved in a manner that captured the beauty of the art of Chinese calligraphy. The poem, Orchid Pavilion Preface, was written in 352 A.D. by Wang Xizhi, one of the most highly respected calligraphers and poets in Chinese history. It is a masterpiece that speaks to the happiness and grace of every living moment. The Trail of Painted Ponies "Epic Horse" #1526, brand new with original hang tag & box.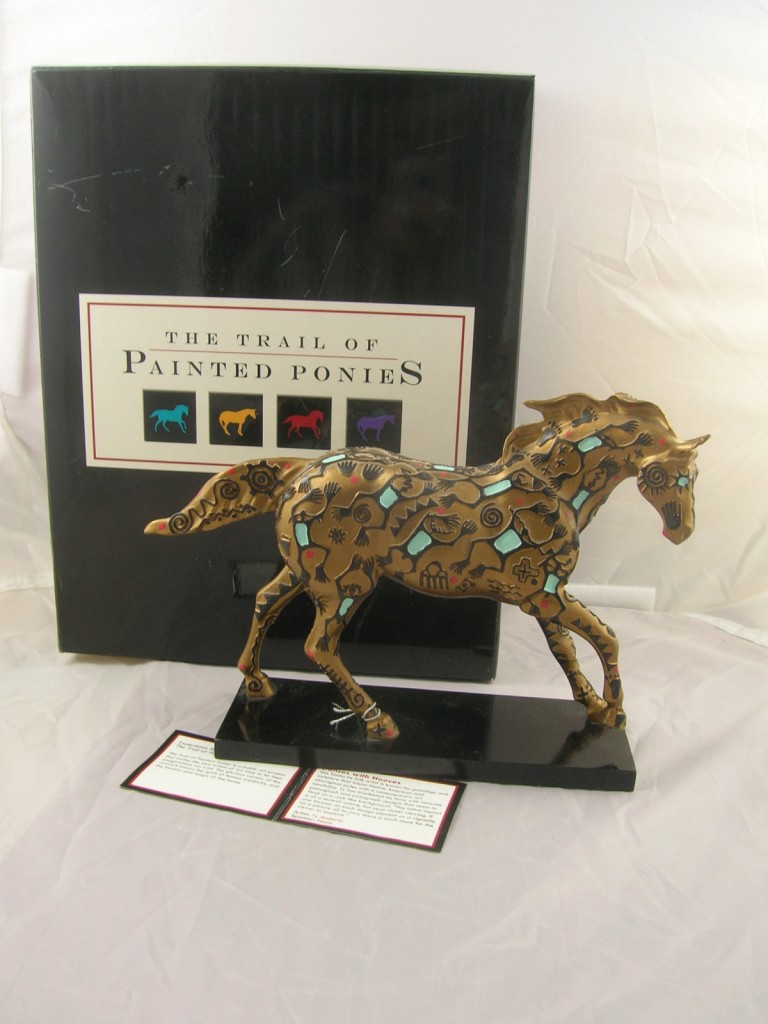 Painted Ponies Dances with Hooves: Only 2 runs of this pony were made!  It's a rare piece.
If you are interested in purchasing a bulk order of these horses, please contact either myself at AshleyC@Equestrianstylist.com or Aimee Pilz.