The Newport Coaching Weekend: Traditional Horse & Carriage Event
I'm currently crazed about the Horse & Carriage.  Everything from the traditional dress to colorful wooden carriages, garnished harnesses, and the perfectly matched pairs.  It's historic, and simply beautiful.  I've never experienced a driving show, but thanks to Janet Crawford, she introduced me to the fabulous "Newport Coaching Weekend" which just happened August 16th-19th in Newport, RI.  Authentic nineteenth century coaches drawn by perfectly matched and well trained teams of horses drew many to see this weekend of horse & carriage beauty.  The public enjoyed a free viewing of the colorful and historic coaches.  This event was in celebration of preserving a century-old sporting tradition.  Take a look at Janet Crawford's beautiful photos and check out the traditional equestrian style and fashions from this fabulous event: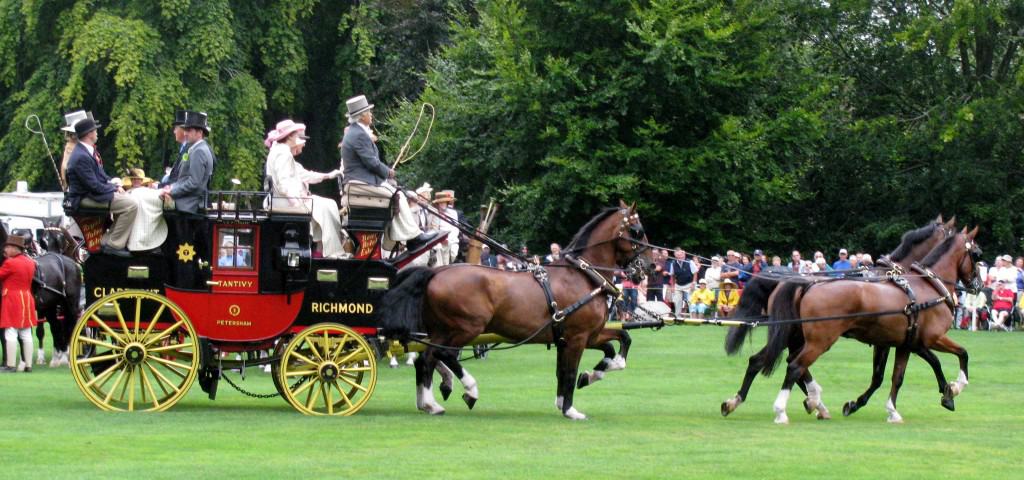 This historic tradition of coaching began in the 18th & 19th century of mail runs in England.  Later, the horse-drawn mail coaches made their way to the US and eventually were replaced by railroads.  Because of nostalgia, it led to a development of coaching as a sport.  The Coaching Club of New York began in the 19th century, which led to a social tradition for Newport during the summer.  The Wetmores, the Bells, the Vanderbilts and the Belmonts were all active members, bringing their coaches together to go to the races, the polo games, and the Casino.
There are two different types of carriages used in the sport of coaching: the Read Coach, and the Park Drag.  The driver of the coach is known as a "whip", and is seated slightly elevated in the right front seat.  The whip's wife or female relative occupies the "box seat" on the left.  The rear bench of the coach holds at least two grooms.  The center benches can hold up to ten passengers comfortably.
A formal Coaching Weekend Dinner Dance at The Breakers on Saturday evening ended the weekend affair.  I think this will be a must on the list for next year for Equestrian Stylist to attend.   Thanks again to Janet Crawford for sharing her photos and inspiration from this event.