2nd Annual STRUT! for a JustWorld Fashion Show Presented by Horseware Ireland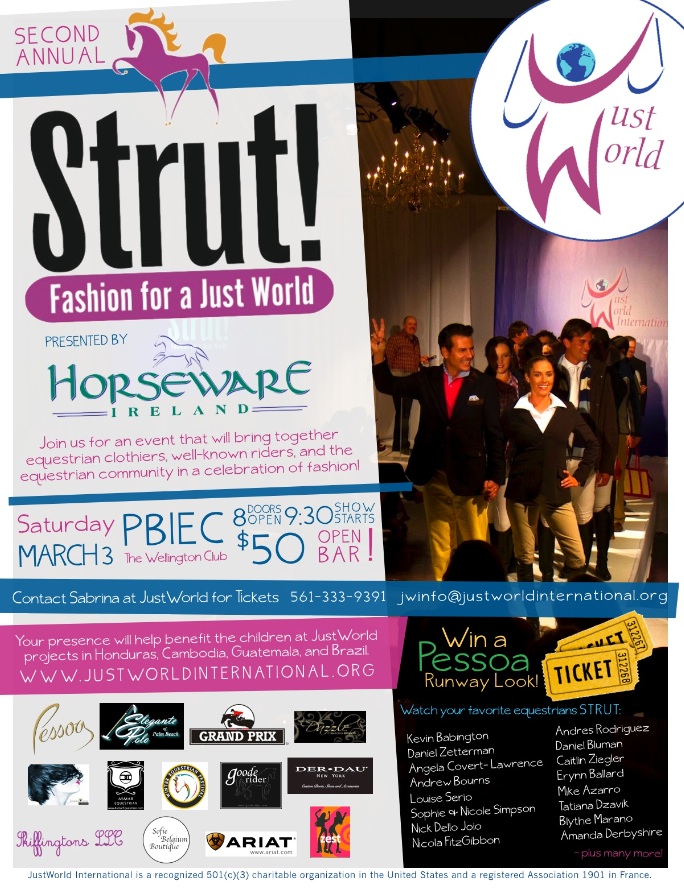 Wellington, FL – February 17, 2012 –Press Release: Amanda Powers, Dobbin Group:  The second annual 'STRUT! Fashion for a Just World' Fashion Show will be held Saturday, March 3, 2012 at the Wellington Club on the grounds of the FTI Winter Equestrian Festival in Wellington, FL following the $50,000 Vita Flex Match Race showjumping competition. The fashion show, which drew a crowd of more than 250 spectators last year, will feature the industry's biggest names in both fashion and competition as they come together to benefit JustWorld International.
JustWorld's longtime partner Horseware Ireland is returning as presenting sponsor for a second year. Proceeds from last year's fashion show helped JustWorld to fund the building of a new school at JustWorld's project site, Stung Mean Chey, in Phnom Penh, Cambodia. Additional event sponsors include Dazzle Creative Events, Generations: A Hair Salon and SportFot Photography.
Guests will be treated to stylish equestrian fashions from Horseware's popular Pessoa Collection along with chic ensembles from Ariat International, Asmar Equestrian, Der Dau, Eleganté Polo of Palm Beach, Goode Rider, GPA, Grand Prix, Konigs, Le Fash, Pikeur, Skiffington LLC, Sofie Belgium Boutique, the WEF Boutique and Zest. Guests will also have the exciting opportunity to enter for a chance to win a Pessoa by Horseware look straight from the runway. Tickets for the drawing will be available to purchase at the door.
The models slated to walk the runway include Alex Skiffington, Alexa Adelson, Mike Azarro, Kevin Babington, Erynn Ballard, Andrew Bourns, Daniel Bluman, Angela Covert-Lawrence, Kamini Chinloy, Marlee Dichter, Nick Dello Joio, Amanda Derbyshire, Tatiana Dzavik, Nicola FitzGibbon, Blythe Marano, Aimee Mc Clenahan, McKahla Onetto, Andres Rodriguez, Louise Serio, Nicole Simpson, Sophie Simpson, Daniel Zetterman, and Caitlin Ziegler.
The doors at The Wellington Club open at 8 pm and the show will start at 9:30 pm. Guests will enjoy a premium open bar and a great view of the Vita Flex Match Race.
Tickets are now available for $50 each and may be purchased by calling Sabrina Jurak at JustWorld International at (561) 333-9391 or by email at info@justworldinternational.org.
About JustWorld International
Since its inception, JustWorld International and Executive Director Jessica Newman has inspired the equestrian community to support projects that benefit children in Brazil, Cambodia, Guatemala, and Honduras. Currently, Just World has more than 450 Rider Ambassadors from 37 countries helping to bring attention to their cause.
Founded in 2003, JustWorld International is a not-for-profit, humanitarian organization working as a catalyst for positive change in the developing world by helping children in impoverished communities. For more information, please visit www.justworldinternational.org.
About Horseware Ireland
Horseware Ireland was founded in 1985 by Tom and Carol MacGuinness whose shared goal was to create a horse blanket that stayed put and didn't leak. This quest resulted in the development of the unique Rambo blanket, which revolutionized the entire industry. Horseware also produces the popular Rhino and Amigo horse clothing lines.
In addition to horse clothing, the company has many product lines including tack and equestrian clothing for both competition and casual wear.
Horseware Ireland is headquartered in Dundalk, Ireland and has its North American headquarters in Kinston, North Carolina. For more information and to view their products, please visit www.horseware.com.