Featuring Springtime Portraits by Kathy Cline
Springtime is here, which means graduation, wedding season, and more reasons to get your equestrian portraits done.  We are featuring Kathy Cline's beautiful equestrian portraits of her daughter Amy Cline this week. Take a peek at these fabulous images:
Amy has a long history with Sam I Am starting as a little girl riding and showing him since a  7-year-old through age 12.   Sam I Am competed in the Small Pony Hunter Divisions at Winter Equestrian Festival to National Pony Hunter Finals and even The Devon National Horse Show.  He has been successful with many riders across the country and has taught many young children to ride at the national level.
Amy's Style is classic, romantic, and feminine.  Amy wore a white ruffled tank top and curled her hair… she looks absolutely angelic in these photos!  Keeping the dress classic for portraits is key.  The dark wood fencing and greenery in the background brings out the blonde hair in Amy and keeps an equestrian-chic look in the photo.
Pictured about is Hadfield's Minuet, also known as"Minnie".  She is a semiretired 15.1 h Dutch Warmblood who has won many championships in Adult Amateur Hunters at AA Rated horse shows in Wellington, Florida like Winter Equestrian Festival and The National Horse Show. Minnie now resides at Fox Meadow Farm in Ocala, Florida along with Sam I Am.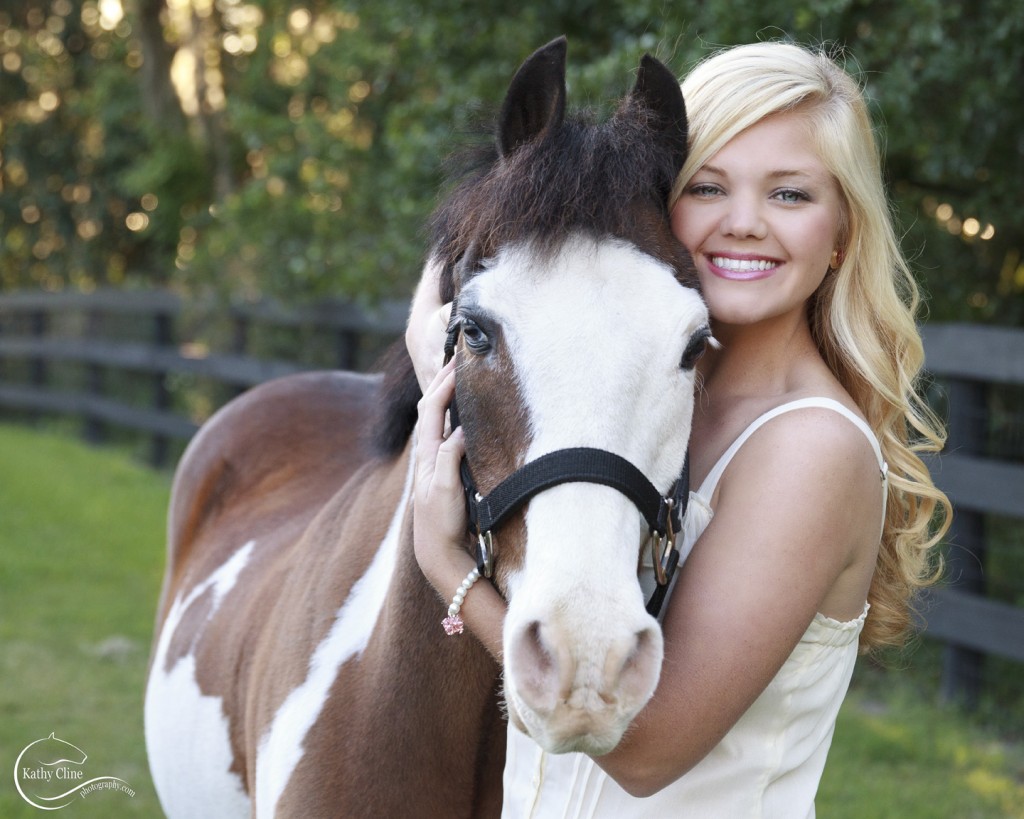 Also, posing with your pony should be natural and fun. Amy and Sam are the best of friends and he enjoys his pasture time with "Minnie" above.  Amy's memories with Sam will continue to grow as he is retired on Fox Meadow Farm in Ocala, Florida.
To see more fabulous equestrian photography visit: Kathy Cline Photography