Inside Fashion Designer Rebecca Ray's Equestrian Home
From handbags to computer totes to belts and dog collars…If you haven't noticed lately, Rebecca Ray design is one of the most unique equestrian accessory brands out on the market today.  If you are a true horse person, you will appreciate these stylish, authentic, and made in the USA handbags and accessories.  In speaking with Rebecca Ray herself, all of her designs come from authentic things like an antique feed sac and twisting them into "wearable, relevant products".  We were able to speak with Rebecca and listen to her story of how she started this fabulous equestrian line.
From English Setters to Equestrian Sports.. to Entrepreneur:
Rebecca Ray grew up in a family raised with 3-day eventing, and later went to Miami University in Ohio for equestrian riding, where she met her husband Derek who is also an accomplished equestrian.   Her family shared a love and enthusiasm for all things sporting including showing English Setters.
In creating Rebecca Ray designs, Rebecca stated, "we just wanted to share our lifestyle because we believe it's a fun one".  It sure is, the equestrian and sporting community is a charming and exciting one. Rebecca currently lives in Chagrin Falls, Ohio and she devotes several hours to taking care of eleven show dogs, two ponies, two finches, one Holland Lob bunny and one Siamese cat.  Rebecca's home is gracefully decorated in traditional equestrian-chic décor where her inspiration continues to thrive in this lush retreat.
She has provided us with a quick peak inside this inspiring equestrian abode: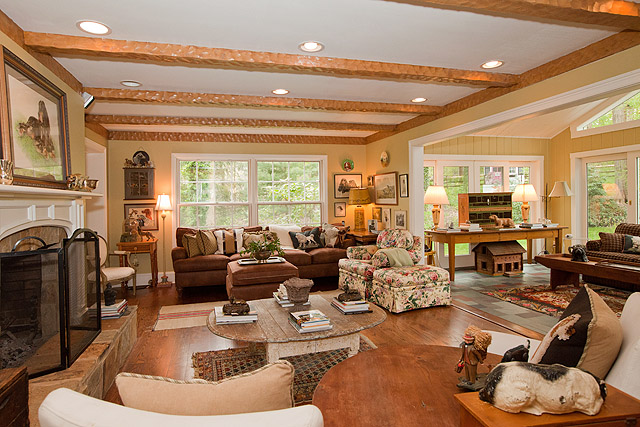 The Living Room: I love the traditional horse statue in the left corner…it brings back memories of my old rocking horse when I was a child.  Check out the frolicking horse above the fireplace.  That dark horse on a white wall is a stunning focal point for this living room!  So Fabulous!
Another view from the living room.  The indigo wall accents give a great splash of color.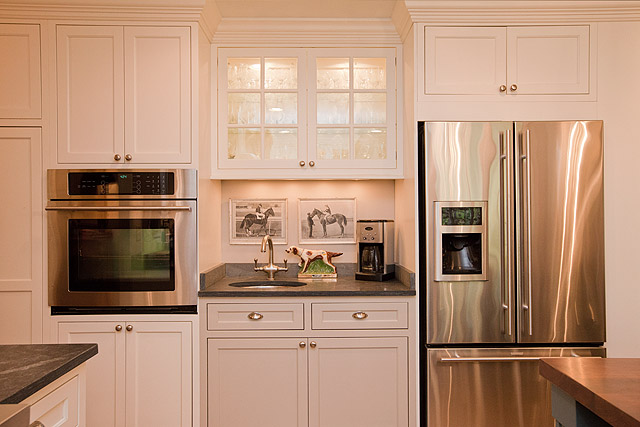 The kitchen: Love.  This modern kitchen stays true to the traditional roots with the vintage horse photographs as a backsplash.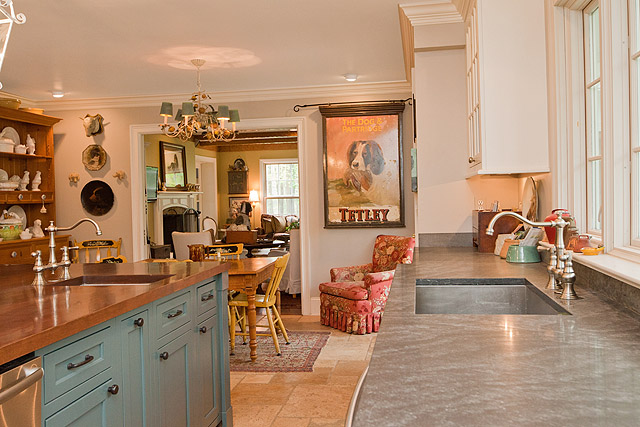 This ultimate french country kitchen makes me want to bake right now!  I love the teach colored cabinets and matching lamp shades on the chandelier over the kitchen table.  Vintage inspired with modern updates makes this kitchen so fabulous.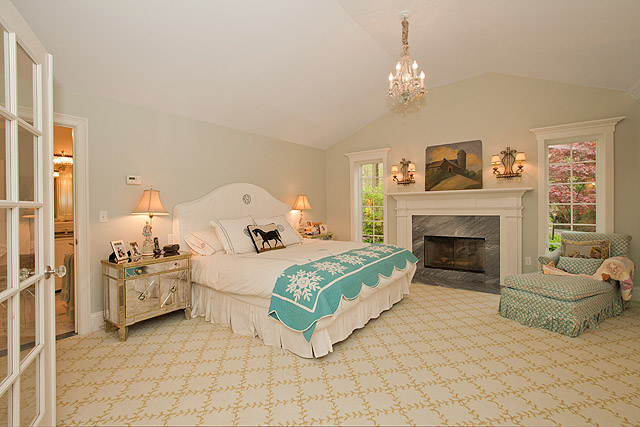 A simple horse pillow on a monogrammed white bed really pulls this classic room together.  The light mint walls are such a soothing color… what a great retreat to relax after a day at the farm!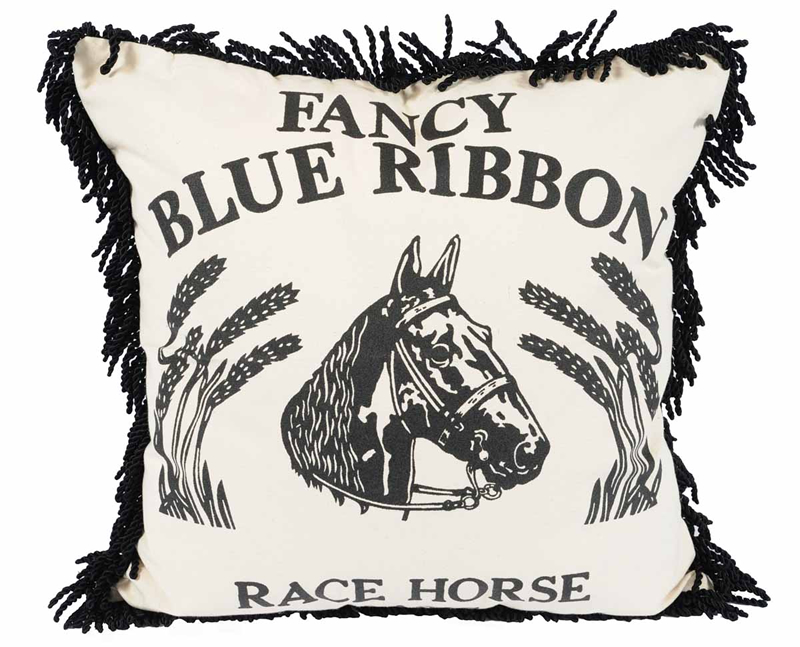 Rebecca Ray designed the "Fancy Feedsac Pillow", one of my favorite equestrian accents for any sofa or master bedroom.
I am loving the steeplechase prints and shabby chic English Setter printed wall paper!
Rebecca Ray Designs encompasses the full experience of a traditional equestrian, yet also integrates contemporary styles for those who are fashion and trendy conscious.  Rebecca wanted to take her authentic equestrian lifestyle and transform it into unique wearable accessories.  "I sewed all my bags myself for several years, and then we entered one in a country living event for women entrepreneurs, and we were selected as a winner.  At that point in time, my husband said to me: is this a hobby, or a business?"  Rebecca experienced what most entrepreneurs call the most fun part of life: turning your hobby into a business.  The handbags and accessories she creates relates directly to her equestrian inspired home and lifestyle.  Rebecca is inspiring many, including myself, in living a horse-inspired dream.   We give Rebecca a special thanks for sharing her beautiful home and inspiring us to create new things for those who love horses and those apart of the equestrian community.  Please stay tuned for my favorite's from Rebecca's handbags and accessory collection!