Featuring Fine Equestrian Art: Oil On Porcelain
At Live Oak International 2013, I had the greatest opportunity to meet with Richard Moss of Oil on Porcelain.  A gentleman that I will never forget, Moss is one of the most personable, kind, and well-educated men I have ever encountered.  And one of the most talented elite equestrian artists in the industry.  Moss was raised in the Northeast by his mother whom raised him with a love for animals, fine art and French cuisine.  He even spoiled us with a homemade French quiche the final day of the horse show.
A bit of the background of Oil On Porcelain: Richard Moss studied mosaic in Italy, while Moss's partner Robert Clark, is a graduate of the New York Academy of Art with a Masters in painting.  For more than twenty years, Clark and Moss have been working collaboratively to create both functional and decorative figurative art: easel-work and surfaces in stone, glass and ceramic. Together they have been recognized by the National Endowment for the Arts, the White House Millennium Project, museums and prestigious private collectors. Their published work includes luxury residences and notable hotels and restaurants. For a decade they have been reviving kiln-fired oil-on-porcelain in the style of 18th and 19th century Sevres Porcelain (Paris) and Konigliche Porzellan Manufaktur (K.P.M – Germany).  Their compelling portrait paintings have unusual depth due to the transparency of the medium, also a smooth surface with a buttery sheen. Subtle variations of color and attention to minute detail give these portraits a powerful physical presence. Translucence is achieved through multiple kiln firings at high temperatures. The artists' studio is at their farm in Ocala FL, where they breed horses from the Royal Dutch Stud Book of the Netherlands (KWPN) and German riding ponies.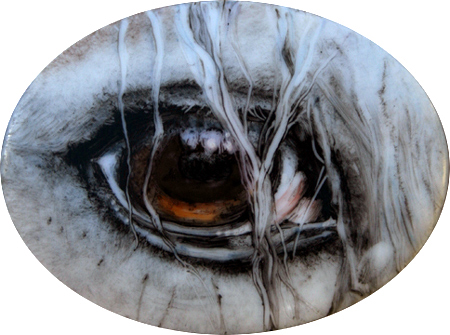 These two artists are all about the details with fine hair strokes and perfectly reflected eyes that bring the painting alive.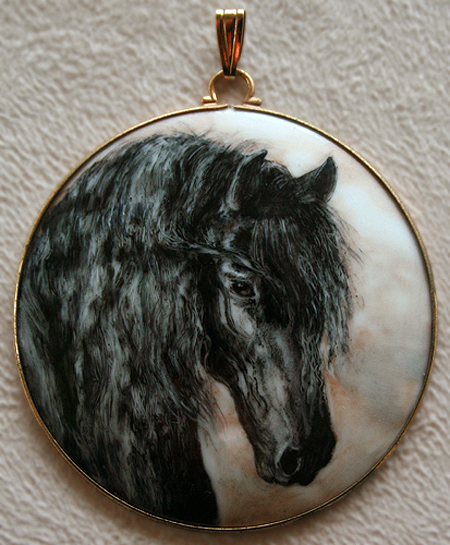 Custom creations are part of their specialty.  By personalizing art for their clients, it creates a lasting memory for both the horse and rider.  Equestrians from all of the world have had special masterpieces created for both the barn and home.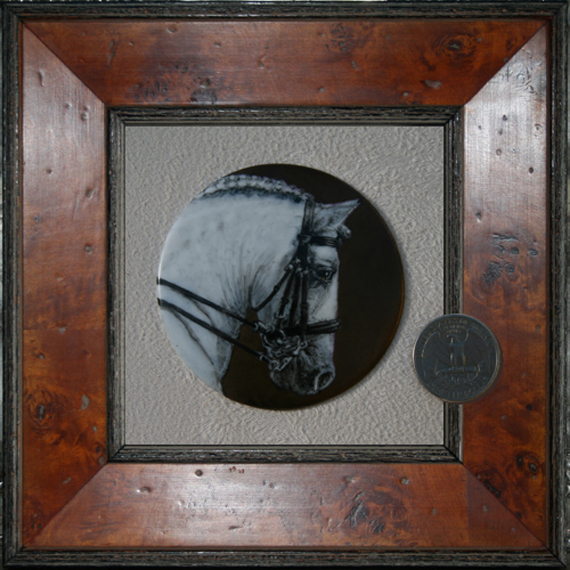 Miniatures, dogs and horses. Most are about 2 inches or so and durable to enough to be worn as jewelry.  Most of these pieces, however, are used as wall art.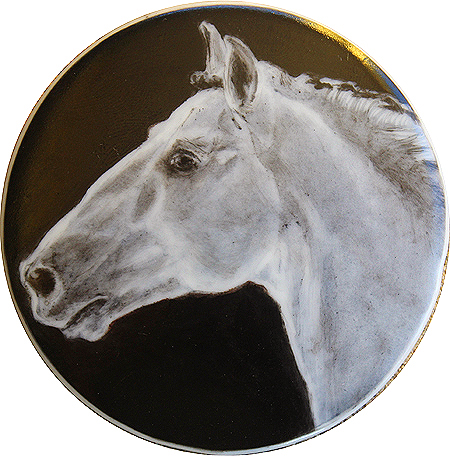 One who loves horses, usually loves dogs…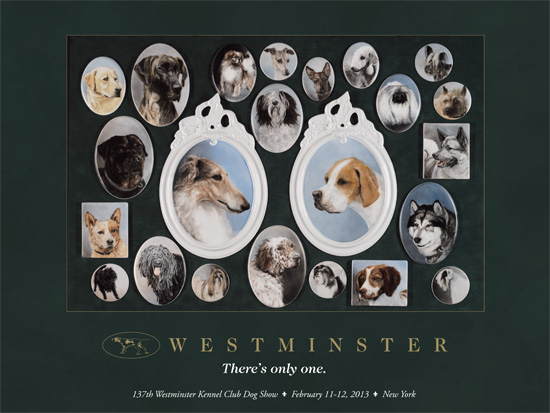 Oil On Porcelain was the featured art behind the 137th Westminster Kennel Club poster with 23 of  the miniature oil on porcelain paintings.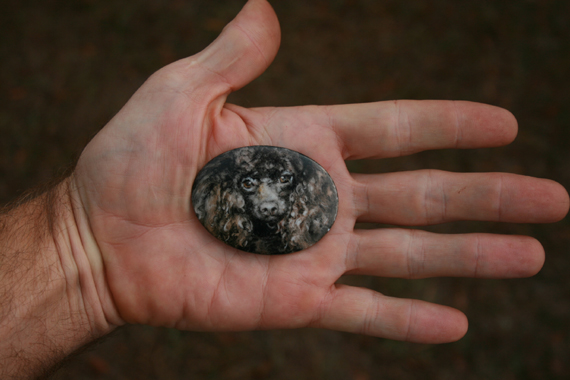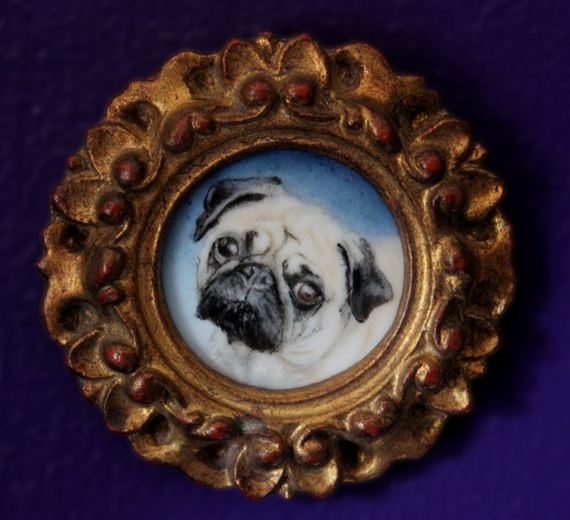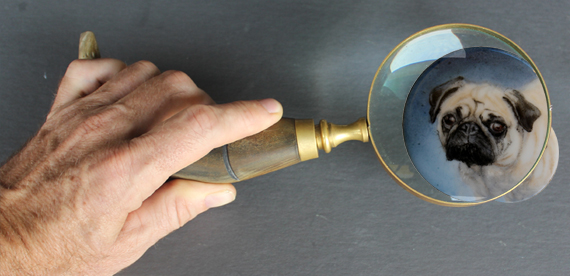 Clark and Moss specialize in creating masterpieces for famous horses and riders all around the world.  Below you will see "Rousseau" who is a famous Dutch Warmblood owned by Hassler Dressage of MD.   The KWPN-NA commissioned the portrait and presented it during their annual meeting which was hosted at Hassler's gorgeous facility.

The soft details are elegant and classic… A timeless piece to last forever.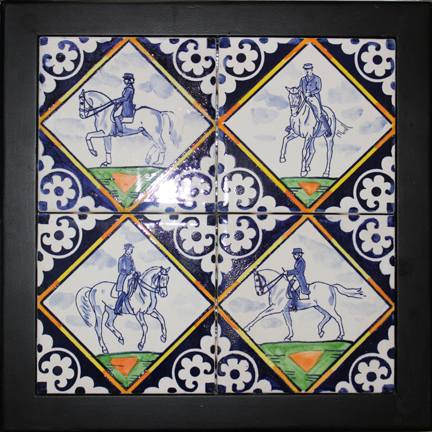 Not only does Oil On Porcelain do custom portraits, but they also specialize in home interiors.  If you are thinking of redoing your kitchen or bathroom, take a look at the incredible backsplash behind the stove of this kitchen: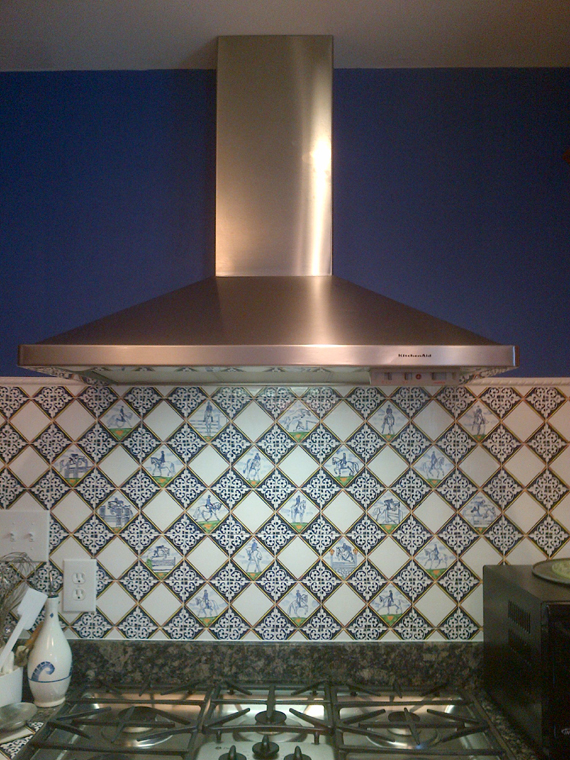 We are loving the european influence that Moss and Clark have developed into their equestrian art.  Moss and Clark's Equipment of Culture features hand painted tiles available for custom work orders large and small.  We will be featuring more equestrian interiors inspired by Moss & Clark's Equipment of Culture in the future, so stay tuned for more of this fabulous equestrian style.
For more information, on the artists and their work please visit the following links: