The Last Leg of the Triple Crown: How to Celebrate, Win or Lose!
The Triple Crown buzz is in the air. As the Belmont approaches, the tension is high—as it should be! California Chrome is on the verge of making race horse history. If he can pull it off—if he can take the Belmont Stakes—he would be one of only eleven horses in history to be named a Triple Crown winner. Imagine: California Chrome could go down in history with the likes of Secretariat, War Admiral, and Affirmed.
Celebrating the Belmont seems like an easy task since everyone is hyped up and jubilant over California Chrome, the champion of the hour. But what if he loses? The air of the room suddenly deflates. Your guests are sad. Your party looks like it's done for. But, don't worry! You'll be prepared to entertain guests for a win or a lose… Here are some tips and tactics:
What To Wear: It's always fun to "root for your team". We are excited to cheer California Chrome on for the Triple Crown, so here's a few style tips to dress the part: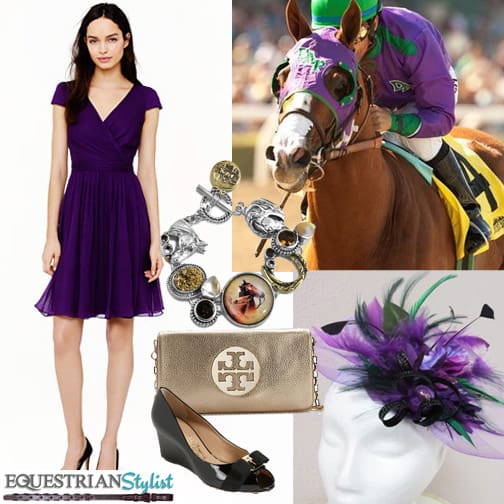 Color coordinate with rich royal purple, hints of kelly green, and gold accessories to match Victor Espinoza and California Chrome's wardrobe.
The simple J Crew 'Mirabell' Dress is a flattering piece and perfect for the Belmont. We are absolutely loving the royal purple and kelly green fascinator found here.
Accessories to mention are the Tory Burch Reva Clutch in Gold, obviously a pair of polished Salvatore Ferragamo 'Sissi' Pump in Black and the Gold Drusy Mars & Valentine Bracelet from Caracol Silver.
Prep:
Prepping for a Belmont party can be difficult since the traditions aren't as well furrowed as those of the Kentucky Derby. But have no fear; it's doable with a little thought and creativity. First, you have to know your Belmont history. Be familiar enough to rattle off the names of a few Triple Crown winners and take part in some of the traditions. We suggest kicking off your party with most vintage of the many Belmont songs, "Sidewalks of New York." Have the ingredients for the traditional drink, the Belmont Breeze, prepared—but hang on a second—save them for after the post parade. Call us cheesy, but we think it'd be fun to watch the post parade while making a toast with a glass of Post Parade wine.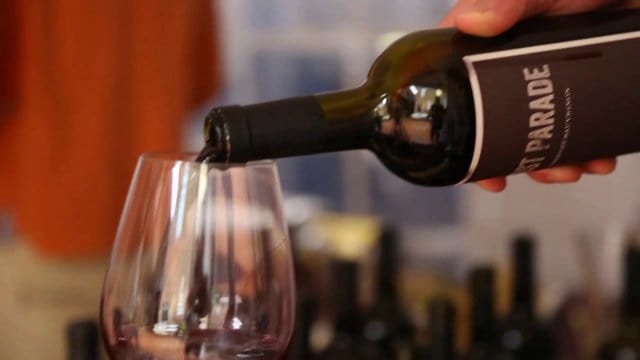 You don't have to go all out, but if you're going to decorate with floral arrangements, use the same flower from which the winner's flower blanket is made, the white carnation. After the prep work is done, enjoy the excitement!
And they're in the gates… And they're off!
WIN
If California Chrome takes the Triple Crown, your job is easy. Why not have a cake ready to celebrate the Triple Crown winner? Slip away after he crosses the finish line first and write CALIFORNIA CHROME in big letters in icing across the cake! Keep those drinks flowing. It's time to mix up the Belmont Breeze (recipe below)! 
Belmont Breeze Recipe 
Ingredients:
1 1/2 ounces bourbon whiskey
1/2 ounce Dry Sack Medium Dry Sherry
1/2 ounce fresh lemon juice
1/2 ounce simple syrup
Splash of orange juice
Splash of cranberry juice
5 mint leaves
1 mint sprig
1 orange zest
Shake all ingredients with ice.
Strain into a chilled cocktail glass.
Garnish with fresh mint sprig and orange peel.
Source: www.http://cocktails.about.com/
LOSE
Ok, so history was not made. Yes, the Triple Crown is a big challenge and only eleven horses in history have accomplished it. We'll give California Chrome a break. So what do you do next, when the tense air of the party seems to have gone out the window? Have a Plan B. Before the race, you could take bets for who will win; however, exclude California Chrome. (That way, there'll still be some excitement when that mystery horse crosses the finish line.) Now, get creative! Have your guests take part in the Belmont's new tradition of painting the colors of the winner on the cast iron horse and jockey.  Well, most of us don't have a four-foot tall cast iron horse and jockey, but you can make a print out available for folks to color. Or, try this: make a cake with a blank jockey silk silhouette to fill in with icing. Then lift everyone's morale by watching Secretariat's win in the 1973 Belmont, the greatest Belmont Stakes race in history.
Time will tell whether this year, 2014, will be a memorable one in the history of horse racing, but we'll see to it that your 2014 Belmont party will be worth remembering! Here's our wish for good luck going out to California Chrome!