Style Snapshots From The Iroquois Steeplechase
On Saturday, May 12, at Percy Warner Park in Nashville Tennessee marked the 71st annual run of the Iroquois Steeplechase.  This horse race has become one of the richest events on the National Steeplechase Association spring circuit.  Each year, the race is held one week after the Kentucky Derby, making a highlight for Nashville's social scene.
This year marked EquestrianStylist.com's first attendance to this fabulous horse racing event.  The event was huge and filled with extravagant tailgates with home southern cookin' and beautiful bouquets of Tennessee native florals.
I have to admit, it's addicting going to Steeplechase events:  Beautiful people wearing silk colorful printed sundresses, hand made Derby hats,  and horse shoe printed bow ties are always present at Steeplechases.
There are three tracks on the grounds of the Iroquois Steeplechase: 1.5 miles hurdles track, a 1.25 miles timber track, and a 1 mile flat track.  Luckily the rain held out for the races and the day stayed nice and cool with cloudy overcast weather.
Below are some photos of the horses and styles taken from the Iroquois Steeplechase 2012: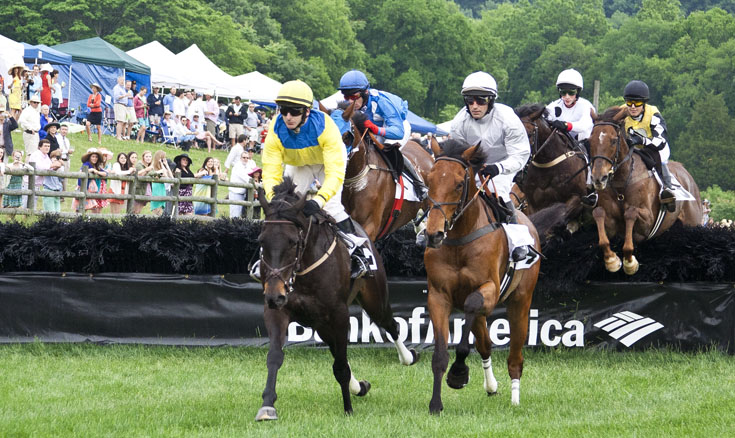 A few from the sidelines and a look at the crowd…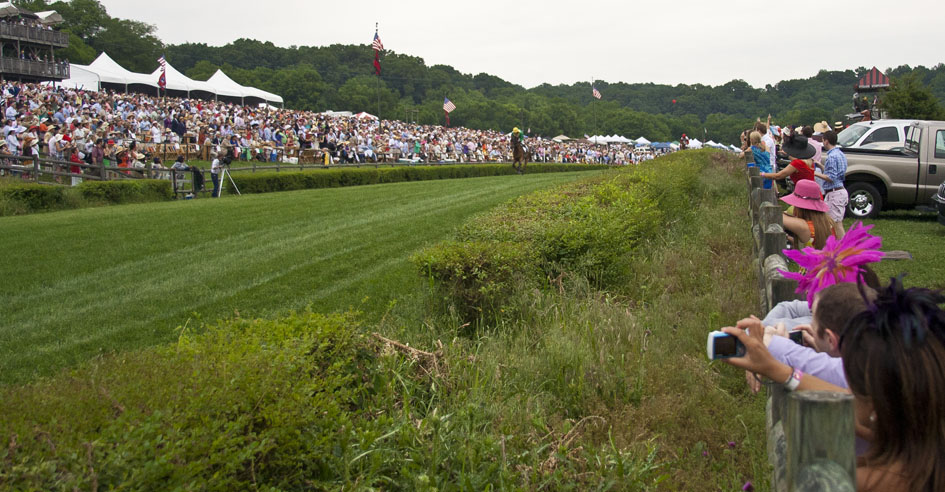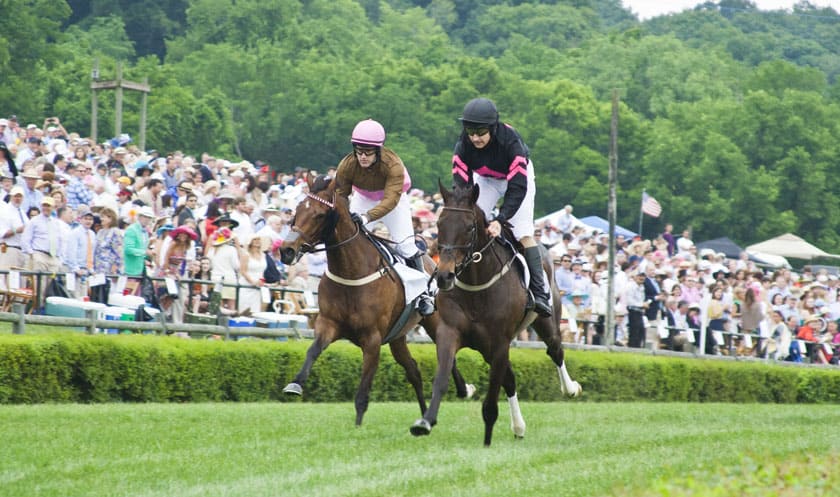 It's always a thrill when it's a "photo finish" at the end of the race….
Now for some of the fabulous fashions spotted: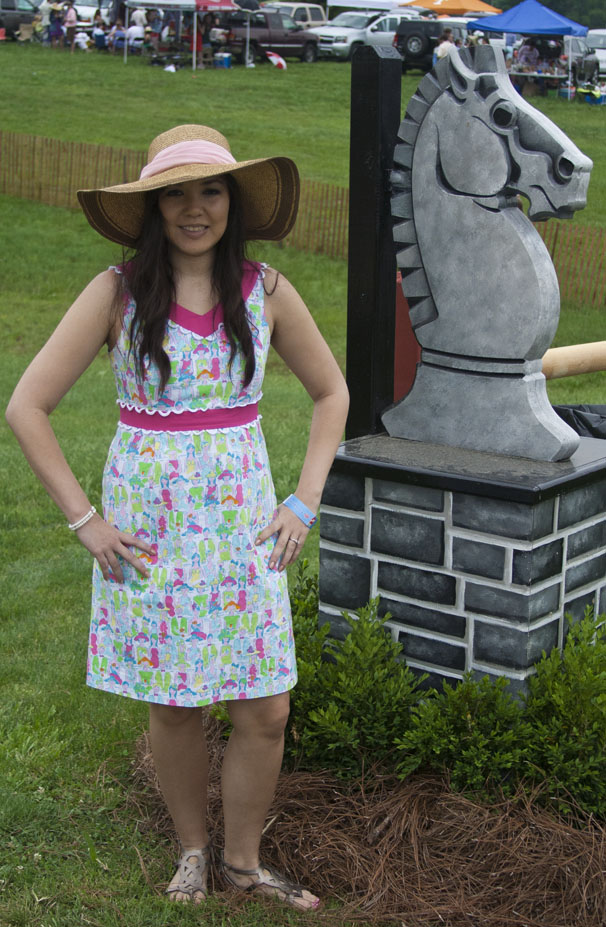 My good friend Kara-Lyn Clary wore a Del Mar Lilly Pulitzer Shift Dress printed in "Giddy Up".  This dress reminds me of peering up into the stands at the Steeplechase and seeing the pastels from  afar.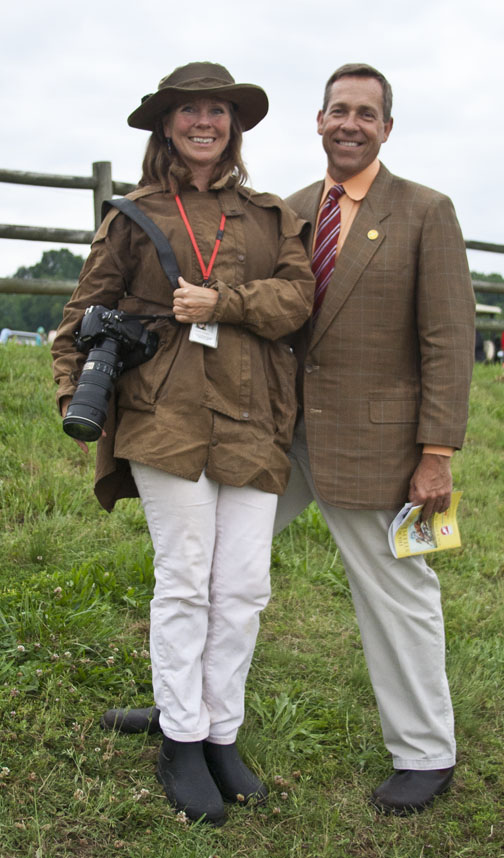 I absolutely love the coordinating outfits of these two.  Betsy Parker (left) is a renowned photographer and journalist in the horse industry and has been published in several publications such as The Washington Post, Thoroughbred Times, Chronicle of the Horse, Equus, Horse Country Magazine, and more.  I immediately knew these two were horsey people from afar spotting the waxed barn coat and equestrian paddock boots.  Love it!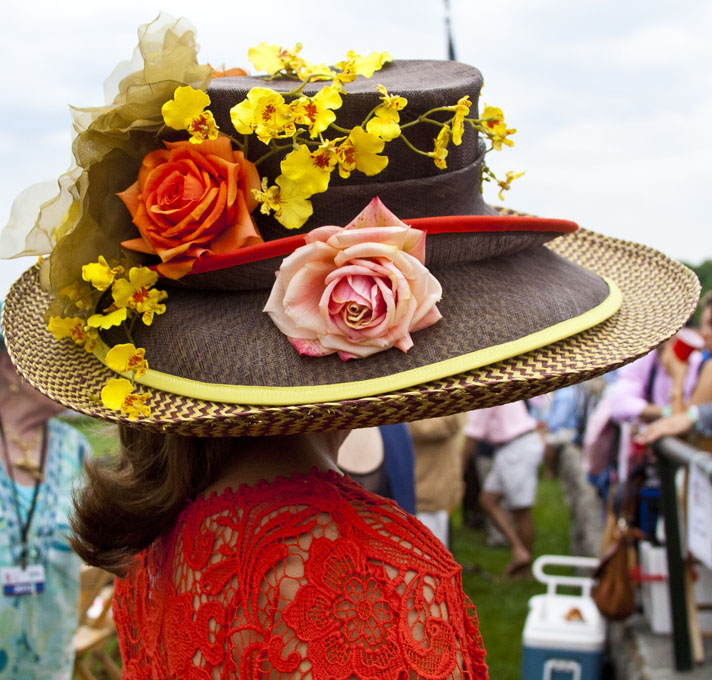 My Favorite hat:  lovely straw weave with real light pink and salmon colored roses with olive tulle.  Beautiful!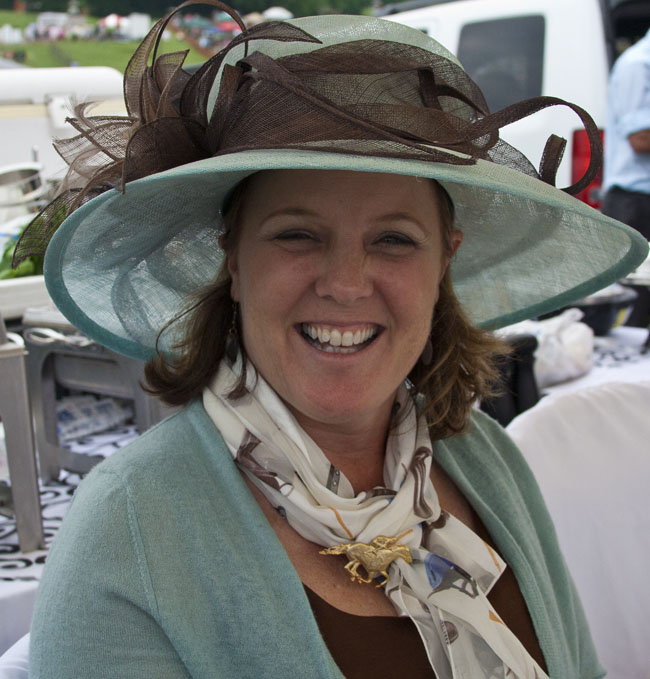 I loved the teal and brown for her equestrian-inspired outfit.  The gold racehorse brooch and equestrian scarf really pulls the equestrian look together.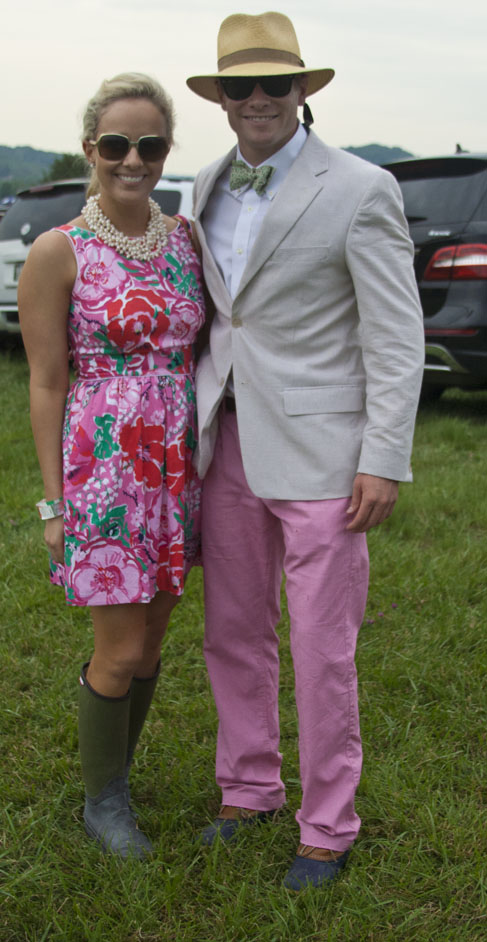 Hunter Boots and Lilly Pulitzer?  Yes please!  I absolutely adored this couple and their coordinating outfit… Fabulous pick!  Men, if you can pull off pink pants like this guy, it's that time of year to do it!  These two sure do know how to dress for Steeplechase.  Love everything about this!
What an adorable pink and white combo: the Pink Polo Pony Printed silk dress is absolutely precious!
*All photos are courtesy of EquestrianStylist.com and taken by Ashley Cline.  
Stay tuned for "What I Wore at the Iroquois Steeplechase" by Ashley Cline to come soon… Enjoy!