Style Profiles from Day 1: Maserati Miami Beach Polo World Cup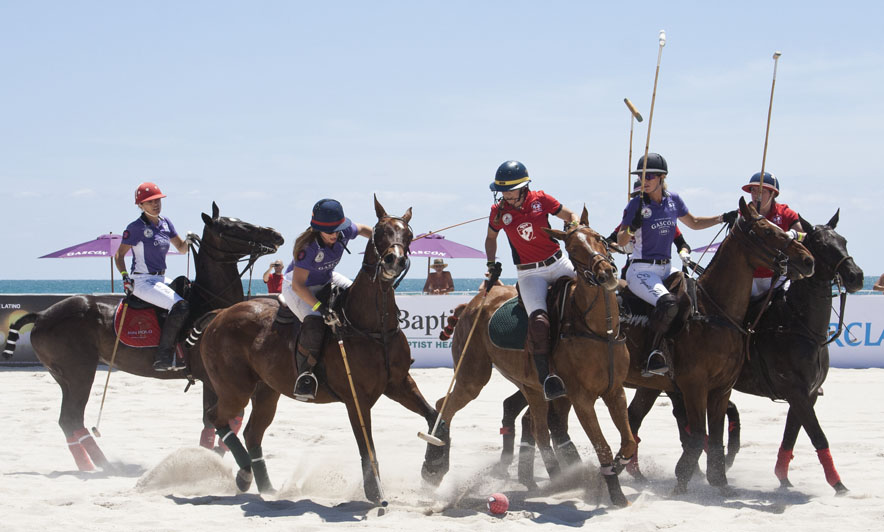 April 26th: Day one of the Maserati Miami Beach Polo World Cup Tournament was simply fabulous.  The styles and fashions from the event  were stunning:  from long maxi dresses to official polo attire, the event is best described as classic-chic.  Going to an equestrian event like the Miami Beach Polo Tournament requires planning a one-of-a kind unique outfit.  Equestrian Stylist was able to snap some fashion profile photos from various attendees on Thursday's beginning Polo events.   All images were taken from the VIP Maserati Tent at the International Miami Beach Polo Premises.  Take a peak, and let us know what your favorites are!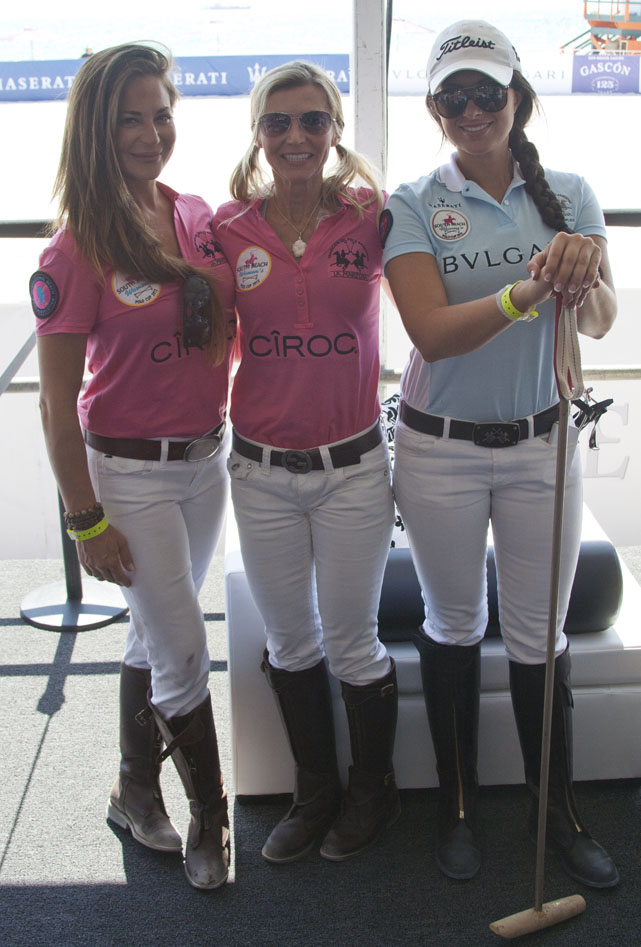 Danielle Sciaretta, Liselotte Sandberg, and Cristina Hosmer: official women polo players of the Miami Beach Polo Tournament.  All polo players are to wear "Whites" (white pants).  This tradition dates back before the nineteenth century where British army officers would play the game.  Because the sport can be played during intense heat, players prefer to wear clothing that is light in weight and color.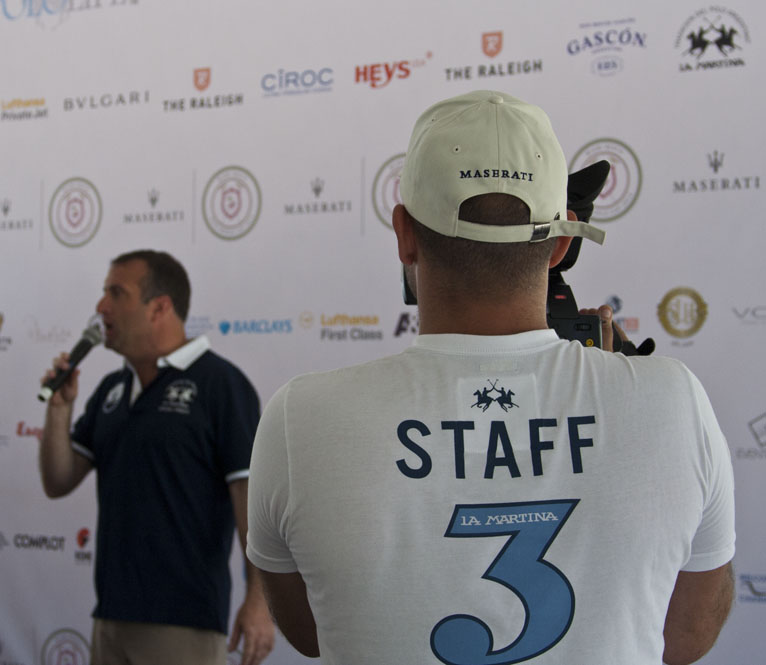 Even the staff photographers wear official Polo shirts at Miami Beach Polo World Cup.  Stunning!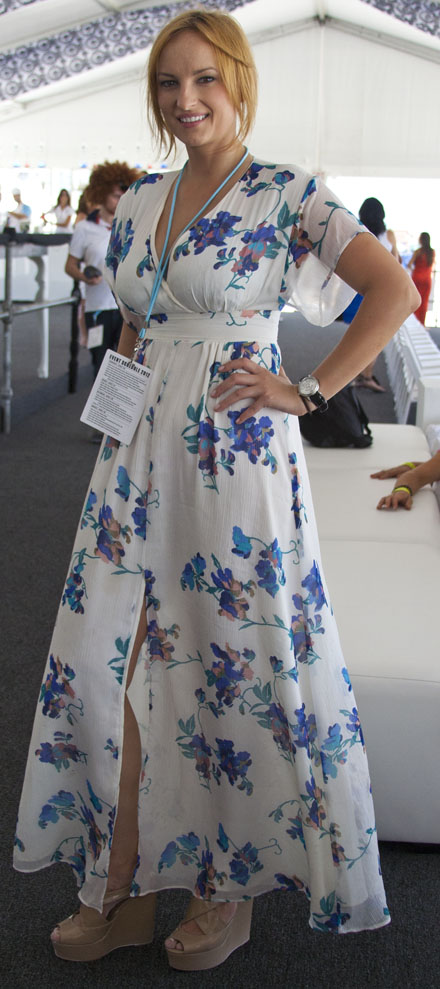 Monika Ambika looks stunning in a French Connection Floral Maxi Dress with Nude Wedge Heels.
Samantha Sadow in a 1970's Vintage Sulka button down aquired from Hugo Delmar (former Chicago Polo player) , Hermes Belt, and Orange Italian Leather Purse
(from left) Liza Flecha, Daniela Leao, and Oxana Sholokhova in Domenico Vacca silk dresses
Kelly Straub, another official woman polo player,  in an official La Martina Polo, White Jeans, Ralph Lauren Running Horse Belt, and Der Dau Custom Polo Boots
These two guys were the best dressed men for day one at the event.  (From Left) Marvin Nusseck wearing a Black Olymp Button Down Oxford Shirt,Tommy Hilfiger Khackis, and Mats Klein in a Culture Royal and White Striped Shirt, and Navy Tommy Hilfiger Pants.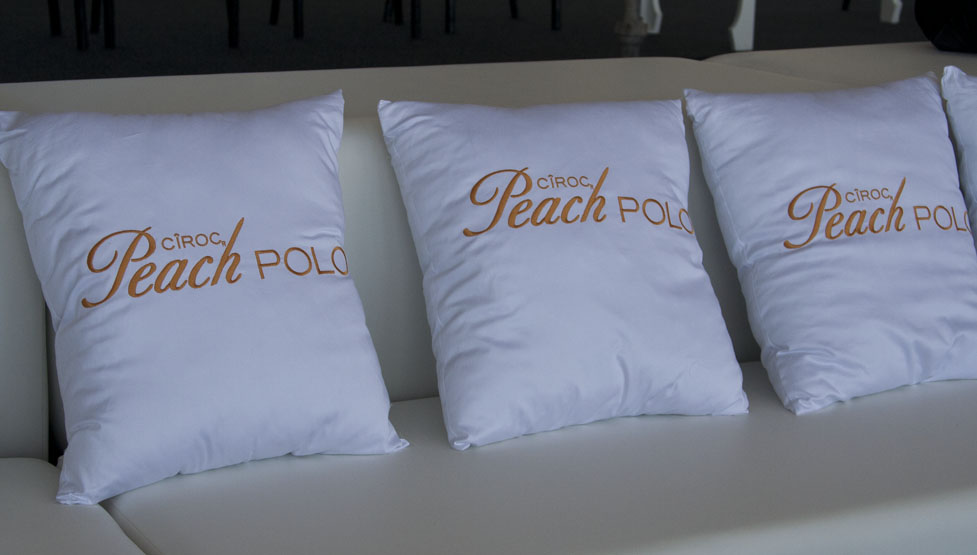 Fine details inside the VIP tent make this equestrian affair extremely comfortable during a hot sunny day in South Florida. Ciroc Plush Pillows lining the white couches under the tent.  I love the white on white Miami-chic look.
The Miami Beach Polo Tournament is continuing through the weekend.  Follow @EquineStylist on Twitter and on Facebook for more photos and current updates.  Stay tuned for more fashions and style profiles to come!