Pink n Preppy: A Summer Equestrian Style
So, I've recently started taking some Pure Barre classes in Charleston, South Carolina.  I'm *hooked*… Let me tell you, it's a great full body workout for equestrians too since it involves lengthening and stretching of muscles.  While riding and looking good in and out of the show ring is very important, so is feeling cool and comfortable in the summer time.  I recently became OBSESSED with the latest Tredstep Symphony Breeches… they are made of the best materials and VERY flattering.  So, I decided to put together a little bit of "Pure Barre" into my photos in this shoot… have you ever done Pilates on a saddle pad?  Try it, you may have just found another use for it 😉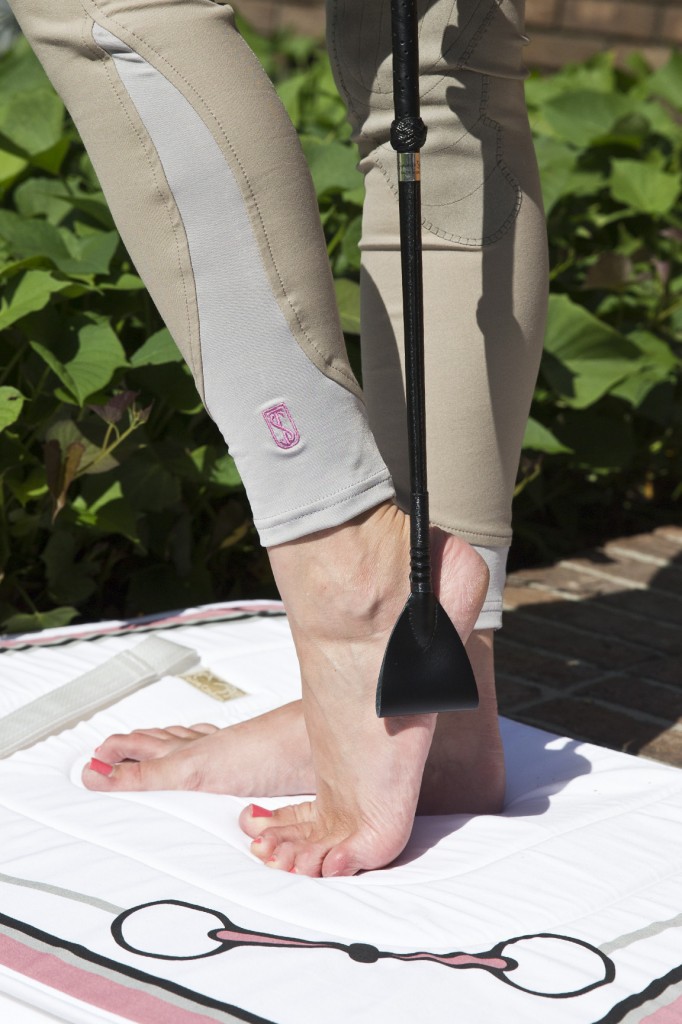 The Breeches: Tredstep Ireland Symphony No. 3 Side Zip Rosa : These fabulous riding breeches feature a motion fit design with a calf/knee and integrated sock.  The flowing lines throughout the breeches contours with the legs providing superior fit.
Saddle Pad: Equine Couture.  Found it at Meeting Street Tack in Charleston, SC.  These colors are actually my barn colors with Jennifer Bieling in Wellington, Florida.  It was too good of a find to be true!
Jumping Bat: Signature Spurs hunter black jumping bat: it's lightweight and the perfect length!  To view more of my equestrian equipment, view this post here.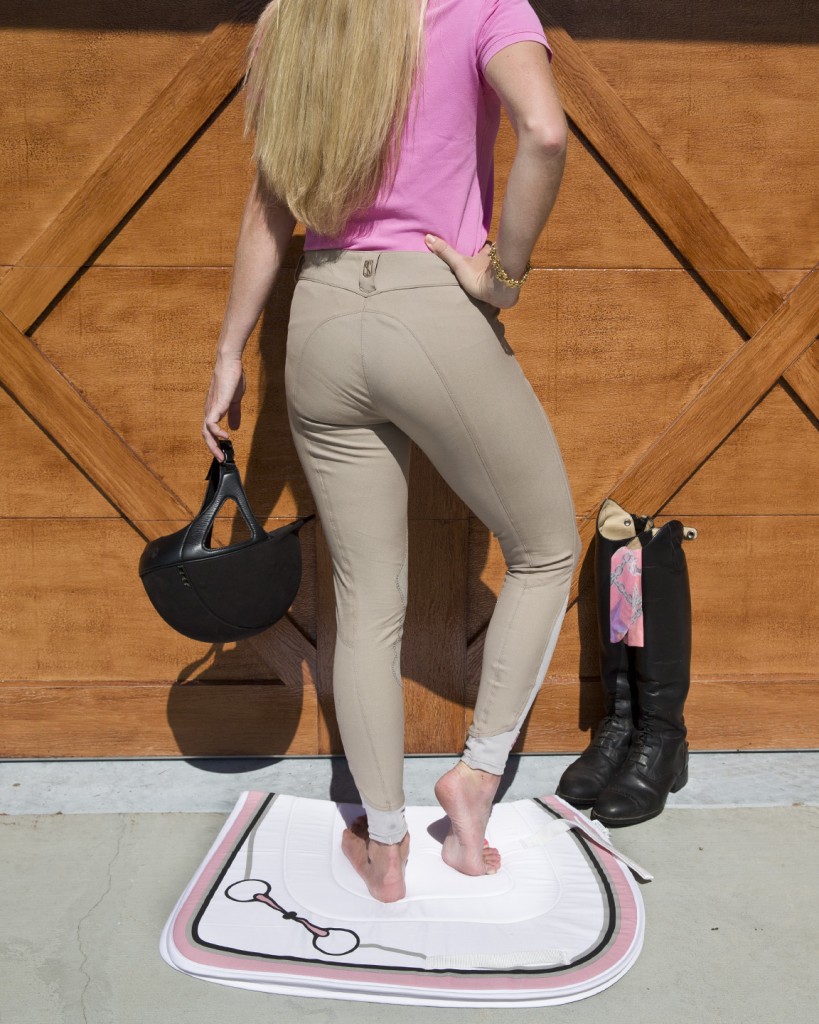 Look at that:  no panty lines showing here ladies!  I'm a huge fan of these pants… I'm about 5'4″ and I took a size 26R–they run very true to size.  The fit is form fitting and hugging to your body all the way down to the ankle seams. The definition waistband makes the waist look thinner, and also eliminates the ever so annoying gaping that usually occurs on most pants.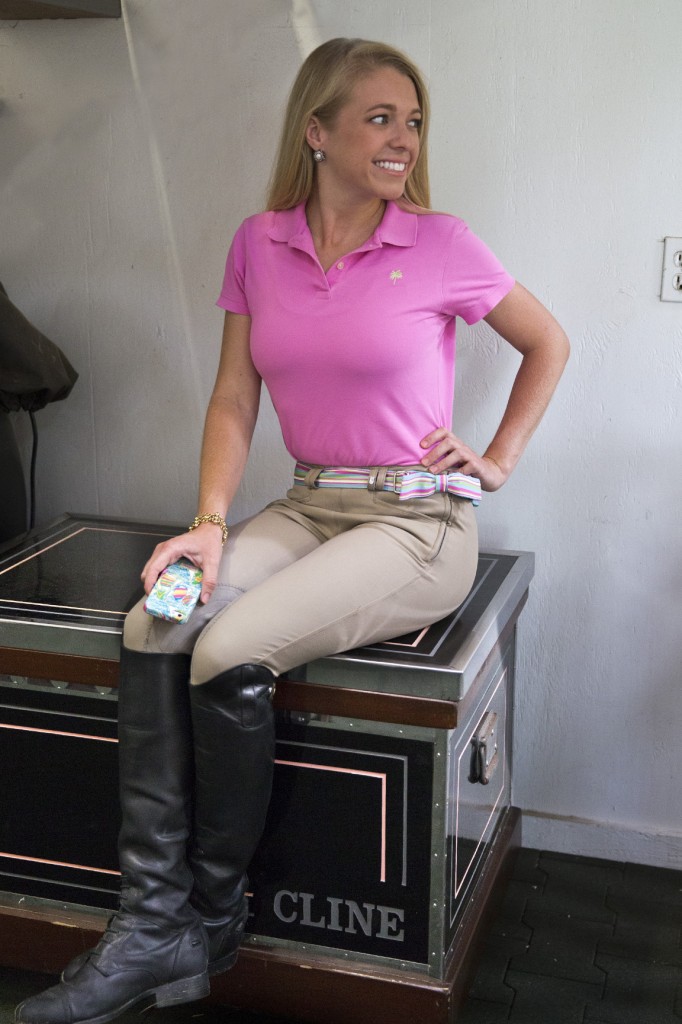 I'm a huge girlie-girl, as you can tell… Growing up I was known as the "Lilly Pulitzer Queen" or "Pink and Green Girl" from school to riding… I guess not much has changed!  I slipped on a pink blue and white striped ribbon belt to match my Lilly Pulitzer iPhone 5 case in "Ugotta Regatta" print.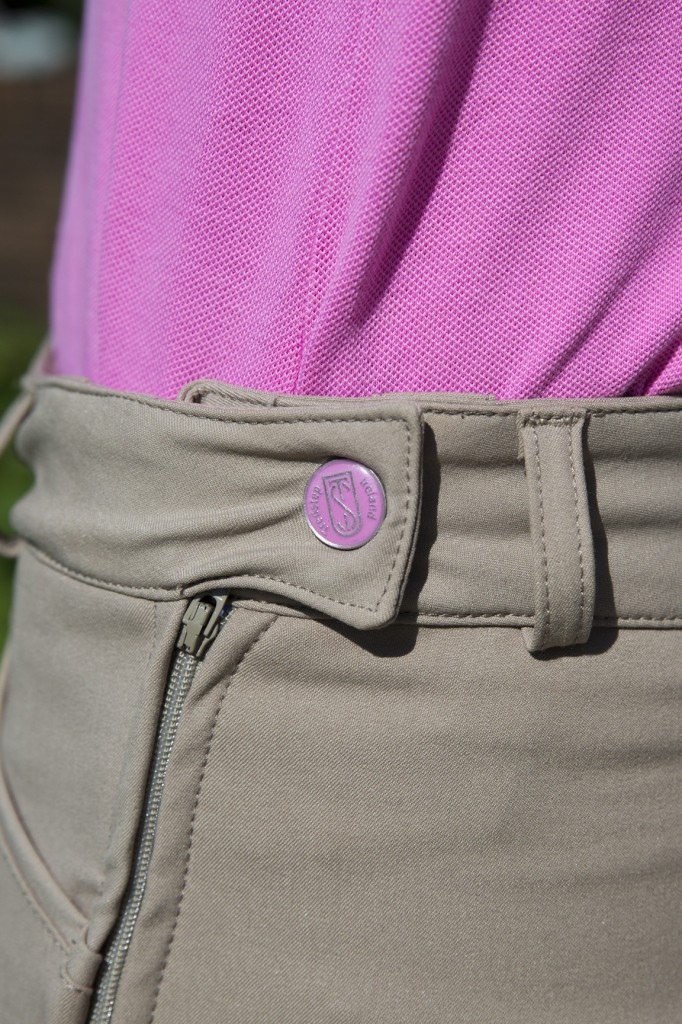 Check it out: There's even a signature Tredstep pink enamel button to finish off the size zip… Love!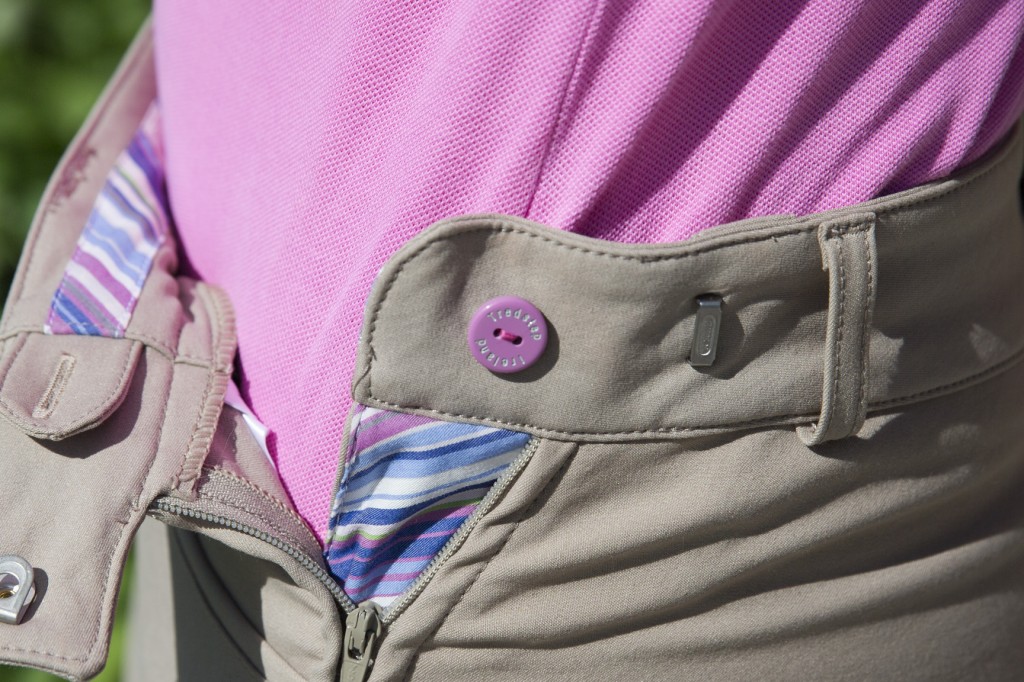 The inside lining is also one of my personal favorites. I love wearing ribbon belts, and Tredstep did a great job of featuring an inside waistband detail with the light pink, blues and white striped patterned fabric. These Symphony breeches are  not only stylish, but they are highly technical between the fabric content and construction.  The Tredstep Symphony breeches feature the latest technology called "TS Evolution" and Schoeller Nanosphere creating a 4 way stretch, a non-stick, moisture wicking, and self cleaning process to prevent stains like the well known horsebit "slime"…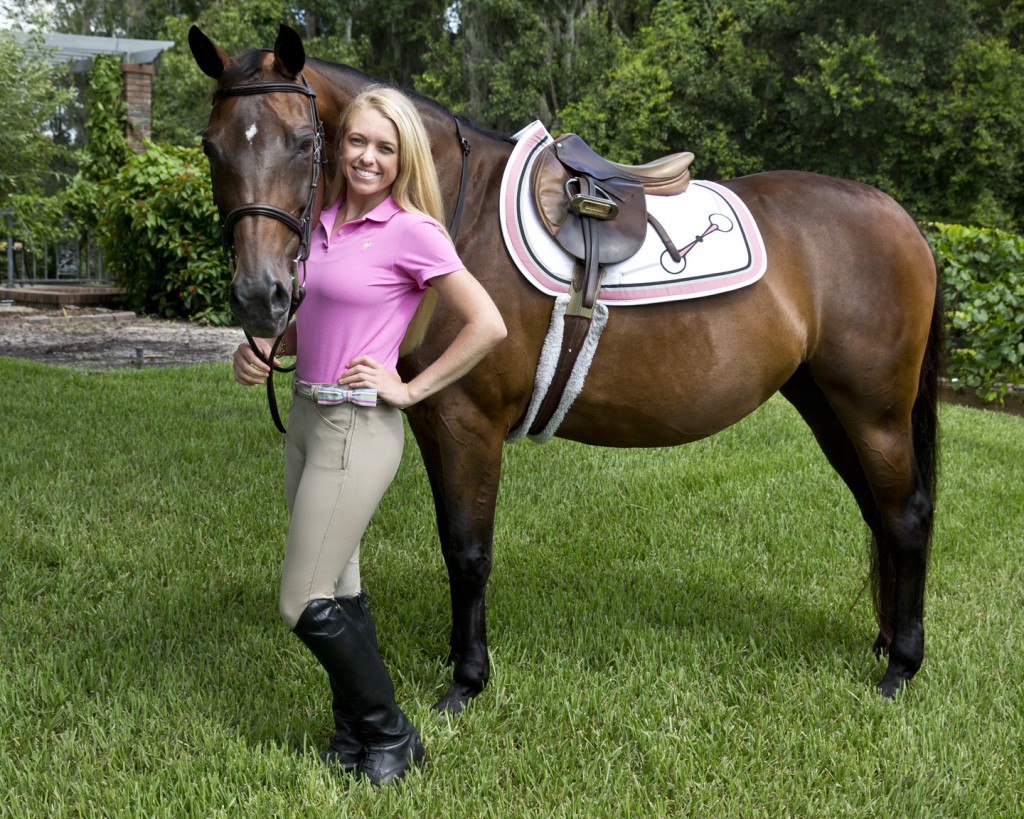 Above is my horse Minuet a.k.a. "Minnie".  She's a girlie-girl just like myself so we try to wear pink whenever we can… I love this look for Summer!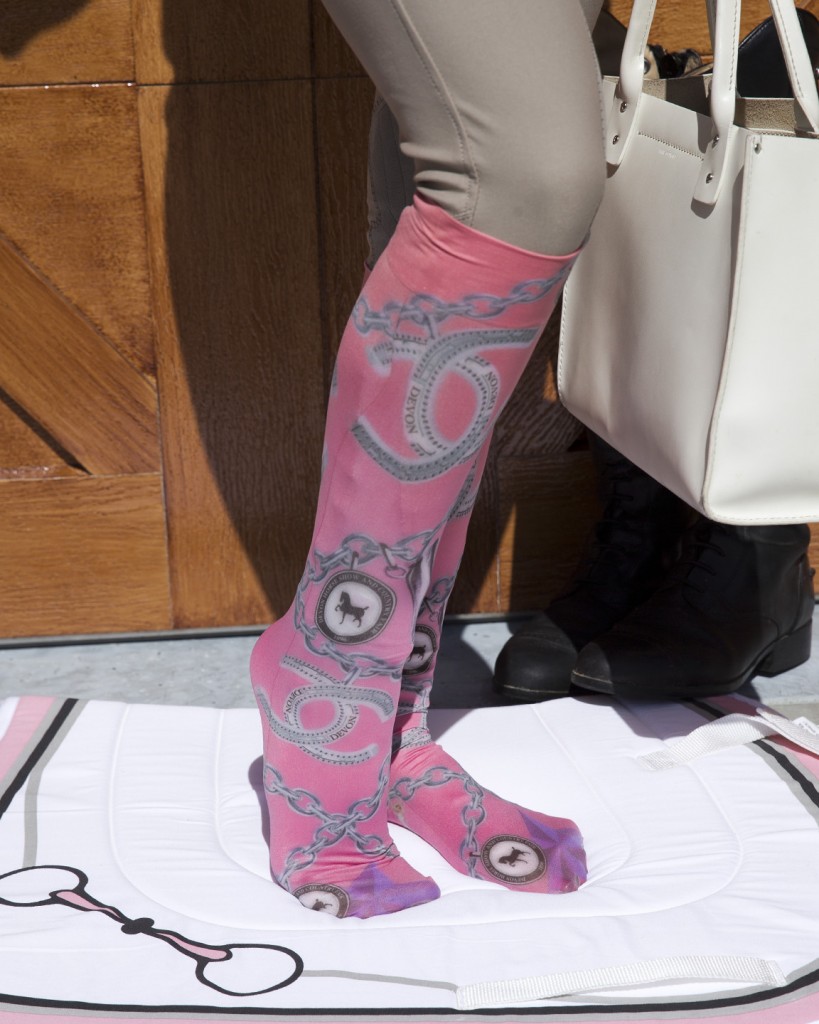 The Socks: From InkStables These boot socks I found at the Devon Horse Show this year… they were special edition (and made in the USA)! Plus, they totally match my new saddle pad!
There you have it, it's time to get in shape this summer with a workout routine to a new fresh summer look.  Whether you do Pilates or Pure Barre, or have a classic cardio routine, let us here your secrets!  What active riding apparel are you wearing this summer? I love the preppy look in and out of riding, and it's one look that is always in style for Summer.  Stay fresh and current in your riding attire whether you are riding in the show ring, or just schooling on the farm.