*On Sale* Pink Equestrian Finds From Joules
It's that time of year again… where everything you missed at Christmas is now *On Sale* (our favorite two words)… Check out some fabulous finds from Joules and be sure to check out more of their fantastic sale items.  From equestrian scarves to horse totes… with these cheerful colors, you can wear all of these year 'round!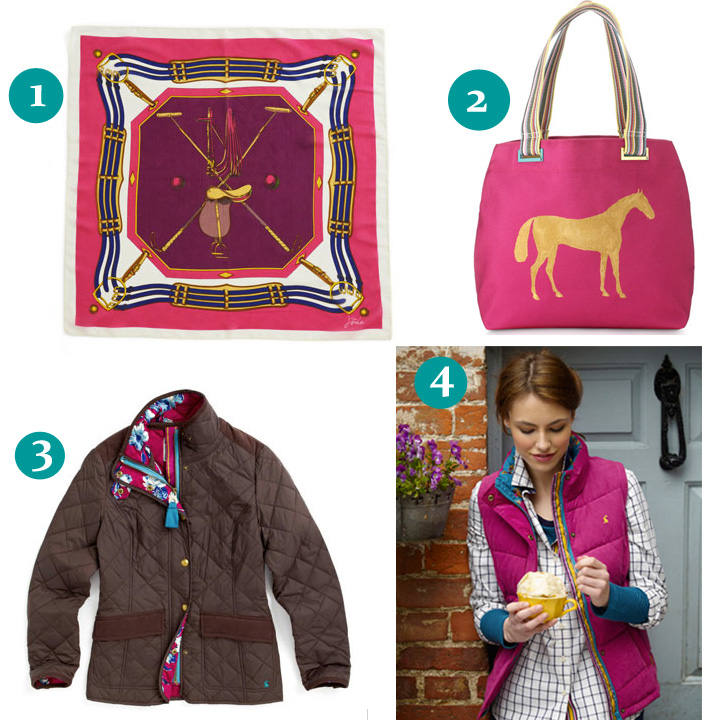 1) Equestrian Polo Printed Scarf:  Tie this around your favorite leather handbag, knot it around a  straw hat, or use it to dress up a sundress in the spring.
2) Pink Horse Tote Bag: A fun accessory … of course we love the horse!  Love this fun and cheerful accessory that can be worn through the spring and summer time.
3) Women's Light Weight Quilted Jacket Brown: An equestrian classic.  Simple & fun.  The floral lining is feminine and sweet.
4)Women's Heavy Padded Classic Gilet Pink: Completes the pink & brown look.  Cheerful & fun!