LoveyDia: New Equestrian Necklaces
Welcome to the new brand LoveyDia.  All of these equestrian necklaces are one-of-a-kind pieces.  Lisa Diamond is the designer behind these unique creations.  She started 2 years ago, by taking design and jewelry courses.  She has always loved horses and started creating pieces for her God children. Her mother grew up in fashion, and she says her talent comes from her mother ("Once in fashion, always in fashion," I say!).  Lisa lives in Asheville, NC and her work is featured in the Resort Boutique at the Grove Park Inn.  You can also find a few pieces at the store  She's The One: 4095 State Road 7 Suite R, Wellington, Florida 33449  (561) 965-3111.
1. $85.00 Antique stone horse pendant necklace
2. $85.00 Sterling Horse Pendant with freshwater pearls, crushed glass faceted ovals
3. $50.00 Vintage coin horse brass necklace
4. $50.00 Black Lip Shell Horse Pendant, tubular glass and natural shell.
5. $50.00 Coral Horse Pendant Czech Glass rondelles and venetian glass gunmetal noodles
6. $100.00 Jade Horse Pendant necklace with antique beads.
7. $100.00 marble and stone horse pendant necklace.
These necklaces are beautiful works of equestrian art.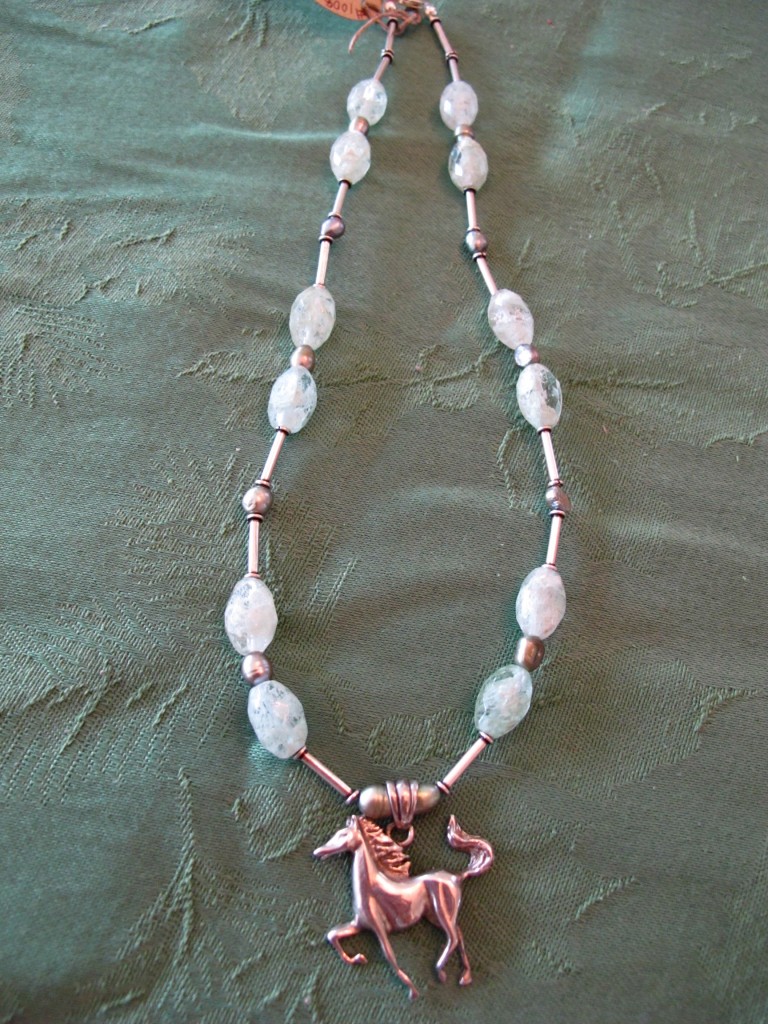 If you are interested in the above necklaces,
please contact Michele Coles at (561) 212-8833
For Custom designs or more about LoveyDia, please contact Lisa Diamond at: ldiamond8280@charter.net or (828) 768 8283