Live.Love.Ride…And Wear It! Featuring Cowgirls For A Cause
I'd like to introduce you to an adorable equestrian style brand Cowgirls for a Cause.  Recently, I was home visiting my family in Ocala, Florida when we just featured the black and white printed jumping horse scarf here.
How the company started: Two cowgirls, Tricia Meteer and Wanda Goldberg, started Cowgirls for a Cause while riding their horses "Cigar" and "Hemi".   How awesome: two friends came together to share their creativity and passion for loving horses.  These girls also have a passion for giving back and helping horses in the community, hence the name Cowgirls for a Cause.  This year, Cowgirls for a Cause is helping raise funds to restore the Coyote Canyon Wild horse Heritage Herd to their home ranges, in San Diego and Riverside county's BLM Beauty Mountain region.
I'd like to introduce you to the "Live. Love. Ride" line.  This line is perfect for a casual day of riding or wearing out to lunch with some friends.  Its comfortable and slimming for any rider or horsey-lover.
In the above photo, I am pictured wearing the "Live, Love, Ride" Hoodless Bunny.  This hoodless bunny can be worn alone or used for layering on a colder day on the farm.
The hunter/jumper detail on the left chest is simple and shows just enough detail without being too flashy.
It's trendy, fun, and vintage-inspired… I totally love the quote "Live.Love. Ride" on the back of the shirt, and I'm so glad there is now a shirt that incorporates this awesome quote for all equestrians both english and western riders.  Another great gift idea for the equestrian fashion-lover, competitive show jumper, or backyard trail rider.
Last but not least, check out the fabulous "Stole It" Dress that is absolutely adorable with leggings and boots… super comfortable and a classic style!
We also came across the adorable leather wrap bracelets that also say "Live. Love. Ride"…. too cute for words!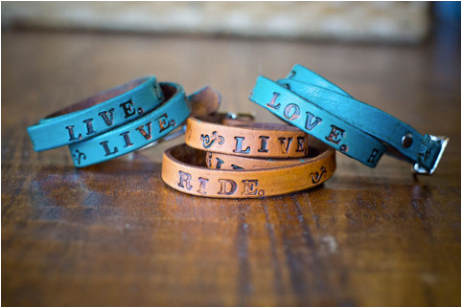 For more information on Cowgirls for a Cuase, or to check out their full collection please visit: http://www.cowgirlsforacause.com