How To Dress For A Polo Match
Polo is pretty, playful, pastel, prestigious… shall we keep going on? No, I'll stop. However, it's a sport that dates back to ancient times, known today as the Sport of Kings. Guys, you know what this means: you should dress like one too!  This is not the ideal sporting event to wear your college team's tee shirt and baseball cap. Rather, it's an event that holds an exuberant lifestyle, so the more sophisticated you look, the better. Business deals often happen over polo, so keep that in mind while you are sipping mimosas in the VIP clubhouse.  
The Preppy Look 
There is no better place to sport the preppy look than the sidelines of a polo match. The look, which bows down to brands such as Lilly Pulitzer and Vineyard Vines, is generally conservative, colorful, and cheery. Pair a Lilly Pulitzer dress with a large, monogramed sunhat, or a classically-inspired fascinator, and you'll be right on the money.
We love the preppy look in the photo below. The colorful scarf around the woman's neck adds a pop of creativity to the traditional white dress, and the wide-brimmed hat is the perfect compliment to any lady's polo day dress!
For guys, the preppy look should give you the confidence to dress to the nines, as it's only half-complete without your finest bow tie. We recommend looking at Vineyard Vines for a great selection of preppy and traditional ties.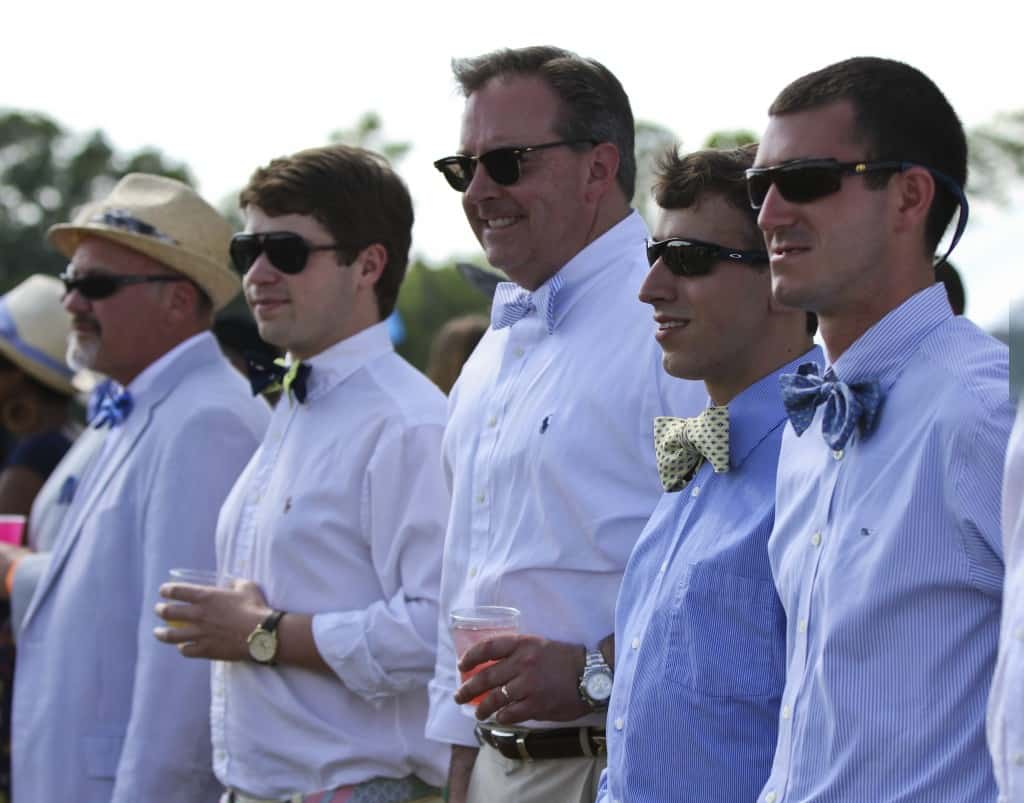 The Classic Look
Here's our advice if you want to showcase the classic chic style at the next polo event: channel Kate Middleton. The duchess is the very epitome of class and sophistication, and we all can look up to her as one of today's top fashion icons. The lines of this look are traditional, the hemlines modest, and the colors reserved. Think of the classic designers Vera Wang and Ralph Lauren as two examples of haute, classic design.
The classic look loves fascinators, but stay within the realm of traditional to really pull it off. After all, a polo match is not the place to push the envelope on outlandish hats (save that for derby day)!
The Modern Look
Mixing the modern look with the traditional sport of polo is an exhilarating challenge. If you decide to opt for the modern look, set fears aside and go with untraditional lines, unreserved color/pattern combinations, and a more creative (yet still graceful) fascinator or hat choice.
Some designers like Mara Hoffman are forward thinking in terms of pattern and color, while others– take Tibi for example– offer dresses with exquisitely modern cuts and lines.
Dont be afraid to combine elements of modern design (see below: the cutting edge fascinator and the blouse) with elements of the traditional (the pearl necklace) for a very sophisticated look.
Accessories
Regardless of your style choice, accessories are key in making it work. Stick & Ball, and Cambridge Collection offer jewelry and accessories inspired by the game of polo and the country-chic lifestyle that surrounds it. We recommend accessories that are subtle, in tune with your style, and (of course!) equestrian inspired.
As far as shoes go, we'll offer you a bit of practical advice: kick off those stilettos unless you are fully prepared to have your heels sinking into the earth. We would recommend something with a thicker heel (a wedge, for example) or a nice pair of flats.
For an overview of a great event, please check out this video from the Hyde Park Polo Tournament, Spring 2013, in Charleston, SC. Please go here for more information about this great event!