Horseworship Apparel Announces Fashion Collaboration With Renowned Equine Photographer To Help America's Wild Horses
Bold new designs offer hot holiday choices for horse lovers and a cause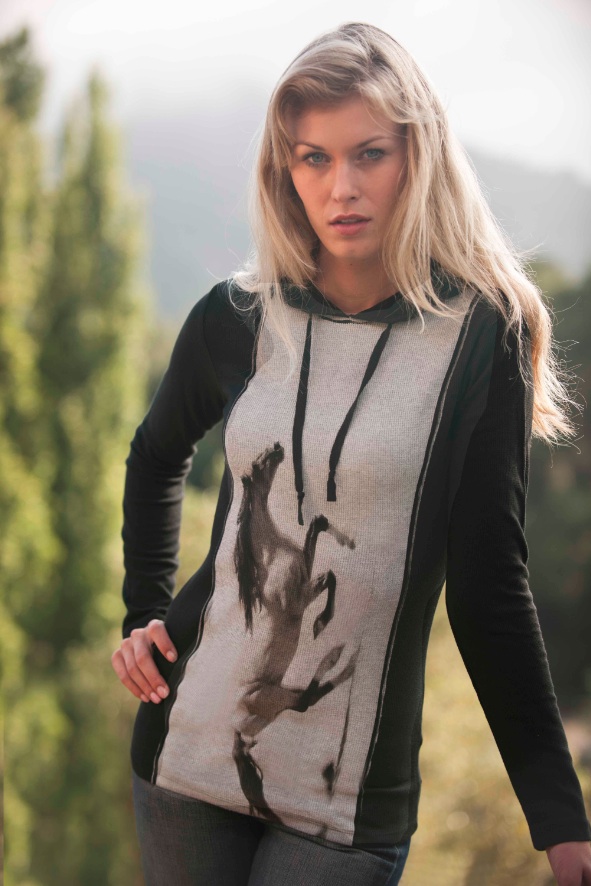 Horseworship, an independently owned apparel company based in Malibu, California, today joined the growing chorus of individuals and businesses working to stop the eradication of America's rapidly diminishing wild horse population with the announcement of its "Freedom Collection" line. A portion of the profits from sales of the line will support the California-based Return To Freedom, American Wild Horse Sanctuary.   With the unveiling of her "Freedom Collection" line, Horseworship founder and designer Pamela Robins has created a series of stunning short and long sleeve tee shirts, delicious thermals and warm hoodies for both young girls and women.  The collection merges graphic design, verse and the fine art photography of renowned equine photographer Kimerlee Curyl to create unique fashion that raises money while raising awareness for the cause.
The Horseworship Freedom Collection, available online at www.horseworship.com, includes an array of hip, striking apparel that represents a radical departure from the status quo of equestrian oriented fashion.  The photo realistic printing and bold color strikes require as many as five separate print screens on the fashion cut shirts, creating a finished product that is a one of a kind piece of wearable art.
An avid equestrian and daily rider, Robins' inspiration for the project began with seeing Kimerlee Curyl's photos of wild horses (www.kimerleecuryl.com) at an opening.  Comments Robins: "I was taken by the majesty and independence of these incredible animals in Kimerlee's photos.  She has a romantic eye that allows her to capture both the subtle and dynamic interactions between the horses in a way that really spoke to me and I wanted to learn more."  Robins learned from Curyl that the subjects in her images were photographed in their natural environment at Return to Freedom, a non-profit wild horse sanctuary in Lompoc, California (www.returntofreedom.org).  In subsequent conversations, Robins was told that America's wild horse population—once numbering nearly two million–has been reduced to less than thirty thousand, more than thirty-eight thousand more stockpiled in holding facilities and long term holding ranches at a cost to taxpayers of nearly $50 million annually.
Founded in 1997 by Neda DeMayo, Return to Freedom is the realization of her life-long dream: to protect the freedom and natural lifestyle of America's free ranging wild horses.  On the Return to Freedom's collaboration with Horseworship, DeMayo says, "Horses have inspired artists in all mediums for thousands of years, in a very generous gesture, Pamela Robins is sharing her appreciation and inspiration with the public to benefit the horses."
Kimerlee Curyl commented on the Freedom Collection project saying, "Pamela's creative spirit and sensitivity to horses, as well as her willingness and dedication to participate in raising awareness for Return to Freedom can be seen and felt throughout this collection.   The beauty she has created is exciting, fresh and fashionable…art has a voice!"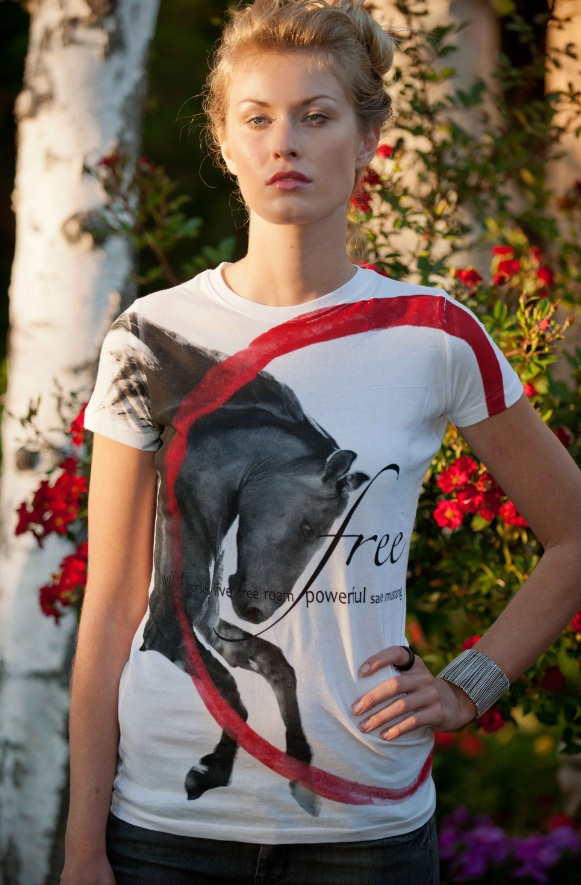 The Freedom Collection joins Horseworship's signature line featuring dynamic images, bold colors and verse celebrating the equestrian disciplines of Dressage, Stadium and Cross Country Jumping. While drawing her inspiration from the surrounding beauty of the Malibu canyons and "all things horse," Robins describes Horseworship t-shirts as "fun, versatile fashion that transitions seamlessly from a day in the saddle to a night out."
FOR: Horseworship Apparel
CONTACT: Tom Doody 312.320.5213
Email: tomdoody@horseworship.com
To view my review of Horseworship, please refer to this post here.