From the Streets to the Stables Vol. 1: Featuring the All Weather Rider By Asmar Equestrian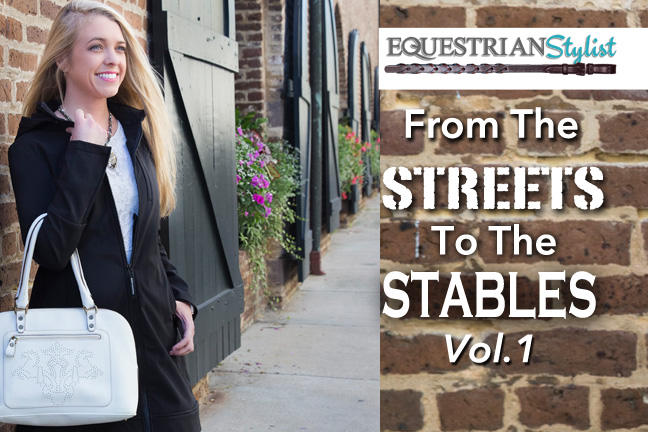 Moving to downtown Charleston, South Carolina this past year opened my eyes to a whole new world of culture and style. From old carriage houses with sliding barn doors and clunky cobblestone streets, it makes for a perfect setting for equestrian style. Living in the lowcountry is like the perfect movie setting straight out of a southern film… I mean literally, the Notebook, Gone With The Wind, the Patriot, Dear John and many other classics were filmed in this new favorite place of mine.
This year especially, I have found myself transitioning my favorite functional riding apparel into classic street style. However, I have a couple of tips, because it doesn't mean looking like you stepped off your horse from the show ring to the streets. Even to this day as a little girl I still remember being afraid of wearing my dirty riding boots to the stores after the horse show. My inspiration for this feature "From the Streets to the Stables" concluded that we (as equestrians) need to embrace the equestrian lifestyle we lead in a way that transitions to our everyday style. Let's face it, we are practical people and in order for us to wear it from the street to the stable it better be easy to clean, look good, and fit well.
First, I would like to introduce the All Weather Rider  by Asmar Equestrian. It's the perfect equestrian trench coat that's functional and fashionable at the same time. Just wait until you see it in the saddle…Stunning!
Lets face it, most of us riders like to be casual around the barn, but we've all been there when we need to quickly dress it up for a last minute dinner date. In order to quickly freshen up your stable style, there are a few tips I'd love to share from dressing up an every-day riding jacket, with a pair of new patent pumps or high heeled booties, or a even a featured piece of jewelry.. take a look at our first round of Streets to Stables fashion:
1) Find The Perfect Fit. There's no reason to buy a jacket that's bulky anymore. If it doesn't fit, get it tailored. But, with the technical and stretch materials many equestrian jackets are made out of nowadays, you more than likely will be able to find something that fits your shape. Asmar Equestrian does a great job with fit with the All Weather Rider especially since it has a double stretch fabric. I took a size XS in this one, and I'm just a little over 5'4 inches tall.
2) Pick Your Color: Basic Black. It's always in style, and it's easy to keep clean. Also, black goes with brown too.. So, you really can't go wrong! Asmar Equestrian has other colors to choose from such as midnight navy, olive, camel, black plaid, plum, red, and more…
The Shoes:  Classic black pumps will never go out.  The ones I am pictured wearing are patent leather by Cole Haan.
3) Dress it Up. Don't be afraid to wear your heels and a dress. White is still in (yes, even in the Winter). Also, I'm a sucker for lace… It's classic and chic. Accessorize the look with some fabulous vintage inspired equestrian jewelry like this piece from Caracol Silver by Echo of the Dreamer: Nightfall and Dusk Equestrian Horsehead Necklace.
Woah, wait up: check out the BACK on this baby! The unzipped look gives a feminine flirty flair and creates almost a skirt-like appearance. Also, the hood zips off if you don't feel comfortable wearing the hood around your neck.
An eye catching perforated equestrian handbag like this one from Dressage Collection adds just the right amount of horsey influence in this look. Plus, black and white never goes out of style…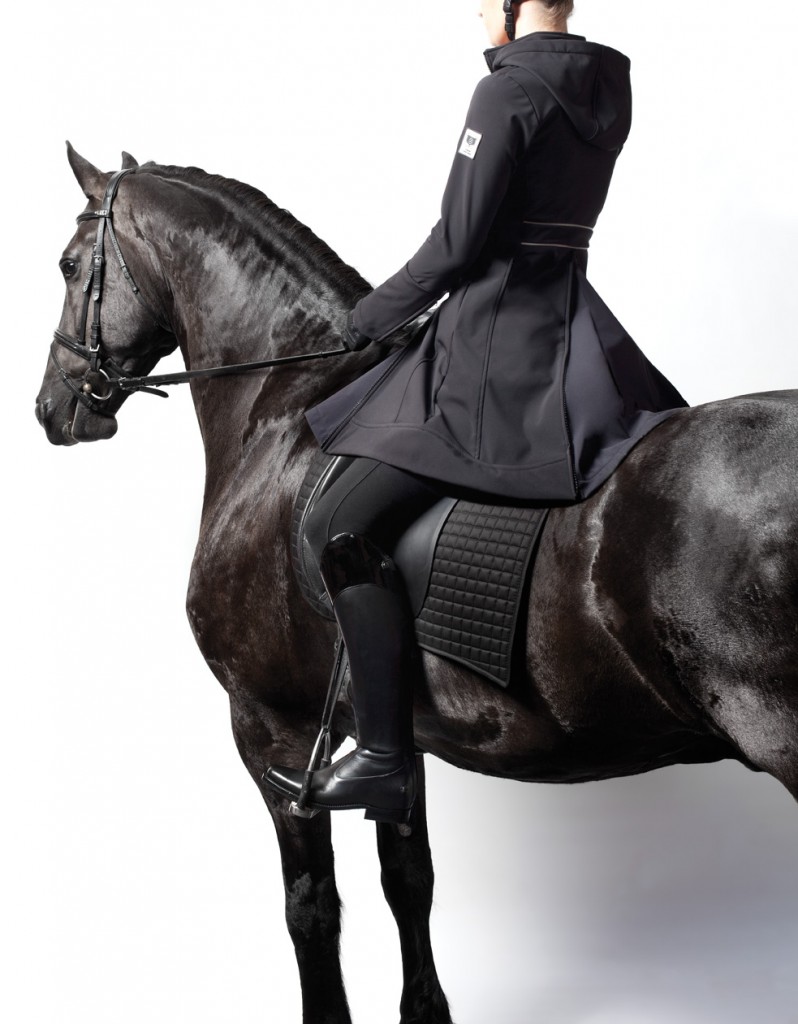 Okay, Asmar Equestrian, you've won me. Covering the saddle in the rain is probably one of the best features about this jacket. No one likes a wet saddle, trust me! There have been many times while competing in Wellington, Florida where the torrential down pouring rain comes out of the blue, and the last thing you want to do is ride in the schooling arena while your wet saggy breeches slowly become stained by your wet saddle.  This idea is simply Brilliant!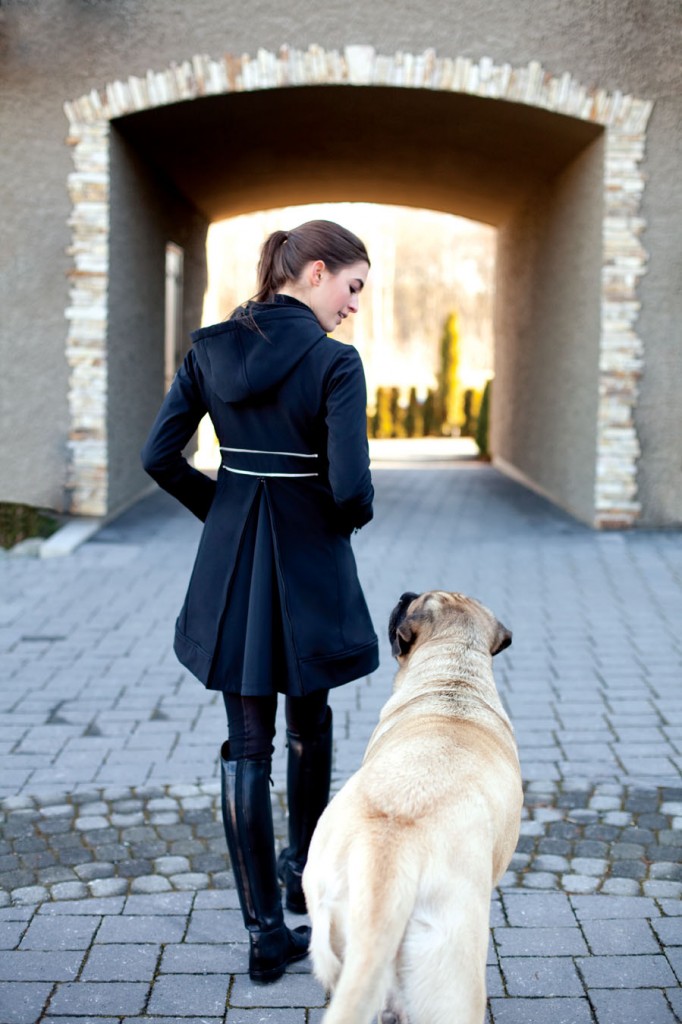 Get this… the classic silver piping on the back is reflective! So, if you are trotting down the back country roads on your horse in the evening, it's a great way to stay safe if a car drives past.
Step out to the stable in style this season. For more information on the All-Weather Rider jacket, please visit: