From Schooling Apparel to Show Apparel: What to Wear vol. 1
I am starting a series called "From Schooling apparel to Show ring apparel": Some questions you may have are "What is appropriate wear for schooling attire?" and "What to wear in the show ring?"
If you ride at a large "A" Circuit show barn, you should always dress to impress whether you are in an everyday lesson, or schooling on the show grounds.  The way you dress also completes the look with your horse.  If you look good, sometimes this will help your horse look better too (just something to keep in mind).  It is difficult to "keep clean" at the barn, but remember to pick colors that complement your skin tone, and your horse as well.  Bold colors like Royal Blue, Navy, Green, and other jewel tones always look nice on riders.
Below I am pictured wearing Tailored Sportsmen Professional Breeches, Der Dau Custom Leather Show Boots, a Lilly Pulitzer True Blue Chic Polo, and a black leather Horse Bit belt.  This is a nice clean look for a schooling day at the show, or a lesson.  It is clean and casual, yet professional.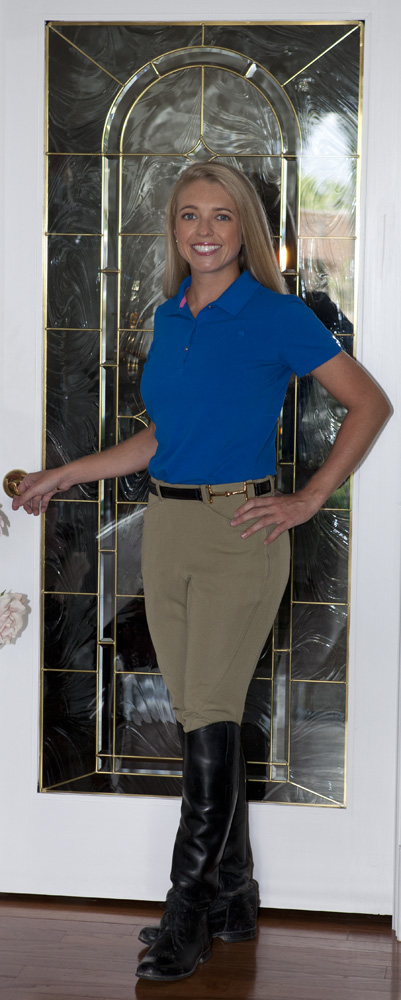 Here I am pictured wearing the same breeches and boots, but I changed into a nice "equitation style" show outfit.  The clean white shirt and navy coat is classic for the show ring.  Add a nice touch to the collar and embroider your monogram!  🙂  This white show shirt is also worn with a shad belly during Hunter Classic rounds.