Fresh from the Runway: 5 Trends for Spring
Though the climate gives no hint of it throughout most of the United States, Spring is on its way!  New York Fashion Week and Milan Fashion Week have come and gone, and the 2014 trends are locked down tight. It's now time to orient our internal compasses towards this Spring's magnetic look.
Equestrian Stylist has studied this season's runway to bring you five of Spring 2014's hottest trends:
1. Geometry Class
Designers this season have given us no room to doubt the coming of this trend. At NYFW and Milan Fashion Week, geometric prints took over the runway. Endless patterns of color and shape transformed outfits into works of art.
2. Good Game
The sporty look you've been representing at horse shows has walked straight onto the runway this season. Designers like Marc Jacobs and Emilio Pucci have worked the athletic look into the season's haute look. Look out for clean-cut crops and streamlined designs as you shop to fill your spring wardrobe.
Riders, this is a especially important for you. It's an opportunity to combine schooling area style with street style. High-tech performance  fabrics have made the traditional cotton polo obsolete. The result? Riding clothes have become sportier than ever. Try combining a sport polo with some cute jeans to achieve this Spring's athletic look.
3. Black and White and Seen All Over
At NYFW we saw countless designers representing a simple, elegant combination: the black skirt and white blouse. You can't go wrong with that traditional look, but perhaps you want something a little edgier. Check out this outfit by Fendi. The black and white duo takes the form of a geometric print on the skirt. The black top, made of sheer layered fabric, creates lines of geometry within itself.
It only takes one look to see how one of our favorite equestrian designers, Ralph Lauren, has incorporated so many of our featured trends into its line. These black and white combos show elements of the sporty and geometric trends.
4. Pretty Pastels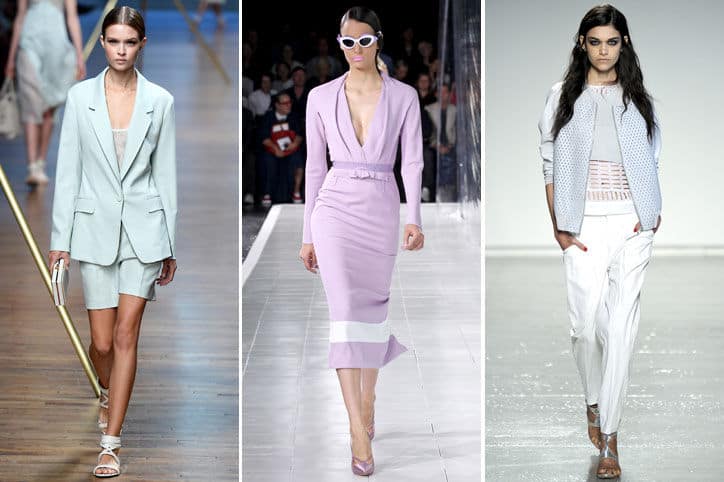 Pastels and pink, please! Designers like Alexander Wang, below, relished the soft Spring look. Cooler pastels of green, purple, and blue were featured in many collections, but it was pink that appeared over and over again in various pastel hues.
Fendi, below, showed us more vibrant shades of pink, while Balmain, Isabel Marant, and Alexander Wang kept to more subtle saturations of color.
5. Blossoming Beauty
As you might expect, floral designs and patterns have blossomed on the springtime runway. Dolce & Gabbana was one of a few designers that incorporated three dimensional flowers into dress design. Thank goodness it's the season to bust out those floral sundresses once again. These sundresses are near and dear to the hearts of all of us derby fans out there… sundress it up! I say make it a Dolce-Derby party this year 'eh?
As you restock your closet for Spring, think about these trends. However, use your creative voice to rock your style! Going by the book is a surefire way to fit in, but we encourage you to do otherwise. Keep these trends in mind as fun fashion guidelines, but keep your own expression as your top priority!