Featuring Equestrian Victorian Style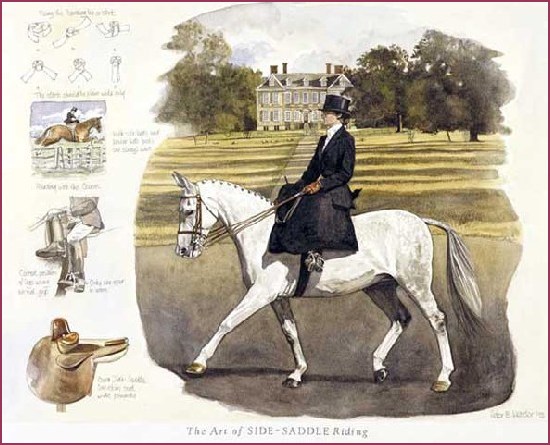 *Image taken from: The Victorian Era-Horseback Riding-Victorian Days 
The everyday social etiquette in Victoria times were very detailed, protected for decades and rarely open to change.  Many "laws" covered everything from the kind of jewelry and dress a lady wore at certain times of the day, the do's and don'ts of social functions, calling cards, removal (or not) of a bonnet, and dining etiquette.  Did you know…Riding horses in public was not advised until a young lady had acquired a level of riding experience that she would not embarrass her family members in public.
*Image taken from: Bumble Button Blog. 
The Victorian era inspires many traditional fashions creating a  look that is classic and chic.  The Royal Family back then, and even today has a high impact on ladies fashion. Queen Victoria's daughter-in-law, Alexandra was responsible for trends long before she became queen.  She set the trend for Europe and America with her jewelry. Pearls were  her passions, which made them  more desirable to the general public. Prince Edward's love for horse racing popularized the horseshoe motif as agood luck charm.
To get a sense of the Victorian Era of Equestrian Style, please refer to the following images: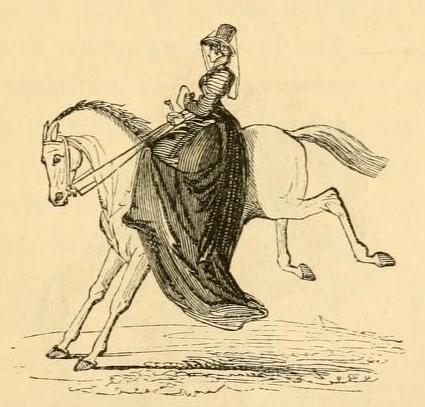 *Image taken from: Bumble Button Blog. 
Ladies rode with draping side saddle gowns and fastened top hats with delicate veils draped over the horse's back.  Women of higher social classes were expected to be demure and indolent as reflected by the restrictive dropped shoulder lines and corsets.  Although many of these pictures depict dresses, these costumes were actually separate bodices and skirts.
*Photo taken from Victorian Era Fashion.
Horses were not only used for riding, but also carriage driving in the Victorian era.  Even though many traveled by train in the 1860s, wealthy folks enjoyed the cli in their own carriages pulled by matching horses tacked up in the best harness complete with crests.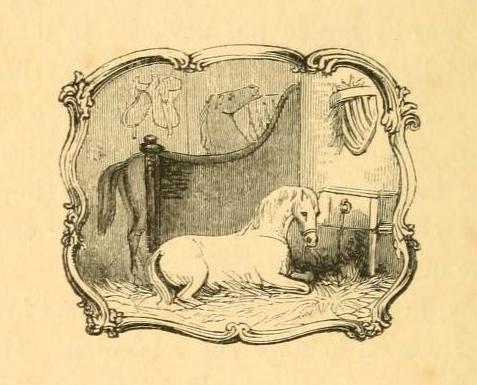 *Image taken from: Bumble Button Blog. 
The elegance of side saddle riding in the Victorian Era proved a very romantic and charming look.  Today, we still see the elegant dress in side saddle that originated from the Victorian Era.  The American Side Saddle Association is active and accepting memberships for those that would like to be involved in this traditional equestrian sport.
Fashion from the Victorian Era is continuing to influence clothing and accessories today.  Take a look at this fabulous new piece by Echo of the Dreamer and Mars and Valentine: A Vintage Victorian Equestrian necklace layered in pearls creating a beautiful statement to any outfit.
The center showpiece of this one-of-a-kind necklace from Caracol Silver is one of those original horseshoes given as gifts to bring good fortune to its owner.  The indentations consist of rose gold plated nail detail and the the floral detailed leafs seen at the bottom of the pendant are 14k gold. The shimmering stones are white topaz. The necklace hangs about 30″ long, and the pearl beaded tassel adds another 6″ to the piece.  This piece is from the Mars and Valentine's collection and discovered by Myoshin, who searches out unique antique pieces.
At a price of $1454, you surely will be taking home a one-of-a-kind equestrian luxury piece for this Spring.  Wear it with a white laced sundress or a favorite maxi dress and this necklace will be a show stopper for any occasion on any lady who strives to be classic and elegant.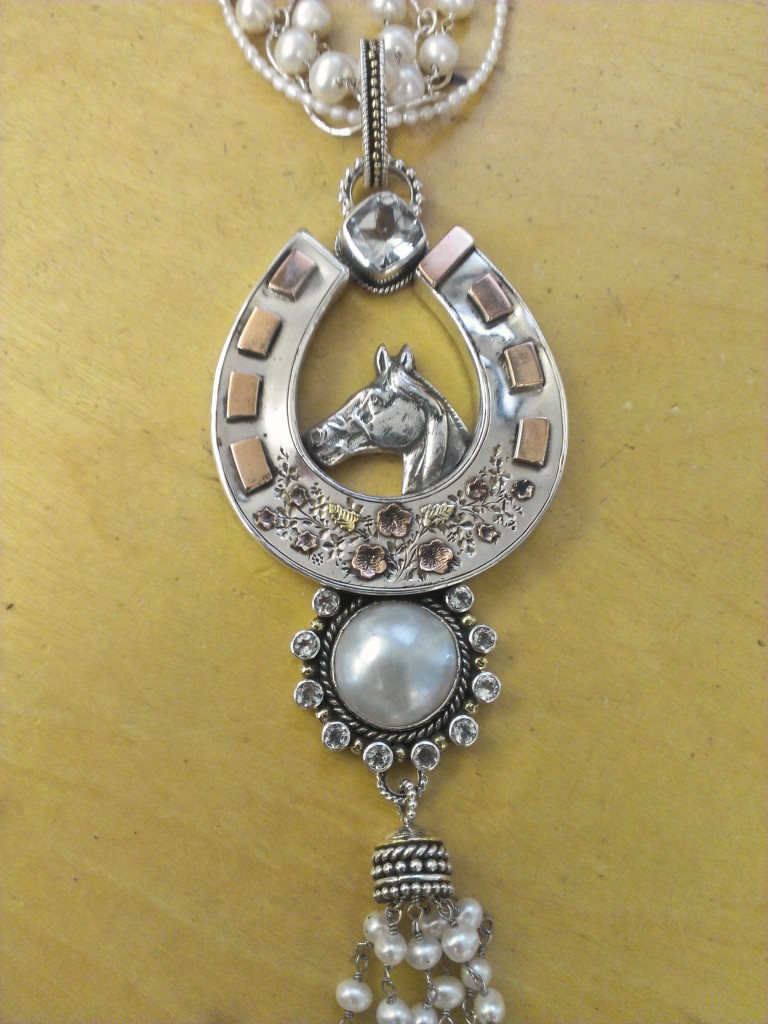 To purchase, or for more questions, please visit Caracol Silver.