Equestrian Style Feature: Meet Harper Lundy in Hermes
Meet my newest equestrian friend Harper Lundy.  She is looking absolutely stunning in her Hermes equestrian printed scarf she transformed into a stunning top.  I love the championship ribbons scattered throughout the print: it reminds me of showing at the Winter Equestrian Festival in Wellington, Florida.
She paired it with some great white pants and some fabulous jeweled gold bangle bracelets.
How I met Harper: Harper works for Equest as a community outreach coordinator and riding instructor.  Equest was founded as Texas' first therapeutic riding program in 1981 and named one of the largest non-profit programs therapeutic riding programs in the state. in  Harper grew up riding hunter/jumpers and working with welsh show ponies.  I met Harper through Halls Chophouse in Charleston, South Carolina thanks to Mr. Billy Hall himself.  We were introduced over the phone at about midnight EST one night, and then just two weeks later we were able to meet in person at Halls.  We instantly clicked (obviously most horse people do)… so we spent the evening together roaming King street and chatting about ponies, horse showing, and everything in between!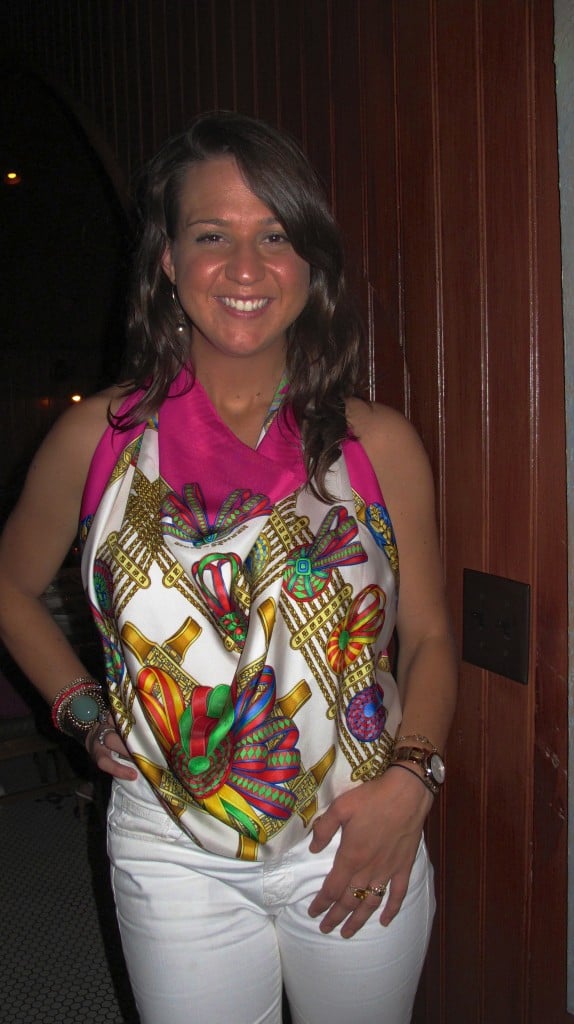 Check out her accessories!  Love everything about her outfit.
Check out Equest.org to learn more about Harper's organization.  Enjoy!