Equestrian Style: Printed Ponies and Horse Bit Details
For now, I'll give you a little bit of history about me and my personal style… I grew up riding hunter/jumpers (as many of you know), but I was always the girl who wouldn't dare wear riding boots "out".  I thought it was silly, and that boots were made for the barn…and ONLY the barn!  But, one day I realized why I loved fashion so much.  As a little girl I couldn't wait until I got my very first pair of custom tall riding boots.  I would plan my outfits the night before the big horse shows and accessorize with different belts and bracelets.  I noticed that riding and showing hunter/jumpers competitively fueled my creativity as a child, which led me to study fashion in college.  When I started this blog, I created it for my two favorite passions: Horses & Fashion.  I started to truly embrace the riding look over a year ago and thought, you know, since I'm a true equestrian, why aren't I "repping" the sport more?  I love horses and riding, so why not share my love with people that may not know anything about them?  Horses are the greatest animals… they help you heal, inspire creativity, and really the only animals that have such a high influence on fashion.  Not to mention, horses are the only animals that participate in Olympic sports!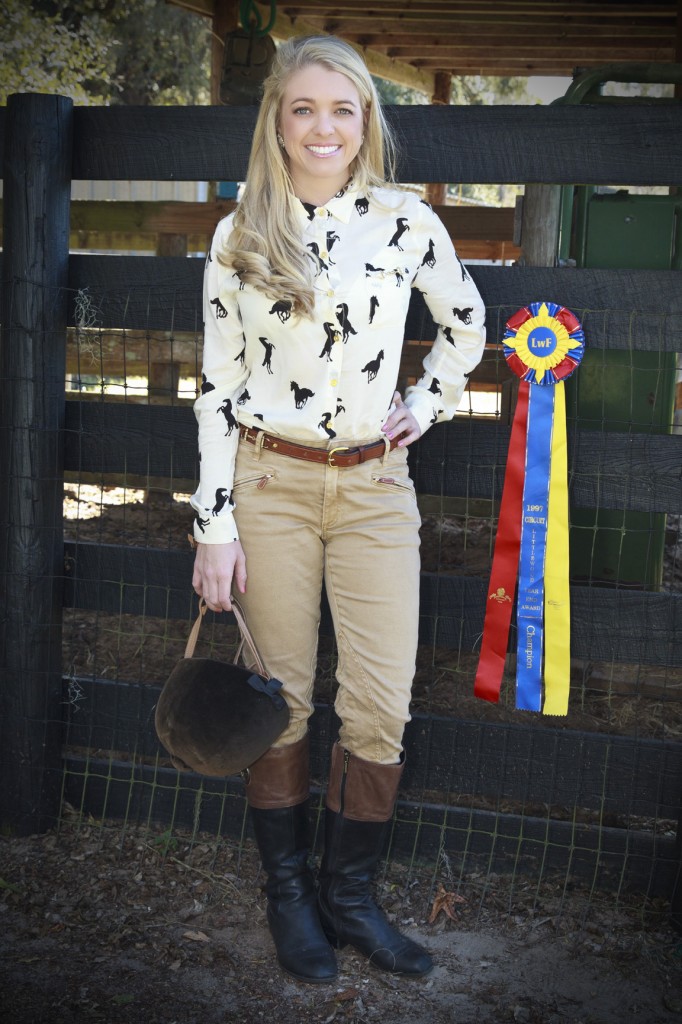 What I Wore: Forever 21 Ditsy Horse Print Button Up, Ralph Lauren Outlet Riding Pants, Two-toned Brown and Black Riding Boots, Snaffle horse bit leather belt , Vintage Charles Owen Riding Helmet
So my advice to you equestrians out there… quit being scared to wear the riding look "out"!  Embrace it… if you are a true equestrian, it gives you a reason to show the love of your sport and converse with the public on why you ride.  You may be a competitive rider, or you ride for fun… whatever the case is– it gives you a reason to blab about your boots and why you wear 'em.  Equestrian style is a traditional look that will never go "out", so live it, love it, and wear it… Lots!