Equestrian Style With A Touch Of Tangerine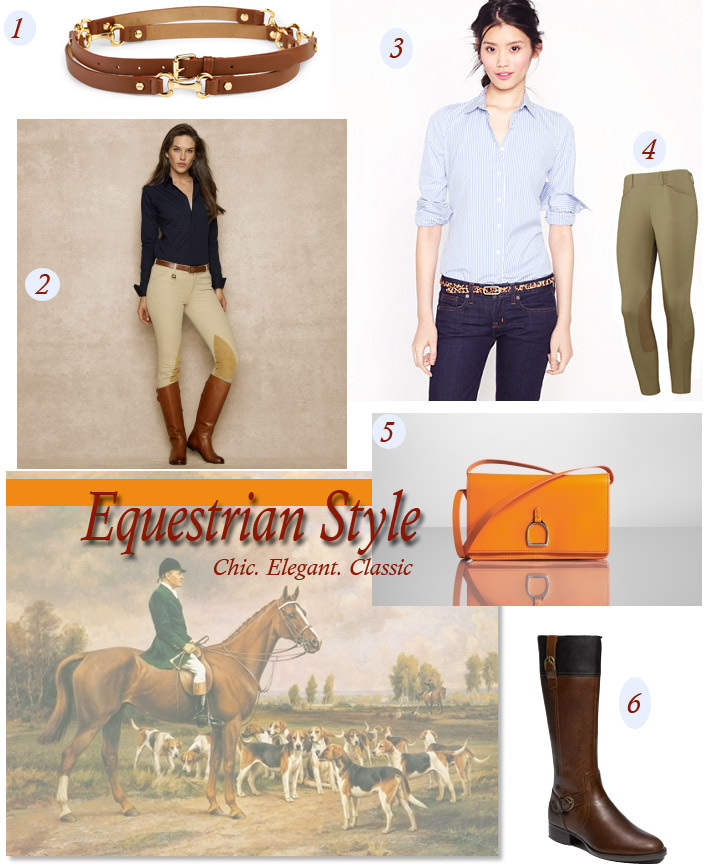 Traditional equestrian style is easy to stay in classic colors like navy, khacki, and brown leathers… However, Spring is almost here, and adding a touch of tangerine to brighten the look is fun and fitting.  Whether you brighten your look with a handbag, shoes, or other accessories, be sure to keep it to a minimum.  Too many brights can become too flashy for the traditional equestrian.
To view the items featured above, please go to the following:
1)Horsebit Double Wrap Belt: C. Wonder
2) Ralph Lauren Equestrian Outfit: 'American Beauty' Look: Ralph Lauren
3) Stretch Perfect Shirt in Classic Stripe: J. Crew
4) Riding Breeches: Equestrian Collections Ariat Ladies Pro Circuit
5) Orange Bright Stirrup Handbag: Ralph Lauren.
6) Ariat 'York' Boot: Nordstrom.
If you're an equestrian, chances are you wear anything from Ariat to Ralph Lauren.  Being a rider also distinguishes that you love quality apparel (and accessories)  Are you at HITS or Winter Equestrian Festival riding on the 'A' Circuit?  What are your favorite riding pieces to wear after horse showing?  Stay tuned for some upcoming horse show style features!