Equestrian Holiday Gift Ideas Part 1
Black Friday and Cyber Monday are just around the corner. Some of you may be excited to begin checking names off your gift list, but others may feel daunted by the task. Well, have no fear, my dears! Let Equestrian Stylist be your guide to the season's best equestrian finds. We've put together a wish list to inspire your equestrian-inspired shopping and connect you to some of the season's hottest looks.
For the Fashion-Forward Equestrian Fashionistas: Horsey prints and rugged leather looks are "in" from the runway to the streets… Leggings and boots are a must this season!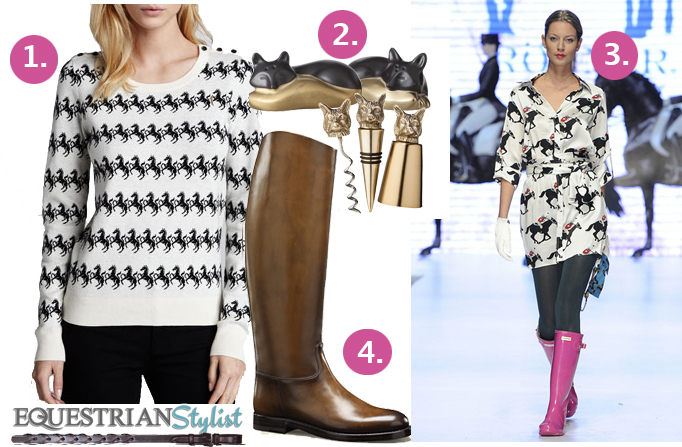 1. French Connection Horse Pattern Knit Sweater
2. Target Threshold Collection: Fox Salt and Pepper Shakers and Wine Accessory Kit
3. Rönner Fall 2013/ Winter 2014 Collection
4. Gucci Women's 1921 Collection Riding Boot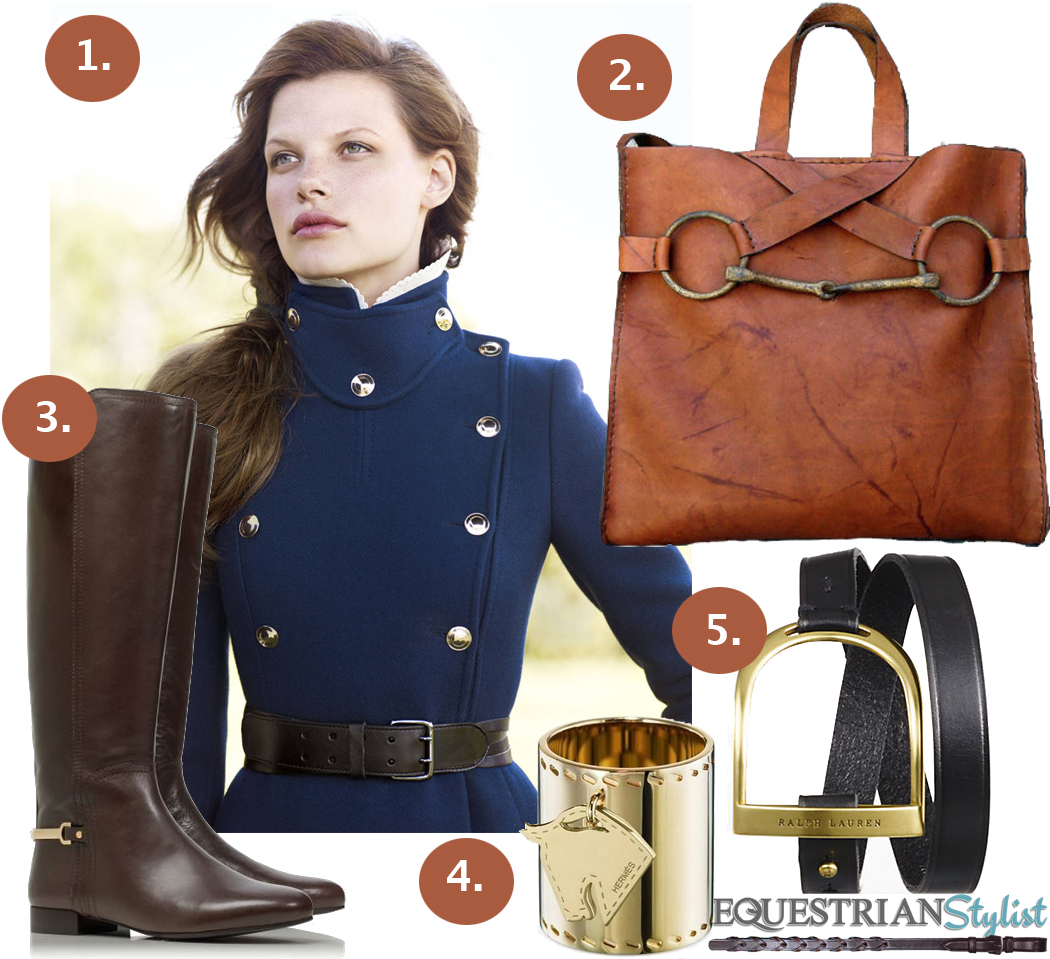 Luxury brands like Gucci, Tori Burch, Ralph Lauren, and more are favoring chocolate leather and equestrian accents like horsebits, spurs, and stirrups.
1. Gucci Cashmere Coat
2. Equestrian Vintage Horse Bit Tote Bag, made to order!
4. Hermès Tête de Cheval Scarf Ring
5. Ralph Lauren Triple-Wrap Stirrup Bracelet
 For the Preppy Gal: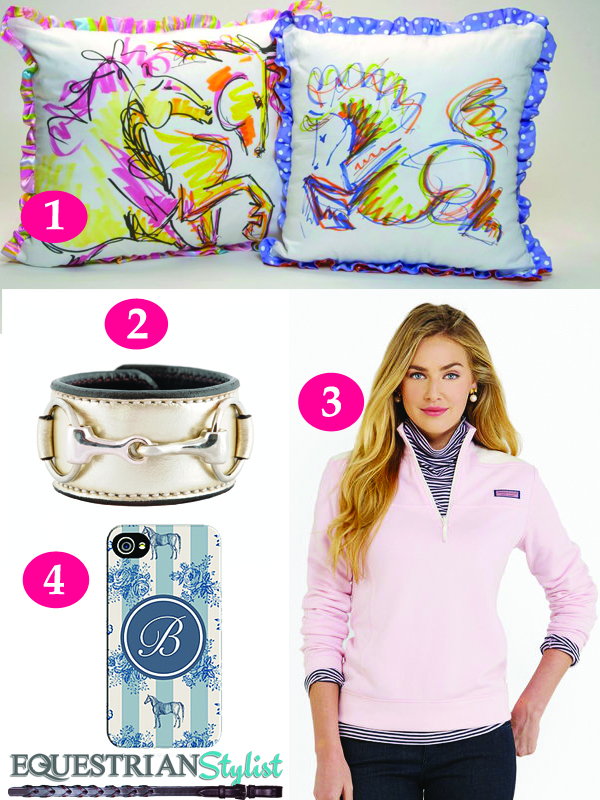 Pink, navy, and French country chic styles are always classic and simple. If you're a preppy gal and don't have a Shep Shirt, it's time to get one… they are a common preppy style staple 😉
1. Hand Painted Horse Pillows by Donna Bernstein
2. Platinum Bit Bracelet by Rebecca Ray Designs
3. Cell Phone Case by Julie Bova Design
4. Shep Shirt by Vineyard Vines in Flamingo
For the Guy: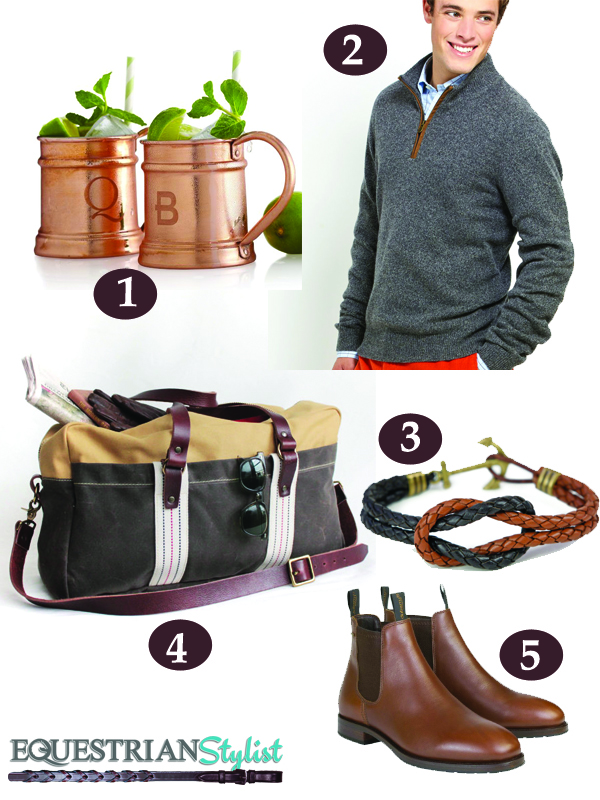 Have you tried a Moscow Mule? Let's just say, if you haven't, it's time to try it. Gingerbeer, vodka, and lime served in a copper mug= deliciously refreshing with a kick! It's pretty addicting, and even the gals love it too… Copper Mugs are a must!  Men are loving the rugged-country look this year with waxed leathers, suede, and waterproof materials.
1. Copper Monogram Mugs by Mark and Graham
2. Mansfield 1/4 zip sweater with suede elbow patches by Vineyard Vines 
3. Anchor Bracelet- Trapper's Bivouak by Kiel James Patrick
4. Weekend Duffel Oak by TM1985
5. Kerry Ankle Boots by Dubarry of Ireland
For the Horse: From Baker blankets and sheets, leather halters, and bell boots, we all know that over the years these horse accessories are usually the first to be replaced. Be sure to treat your horse this season to what he/she needs and give them a fresh new look!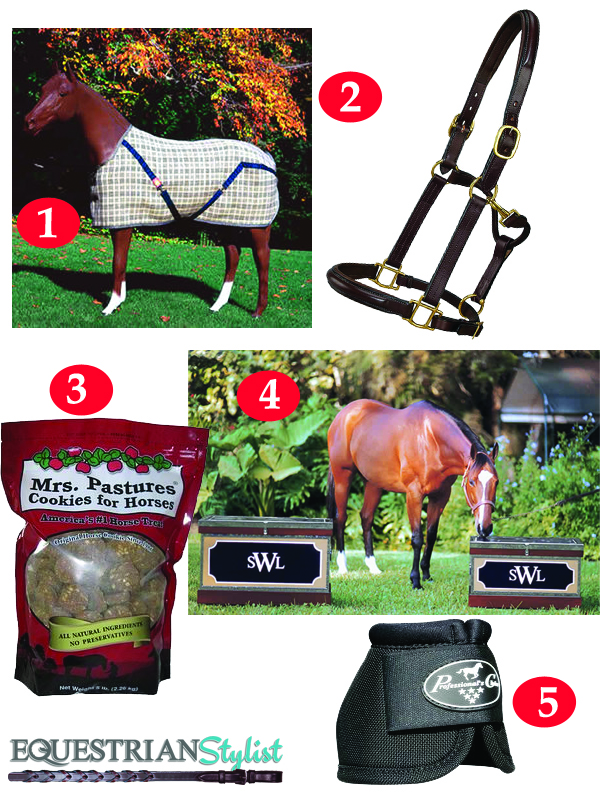 Mcguinn Farms custom tack trunks are beautiful for both horse and rider. Whether you personalize your initials, name, or horse, it's a beautiful gift for any horse owner. Psstt… Don't forget to stuff it with some horse treats!
2. Leather Halter by Dover Saddlery
3. Mrs. Pastures Cookies For Horses at Dover Saddlery
4. Tack Trunks by Mcquinn Farms
5. Professional Choice Bell Boots
The Horse Show Gal: One can always use another show shirt, especially with printed patterns like that from Cheval Fashions. Also, check out the new custom jumper whips by Signature Spurs… Pretty spiffy we say!
1. Vintage Damask Show Shirt by Cheval Fashions
2. Custom Jumper Whips by Signature Spurs
3. Custom Riding Boots by Der Dau
Now that you know what to look out for this Black Friday and Cyber Monday, you can rest easy this Thanksgiving Day. You'll be prepared to rush through the doors at even the most unassuming stores (Target, for example!) and take what they have of equestrian style. Stay tuned for more gift ideas to come… Ta Ta for now! Xo, Equestrian Stylist.