Autumn Equestrian Style: Featuring EquiRex
Are the leaves starting to fall and change colors in your neighborhood?  Autumn is here… ambers, pumpkins, chesnuts, and charcoals… all colors that are some of my favorites for Fall this season, especially at the barn.  Seasons are full of change: colors, leaves, weather, and usually horses too!  Some cooler mornings your horse will be fresh with energy and you never know what to expect in the show ring on these days.  Anyways, I grew up in a traditional Tailored Sportsman-only riding environment without much change.  Traditional equestrian show apparel each and every weekend and the same riding outfits on schooling day.  But oh, how things have changed today!  I love change now… especially in the equestrian community.  I am trying new equestrian sports (one in fact my new obsession: Polo), trying new riding breeches, boots, and helmets!  It's time to branch out from the same old brands and routine my friends… yes you know who you are!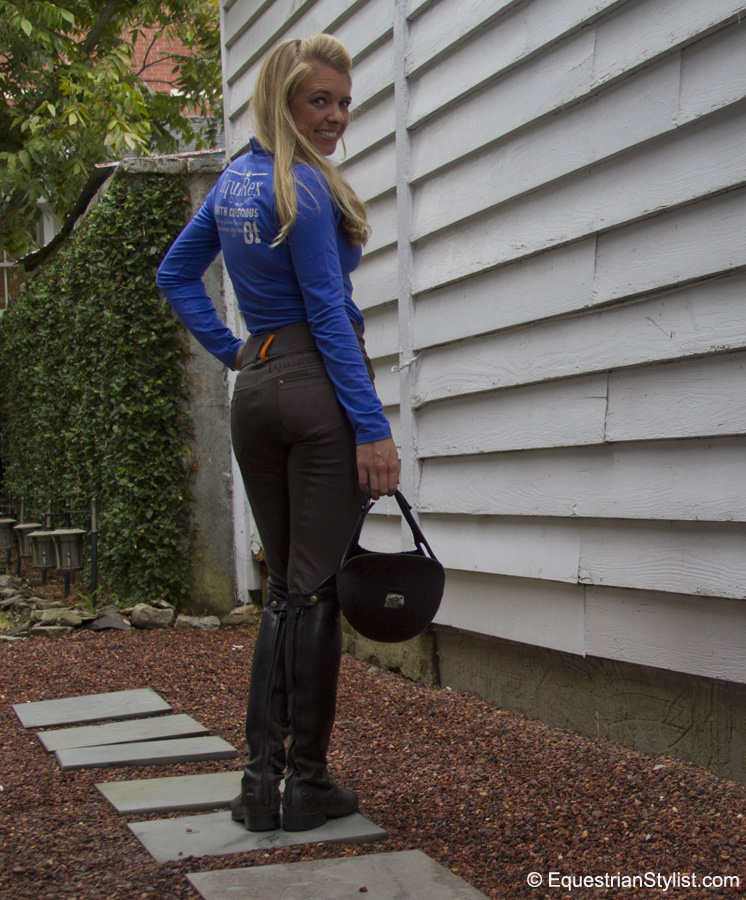 I'd like to introduce you to EquiRex, a new equestrian earth conscious sportswear line from the Dutch countryside.  Hey, I have two lovely Dutch warmbloods, so I'm a little bit partial to anything Dutch.  EquiRex embraces equestrian style with careful attention to detail, function and quality.  With earth conscious products, I feel comfortable wearing something that was made with good values in mind.  The factories are carefully chosen by Equirex to ensure no child labor is used and that the working conditions are favorable for workers.
Here's a little bit about my EquiRex Outfit:
The Breeches:   Equirex Style 002:  These riding pants are one of the most comfortable breeches I have tried on in a long time.  The sizing runs great– I am 5'4″ and I took a 34 XS.  Talk about flattering:  these are definitely a slimming breech for any body style.  This was my first time trying a full-seat breech, and… PS: I am definitely hooked!  The coffee brown color is a definite must-have for the Fall season.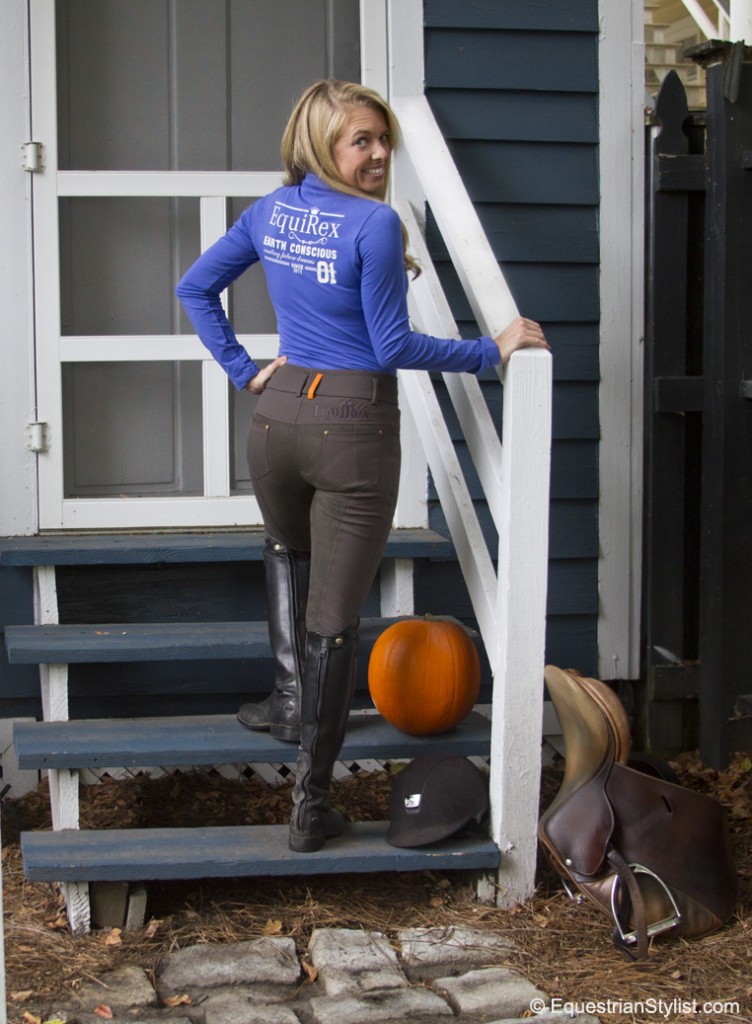 I love the orange detailing on the belt loops.  What a perfect drop of color for Halloween and Thanksgiving holidays coming up so soon.  The wide waistband is very supportive and flattering.   I did not wear a belt in order to show you the detailing, but a wide belt will fit nicely in the belt loops of these riding pants.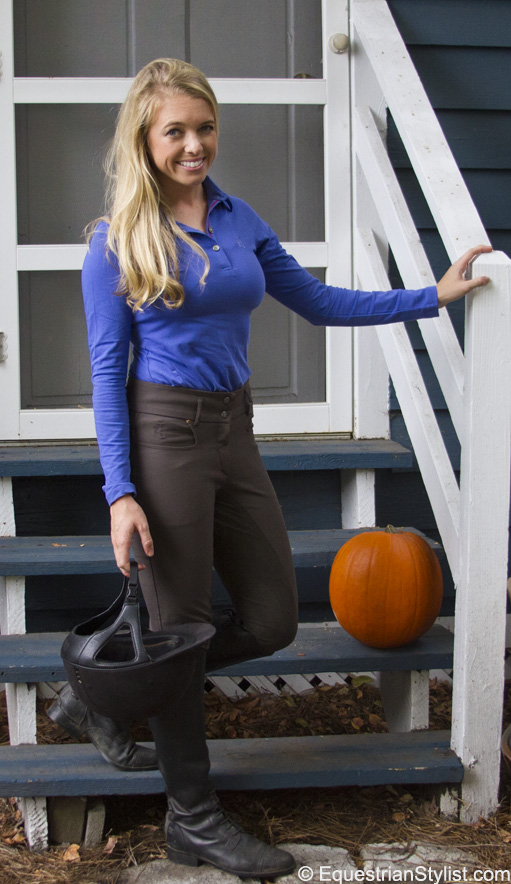 The top: EquiRex Dessa Polo  First of all, I'm a huge fan of the "Spring Blue" color.  As you know, even in the Fall, I love a pop of color.  The organic cotton is extremely soft and it has just the right amount of stretch.  This polo is a great intro to the Fall season.  It can be used to for layering or worn alone.  I love the Equirex logo and design on the back.  It reads: "EquiRex. Earth Concsious. Creating Future Dreams.  Since 2011"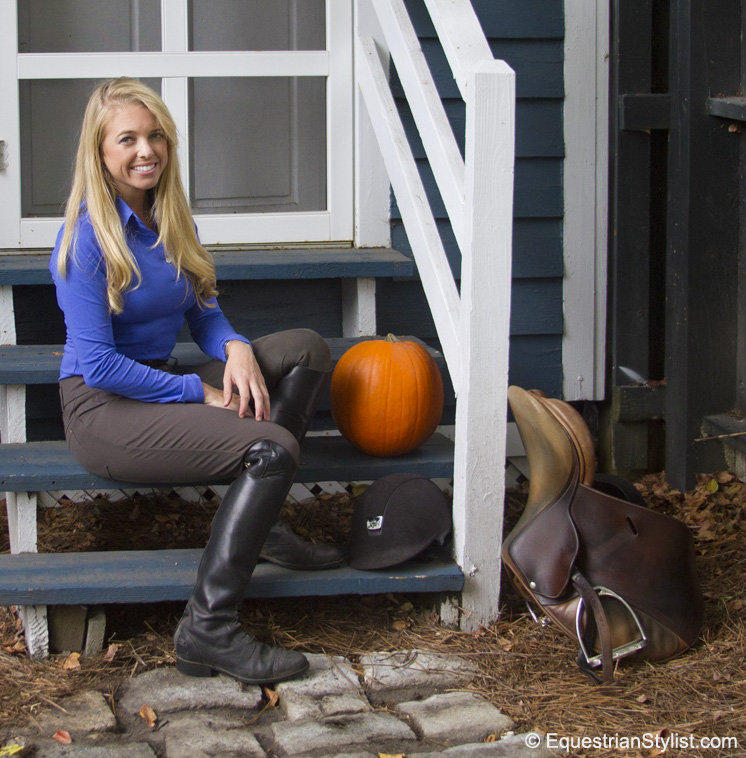 Are you creating future dreams?  It's time to get out there and start training that green horse of yours… lead him into that horse trailer and jet off to the next horse show. If you haven't started riding, now is the time to begin.  The EquiRex line is a fabulous fit for any competitive or recreational rider looking to stay comfortable & stylish while riding.  If you would like more information or to shop online please check out EquiRex here:  http://www.equirex.nl