A Day At The Races With Vineyard Vines
This past weekend I spent a day at the races at the Iroquois Steeplechase in Nashville, Tennessee.  One of my favorite brands, Vineyard Vines was a proud sponsor of this extravagant equestrian affair.  From horseshoe and pony printed bow ties to jockey silk inspired scarves, this brand truly knows how to add a touch of fine equestrian style. Vineyard Vines (VV for short) is known for inspiring others to live "The Good Life".  I can truly say I had the experience of "Living the Good Life" at the Iroquois Steeplechase 2012.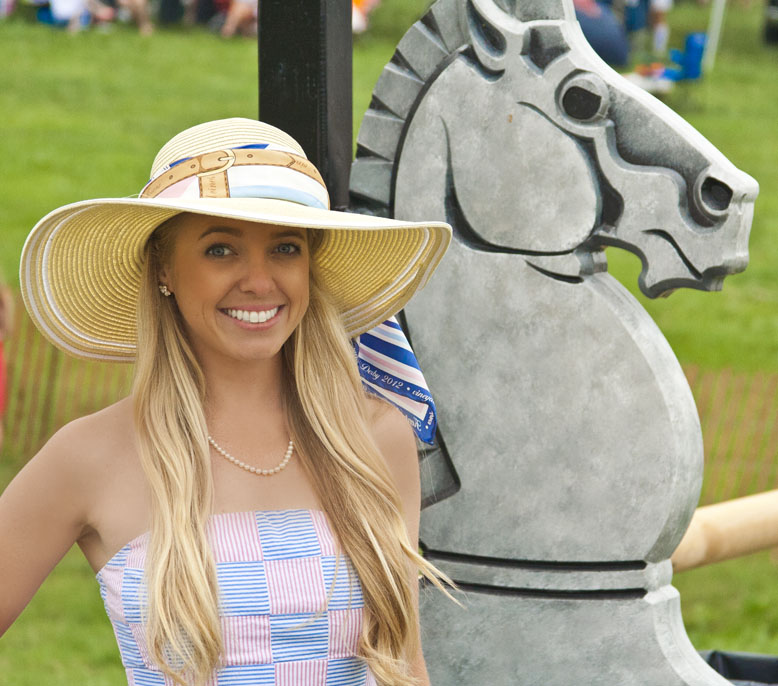 What I Wore: White trimmed straw hat from DSW, Vineyard Vines Kentucky Derby 2012 Silk "Bitsy Scarf", My Grandmama's Pearl Necklace, and the Vineyard Vines Sashay Carolyn Dress in Striped Seersucker. (Don't you just adore that seersucker patch?!)  It's totally jockey prep.  Also, the pink and blue silk derby scarf makes a great accessory for this dress highlighting the pink and blue patchwork.  Even though I've said it before, I'll say it again: Seersucker is a serious staple in everyone's Spring wardrobe (especially if you attend Derby/Horse racing events!)  Accessorize simply with a strand of pearls or a simple necklace.  This look I chose was a preppy spring look with a touch of equestrian.  The silk scarf is printed with leather equestrian trimmings, horseshoes, and jockey silks- a limited edition 2012 from the Kentucky Derby.  After all, the Iroquois Steeplechase is pretty much the Derby of Nashville!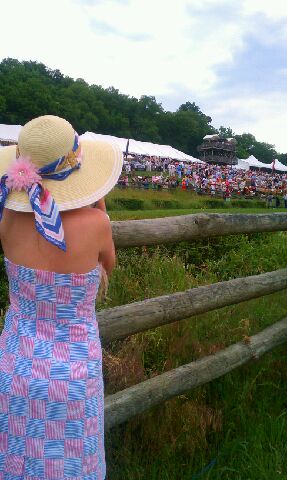 *Fun do-it-yourself style Derby Hat tip: Tie the derby scarf around the straw hat and cinch it with a pink silk flower for an added accessory.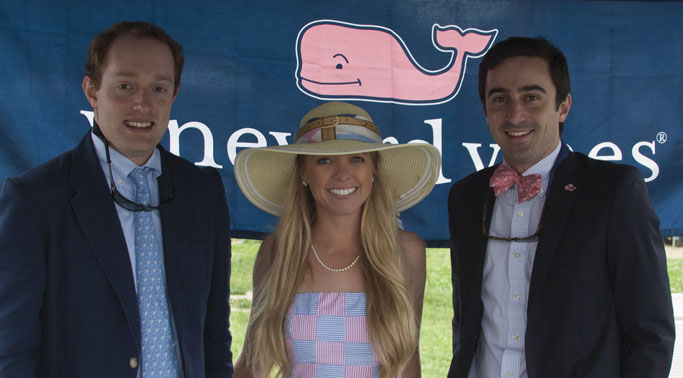 Here I am pictured with Andy Jasenak and Evan Monteiro of Vineyard Vines.  These two guys were the magicians behind the Vineyard Vines tailgate at the Iroquois Steeplechase.  Andy and Evan showed us how to live "the Good Life" at the Iroquois Steeplechase– And, I must say, there is never a dull moment under this famous navy tent: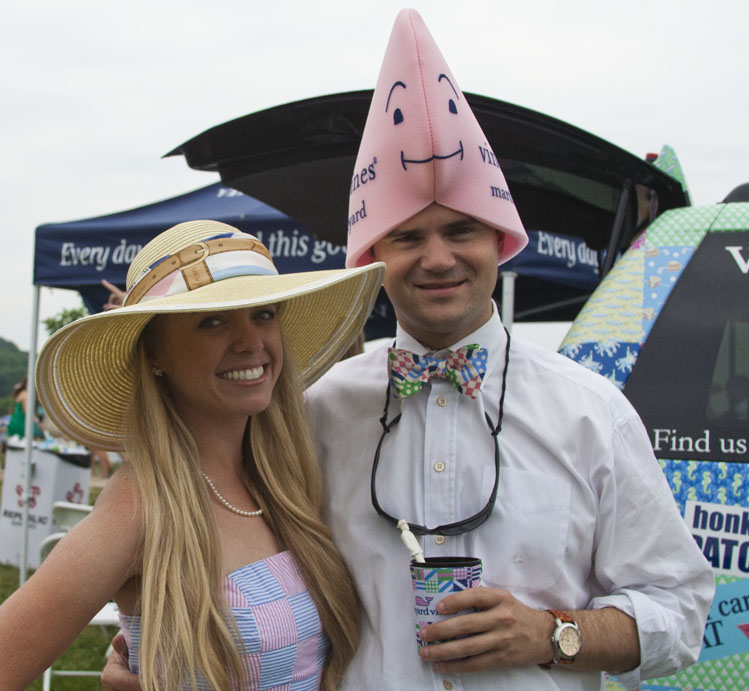 And here it is…The infamous Whale Hat was the topic of conversation at the Vineyard Vines tent.  The #1 question of the day for Andy and Evan was, "Excuse me sir, Where can I get a Whale hat?"  These babies sure are hot commodities… however, you cannot buy this famous whale hat– they are only handed to prestigious winners of the original tailgate toss game: "corn hole".  Guys (and girls) don't forget your croakies and patchwork coozies either… They are a must at all tailgating events!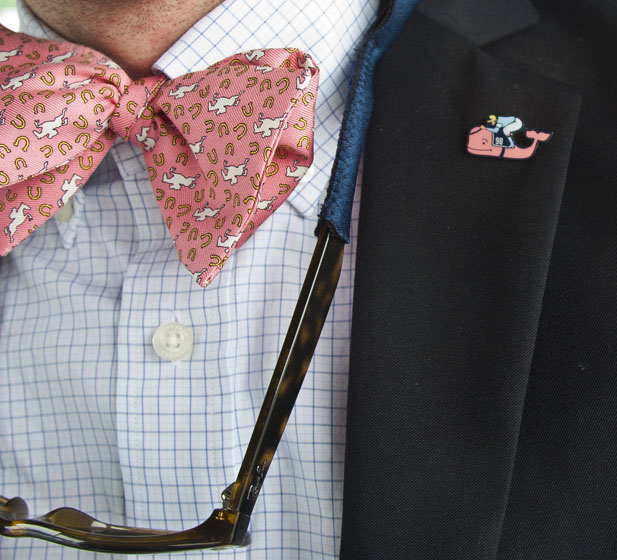 How about…A Whale of  Jockey?!  Heck Yes!  Even clearly knew how to dress that whale in equestrian style.  I absolutely adored the pink horseshoe printed bow tie and equestrian themed whale pin that Evan accessorized with on his blazer.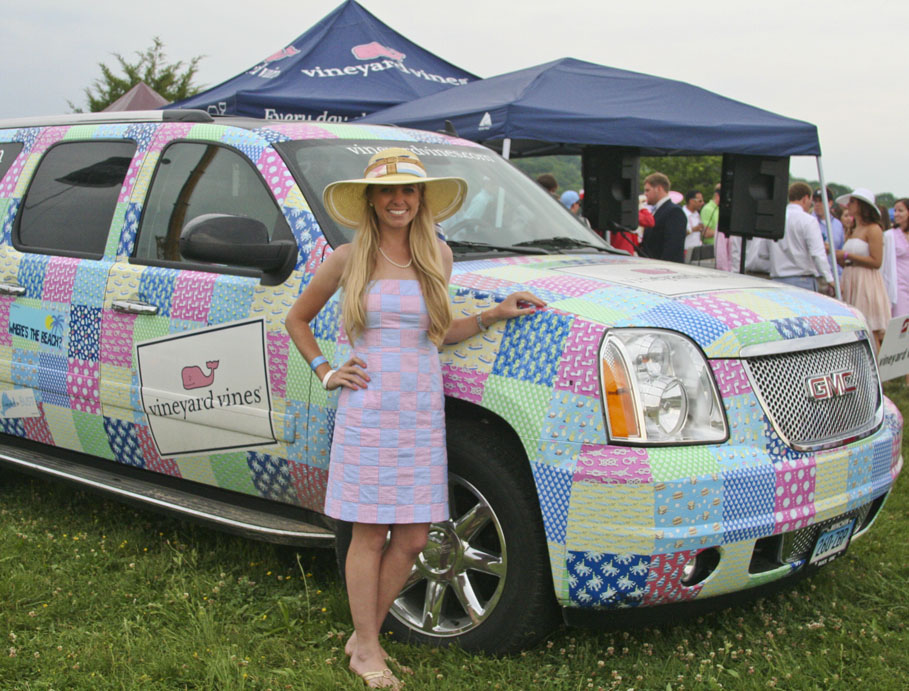 How would you like to show up to the races in this preppy patchwork ride?  I would love to ride in this baby for the next Derby… Talk about a fun way to road trip, right?  So, where is the next stop?  Be sure to check out http://www.vineyardvines.com and http://www.vineyardvinesblog.com for the latest and greatest happenings of "living the Good life" and beautiful outfits for guys and gals.  Summer is here, so remember to step out in some seersucker in the sunshine and enjoy Your Good Life.  Ta Ta for now!