2014 Annual Equestrian Style Holiday Gift Guide
As the temperature steadily drops and the smell of gingerbread dances its way into the air, along comes the stress of finding the perfect gift for your loved ones. While going to the mall this time of year may seem overwhelming, fear not for we have created the perfect holiday gift guide to streamline all your shopping needs. Whether for the fashionista, rider, horse or home, we have the perfect gift . But be careful, you may want to keep them all for yourself!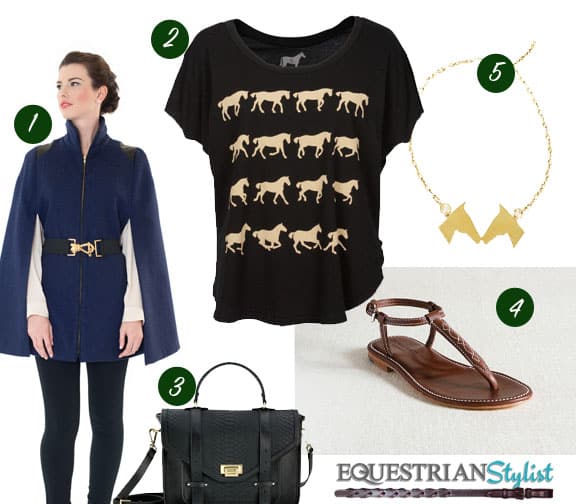 For the Fashionista: 'Tis the season for equestrian style in luxury. From beautiful handbags like the GiGi Hayden Satchel, to cashmere capes by Ellsworth & Ivey, these gifts are perfect for "the gal that's hard to buy for."
1.) Ellsworth & Ivey Marilyn Cape
2.) Danielle Demers for Tara Kiwi: Gaits of the Horse Shirt
3.) GiGi New York Hayden Satchel
4.) Katherine Page Devon Sandal
5.) Stick & Ball Caballos Besando Necklace
6.) The Etty Sweater by Tory Burch: Absolutely in love with this turtle-necked Tory horse-printed frock. Simply fabulous.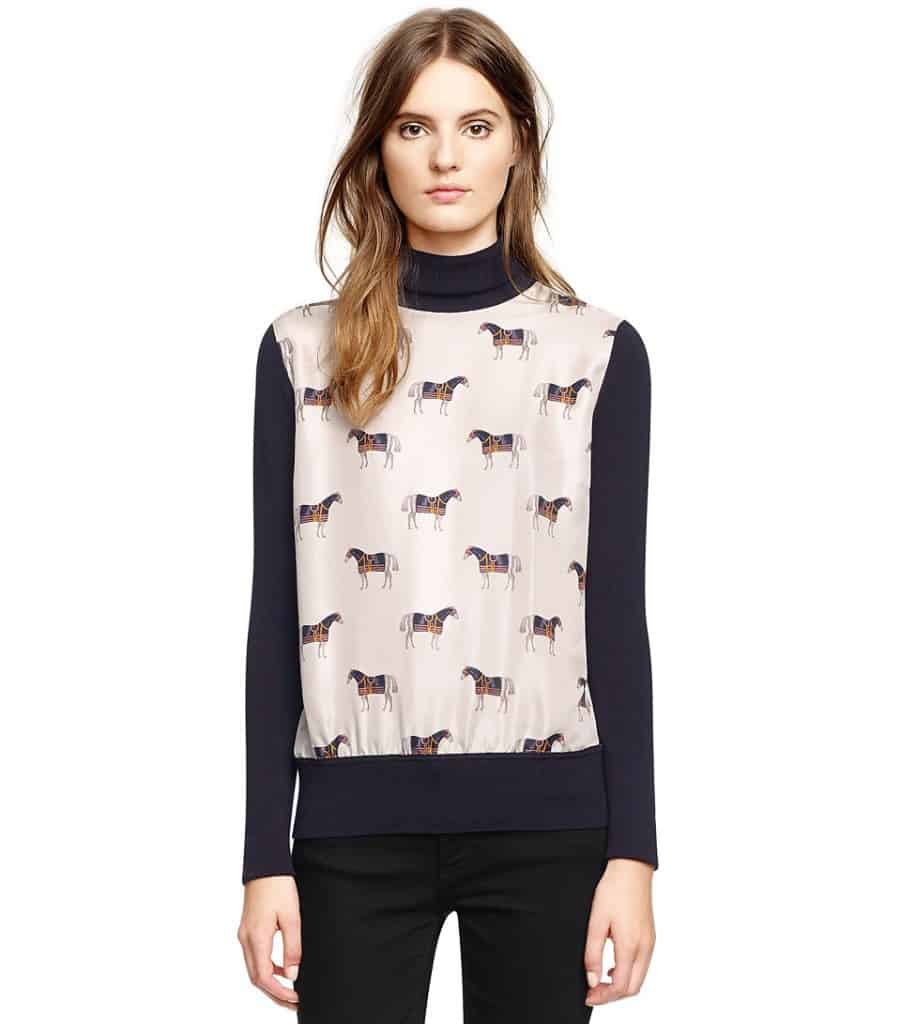 7.) Christine A. Moore Fascinator: Neutral colors are fabulous for all times of the year. These fascinators are perfect for any steeplechase, polo match, derby, or equestrian affaire.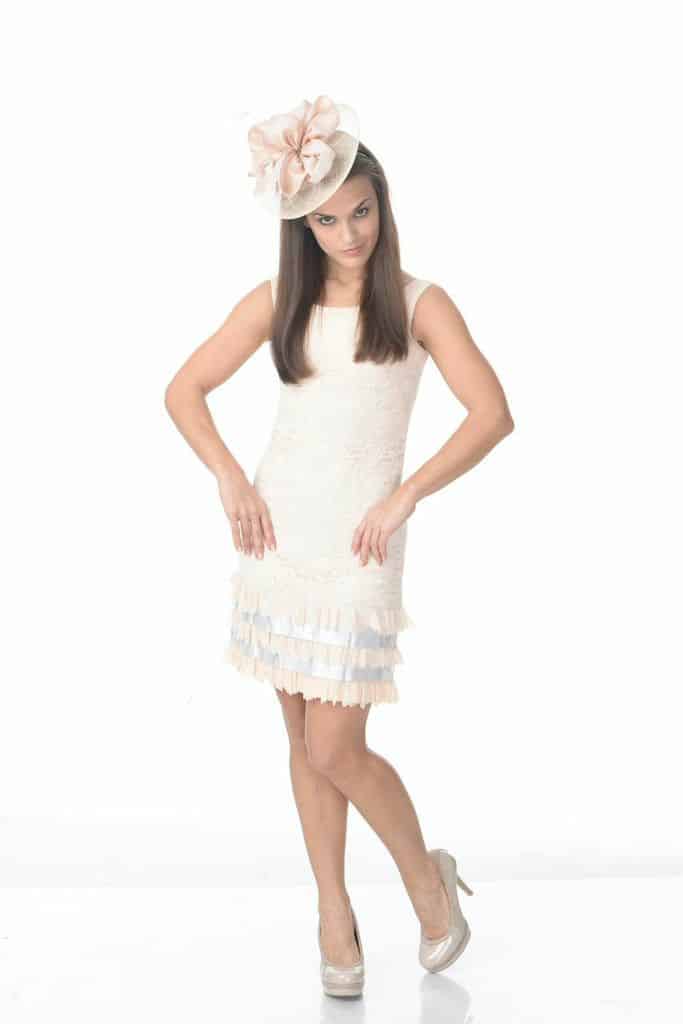 For the Rider: The Der-Dau Dream Boot has us drooling… The rider can never have too many Der-Dau's in our opinion 😉
Mack & Jane leather cuffs with a lucky equestrian charm are a great stocking stuffer as well.
1.) Der Dau Ultimate Dream Boot – Like a Drrrreeeeeaaam!
2.) Samshield Premium Helmet – A staple for the avid competitor.
3.) Stick & Ball Horse Head Boot Socks -Simply Precious.
4.)  Horse & Hound Snooty Fox Wine Glass Cheers!
5.) Mack & Jane Jewelry– crafted in Pennsylvania using the finest European leathers including nappa, calf hair, snake embossed and braided. They are embellished with charms, both equestrian and seasonal, and may also be personalized with vermeil or sterling initial charms.
 More for the Rider… Because, too much is Never enough!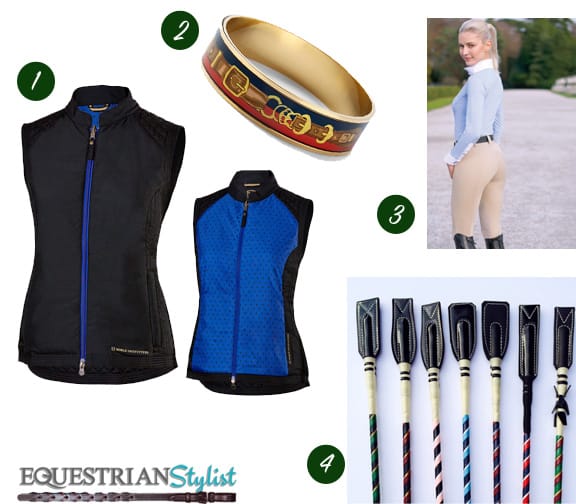 1.) Noble Outfitters Rollback Reversible Vest – This vest has fleece-lined pockets to keep your hands cozy. The shape and fit is very flattering.
2.) C. Wonder Equestrian Enamel Bracelet
3.) Tredstep Ireland Symphony Nero Knee Patch Breech
4.) Signature Spurs Custom Jumper Whip
5.) Hunterharmony "Secretariat w/ Horween Chromexcel" Watch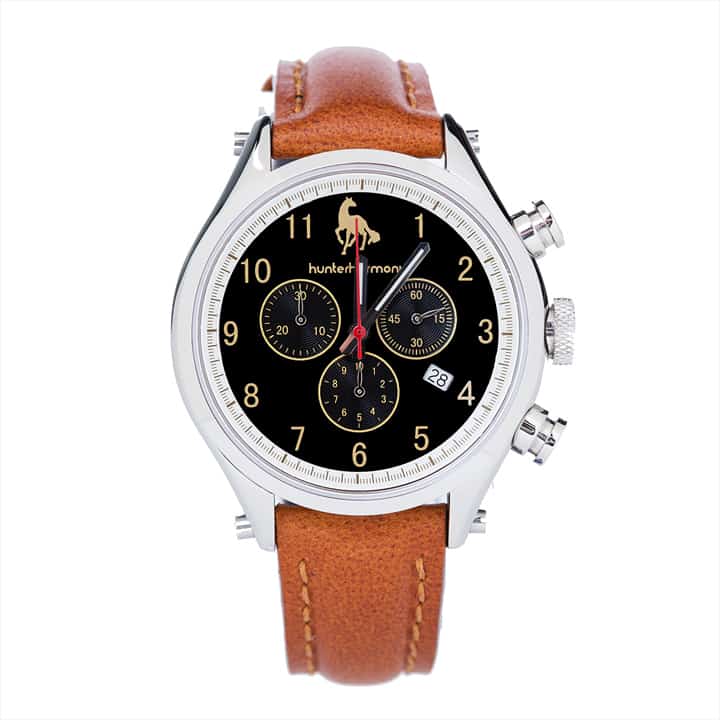 For the Horse/Barn: Don't forget your special equine that deserves some santa gifts as well… From grooming products, to barn furniture don't leave 'em out!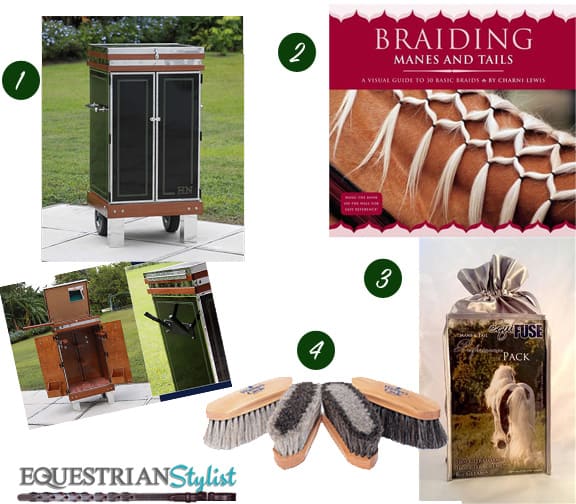 1.) McGuinn Farms Dressage Vertical Trunk – another barn-colors must have!
2.) Braiding Manes and Tails Book
3.) Equifuse Performance Pack -This will keep your horse looking extra shiny (perfect for the pony model!)
4) Winners Circle Gold Finishing Brushes 
5.) L. Lavone Herringbone Ringside Grooming Tote Helloooo Gorgeous! If you want to stand out at the in-gate, this is surely the way to do it. Handcrafted from exotic woods, this grooming tote is a true work of art.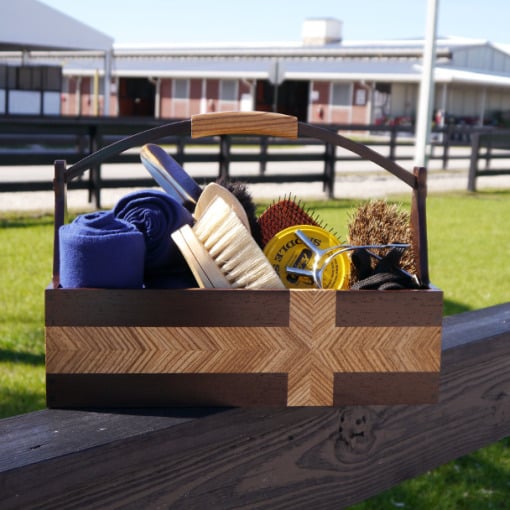 For the Silver Equestrian: From horse bits to horseshoes, it's just the right touch to sparkle in silver!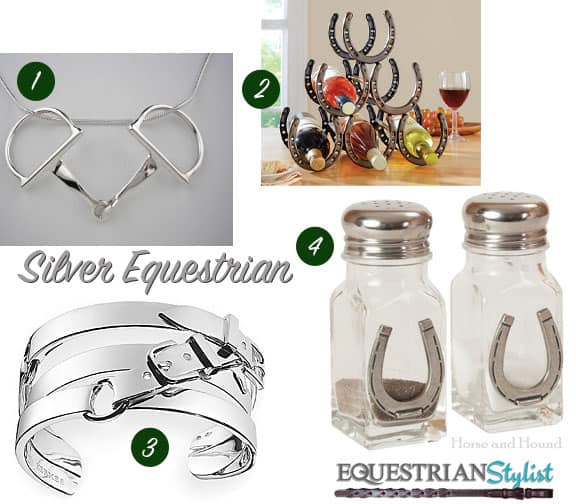 1.) Jamie's Horse Jewelry Large Snaffle Bit Slider 
2.) Rustic Horseshoe Kitchen Wine Bottle Holder
3.) Hermès Débridée Silver Cuff Bracelet
4.) Horse & Hound Horseshoe Salt and Pepper Shakers
5.) Julie Ferris Equestrian Art Have a custom equine horse painting done by this young SCAD Equestrian artist, Julie Ferris. It's fresh, modern, and extremely chic!
For the Gold Equestrian: Make her feel golden this holiday season… She totally deserves it.
English Stirrup Ring with Diamonds by Loriece Jewelry : Diamonds are a girl's best friend, guys… Get her something super-sparkly this Christmas. (She totally deserves it!)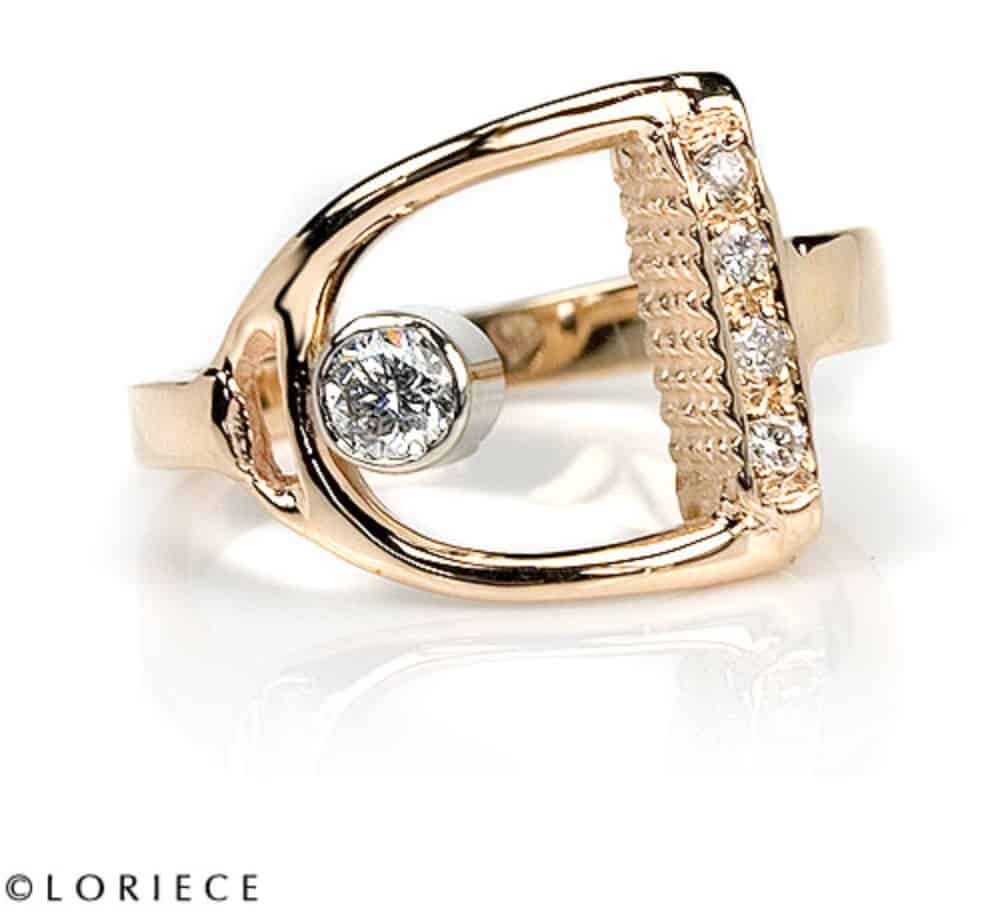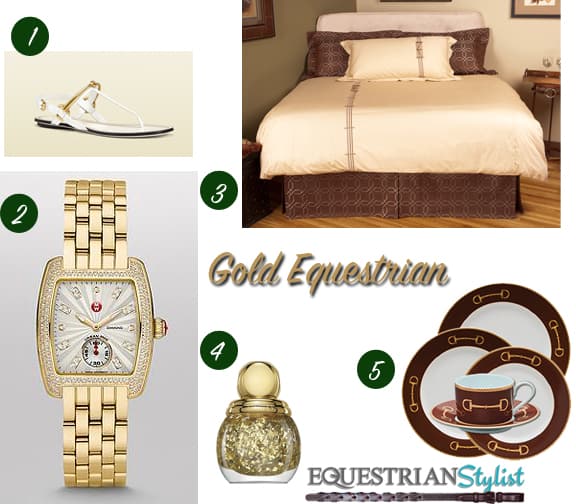 1.) Gucci 'Tess Horsebit Thong Sandal' 
2.) Michele Urban Diamond Mini Gold Watch
3.) Equestrian Bedding by Equestrian-Interiors.com
4.) 'Diorific-Golden Shock' Nail Color at Nordstrom
5.) Cheval Chestnut Brown China
For the Man: Be careful not to skimp on the man in your life… These are some of our favorite country-chic gifts that the classic man who (either rides or doesn't ride), we don't really mind, but he should still look the part.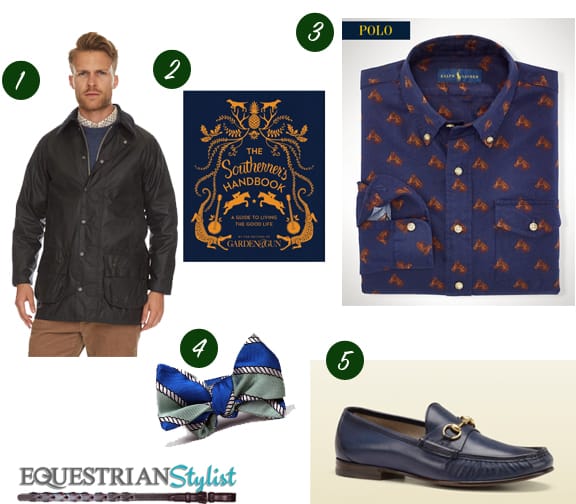 1) Barbour Beaufort Waxed Jacket 
2) The Southerner's Handbook Presented by Garden and Gun
3) Ralph Lauren Horse Print Sport Shirt
4) Creighton Freebord Bow Tie by Kiel James Patrick
Do you have anything on your wishlist? Share with us in the comments section some of your favorite holiday gifts! Enjoy, and… Merry Christmas to all!