Picturesque Polo From Miami to Mexico
In case you haven't noticed, EquestrianStylist.com is absolutely in-love with Polo…. It all started about a year ago when we attended our first polo tournament in Miami, Florida. From the outfits, to the events… what's not to love? The horses, fashion, and environment of Polo is absolutely fabulous, and we are excited to continue to share some of our favorite action and fashion photos from Polo across the country.
One of our favorite events, the Miami Beach Polo World Cup tournament just took place recently on the sunny beaches of south Florida at the end of April. It's the world's largest and most prestigious Beach Polo competition.  Attendees at this year's Miami Beach Polo World Cup experienced the annual serious of VIP events that took place including La Martina fashion show in the VIP tent, VIP members sipped cocktails courtesy of Grey Goose Vodka and attended other gatherings at The James Royal Palm Hotel, W South Beach Hotel, The Raleigh, SLS Hotel South Beach and The Mondrian South Beach.  Each year this event attracts top polo players from all over the world with bathing beauties on the beach to watch this luxurious high-fashion equestrian event.
"What is better than watching Polo on the beach? The weather was spectacular, the people were friendly, and the matches were a lot fun to watch!"-Jonathan Brownfield, photographer for EquestrianStylist.com
Also recently we had friends attend the Copa del Rey Polo Tournament at the El Rey Polo Country Club Cancun, Mexico.
"El Rey Polo Country Club was an extremely hospitable host for this International Polo Competition. Teams from all over the world came together for a fun weekend of polo. I can't wait for next year in Cancun at El Rey Country Club!"- Elisa Epstein.
Polo is very family friendly… to keep the little ones entertained, foot mallets are fun to play with on the grounds!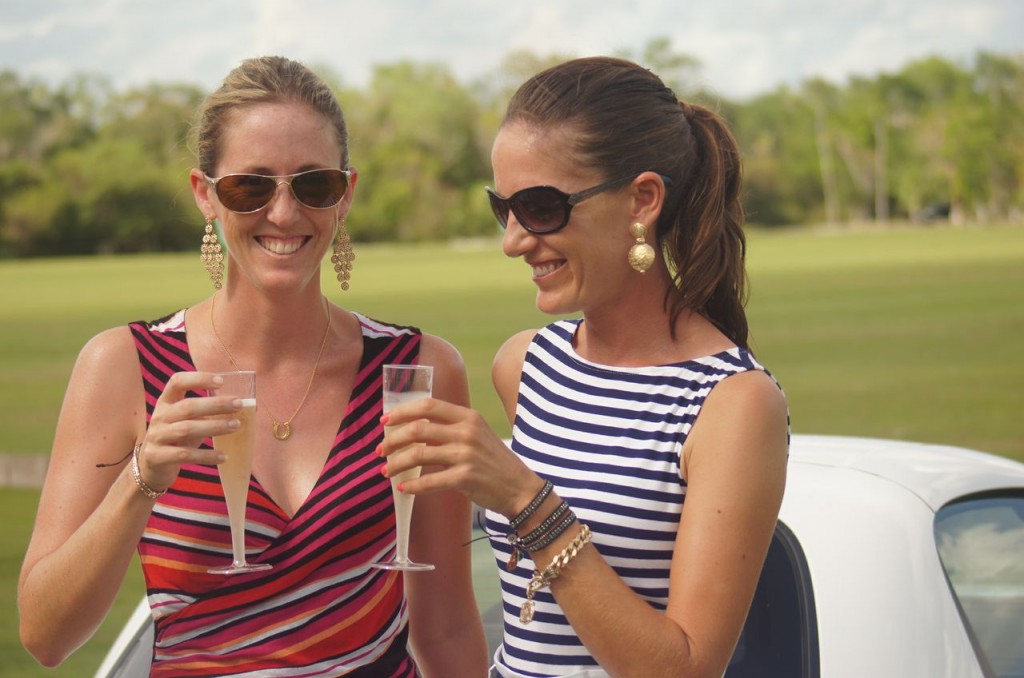 Editor of Horse and Style Magazine Erin Gilmore and friend Siobhan Gallagher sip champagne field side.
If you are hooked just like us, feel free to check out more Polo events happening around the country. We've listed a few below:
May 12, 2013: Hyde Park Polo Invitational: Charleston, South Carolina
**EquestrianStylist.com will be in attendance for the Hyde Park Polo Invitational
5/10-5/12 EASTERN CHALLENGE
Grand Champions Polo Club
Wellington, FL
5/10-5/26 SOUTHEASTERNHALL OF FAME CUP
New Bridge Polo Club
Aiken, SC
5/16-6/2 SOUTHEASTERN CONGRESSIONAL CUP
Aiken Polo Club
Aiken, SC
5/17-5/19 SUN CUP
Grand Champions Polo Club
Wellington, FL
5/17-6/2 TOMMY HITCHCOCK MEMORIAL
New Bridge Polo Club
Aiken, SC
5/18-8/15 SOUTHEASTERN CIRCUIT NYTS
New Bridge Polo Club
Aiken, SC
5/23-6/1 SOUTHEASTERN CONSTITUTION CUP
Aiken Polo Club
Aiken, SC
6/1-6/3 EASTERN CIRCUIT SHERMAN MEMORIAL
Brandywine Polo Club
Kennett Square, PA
6/1-6/30 EASTERN CIRCUIT SHERMAN MEMORIAL
Virginia International Polo Club
Upperville, VA
6/12-6/23 PACIFIC COAST INTER-CIRCUIT CUP
Santa Barbara Polo Club
Carpinteria, CA
6/19-6/23 NORTHEASTERN CENTENNIAL CUP
Westchester Polo Club
Newport, RI
6/1-6/30 EASTERN CIRCUIT SHERMAN MEMORIAL
Virginia International Polo Club
Upperville, VA
6/30-7/14 EAST COAST OPEN
Greenwich Polo Club
Greenwich, CT
6/21-6/23 MID-STATES ARENA SPORTSMANSHIP CUP
Darlington Polo Club
Darlington, PA
7/1-7/2 EASTERN ARENA DELEGATE'S CUP
Brandywine Polo Club
Kennett Square, PA
7/9-7/11 EASTERN CIRCUIT NYTS
Virginia International Polo Club