Horse Show Style from Southeast Medal Finals
The 2nd annual Southeast Medal Finals in Jacksonville Florida took place on September 19-22, 2013 at the Jacksonville Equestrian Center. Classic Company put on the USEF "A" rated hunter/jumper horse show which featured a $25,000 Land Rover Jacksonville Grand Prix and $5,000 Welcome. More divisions included a $7,500 Children's/Adult Southeast Championship, Junior and Amateur Owner Hunter Southeast Medal Finals Classic, and more.
Some of you may be wondering,"What is a Medal Final"? The Southeast Junior 3′ Medal Final and Southeast Adult 3′ Medal Final are held here, and is equitation based. Equitation is judged on the rider. For the Southeast Junior Medal Qualifier, this is open to riders who have not reached their 18th birthday by the USEF (United States Equestrian Federation) standards.
Riders are also qualified for the 2013 Southeast Medal Finals, by placing 1st or 2nd in the NAL, THIS, Marshall & Sterling Children's Medal or placing first in any equitation requiring riders to jump 3'3" or higher. It is the rider's responsibility to keep a record of date and Show of qualifying. Riders are permitted and encouraged to continue to compete in the Southeast Medal Qualifiers once qualified, unless they are not permitted to compete in the finals of that same qualifying period due to the age restriction. For the Southeast Adult Medal Qualifier, it is open to riders who are 18 years of age or older by USEF standards. The course is essentially the same such as a full course of no less than seven jumps at three feet height.
The same rules apply like the Southeast Junior Medal Qualifier, however the age requirement is 18 years or older for the Adult Amateur section. Adult Amateur riders may also qualify by placing first or second in a Ariat, NAL or Marshall & Sterling Adult Medal or by placing first in an equitation class requiring riders to jump 3'3" or higher. The qualifying period is from September 1, 2012 thru August 31, 2013. Riders are permitted and encouraged to continue to compete in the SEM Adult Qualifier once qualified. The qualifying period is from September 1, 2012 thru August 31st, 2013
Ashley Cline of EquestrianStylist.com in the Maker's Mark lounge of the indoor equestrian center.
Dressage Collection was featured at the Southeast Medal Final right across from the Maker's Mark lounge. A classic equestrian style setup with beautiful handbags for every occasion.
Ashley Cline for EquestrianStylist.com and Aurélie Ferrut of Devoucoux are featured above in the Devoucoux booth at the Jacksonville Southeast Medal Finals. For beautiful French made saddles, be sure to shop at Devoucoux for only the finest quality, leather, and fit.
Riders work hard and concentrate while riding in this large indoor arena. Riding in an indoor arena can be a challenge for many horses and riders that are used to horse showing outdoors. Many young or "green" horses are known to spook due to the echoing and noises heard indoors. The Southeast Medal Final is a great practice horse show for those who go to the Washington International Horse Show in October.
Meet Tony Shoe Shine.
Cleaning boots is critical, and usually the moms or grooms take the pleasure of cleaning the rider's boots right before going in the ring. However, this gentleman had a beautiful display  and did a fabulous job polishing boots by the in gate.
Using the proper polish, brush, and of course cabernet chair for decor, he surely had quite the set up!
Whether it's paddock boots or tall riding boots, always keep them polished. It's extremely important to have shiny polished boots especially before entering the ring for an equitation class.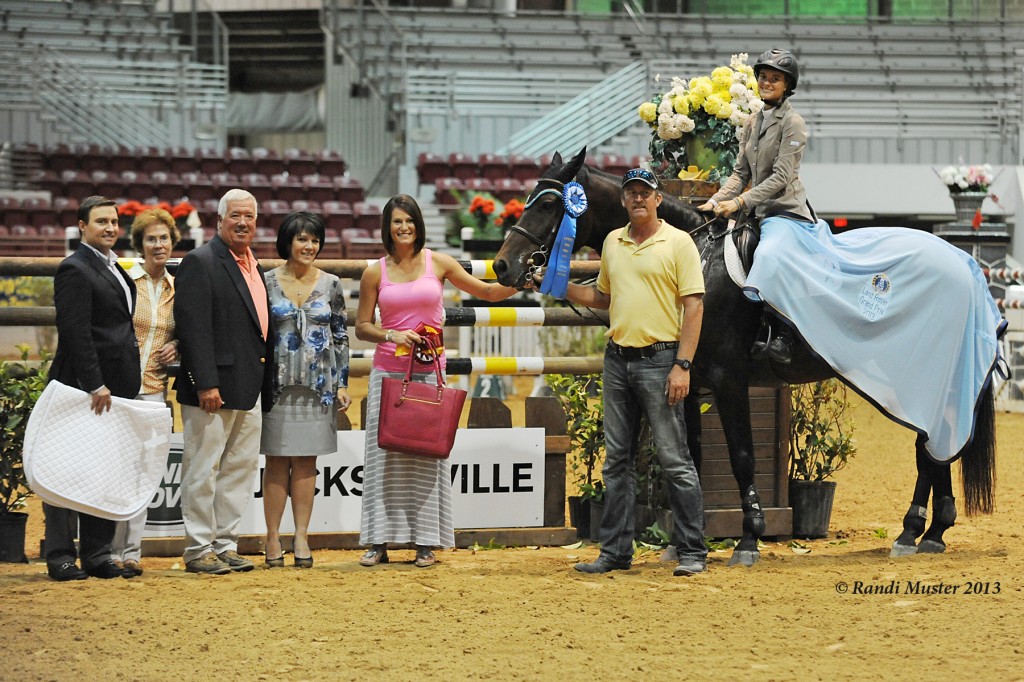 Pictured above:
Lto R Tony Wright- VP Cedar Street Advisors
Susie Rindal Land Rover Jacksonville
Bob Bell – President – Classic Company
Susan Parks – NTRA Sr Sales Director
Drew Coster – The Dressage Collection
Jordon Coyne – WINNER of the Land Rover Jacksonville $25,000 Grand Prix
and trainer Derek Peterson and the star her horse "Cordovo"
Ride On and Style On!