From Devon to Upperville Horse Shows: A Style Recap
Whew! It has already felt like a whirlwind of a summer with traveling to some of the most prestigious horse shows on the East Coast.  It all started with the Devon Horse Show and Country Fair on May 22nd…
(All photos taken by Ashley Cline, unless noted otherwise!)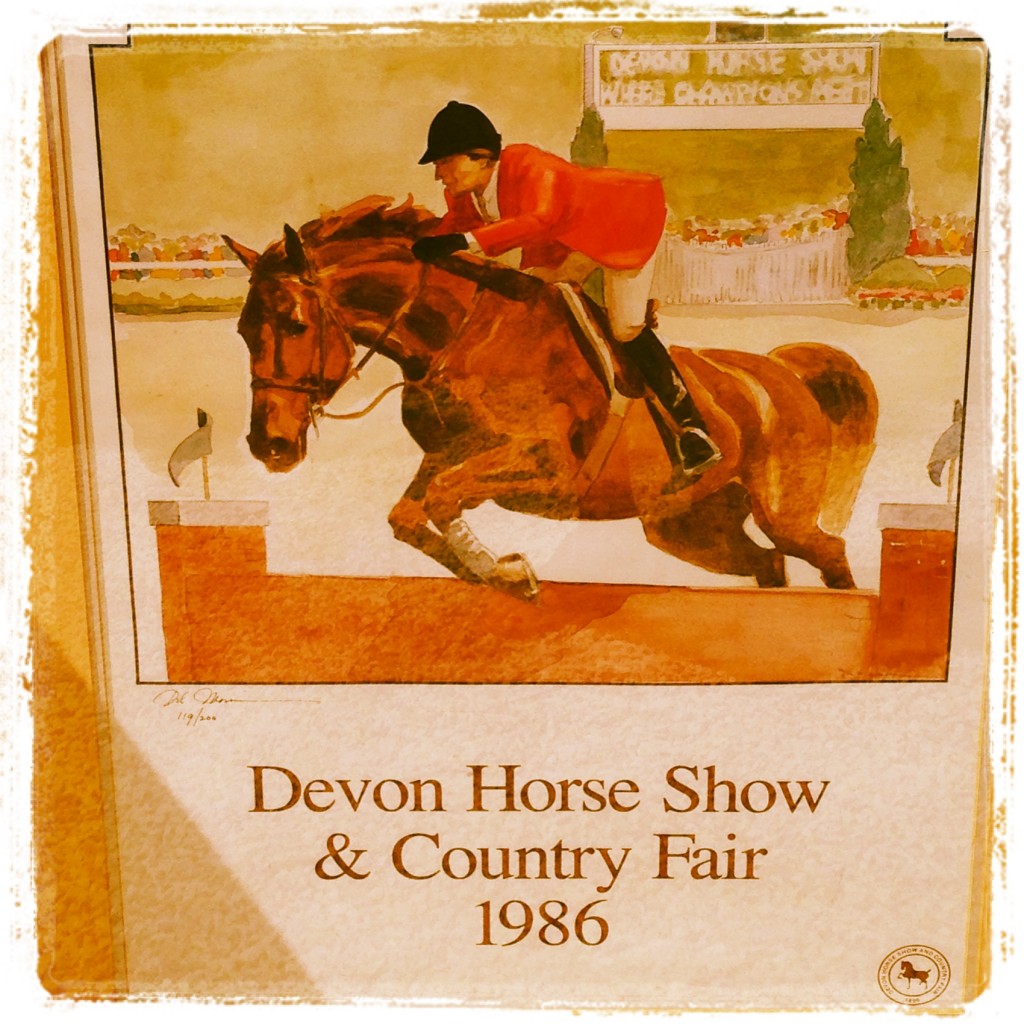 It was my first time back to Devon since 2001 when I showed as a junior rider.  As much as it's grown, the feeling of Devon remains the same: it's traditional intimate charm brings a smile to my face every time.  Watching all the breeds from hackney ponies to saddlebreds, the leadline class to coach driving classes, it's really unbelievable how many different disciplines can come together for a "meeting of champions" at the Devon Horse Show.  Not only is this the best of the best in the horse world, but also in fashion as well.  Brands like J. Mcglaughlin, Anthropology, Dubarry of Ireland, and many artists and boutiques come and present their most fabulous apparel, accessories, and art at the Devon Horse Show.  Walking around the country fair brought back childhood memories… and I also did enjoy  my share of lemon sticks, THE ever to-die-for Devon Fudge, and of course… tea sandwiches.
Take a look at some pictures from this year at Devon Horse Show:
To view the full Devon Leadline feature, Click Here.
The Pony Hunt Teams class is my favorite to watch… Each division (small, medium, and large ponies) all compete in teams of 3.  Each team dresses in theme and jumps a course of 8 jumps to the music of their choice.  The last and final jump is (meant to be) jumped all in sync.  I still remember the thrill of competing in this class at Devon- from planning the outfit, to practicing in the schooling arena, it's a blast and the riders and crowds are full of smiles!  You are only at Devon once a year, which means there is only one chance to jump the last and final jump all together… so if you can make it happen, it's the best part!
The foxhunting team costumes were pretty unique… loved the fox!
The costumes are always so creative… this is an evening event that is sure not to be missed!
Another one of my favorite days from this year's Devon Horse Show was… Ladies Day!  The outfits are fabulous… and the Hats are unstoppable!  Women get dressed up head to toe in beautiful designer dresses and accessories.  These lovely ladies parade next to the Dixon Oval grandstands and are judged by fashion icons such as Carson Kressley on their outfits and of course.. The Hat or, "propper topper" to be exact!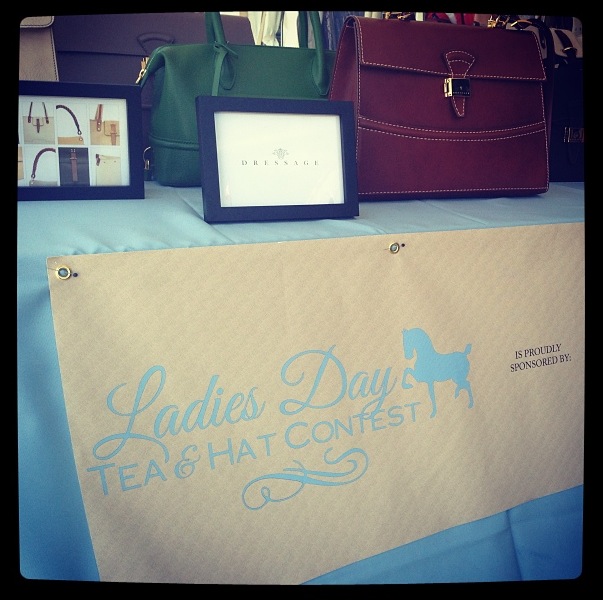 Dressage Collection handbags sponsored the day and raffled off a beautiful Amethyst "Stature Tote".  All of the handbags are handmade in Florence, Italy and are simply elegant!  They sure looked fabulous at the entrance of the Ladies Day Tea!
A few favorite photos from Ladies Day at Devon Horse Show and Country Fair: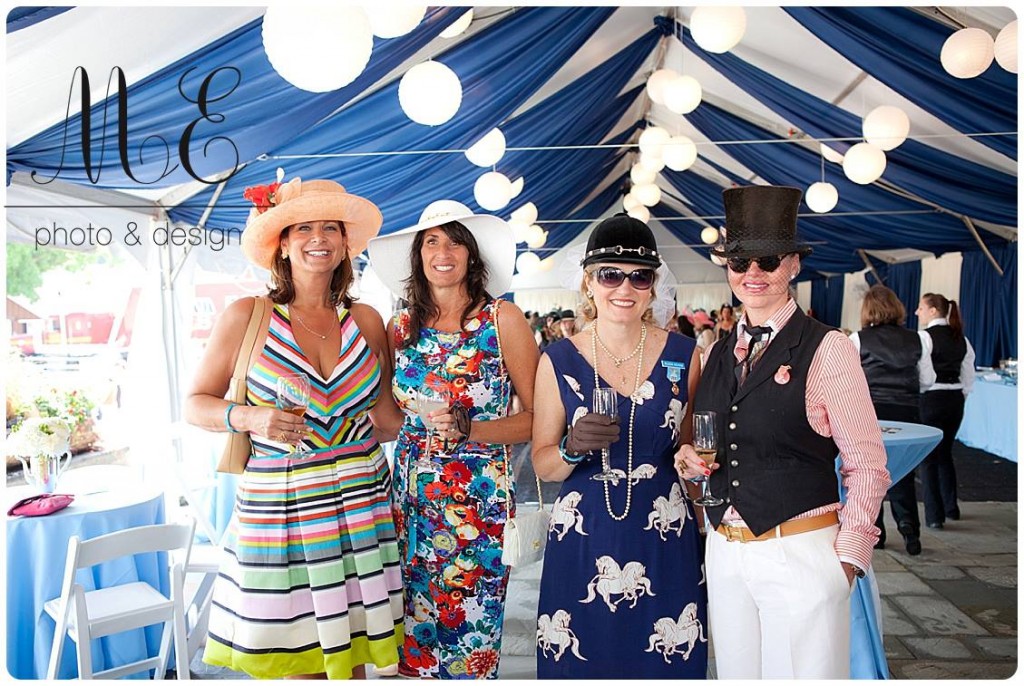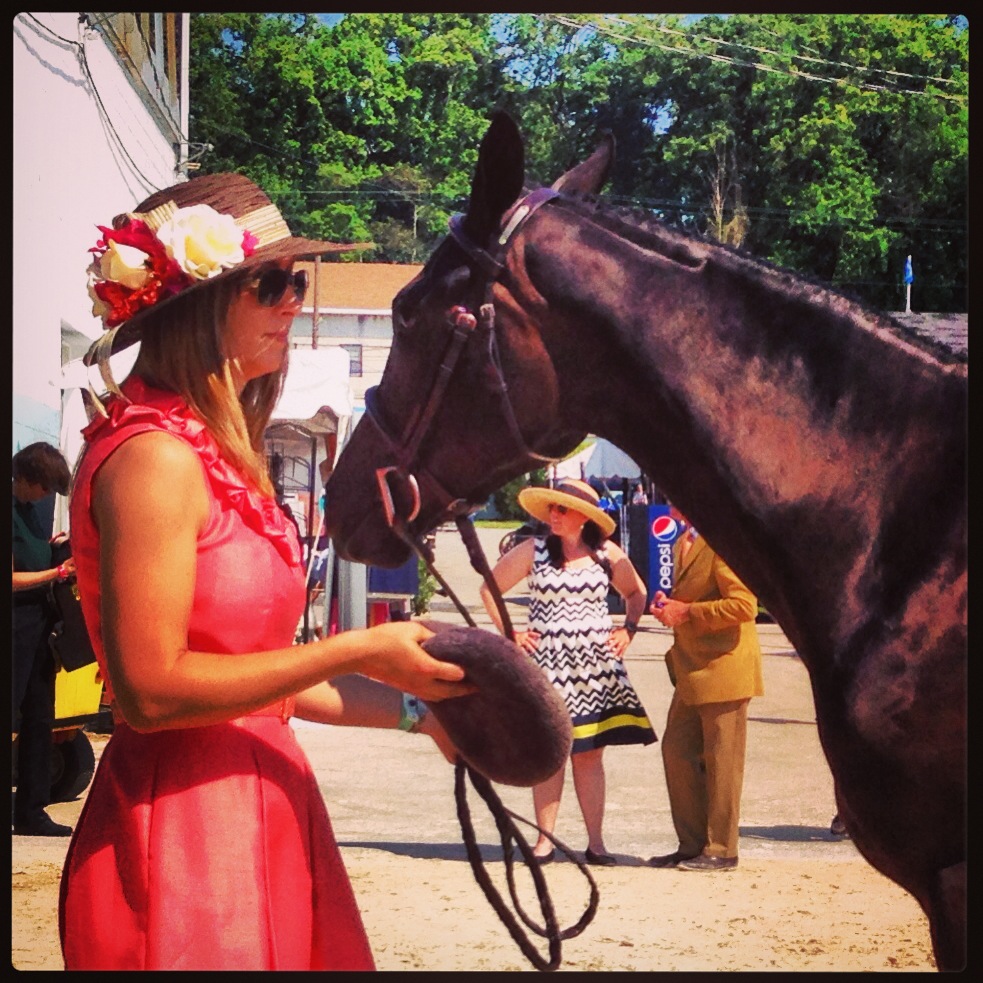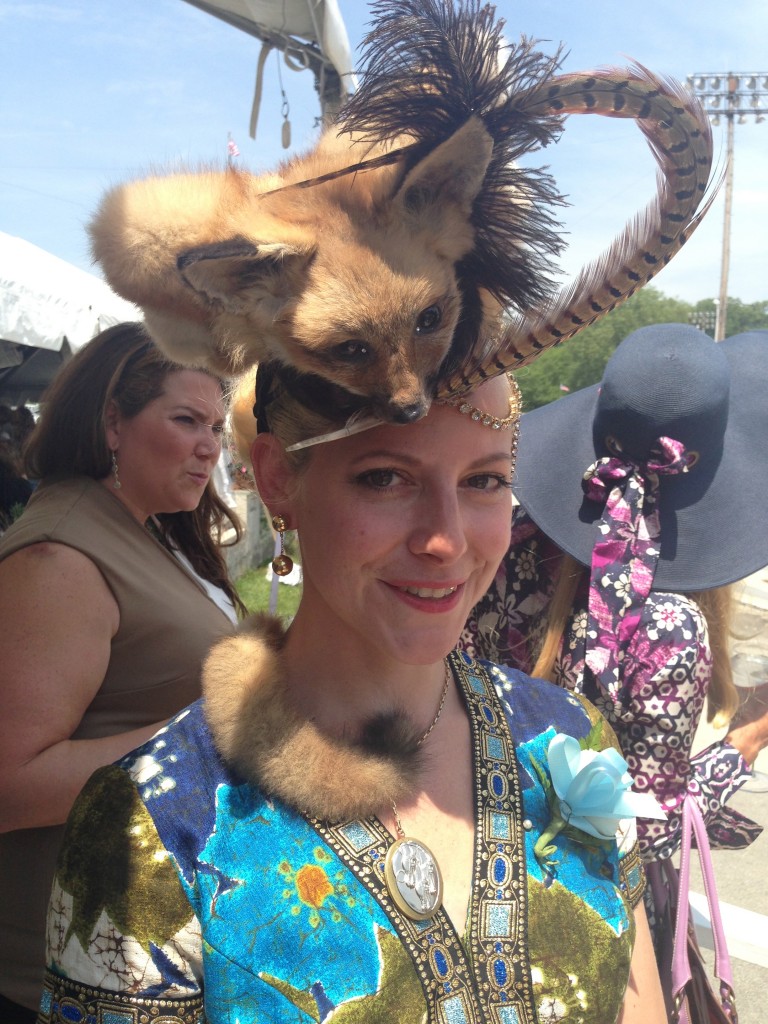 What I wore on Ladies Day: Katie Ermilio Navy Dress & Ivory Fascinator by Polka Dots.  I'm recently obsessed with Katie Ermilio… She has the most elegant and classic styles I have seen, and I've never seen a designer who is so spot-on with flattering lines.  I'm looking forward to watching her progress as a new young designer.
Not only do the ladies get dressed up, but so do the barns and shops!  Here are some favorite decor style favorites: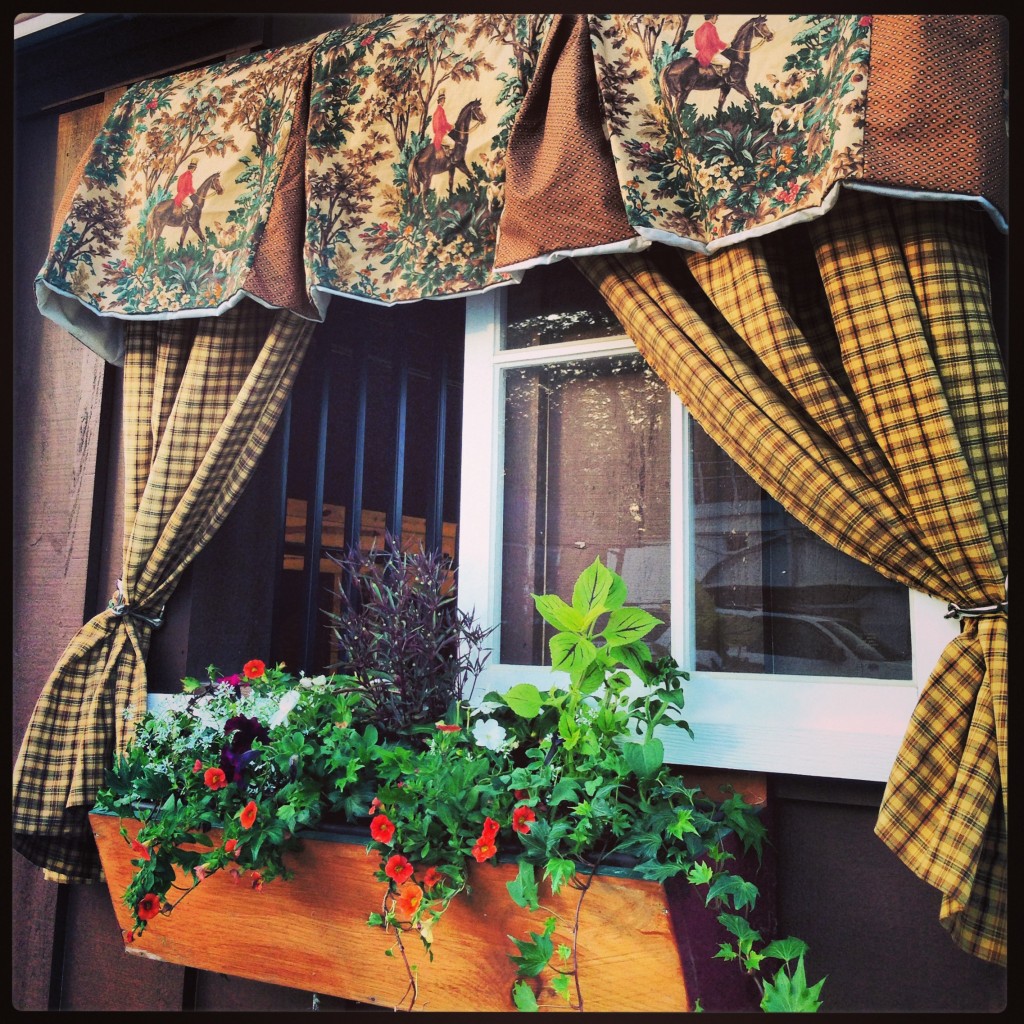 Beautiful equestrian printed window trimmings on this barn…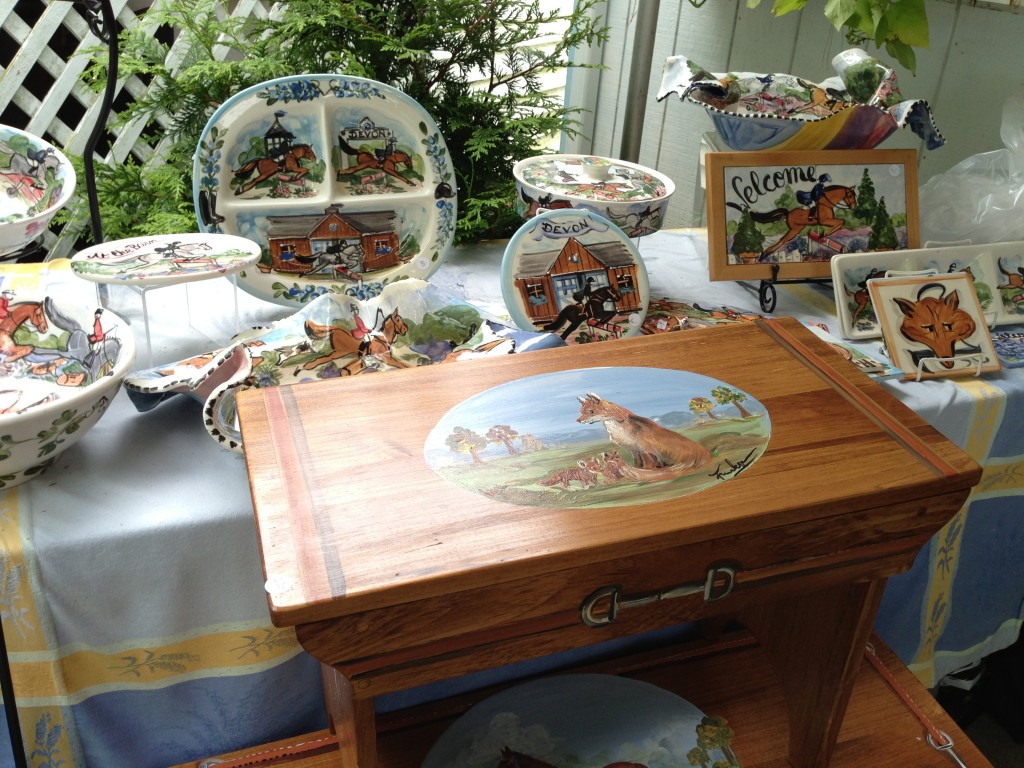 Hand painted porcelain and equestrian decor by Frederiques studio.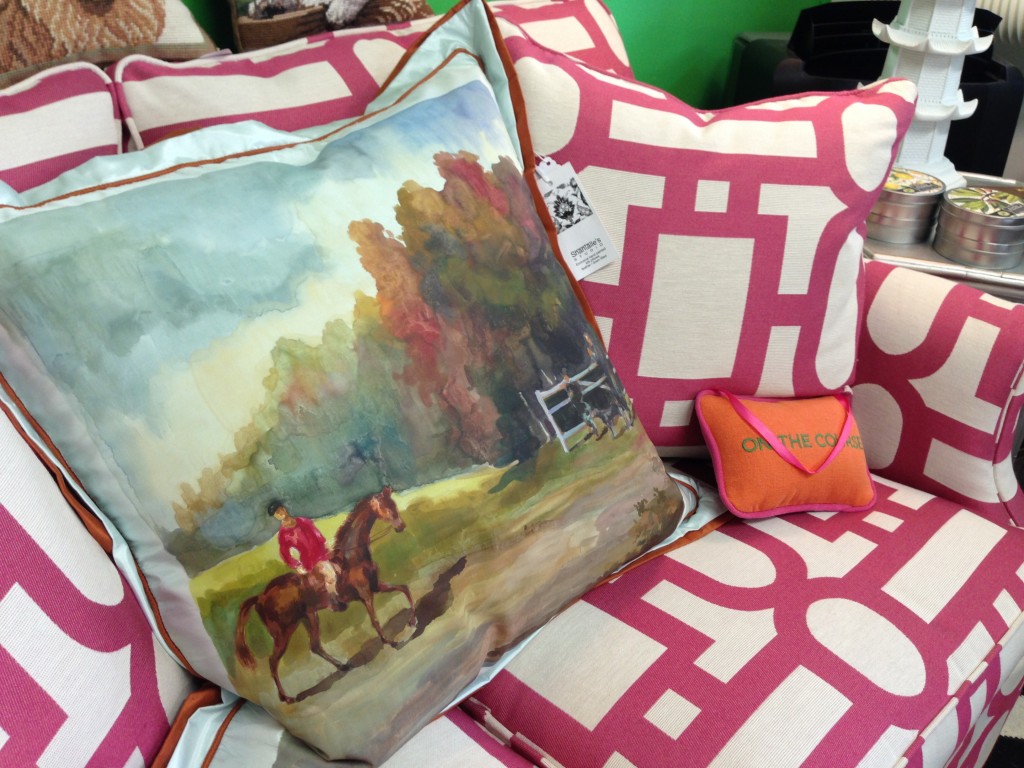 Fabulous equestrian decor from The Little House Shop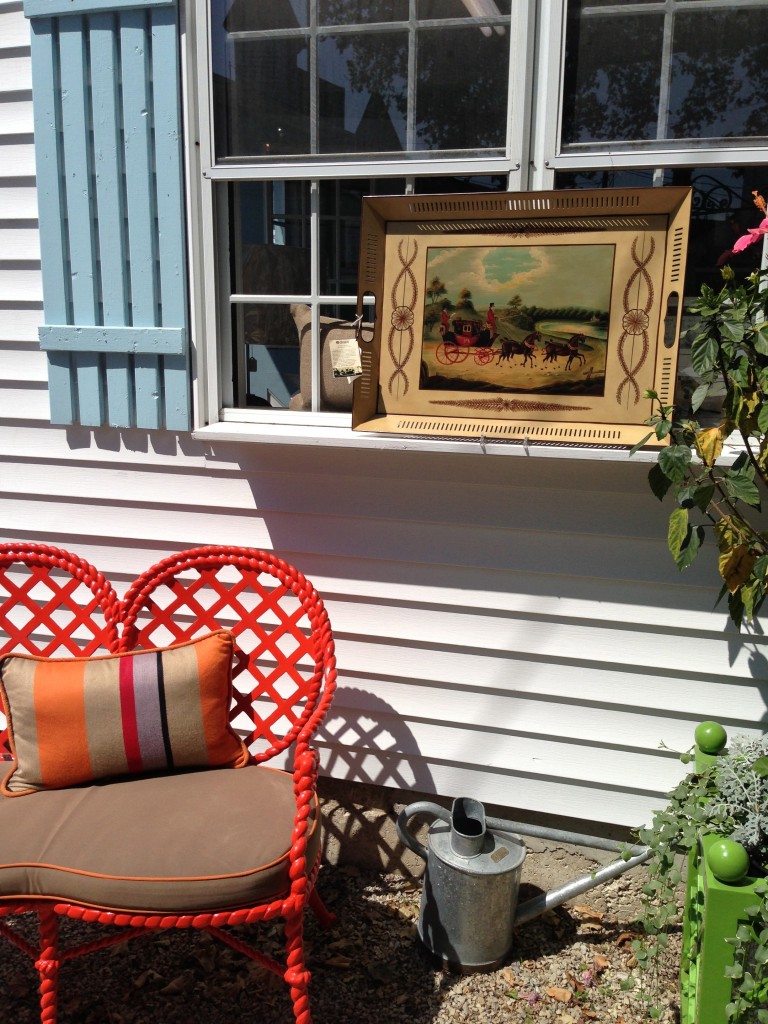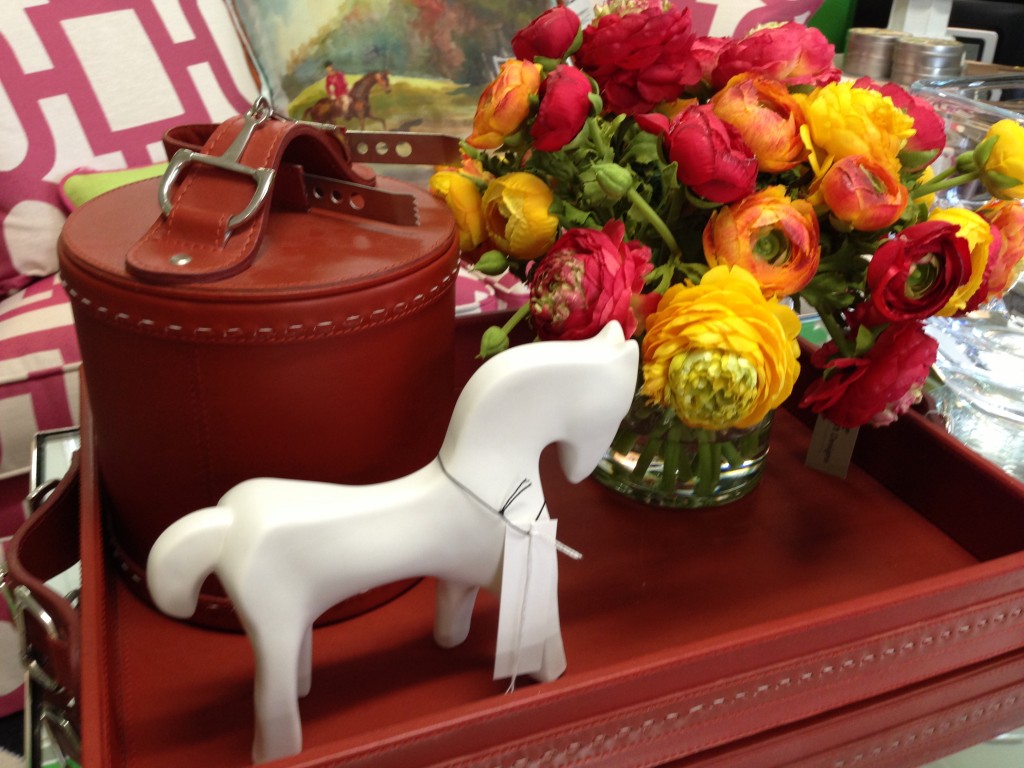 Now, how about this for some equestrian style…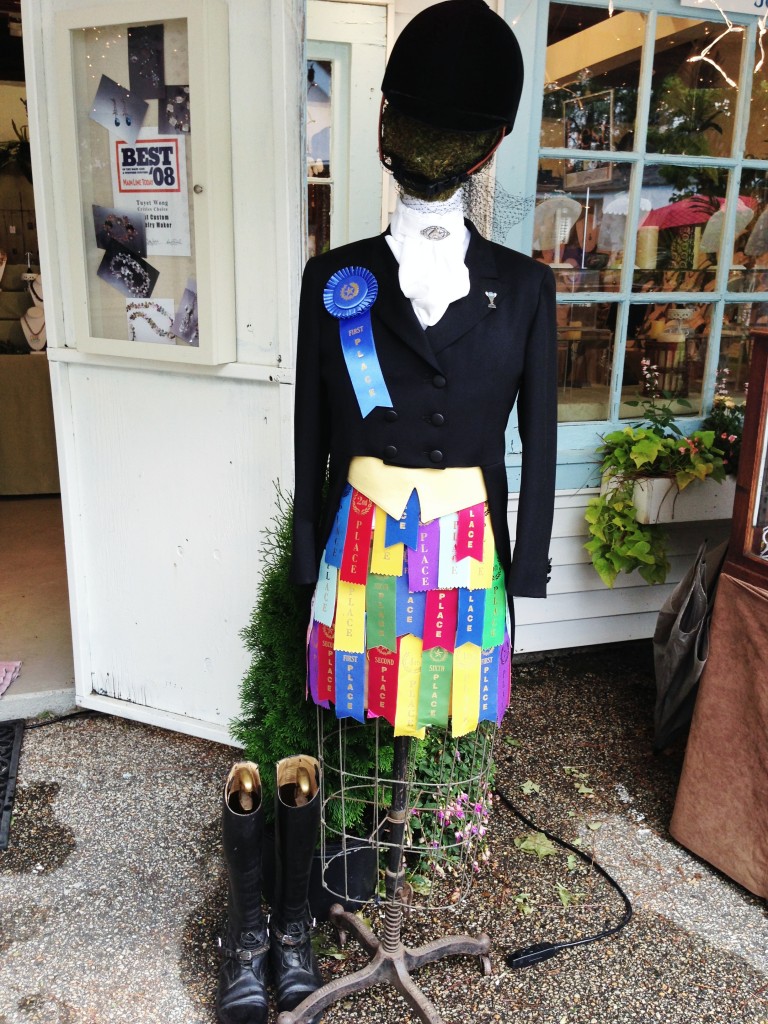 Not only is quality fashion and shopping present at Devon, but the horses are top-notch exquisite quality as well.  The slogan, "Where Champions Meet" is for a reason… these are the best of the best of horses and riders competing in one place.  I love watching the different breed classes…The Saddlebred classes were a new discipline for me to watch and the outfits were spectacular… (no wonder style icon Carson Kressley is involved with this breed!)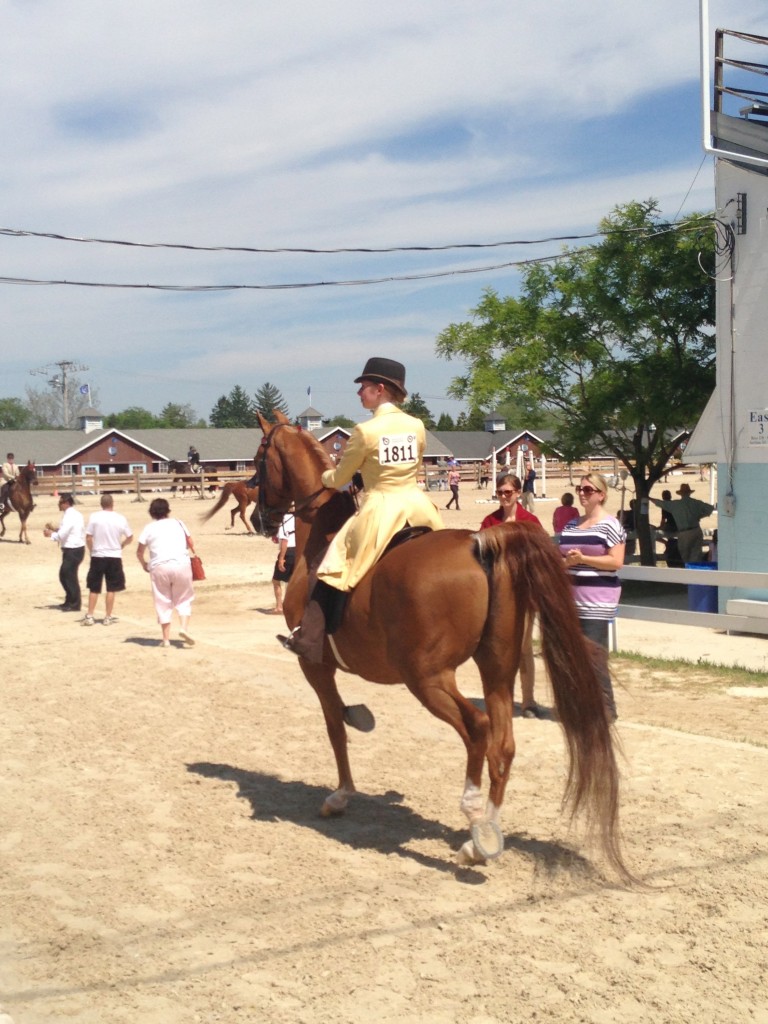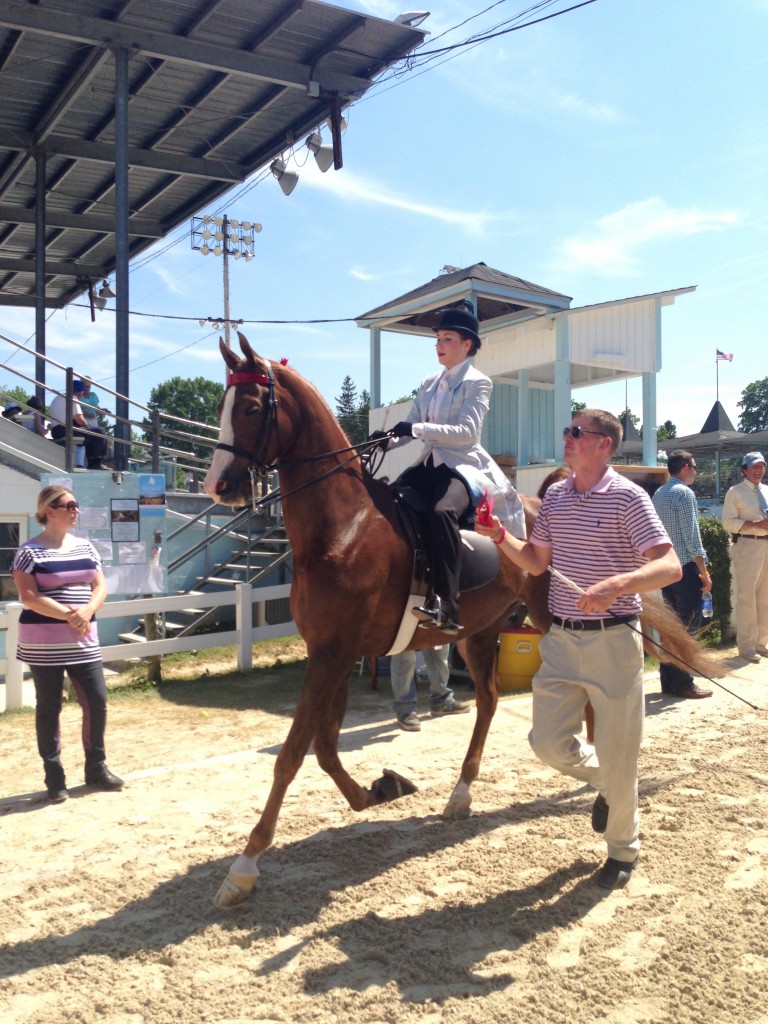 Even watching the schooling ring each day practically takes your breath away with one beautiful horse after the next…
Of course, my heart will always belong to watching the hunter divisions… the horses point their toes and elegantly jump the course, and the classic shadbellies worn in the Hunter Classic phases are ever so beautiful!
After Devon, we headed south… To Upperville Colt and Horse Show.   Both Devon Horse Show and Upperville are known as the oldest running horse shows in the country.  Upperville is known as the horse show "under the oaks since 1853".  From a rich history, to a strong following, these horse shows have been greatly successful year after year.  As a junior I was unable to compete at Upperville since we showed in Colorado every summer.  Most east coasters show the Upperville and Vermont summer circuits.  This year was my first time visiting the Middleburg area… and WOW, I'm blown away!  As much as I thought Lexington was horse country, I truly believe Middleburg has my heart now… It's quaint, small, and historically charming.  Some of my favorite things I found this week were:
The main Hunter Ring at Upperville Horse Show… The oak trees and grass infield create the perfect equestrian ambiance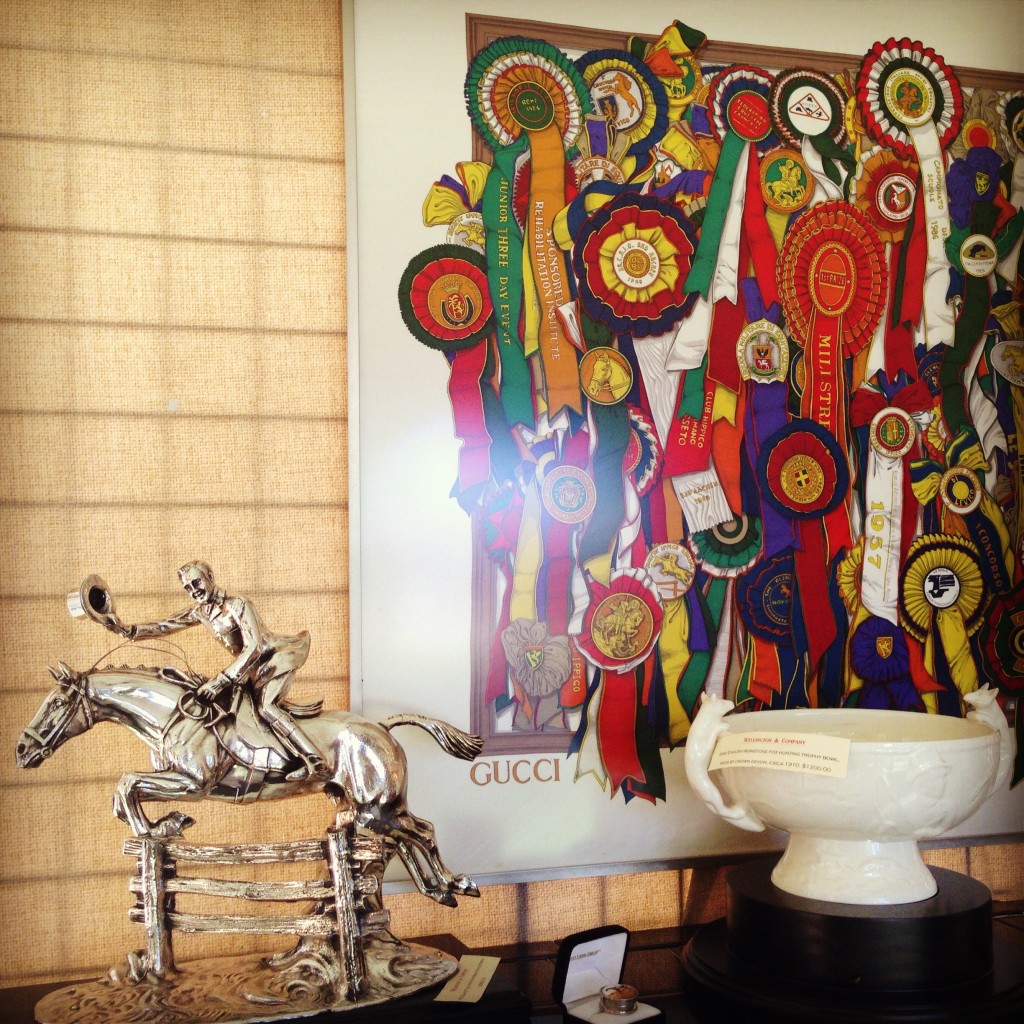 Fabulous antiques from Wellington and Co.   I am totally Loving this mantle display with a Gucci scarf and hunter trophy!
Looking for an equestrian restaurant?  Look no further than… The Fox's Den Tavern : A local and Horse Show Favorite hot spot for dinner and drinks.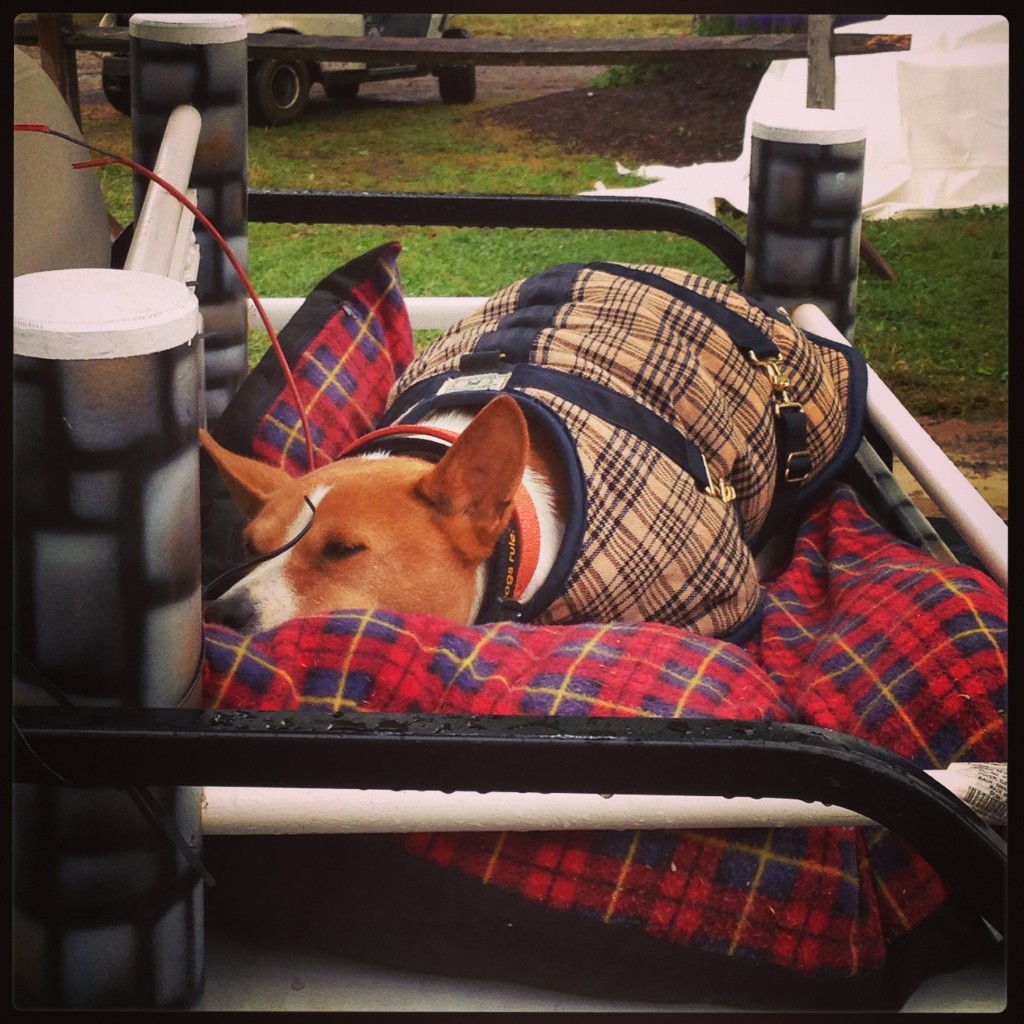 A very relaxing show, this pup left us with our heart melting for matching horse show dog accessories… Quite Adorbs!
Another after-horse show social activity consists of Banbury Cross Farm Polo is held on Wednesdays and Fridays during the horse show.  A perfect way to relax, enjoy the scenery and watch polo!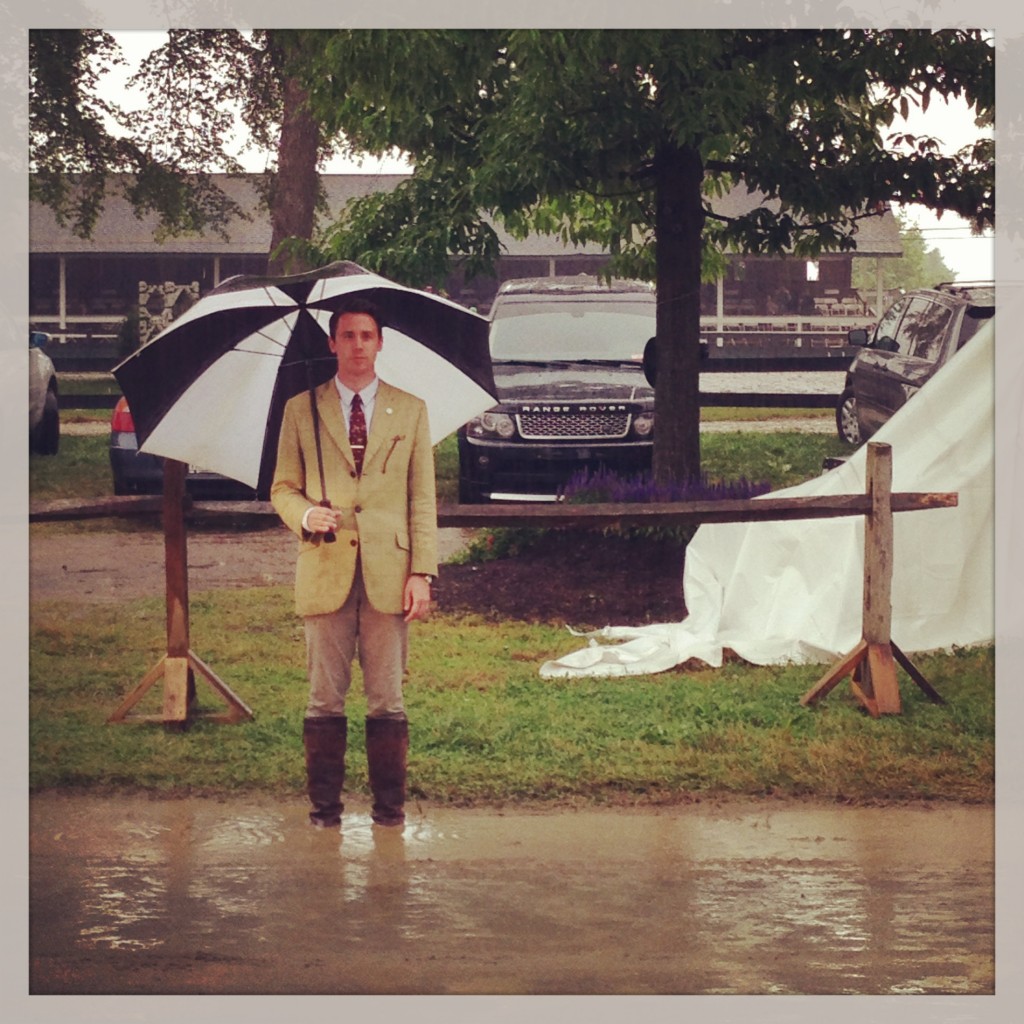 As much fun as the show was, we always seem to hit some weather along the way… But, what's a horse show without a little bit of weather thrown in?!  We also know that boys always find something to get into at horse shows… especially when mud is involved… If you're on the road this summer, be sure to pack your rain gear!  Where will I be headed next?  Did someone say… The Hampton Classic?  …Stay tuned for more!