The Fabulous Menlo Charity Horse Show 2013
It's summertime, sixty-eight degrees and sunny as you enter the Menlo Charity Horse Show of Atherton, CA (just outside of San Francisco). Quite simply it's an equestrian heaven amidst a fancy neighborhood. It's where riders come to relax and show during a fabulous six day show of sunshine, fashion, and fun.  If you live here, you know it well…
After driving through the neighborhood of beautiful homes and creeping vines and roses with immaculate landscaping, you would never expect to find a horse show in the middle of it all: at the Menlo Circus Club. Greeted by the posh vendor row with fine equestrian clothing, accessories, gifts, and art, one is likely to shop daily.  As you stroll through fabulous shops, both the Hunter ring and Jumper ring are graciously to your left. A beautiful sponsor tent divides the two rings in the middle allowing for a perfect view of each ring. If you walk straight ahead on vender row, you will enter the Menlo Clubhouse.
Even the horses are treated like royalty at Menlo Charity Horse Show.  This silver carrot dish was so charming at the end of the sponsor tent!  Walking around the Menlo Horse Show grounds I thought to myself, this has got to be the best run horse show I have ever seen!  To all of my East Coast friends, you must experience Menlo Charity Horse Show at least once… You will be hooked!
As I entered the clubhouse, it felt as though I had just stepped into a posh resort. The entrance showcases the beautiful equestrian artwork of Even the restrooms have individual monogrammed "cMc" hand towels, marble countertops, and chaise lounges in the powder room.  The buffet lunch is unbelievable, and one can dine with the most beautiful view of the outdoor pool that is landscaped with mauve pink flowers aligning the pool deck.  Mothers and daughters wearing Lilly Pulitzer sundresses enjoy tea and sandwiches while lounging poolside next to the jumper ring.
It's just about every equestrian's dream come true: to be able to go for a swim after a long day of riding and horse showing. Literally you can rip off your riding boots and cannonball into the pool immediately at Menlo! I must say, Menlo Charity Horse Show has got to be the best show I have ever attended. Sponsors like Nordstrom, Neiman Marcus, Bentley, Hermes, only to name a few are in high support—no wonder this show does so well.
Below are some of my favorite product sightings while at the Menlo Charity Horse Show below:
Ermilio Clothiers is one of my favorite equestrian vendors.  The Ermilio family is known for designing the first Master's jacket. Recently daughter Katie Ermilio is featured in Barneys NYC with beautiful feminine and classic dresses.  Bob Ermilio has extraordinary custom hand designed suits and jackets.  Men and women looking for a quality riding coat, hunting jacket, or simple blazer will experience a rich history of the Ermilio family when being fitted.
Dressage Collection handbags and vintage antique jewels and accessories were also featured at Ermilio Clothiers.
I can't get enough of this braided handle on this Bridle collection "Trotter Tote" by Dressage.
Elizabeth Lowery of Caracol Silver always has beautiful accessories. We also think she's got some fabulous style herself!
Looking for a bright and preppy gift?  Pomegranate Seeds is another one of our favorites with fine needlepoint belts ranging from dog prints to equestrian prints.  The latest equestrian table cloth has caught our eye below…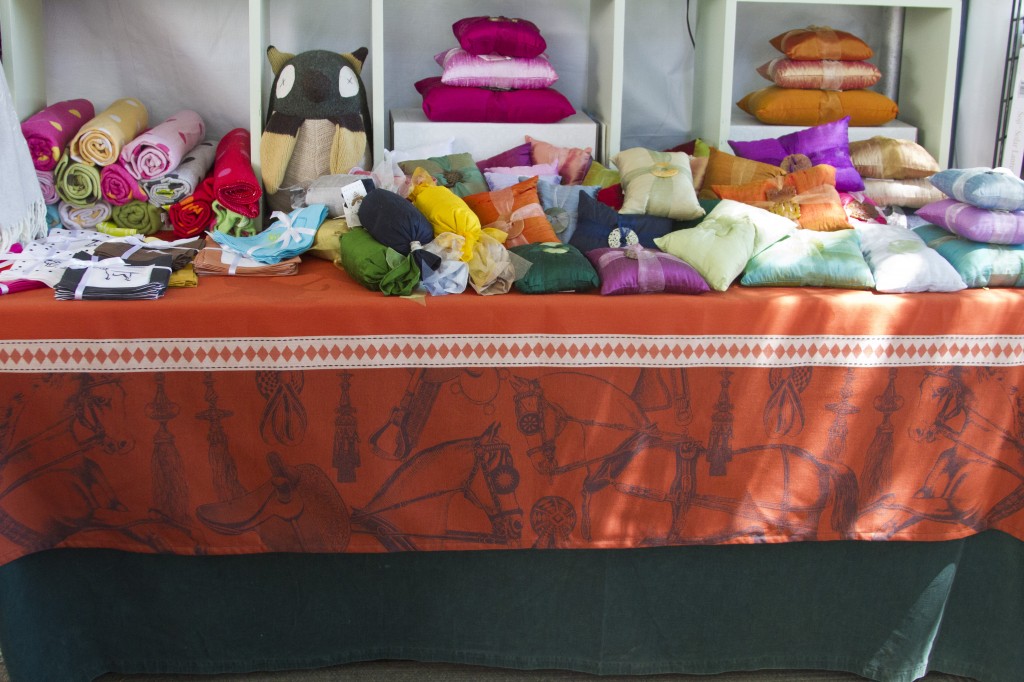 The horse head embroidered hand towels are simple and chic…
Stick and Ball clothing inspired by the polo lifestyle is a young brand for any  I loved meeting Elizabeth Goodwin Wellborn of this new equestrian inspired accessories line.  From woven alpaca and cotton blankets, alpaca ponchos, and Argentinian inspired polo belts, and polo mallet jewelry, Wellborn is keeping it country bohemian chic!
The handmade Argentine wide band belts look fabulous on top of the alpaca poncho!
Next, I introduce you Katharine Page Sandals.  These fancy stitched bridle inspired sandals are lightweight, comfortable, and classic.  Katharine Page is the designer and founder of this fabulous new line.  "I am in love with the scene.  I love everything about this world.  The beautiful hunter divisions especially since everything about the sport is so elegant from the setting, to the jumps and the clothing is very elegant and classic," explained Page at the Menlo Charity Horse Show.   These classic sandals start at $375.00 and each style is named after a different horse shows such as Devon, Del Mar, Keswick, Hampton, Saratoga, and Palm Beach.
A clean and chic booth design by Katharine Page.
Of course, Hermes was ringside to the Grand Prix. The bright orange beautiful display caught my eye once again. "Everyone gets really excited about Menlo Charity Horse Show. Not only is it a fun and beautiful show, but it's for a great cause," explained Carissa Ashman, PR director of Menlo Charity Horse Show. The show supports the Vista Center for the Blind and Visually Impaired (Vista) which was founded in 1936. Vista is the premier facility for those with vision loss in San Mateo, Santa Clara, San Benito and Santa Cruz counties in California.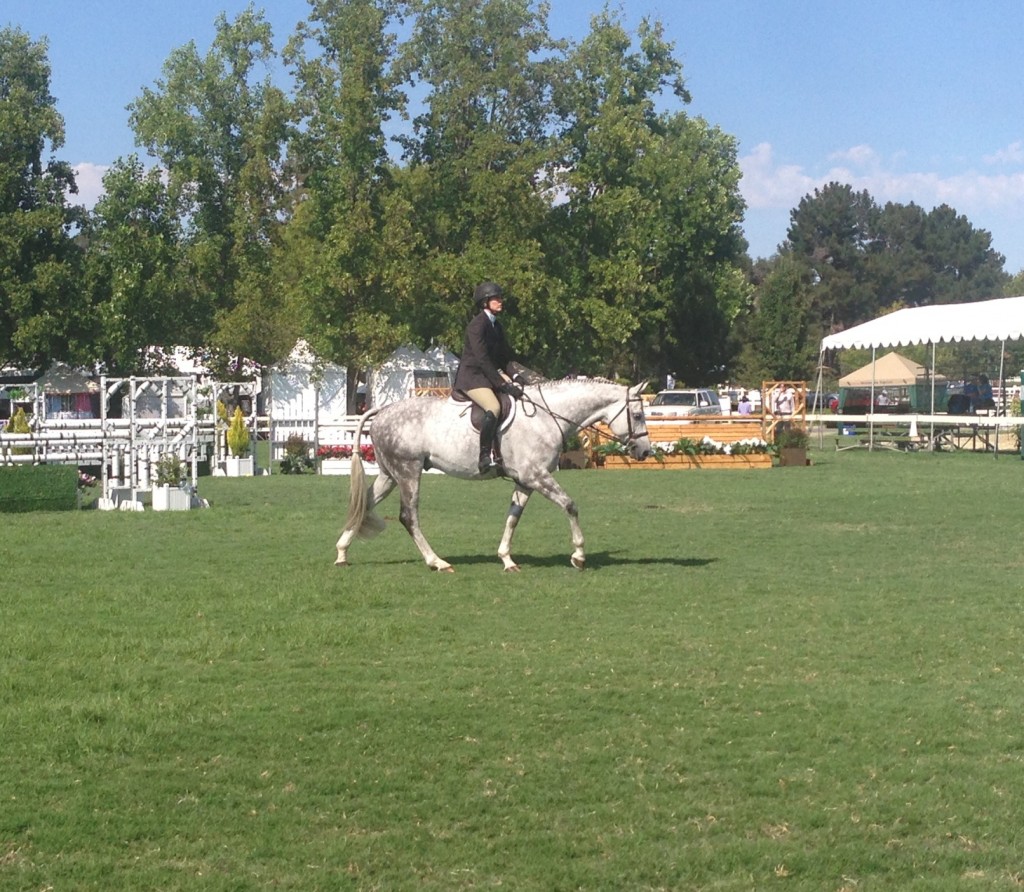 Hope Glynn exiting the Hunter Ring with style and grace, as always!
Whether you are a rider or not, Menlo Charity Horse Show is definitely an equestrian event not to be missed. See you there next year! Ta Ta!