Equestrian Stylist Party at The Charleston Cup 2013
From fascinating fascinators to dapper gentlemen in bow ties, equestrian style and art were the hot topics at the EquestrianStylist.com party at the Charleston Cup this year. As usual, the weather was absolutely stunning at a perfect 72 degrees and partly cloudy. Tea sandwiches, lowcountry style dishes, and "Moscow Mares" were the delights of the day.
Take a peek below at the fashion, decor, friends, and more featured from EquestrianStylist.com's party at the Charleston Cup 2013…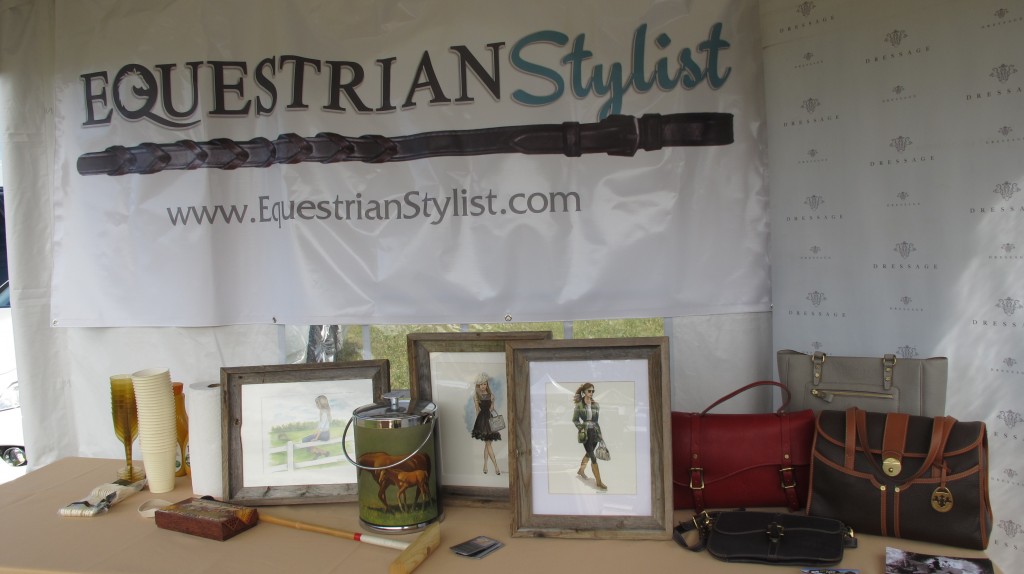 The Décor: Illustrations for the event were displayed by Rebecca Hinson Art. Each illustration is priced at $65.00. Please contact Rebecca for details.
EquestrianStylist.com showcased the new featured fall handbags by Dressage Collection  : saddle styles are perfect for Steeplechase events.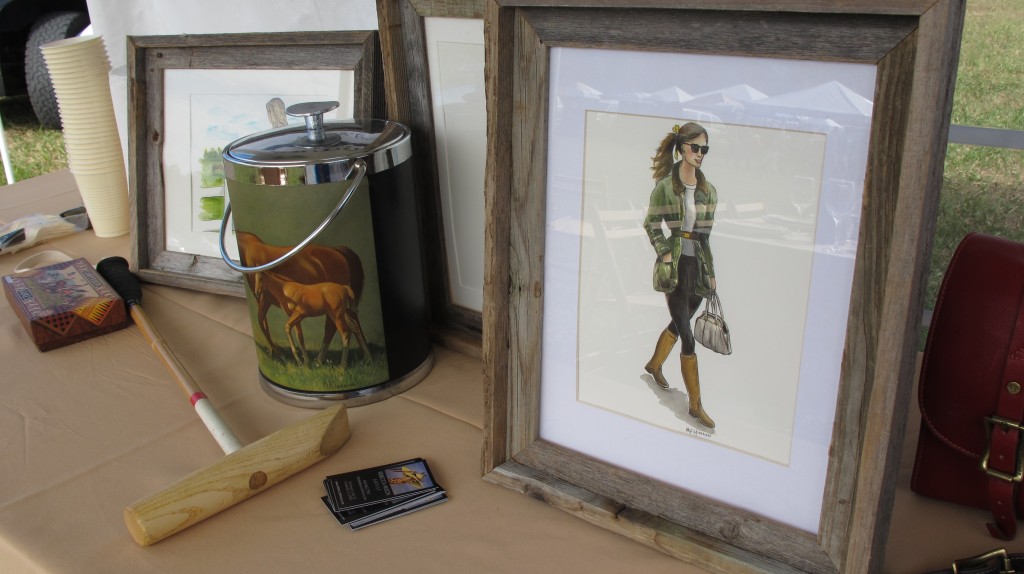 Natural linens, equestrian style accessories like an original Polo foot mallet, vintage equestrian ice bucket, and steeplechase board game were included on the featured table.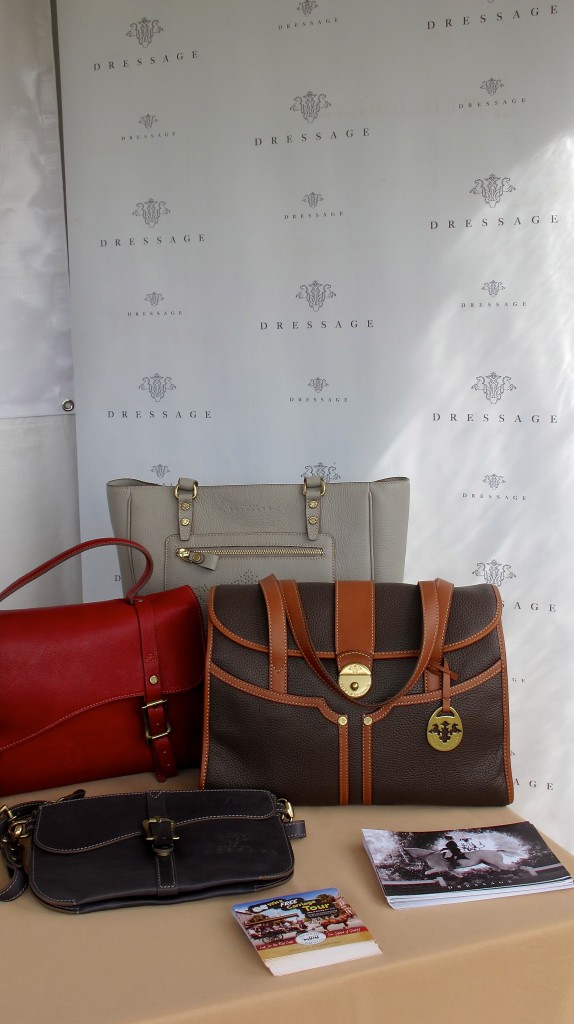 Horsebit plates, silver accented fall candles, and a signature horse statue created a simple display for this intimate affair.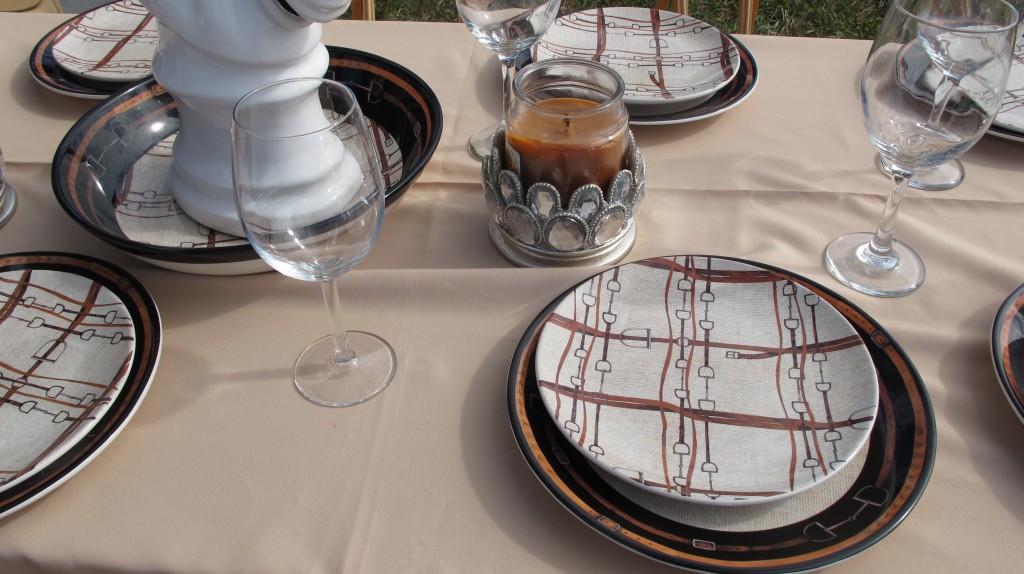 Equestrian style display is a must for equestrian events like steeplechase. Even if you don't have horses yourself, it's always fun to have horsey décor for the event. Plus, it creates conversation for your social event.
The Fun: Did we forget to mention Polo? Well, it was the talk of the town… After setting down our "Moscow Mares" for a minute, we had to to pick up the foot mallet for a bit to discuss some proper polo technique. I must say, it's an addicting sport, and after only taking 3 lessons, I'm ready to bring some more polo to Charleston!  Who's in?!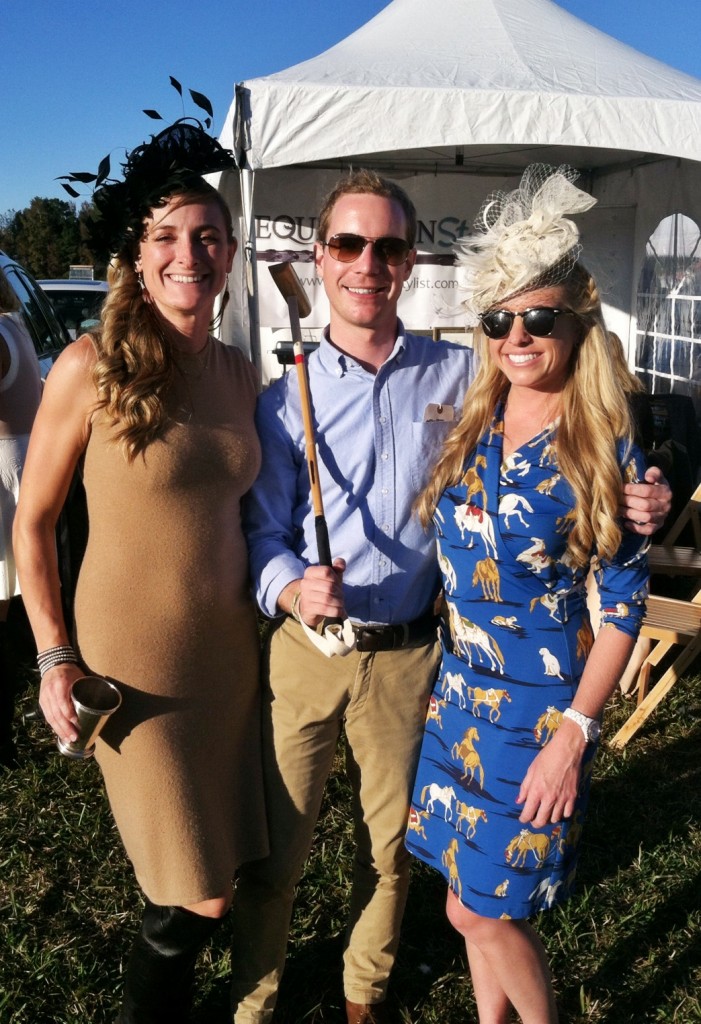 The People: Lara Warren, Garrett Smith, and Ashley Cline all avid equestrians in the Charleston, SC area.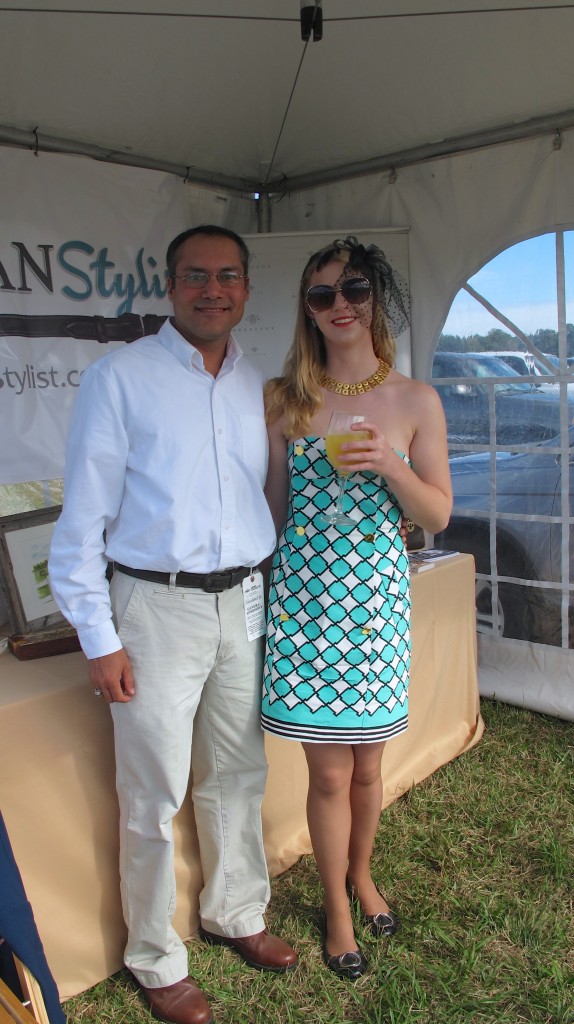 Patrick Cardenas and Arden Cone of Old South Carriage Co. and EquestrianStylist.com looking quite dapper for the affair.
Pictured above in Lilly Pulitzer Salmon colored pants (love 'em) is Nate Bergeron alongside more avid Charleston local equestrians: Jan Stone, Megan Tice, and Chelsea Shea Hodges.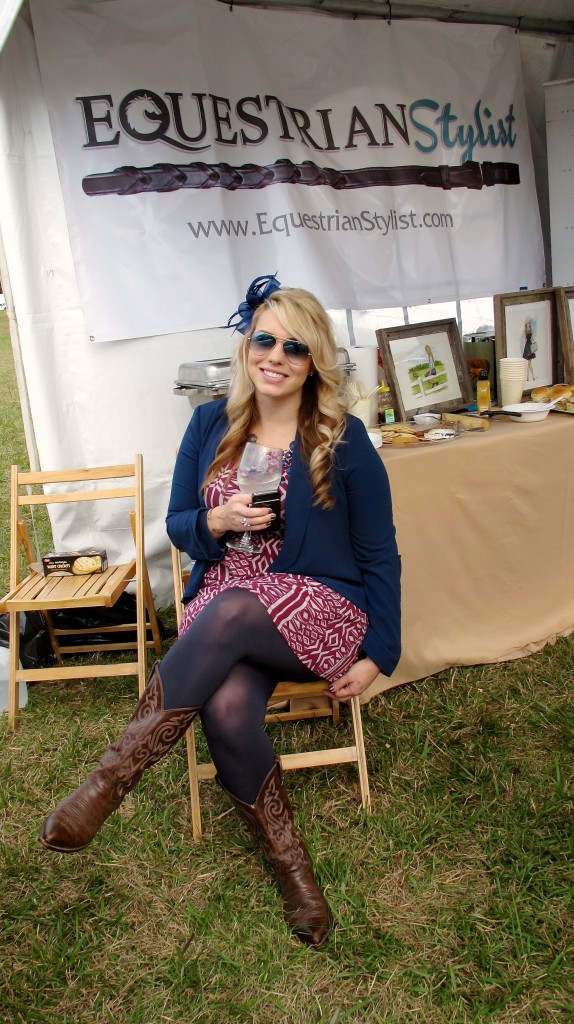 Featured Style Profile:
Chelsea Shea Hodges of Charleston, SC. She's the girl that leaves me staring constantly because she's always that "perfectly beautiful" girl 100% of the time. Don't we all wish we could do our hair that well every day?!
Job Title: Hair and Makeup Artist at Denise Christiansen Salon.
What she wore: Boots: Mahogany brown leather cowboy boots by Justins, Dress: A burgundy Argentine-like print by Impeccable Pig, Leggings: Navy from J.Crew, Necklace: Forever 21, Sunglasses: Ray Bans (loving the blue lenses!)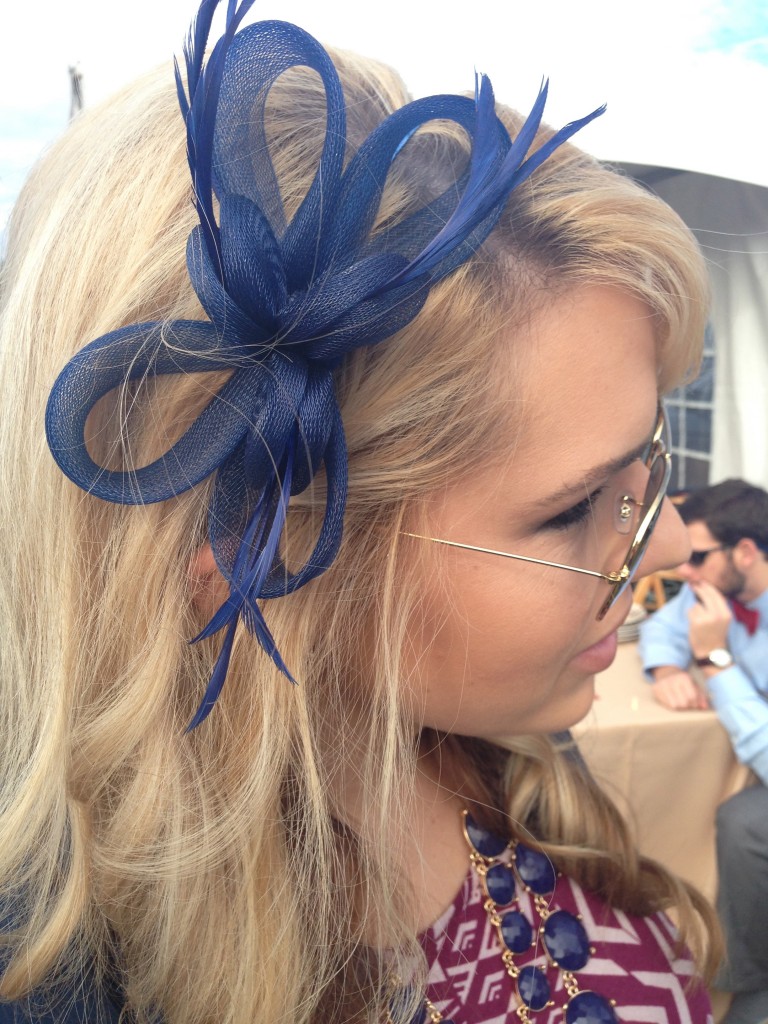 A closeup of the navy fascinator Chelsea paired with her always-so- perfectly curled blonde hair. The navy and burgundy combo is a great fall color combination… beautiful!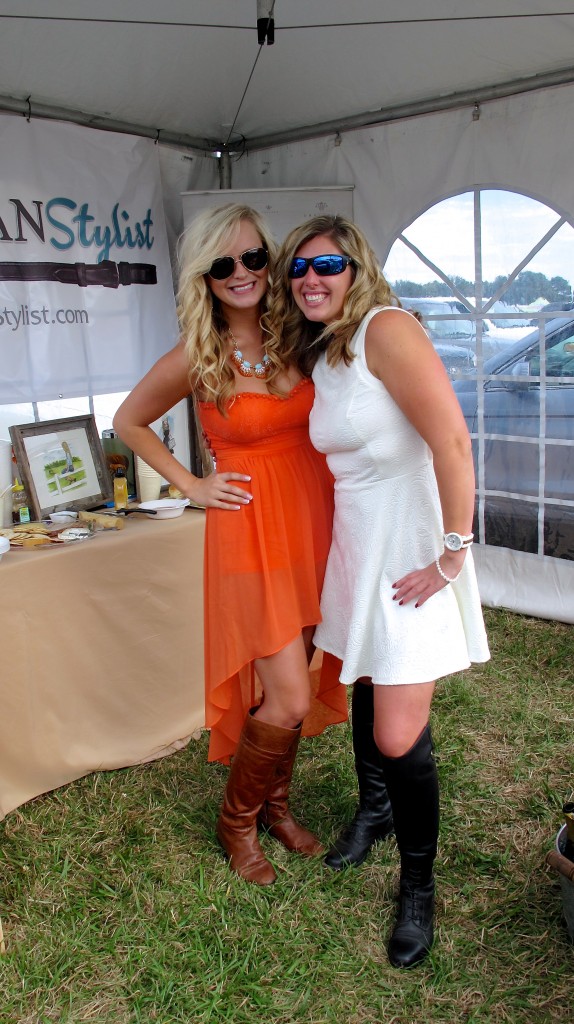 She wore brown, and she wore black! Alex Heard wore fashion riding boots and Nicole Wood wore functional english hunter style riding boots to the cup in their feminine frocks.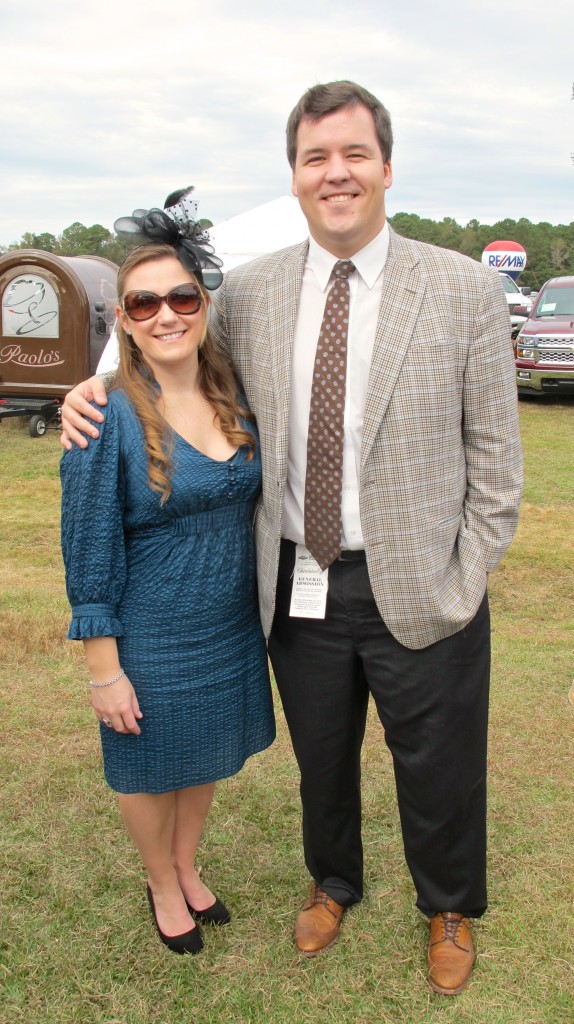 Featuring another fashionable couple: Mandy and Coby kept it classic at the Charleston Cup 2013.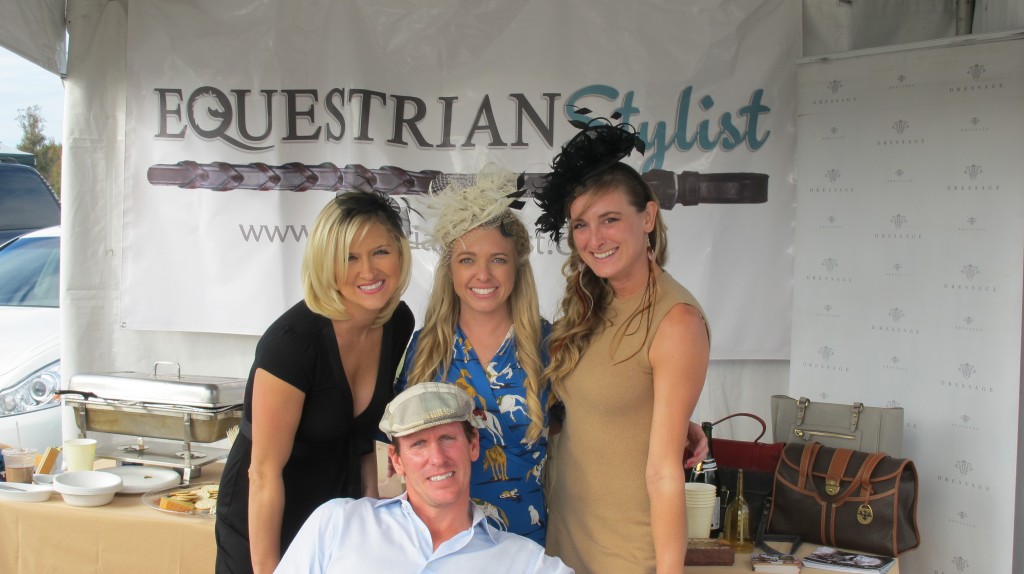 The gals and Joseph Warren of Warren Capital…Loving the cap Joe!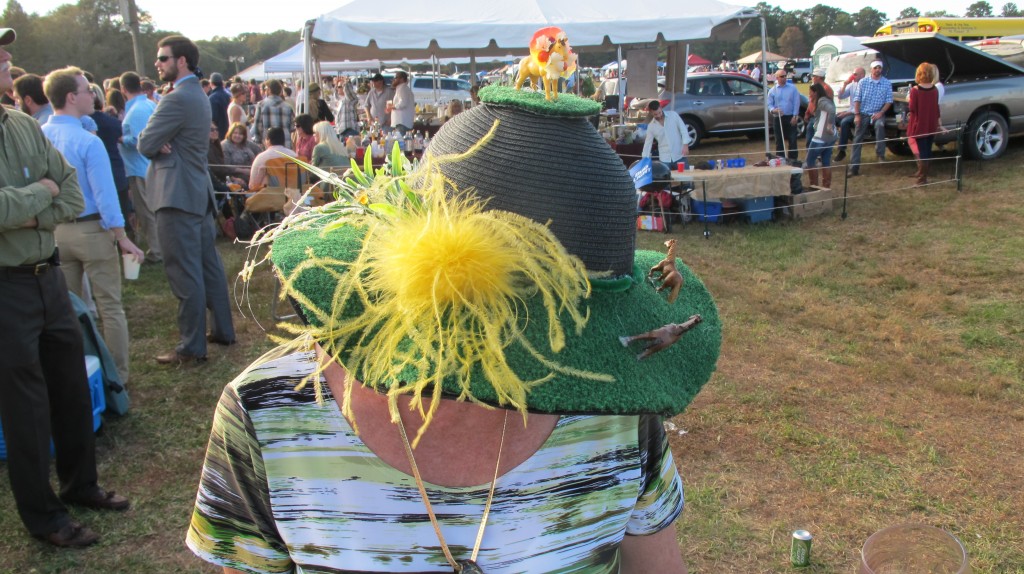 The winner of the hat contest is pictured above! The "Steeplechase style" hat includes a turf rim with model horses around.  Looks just like the Stono Ferry Racecourse atop her head, right?! Very clever.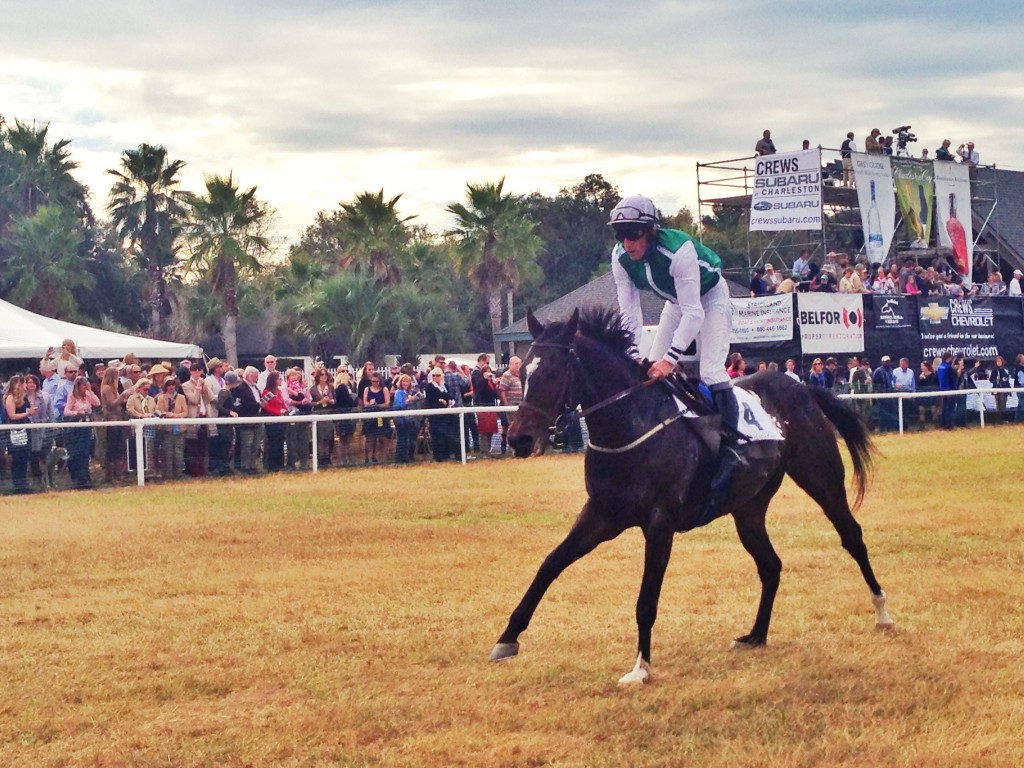 Of course I'm immediately drawn to the bay horses on the field… I'm not sure if it's because I have two dark Dutch bay warmbloods in my family, but it could have something to do with it 😉 Plus, this one moved like a hunter! Check out that pointing front toe (Obviously I'm looking for the best movers on the field instead of voting for the fastest horse, it's just a habit!)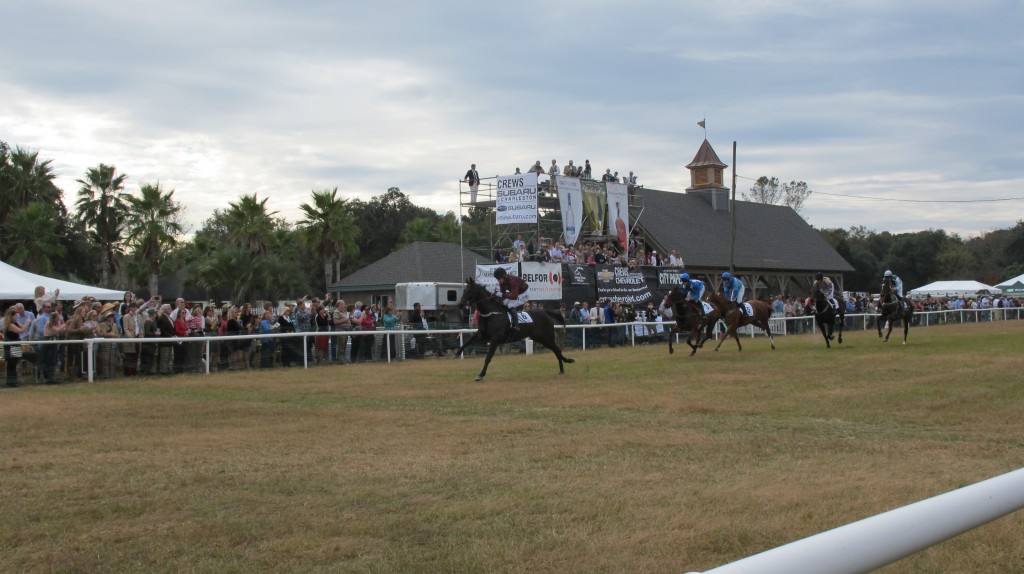 Giddy up! The pounding of the hooves along the ringside proved a huge rush for the fans cheering over the fence. For those few seconds fans either are chugging or cheering for their "pick" in the race. 😉 Not to mention, a few of the races left the riders in the field… but the horses still kept up with the herd! Again, it's never a dull moment ringside!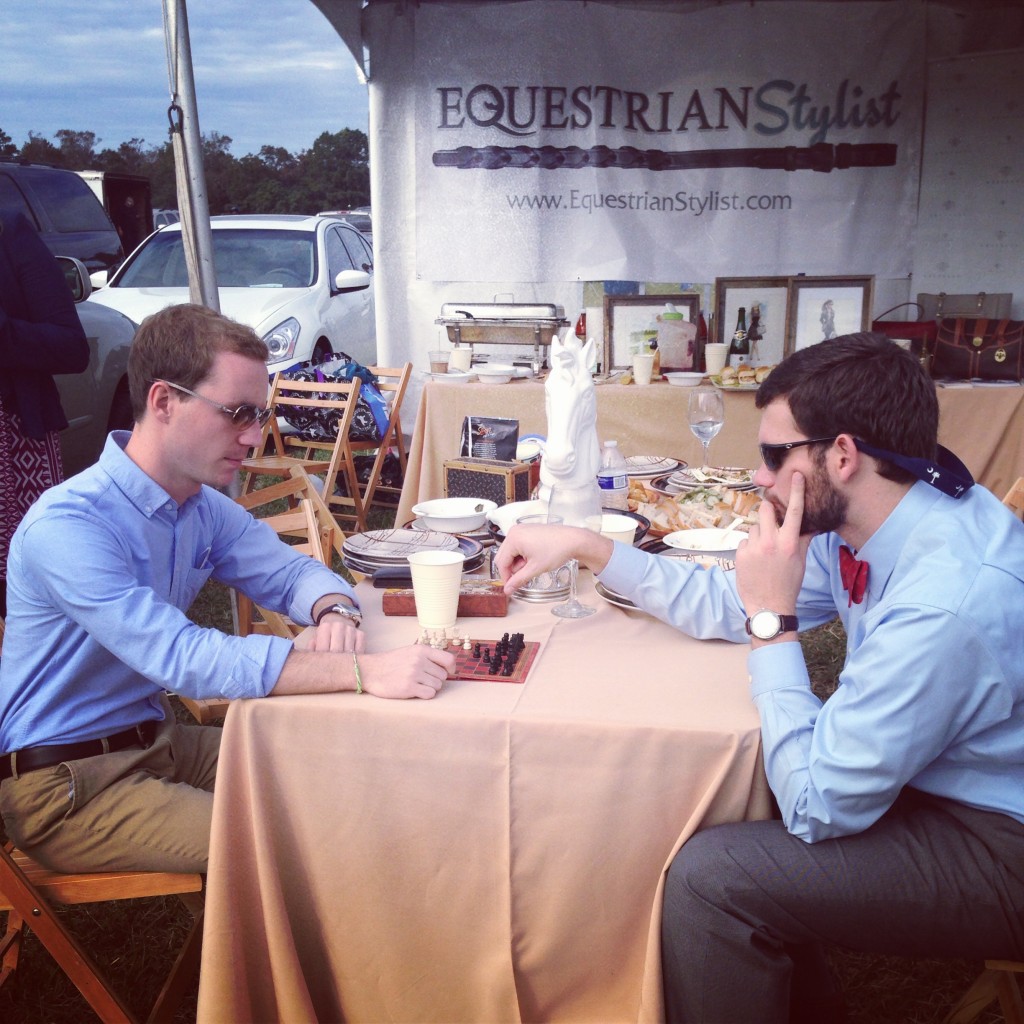 Garrett Smith and Caleb Stumpf played a round of chess in between races… Many tailgaters play corn hole, horse shoes, and other entertainment while eating and drinking merrily at the races.
Bringing back the skinny ties and leather jacket is Daniel Higgins looking quite Mad Man-esque at the Charleston Cup. Looking quite dapper, Dan!
However, taking the cake this year at the Charleston Cup… Get ready to brace yourselves folks…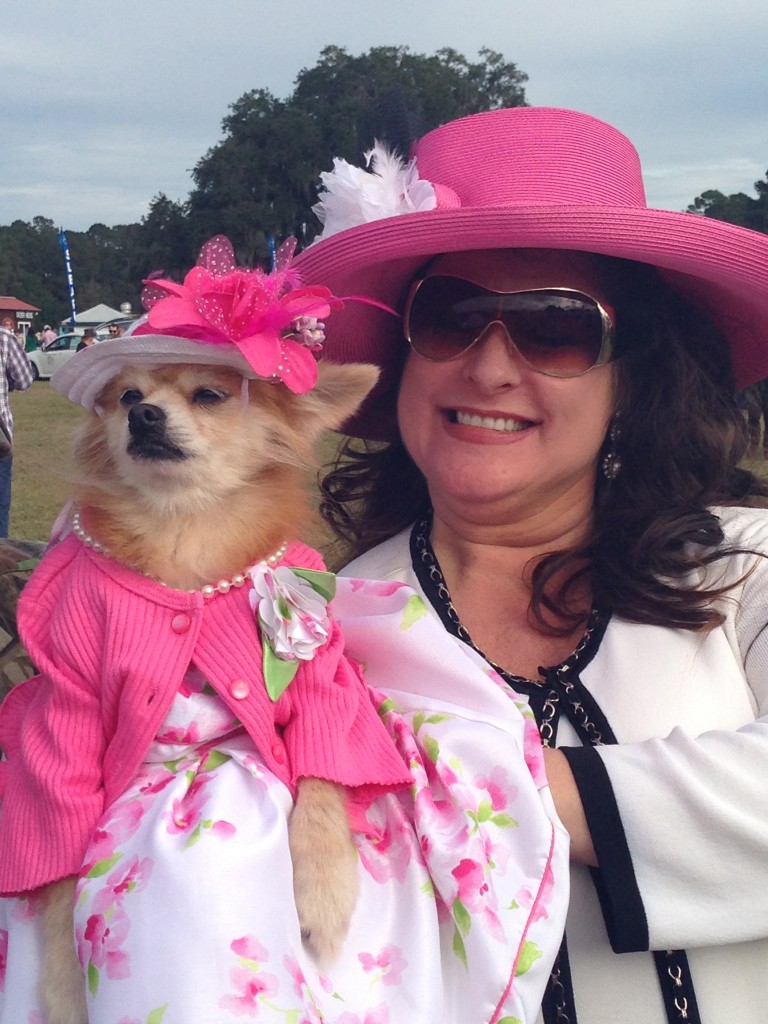 This pretty pooch showed up looking like she stepped straight out of the Legally Blonde film as Elle herself.  Meet "Bella" the pretty in pink pup at the Charleston Cup! We couldn't help but run over to grab her photo… We also couldn't tell who is more proud, Mom or Pup?!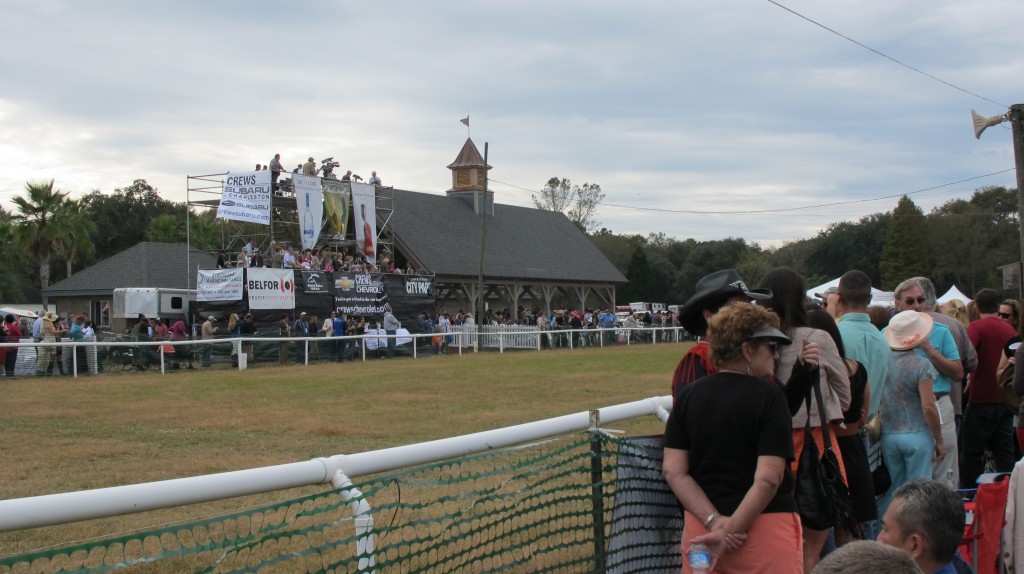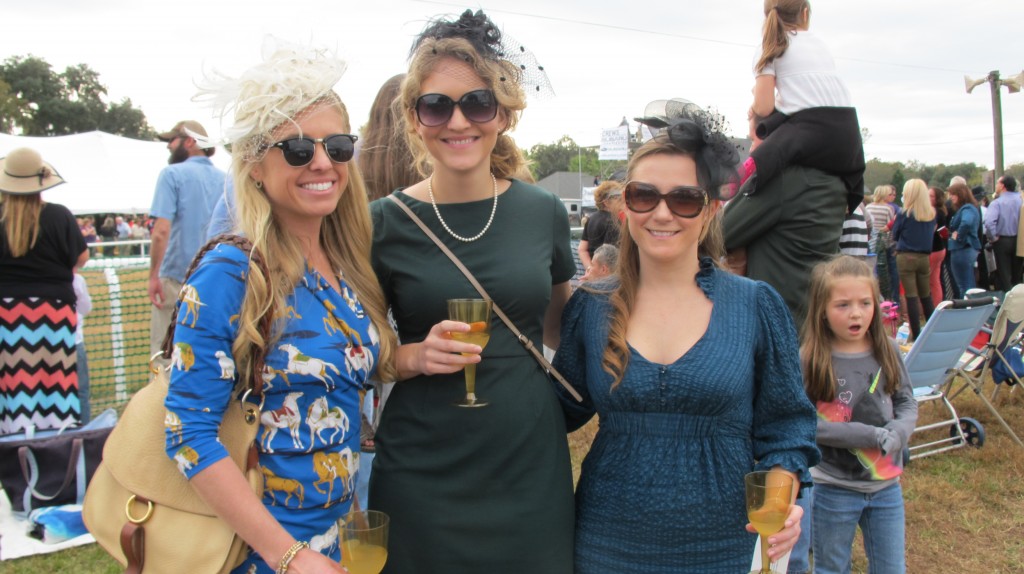 Ashley Cline, Melissa Mills, and Amanda Spurling of Charleston, SC cheers to a fun equestrian event at the Charleston Cup 2013.
For more photos, please view the full album on our facebook page here. Until next year y'all! Xoxo, Equestrian Stylist.