Are YOU watching the 2012 Equestrian Olympic Games?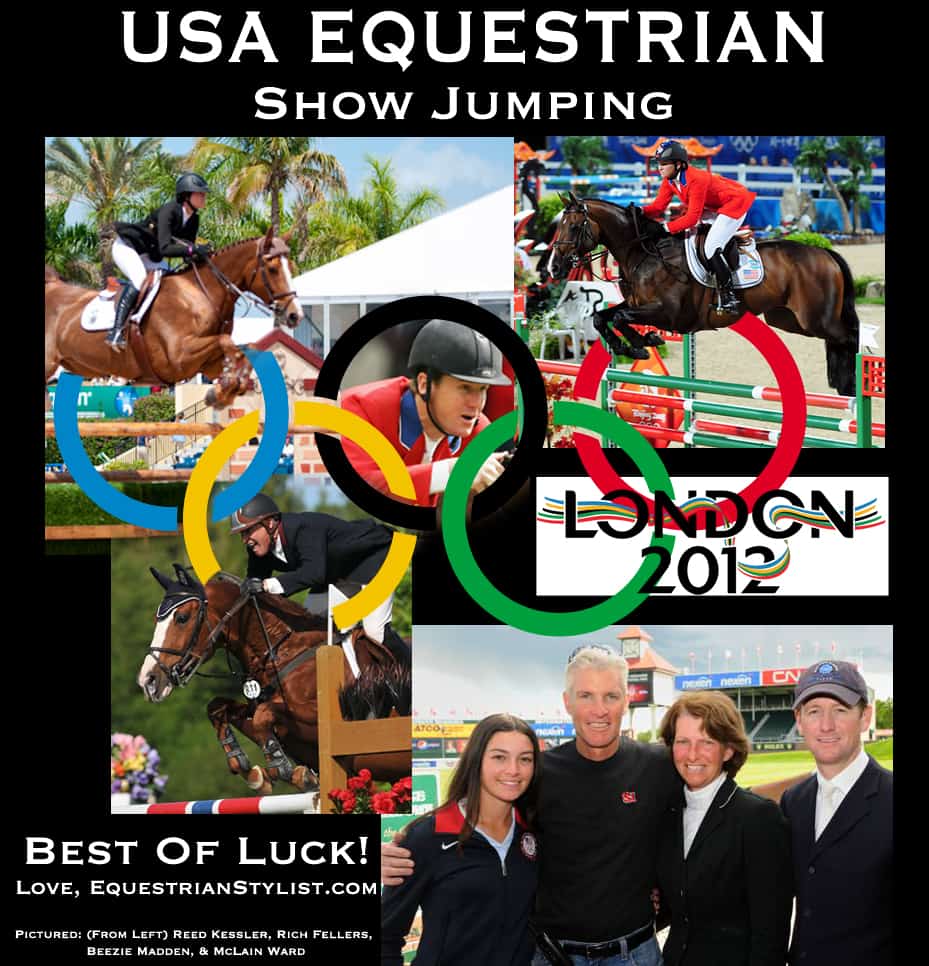 Obviously, I AM!  This weekend begins the kick off of the 2012 Equestrian Olympic Games.  Beginning with Dressage, we will watch the best horses dance to music and then lead into the Cross Country events early next week.  Show jumping beings July 31st, but the Grand Prix and Finals begin August 3rd.  Looking forward to rooting on Team USA and the following riders: Beezie Madden, McLain Ward, Reed Kessler, and Rich Fellers will be competing in the show jumping events.
Beezie Madden and McLain Ward return to the show jumping team looking for their third-straight Olympic gold medals in the team event. They will be joined by youngster Reed Kessler and World Cup champion Rich Fellers.
Steffen Peters, Tina Konyot and Jan Ebeling consist of the U.S. Dressage Team.   American Adrienne Lyle will compete at the Olympics as an individual rider and her score will not count toward the team score. Peters is considered a gold medal contender. Ebeling has drawn media attention recently due to one of his horses owners, Ann Romney, wife of politician Mitt Romney.
Boyd Martin, Karen O'Connor, Phillip Dutton, Tiana Coudray and Will Coleman will conclude the three day event team. Dutton and O'Connor will compete in their fifth Olympics this year.
The question is, what will You be wearing to attend the Equestrian Events of the 2012 Olympic Games?  I hope to see some fabulous equestrian style!  Share your photos on the Facebook page for the chance to be featured on EquestrianStylist.com!
The 2012 Equestrian Olympic Games Schedule: 
Day 1: Saturday, July 28 Full day schedule
5:00 AM Individual Eventing (Dressage)
5:00 AM Team Eventing (Dressage)
Day 2: Sunday, July 29 Full day schedule
5:00 AM Individual Eventing (Dressage)
5:00 AM Team Eventing (Dressage)
Day 3: Monday, July 30 Full day schedule
7:30 AM Individual Eventing (Cross Country)
7:30 AM Team Eventing (Cross Country)
Day 4: Tuesday, July 31 Full day schedule
5:30 AM Team Eventing (Jumping)
5:30 AM Individual Eventing (Jumping)
9:30 AM Individual Eventing (Jumping Final)
Day 6: Thursday, August 2 Full day schedule
6:00 AM Individual Dressage (Grand Prix)
6:00 AM Team Dressage (Grand Prix)
Day 7: Friday, August 3 Full day schedule
6:00 AM Individual Dressage (Grand Prix)
6:00 AM Team Dressage (Grand Prix)
Day 8: Saturday, August 4 Full day schedule
5:30 AM Individual Jumping (Preliminary)
5:30 AM Team Jumping (Qualifier)
Day 9: Sunday, August 5 Full day schedule
6:00 AM Individual Jumping (Qualification 2 and 3)
6:00 AM Team Jumping (Finals)
Day 10: Monday, August 6 Full day schedule
9:00 AM Individual Jumping (Qualification 2 and 3)
9:00 AM Team Jumping (Finals)
Day 11: Tuesday, August 7 Full day schedule
5:00 AM Individual Dressage (Grand Prix Special)
5:00 AM Team Dressage (Grand Prix Special)
Day 12: Wednesday, August 8 Full day schedule
7:00 AM Individual Jumping (Finals)
9:55 AM Individual Jumping (Finals)
Day 13: Thursday, August 9 Full day schedule
7:30 AM Individual Dressage (Grand Prix Freestyle)
For more info on the Equestrian Olympic Games and the Equestrian Riders Please visit: NBC Olympics: Equestrian Team USA