A Quick Whinny From Washington D.C At The Washington International Horse Show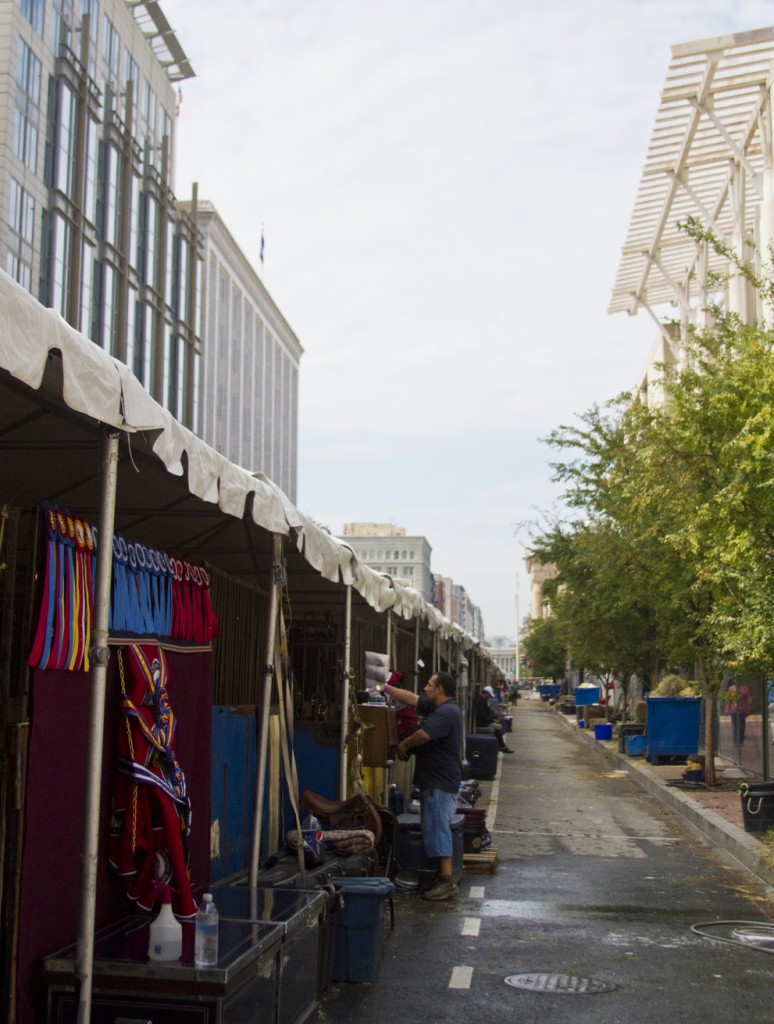 EquestrianStylist.com has arrived in Washington, D.C. In Equestrian style, indeed for the Washington International Horse Show.  This morning I was welcomed to Washington D.C. at the Verizon Center from the Gallery Place Shops with the smell of equines and my krispy kreme coffee.  As I stepped out of the metro stop, I immediately heard a whinny… A whinny in Washington D. C. is pretty amazing, especially when you look up and see humungous buildings and traffic everywhere… who knew that the stalls would be right in the middle of the busiest streets of downtown Washington?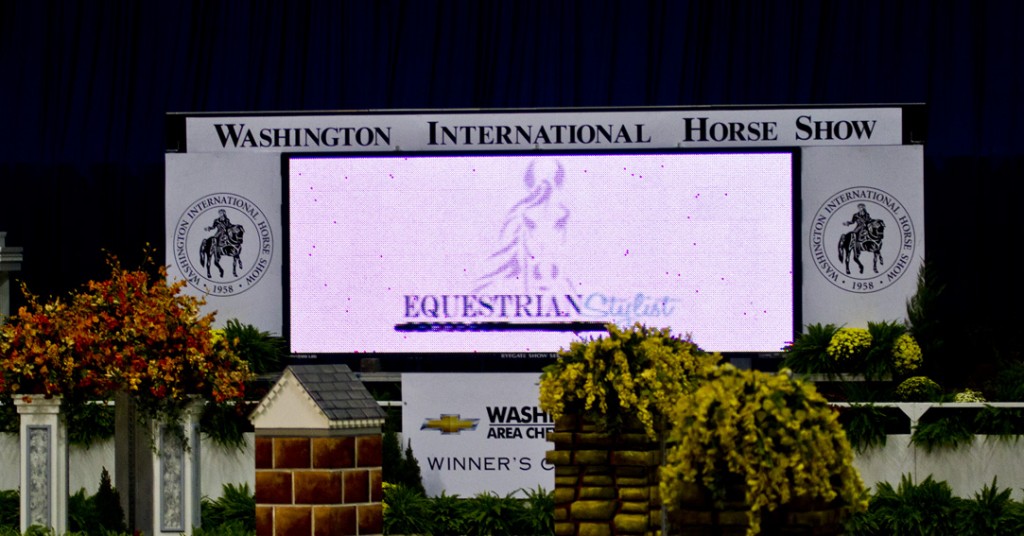 Pinch me, I must be dreaming!  Here we are… at one of the most elite equestrian events in the world…The Washington International Horse Show!  From juniors to amateurs and professional riders from all over come to compete at the country's leading metropolitan indoor horse show since 1958.  Bring on the equestrian style!
This morning I arrived just in time to watch my favorite (and the rest of the horse world's favorite) hunter rider: Scott Stewart. I caught the end of the Green Confirmation Hunters, and wow, these horses did not look Green!  They looked like well-made horses to me cantering around this always-known-to-be spooky indoor arena.  It was not a surprise that Scott Stewart and "Enjoy", owned by Rose Hill Farm, won The Fairfax Hunt Race Association Challenge Trophy for the best Green Working Hunter handy round.  This beautiful pair scored an 87 and was the overall winner of the Green Working Hunter and Green Working Hunter Stake.
After the Green Hunters, I watched the Amateur Owner hunters in anticipation wishing I was out riding in the ring on my horse Sir Walter, who is now retired.  The Washington International Horse Show is the one national horse show that I have not competed in myself.  In my younger days growing up I showed at Pony Finals, The National Horse Show, and the Devon National Horse Show… but we always missed Washington.  Here I am now, 25 and experiencing the Washington International Horse Show from a different perspective and sharing my stories with you.  It's exclusivity and charm really captivate anyone, even if you aren't a horse person.  I can't even begin to count how many times I snickered today capturing the moments of professionally dressed business men smirking while walking down the street watching horses step off of the huge air-ride in the middle of the city streets.  Most of them were holding their iPhone stretched out in front of them snapping the best instagram photo they could get to share with their friends.  It's pretty outragious these horses really don't mind all of the commotion!  I mean, in order to be here, you must be the Best of the Best… so I wouldn't expect anything less.
Equestrian Shopping? Yes Please!  The vendors are in… everything from Der Dau to Dubarry and tack shops galore.  I will be sharing with you equestrian style from boots to breeches and more from the Washington International Horse Show this week.  If you are here and wearing fabulous equestrian style, don't be surprised if we stop you for a photo to be featured here!
Go ahead, have a quick laugh…(I definitely did!) I had some fun today and I dressed up as an "Aussie" thanks to Mick over at Saratoga Saddlery.  You have got to check out the latest waxed jackets from Outback Survival Gear & Saratoga Saddlery.  The fit is spot on and there's extra room on the backside to unbutton if you are riding.
It's been a great start to the show this week, and only the best is yet to come.  Tomorrow is all about the junior riders (those under 18 years of age).  Tomorrow evening we will be attending "Barn Night", which is one of the biggest crowd pleasers here at the Washington International Horse Show.  The top show jumpers will compete in full costume in honor of Halloween with a $20,000 purse for the International Open Jumper Gambler's Choice Costume Class.
Be sure to follow us on twitter and instagram for fun and quick updates at the show this week.  Have an interesting story or want to be featured?  Contact me here and tell me about it!