2014 Miami Beach Polo World Cup

Every April, the Miami Beach Polo World Cup brings the sport of kings to the shores of the Magic City.  Polo is all about guts and glamour, and we're expecting no shortage of either as international competitors face off in the world's most prestigious Beach Polo competition Aril  24th through 27th.
The action will take place over a four-day period—plenty of time for hobnobbing with the sport's biggest celebrities, socialites, and fashionistas. (Watching the actual polo matches is just one part of the experience!) Throughout the course of the event, VIP kickoff parties, receptions, and cocktail hours keep the atmosphere more like that of a nightclub than a polo match: the Grey Goose flows as the DJ pumps up the music.
Other social events, including a brunch on the beach and the yearly La Martina fashion show keep the spectators entertained with starry eyes.
The social schedule is dazzling, the game is action-packed, and the location couldn't be better. The matches are played out directly on the beach between 20th and 22nd streets, straight across from Miami's historic Art Deco District. More than 12,000 people grace the sidelines throughout the course of the four days as they watch men and women play for the coveted La Martina Cup.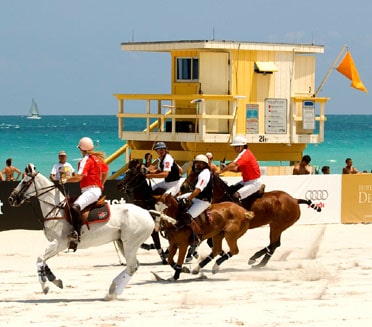 Source: http://hauteliving.com
Equestrian Stylist was there to witness the action in 2012, so be sure to check out our articles published about the event. Click here for our coverage of the 2012 Maserati Miami Beach Polo World Cup , and don't miss the hot Style Profiles from the event!